Anthony Carelli sister Santina Marella was a self alleged twin sister character who gained fame through comedic antics and an Italian stereotype portrayal.
Through that character, he engaged in humorous segments and forged on-screen relationships with fellow wrestlers.
Moreover, he even claimed the title of "Miss WrestleMania" at WrestleMania XXV as "Santina Marella."
His portrayal earned him Wrestling Observer Newsletter's Best Gimmick award in 2007 and 2008.
Anthony 'Tony' Carelli, recognized as Santino Marella, is a Canadian professional wrestler and accomplished judoka.
His prominence flourished over an impressive 11-year journey within WWE.
Carelli also established the Battle Arts Academy in Mississauga, Ontario, where he imparts martial arts and professional wrestling expertise as an instructor.
Additionally, he holds the role of official ambassador for Judo Canada.
Presently he is aligned with Impact Wrestling, contributing to sports and entertainment.
Does Santino Marella Have Sister? Parents And Family Explored
Santino Marella portrayed the Santina character in WWE, and he was proud of his work on the character claiming it was his best acting job in WWE.
He also revealed that he was initially told that Santina would be a one-off character, but Vince McMahon wanted to see more of her.
For Santino, Santina's character was an excellent way to break the mould and do something different in WWE.
On July 22, 2019, Marella made a cameo on the Raw Reunion show in a backstage skit.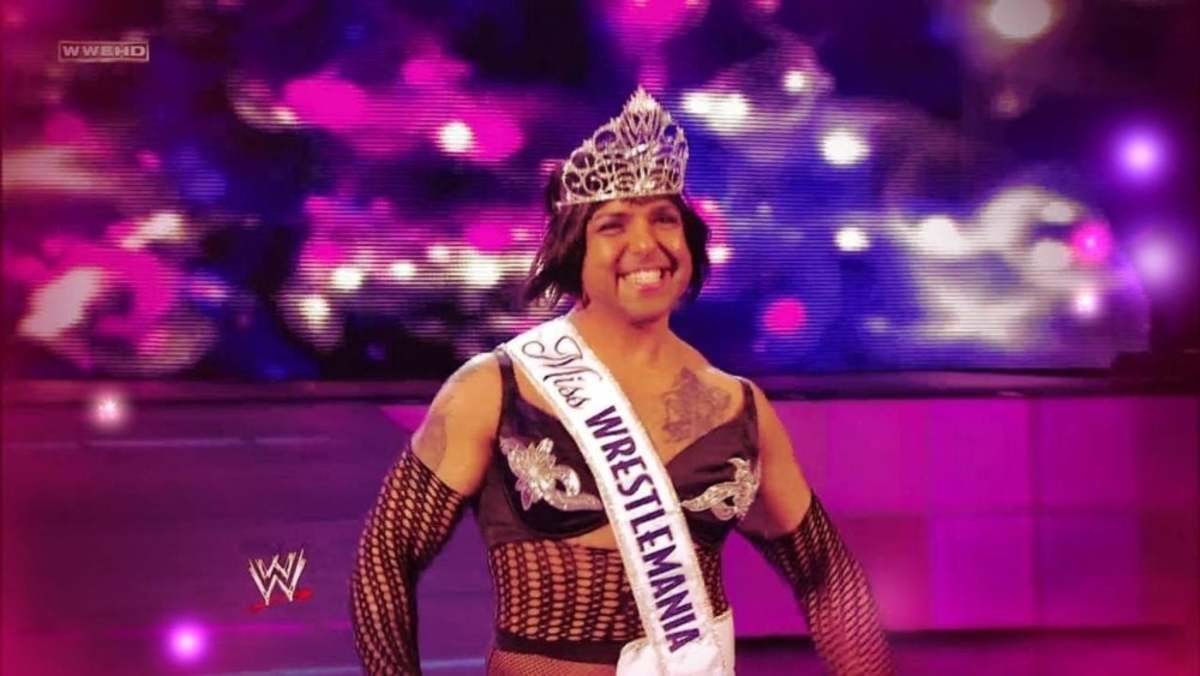 In a surprising twist, he reappeared during the 2020 women's Royal Rumble match as his character, Santina Marella, entered at 29.
This marked the first instance of a male participating in a Women's Royal Rumble match.
However, he eliminated himself using his signature move, "The Cobra," after being taken aback by Natalya and Beth Phoenix.
Concern & Efforts For Santina Character
Former WWE superstar Santino Marella candidly shared his experience adopting a drag persona during his wrestling career.
He revealed that his family and friends expressed concerns when he took on the character of his twin sister, Santina, and became Miss WrestleMania in 2009.
He mentioned that crafting the layered character required combining accents and personalities to bring Santina to life on screen.
This unique portrayal, although dividing fan opinions, remains a memorable part of his career.
Santino expressed that he often encounters inquiries about Santina during conventions and discussions about his participation in the 2012 Elimination Chamber, where he almost got remarkably upset.
He emphasized that while the wrestling industry requires taking the craft seriously, it's still a form of entertainment.
Reflecting on his journey, Santino fondly recollected moments that left a lasting impact, emphasizing the blend of dedication and entertainment that define professional wrestling.
Family Tree Of Santino
Santino Marella's origins trace back to Mississauga, Ontario, where he was born to parents of Italian and Metis heritage.
While little is known about his parents, ample information exists about his former wife and daughter.
Santino's marital journey includes his union with Petrina, his ex-wife, with whom he welcomed a lovely daughter named Bianca.
Bianca's accomplishments, including her victory in the Miss Teen Ontario-World pageant, have shone brightly.
In 2015, Santino found love again with Anna Babij, a notable figure in bikini fitness competitions.
Their marriage marked a new chapter in his life, firmly cementing his bond with Anna.
What's heartening to note is the positive connection between Bianca and her stepmother, Anna Babij.