Domingo German Polanco is a pitcher with the Major League Baseball's New York Yankees. The player had his MLB debut for the Yankees on 2017 and has been playing for the team since then.
German is nicknamed "Sunday." The reason for that is quite evident to Spanish speakers. Even for a non-Spanish speaker, many of you might already know that the word "Domingo" means "Sunday" in Spanish.
Although many people probably don't like German as a person because of his behavior off the field, his ability on the field is indisputable.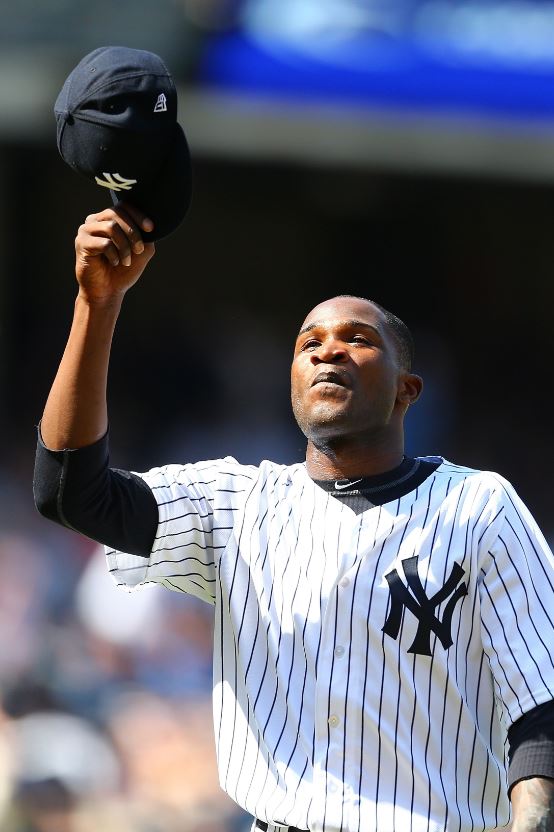 The 2017 MLB draft has had various ups and downs in his baseball career. This article will discuss Domingo's stats, employment, net worth, personal life, and more. So, please give it a read.
First, let's start with some quick facts about the baseball player!
Quick Facts
| | |
| --- | --- |
| Full Name | Domingo Germán Polanco |
| Birth Date | August 4, 1992 |
| Birth Place | San Pedro de Macorís, Dominican Republic |
| Nickname | Sunday |
| Religion | Christianity |
| Nationality | American |
| Ethnicity | Not available |
| Horoscope | Leo |
| Father | German Domingo Sr. |
| Mother | Not known |
| Siblings | Not known |
| Chinese Zodiac | Monkey |
| Age | 30 years old |
| Height | 6 feet 2 inches |
| Weight | 80 kg |
| Build | Athletic |
| Eye color | Dark Brown |
| Hair Color | Black |
| Profession | Baseball player |
| Playing Position | Pitcher |
| Active years | 2014 – present |
| Sexual Orientation | Straight |
| Win Loss record | 25–18 |
| Earned average | 4.56 |
| Strikeouts | 38 |
| Marital Status | Married |
| Wife | Mara Vega |
| Children | Two |
| Net Worth | $3 million |
| Salary | $1,750,000 |
| Social Media | Instagram, Twitter |
| Merch | |
| Last Update | June, 2023 |
Domingo German | Age, Body Measurements, and more
The baseball player, Domingo German, was born on August 4, 1992, in San Pedro de Macorís, Dominican Republic. His father's name is German Domingo Sr.
The player is currently 30 years old. Domingo was born in the Monkey year, according to the Chinese calendar.
As an August baby, the player's zodiac sign is Leo. Talking about his physique, he has an athletic body. The player has a height of 6 feet 2 inches and weighs 80kg. The player uses his right hand to both throw and bat.
Also, click here to learn about ten baseball players with the best career batting averages!
Domingo German | Career
Miami Marlins
The Marlins signed Domingo during the 2009–2010 international signing period. His skills were mainly inexperienced at only 17 years old, as was his experience playing against more skilled competitors.
To increase German's overall pitchability, the Marlins decided to have him begin his career by throwing for the Dominican Summer League Marlins.
Most of his appearances between 2010 and 2011 were in relief roles, but he excelled when given six straight starts to close off the 2011 season.
When Domingo pitched for the Marlins of the Gulf Coast League for the first time in 2012, he was once more forced into a bullpen duty. In 2013, he started back in the GCL and performed admirably, pitching 26.0 innings with a 27:5 K:BB and 2.69 FIP.
Later in 2013, the player was promoted to the Batavia Muckdogs of the New York-Penn League. MLB general managers were forced to take notice after his excellent 2013 season.
Domingo had a 3.26 FIP and a fantastic 113:25 K:BB in 2014 while pitching for the Greensboro Grasshoppers of the South Atlantic League.
Further, he was the only Marlins player chosen for the 2014 Future's Game. Up until this time, Germán's future appeared to be very bright.
New York Yankees
In the December 2014 transaction, Martin Prado and David Phelps were sent to the Marlins in exchange for Garrett Jones, Nathan Eovaldi, and Domingo Germán. The Yankees decided to acquire him because they recognized this potential in him.
However, the player regrettably had to undergo Tommy John surgery in the spring of 2015, which prevented him from playing in the 2015 season and the first few months of 2016.
Before making his eagerly anticipated MLB debut on June 11, 2017, against the Orioles, German appeared for the Yankees' Low-A, High-A, Double-A, and Triple-A organizations.
The player made 2.2 bullpen innings and gave up two hits, one walk, 0 earned runs, and one strikeout. Likewise, German's hard pitches, including his changeup and curveball, reached 98.6 mph.
Additionally, Domingo had a staggering swinging strike rate of 16.7%, letting the baseball world know just how talented he is.
By the end of the 2019 season, the player has thrown 243.0 MLB innings, recording a 4.52 ERA (3.91 SIERA), 273:81 K: BB (18.6% K-BB), and a 38.7% groundball rate.
Before the domestic violence incident put a halt to his progress, Domingo was well on his way to continuing to develop his skills with plenty of experience between the MLB and the minors.
Suspensions and Setbacks
MLB put Germán on administrative leave on September 19, 2019, as they looked into allegations of domestic violence.
It was announced on September 25 that he would be ineligible to play baseball for the rest of the year, including the postseason. With a.818 win-loss ratio, he had the best record among MLB pitchers in 2019.
As a result of breaking the league's conduct rules, Domingo was given an 81-game ban beginning on January 2, 2020.
This was the harshest penalty ever given to a player who was the subject of domestic abuse claims but was not formally accused.
Since most of his ban was served during the 2019 postseason, the player was qualified to play in the 2020 postseason.
Baseball player Sean Hjelle is among the tallest in the league. Being 6 feet and 11 inches tall, he shares the title of the tallest player with Jon Rauch. Click here to know more about his career, wife, and children!
Return to the field
On April 10, 2021, the Yankees optioned Domingo to the secondary location following a 4-0 loss to the Tampa Bay Rays.
On July 25, 2021, against the Red Sox, the player had a no-hitter going through seven innings when Alex Verdugo's lead-off double ended the possibility.
A weak bullpen would cause the Yankees to lose 5-4. Similarly, Domingo had a 4-5 record and a 4.58 ERA at the end of the 2021 campaign.
Unfortunately, Domingo was placed on the 60-day injury list due to right shoulder impingement syndrome to start the 2022 campaign.
On July 21, 2022, the player made his comeback and started the game against the Houston Astros. The player returned and gave up five runs in 3 innings.
Domingo German | Wife
Domingo is married to Mara Vega, who is also a native of the Dominican Republic. She continued her schooling at Akerley Campus in Canada. Likewise, Mara earned a bachelor's degree in tourism management from the University of Florida.
The couple has two kids together. The first kid, a daughter, and the second, a son, namely Gian A. German and Chrisgelyann German.
Domestic Violence case
In September 2019, Domingo went to a charity event hosted by former teammate CC Sabathia with his girlfriend (now his wife).
Many of Domingo's 2019 teammates and their families were also present at the event. Despite reports that the player slapped his girlfriend there, the MLB inquiry mainly focused on what had happened at his house later that evening.
At the event, Domingo got physically abusive toward his girlfriend while intoxicated before she hid in a locked room.
She allegedly made contact with one of Germán's colleagues' wives, and the two drove to Germán's house at a late hour.
While the player tried to calm down, Domingo, who claimed to have been angry and aggressive, Mara stayed with the teammate's wife.
A different Yankees team member, who Domingo's girlfriend had informed about the incident, reported it to MLB. His girlfriend, however, didn't make a police call.
Rico Petrocelli has worked as a minor league manager, announcer, and author, winning many games and people's hearts. Click here to know more about his baseball career!
Domingo German | Player Profile
Domingo goes onto the mound at 6-foot-2 and 181 pounds with a slim, skinny, athletic build. His delivery is concise, deliberate, and repeatable.
The player approaches directly with his gifts, all of which feature arm-side solid movement, with little additional activities. Domingo has always been the pitcher that attempts to assault the strike zone and throws a lot of strikes.
Additionally, he has a characteristic low three-quarters arm slot when throwing, occasionally making it appear like he is side-arming pitches.
Further, there are instances when he throws his changeup and curveball with what appears to be a slightly higher arm slot. However, his hard pitches continue to have a low three-quarters arm slot.
Domingo's strong pitches certainly have that "rising" effect that may easily trick hitters when thrown up in the zone or when located adequately because he has a shallow arm slot.
Domingo German | Contract and Net Worth
The New York Yankees and Domingo German agreed to a one-year, $1,750,000 contract, with a $1,750,000 guaranteed minimum pay.
The player will have a total pay of $1,750,000 in 2022, with a base salary of $1,750,000.
The baseball player, Domingo German, has a net worth of approximately $3 Million.
Although most of his earnings come from his professional playing career, the player also makes extra sums from brand endorsements.
Unfortunately, other details about the player's real estate, investments, and other assets are currently unknown.
Social Media
The player is not very active on social media. Whatsoever, we will leave Domingo's social media handles below just in case you want to check them out!
Gary Pettis, a former MLB superstar and one of baseball's greatest players, had a terrific career on the court throughout baseball's 12-year run. Pettis' outstanding on-field performance garnered headlines on numerous occasions. Learn more!
Frequently Asked Questions
Are Domingo and his Mara still together?
Yes, even after the domestic violence incident, the player is still together with Mara. No matter what happened in the past, the couple has tried to show that love still exists between them. Domingo also apologized for what happened.
What number is Domingo German?
Domingo wears jersey no. 55 with the New York Yankees.