MLB fans might know Dominic Fletcher brother David Fletcher better than him. Let's explore the relationship and family tree of the baseball stars.
Born on September 2, 1997, Dominic Paul Fletcher plays as an outfielder for the Arizona Diamondbacks of Major League Baseball (MLB).
Fletcher was selected with the 75th overall pick, which was part of the Paul Goldschmidt trade, by the Diamondbacks in the 2019 MLB Draft.
The Diamondbacks took him due to his relatively safe profile of a proven college performer who uses the whole field in his approach and can play all three outfield positions.
He went to the University of Arkansas, where he played college baseball for their team.
During his college career, he earned freshman All-American honors from the National Collegiate Baseball Writers Association and Baseball America and the Southeastern Conference All-Freshman Team.
In addition to baseball, Fletcher seems to love music and concerts, dogs, and going to the movies.
During the 2023 World Baseball Classic, he played for the Italy national baseball team, which was held from March 8-21.
Meet Dominic Fletcher Brother David Fletcher
Growing up, Dominic lived in his family home in Orange, California, with two other siblings. David Fletcher is the elder brother of Dominic.
They also have a sister Daviana who is a cheerleader for the Razorbacks. She went to Orange Coast College.
Father, Tim Fletcher, and mother Fernanda Fletcher, are the proud parents of these siblings.
Both of the brothers went to the same high school Cypress High School however, the elder brother went to Loyola Marymount University and played two seasons of college baseball for them.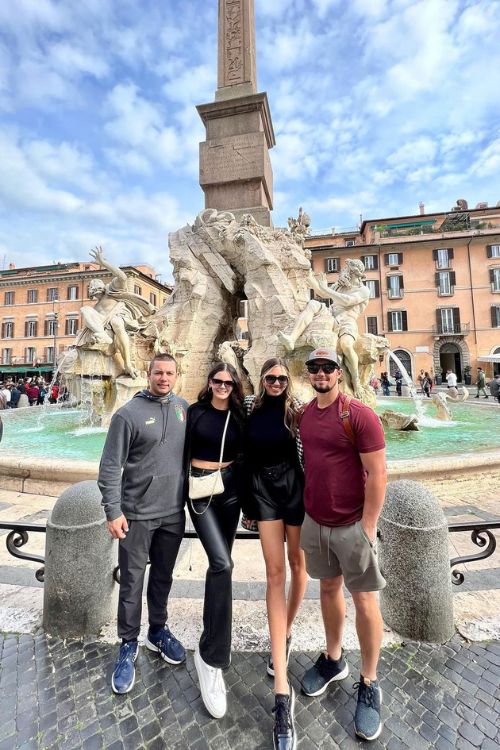 David currently plays for the Los Angeles Angels in the MLB.
The elder brother is considered a contact hitter and is known for his soft-contact bloop hits and frequent contact, which has shown results of a low amount of walks and strikeouts.
In the 2023 off-seasons, David and Dominic Fletcher spent some time visiting the place where their mother grew up for the first time.
They say that when the boys were children, they would wait for their father to come home from work so he could pitch to them.
The 25 years old younger brother shares a gap of about 3 years with his 29 year old older brother.
Who is Emily Lauren Edwards? Dominic Fletcher Wife
Emily Lauren Edwards is the long-time girlfriend of Fletcher, who is now his fiance.
He proposed to her on November 15 of 2022. The couple made the announcement through her Instagram post.
Edwards is a model and influencer, and professional social media manager, and she loves to keep herself in the loop regarding all the latest trends.
She loves to travel and is also surprisingly a foodie however, she manages to maintain that well-toned body of hers.
The model boasts over 11,000 followers on Instagram and about 7,000 followers on TikTok. She claims to have had the opportunity to work with over 65 brands nationwide.
The couple is very vocal about their romance on social media and is constantly posting about each other and going on cute dates, along with cheesy captions and public displays of affection.