Donald Howard Sutton, known as Don Sutton, is a former American baseball player. He played in Major League Baseball(MLB) as a right-hand pitcher.
He has played in various big-name clubs like Los Angeles Dodgers, Houston Astros, Milwaukee Brewers, Oakland Athletics, and California Angels.
Here are some quick facts about Donald Sutton before we move on to the details of his journey.
Quick Facts
| | |
| --- | --- |
| Full Name | Donald Howard Sutton |
| Birth Date | April 2, 1945 |
| Birth Place | Clio, Alabama, USA |
| Zodiac Sign | Aries |
| Nick Name | Don Sutton |
| Religion | Unknown |
| Nationality | American |
| Ethnicity | Caucasian |
| Father's Name | Howard Sutton |
| Mother's Name | Lilian Sutton |
| Siblings | Unknown |
| Education | Gulf Coast Community College, Whittier College |
| Date of Death | January 18, 2021 (aged; 76 years old) |
| Height | Unknown |
| Weight | Unknown |
| Body Build | Muscular |
| Hair Colour | Grey |
| Eye Colour | Brown |
| Married | Yes |
| Spouse | Mary Sutton |
| Children | 3; Darron Sutton, Jaqueline Sutton, Donald Sutton III |
| Profession | Baseball Player, Broadcaster |
| Position in team | Pitcher (Right-Handed) |
| Affiliations | Los Angeles Dodgers, Houston Astros, Milwaukee Brewers, Oakland Athletics, and California Angels. |
| Net Worth | $20 million |
| Merch | Rookie Cards, Jersey |
| Last Update | 2021 |
Don Sutton – Early Life and Education
Don was born as Donald Howard Sutton on 14th April 1945 to 18-year-old Howard Sutton and 15-year-old Lilian Sutton in Clio, Alabama, USA. It was a small town, and his parents were Christian Fundamentalists.
He was born the year World War II ended. His parents were sharecroppers and were not well off. His family later moved to Molino, Florida.
He attended the J.M Tate High School. There he played baseball, basketball, and football. His school team competed in the small school state finals, where his team won his junior year and lost in his senior year. However, he won all-country, all-conference, and all-state for both the seasons he led his team.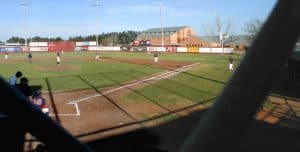 When he graduated high school in 1963, he was voted "Most Likely to Succeed" by his teammates. He later attended the Gulf Coast Community College, Panama City for a year, and then Whitter College, California, despite wanting to study at Florida State University at the suggestion of his coach Dave Fuller.
After doing well in a summer league while in college, he was signed by the Los Angeles Dodgers.
Love baseball? Read about Duke Snider next!!
Don Sutton – A Mesmerizing 22-Year-Long Career
Before entering the major league with the Dodgers at 21 years of age, Sutton played for the Sioux Falls Packets in South Dakota. He was the Dodgers' fourth starting pitcher alongside big names like Sandy Koufax, Don Drysdale, and Claude Osteen.
All through the 1970s, Don Sutton was selected for the Major League Baseball All-Star Game four times. His 1974 Dodgers team made it into the postseason after a total win of 102 games during the regular season. They lost the 1974 world series eventually.
Sutton had the best major league game in 1976 when the Dodgers finished the year with a 21-10 win-loss record. He received a game win in the 1977 playoffs, followed by a 1-0 record in two appearances in the specific year's World Series.
He had a major fight with teammate Steve Garvey after Sutton expressed that Garvey had been getting more attention when Reggie Smith was clearly the team's best player. This became a problem when the two began to fight before their match with the Mets publicly.
They later had to be separated by teammates and team officials after the brawl turned ugly and controversial, and a field day for the media and press present.
Latter Half of his Career
Don Sutton became a free agent after the season of 1980. During his time with the Los Angeles Dodgers, his impeccable record of wins made him a hot commodity in the market.
He joined the Houston Astros in 1981. A minor baseball strike interrupted the season, causing him to return with a brilliant seven wins for one loss.
Sutton got injured with a patellar fracture in the game on October 2. This was a setback for him as the Astros were about to clinch a berth( to clinch a playoff birth means to secure a position in the playoffs, ahead of the end of the season sometimes, which allows the team to continue to gain wins if they have a chance to obtain a higher seed.) in the postseason of the NFL.
During the other half of the season of 1982, the Astros sent Sutton to the Milwaukee Brewers. He bagged a win in the playoffs games that year against the Angles.
Sutton then went on to start two games in the 1982 World Series against St. Louis Cardinals. He pitched 10 innings with nine earned runs and one loss, which was quite impressive.
Speaking about Sutton, his teammate from Astros, Ray Knight, said,
Here's a guy (Don Sutton) who is going to win you 15-20 games every year, and he never misses a start
Don was traded to Oakland Athletics in 1985 in exchange for Ray Burris. He was initially skeptical about this trade because he hoped to be in California to live at home and be with his family.
As a result, he reported to training sessions 12 days late, citing the same reason and the fact that his total wins were only 20 wins, less than a staggering 300 career wins.
He started the season with 13 wins and 8 loss records and was then traded to California Angels in September in return for 2 minor league players.
By the time he played in the 1986 season, He had an impressive 295 career victories. After small hurdles early in the season, Sutton completed his 300 career wins on June 18, 1986, in a match against the Texas Rangers.
Sutton finally returned with the same team he started his career with, Los Angeles Dodgers, in 1988 for his last season. He was released from the team on August 10.
Don Sutton – Broadcasting Career
Sutton became a broadcaster in 1989. He divided his duties between Dodgers' cable telecasts on the Z channel and Atlanta Braves, which telecasted on TBS. He became a full-time commentator with the Braves later that year.
Even after being diagnosed with Kidney cancer and having a life-threatening surgery to remove his left kidney as well as a part of his lung the following year, he continued broadcasting.
He left TBS in 2006 because they had few games and cut back on their broadcasting.
Sutton also worked for the Washington Nationals in the MASN N network until 2009, even though he had time left on his contract. He went back to the Atlanta Braves to work as a radio broadcaster.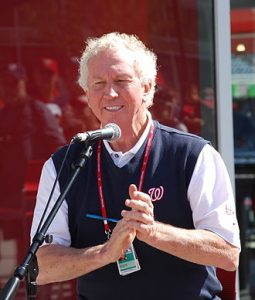 He also broadcasted golf, being an avid golfer himself. Don served as the pre-game and post-game analyst for the pre-game and post-game analyst for the 1993 and 1987 American League Championship Series. He is still a broadcaster, and his current broadcasting partner is Jim Powell.
Don Sutton – Awards, Accolades, and Honors
Don has received several awards throughout his career. He seems to be humble, and quite a professional as the number of his awards speak on his behalf. Some of the awards he received are as follows:
Four All-Star (1972, 1973,1975,1977)
MLB ERA leader(1980)
Los Angeles Dodger No.20
Braves Hall of Fame for his Broadcasting Work
National Baseball Hall of Fame(4 times)
Don Sutton Ball Park in Molino, Albany, was named in his honor.
Sutton holds a record for most at-bats without a home run (1,354).
He holds another record for pitching nine scoreless innings but got a no-decision seven times in his entire career.
The video above provides a small insight into the life of Don Sutton, and it is an absolute delight to watch!
Don Sutton – Personal Life
Don Sutton had a relatively quiet personal life. We don't have much information about his personal life apart from being married to Patty Sutton in 1968.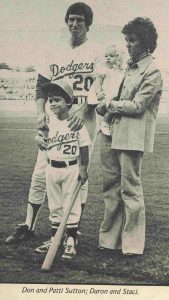 He was married to Mary Sutton. He had three kids, Darron Stutton, Jaqueline Stutton, and Donald Stutton III. His daughter Jaqueline was born 16 weeks early and was given a pretty small chance of survival, but she made it at last.
Don Sutton used to be an avid golfer and wine enthusiast. He was often found making references to these hobbies during commentaries or broadcasting.
He took his last breath at the age of 75 years old. Well, he died peacefully in his sleep.
Before his death, he used to be pretty active and working even today as a broadcaster for various agencies, channels, and radio stations. Sutton also appeared as a celebrity panelist on several occasions in Match Game between 1976 and 1981.
Don Sutton – Social Media
Sadly, Don Sutton doesn't appear to be on any social media platform as of now.
Quotes
Luck is the by-product of busting your fanny.
I'm the most loyal player money can buy.
Find the grain of truth in criticism-chew it and swallow it.
Don Sutton – Autographs and Baseball Cards
Throughout his career, Don Sutton has had various die-hard fans who have collected everything collectible. From signed jerseys, autographs, balls, pitching gloves, and the most popular – Baseball Cards!
Here are some of the most popular baseball cards of Sutton:
Don Sutton | FAQs
What do Don Sutton's career statistics look like?
Don Sutton commenced his MLB day back on April 14, 1966, with the Los Angeles Dodgers and retired from his career on August 9, 1988, with the Los Angeles Dodgers.
Don maintained a career statistic of 3,574 strikeouts and a 3.26 Earned Run Average (ERA) during his career. Likewise, he has a win-loss record of 324–256.