Morgan Calantoni is the girlfriend of the famous NBA player Donte DiVincenzo, who is currently the shooting guard of the Golden State Warriors.
Although they seemed a bit distant in the past few years, they had been together all these years and had not broken up.
His fan often regards Margan as the wife of the NBA player. But, the lovers have yet to tie the knot.
The Golden State Warriors guard met Morgan when he was still with the Villanova Wildcats in 2016. At the same time, Morgan was the cheerleader for her university's basketball team.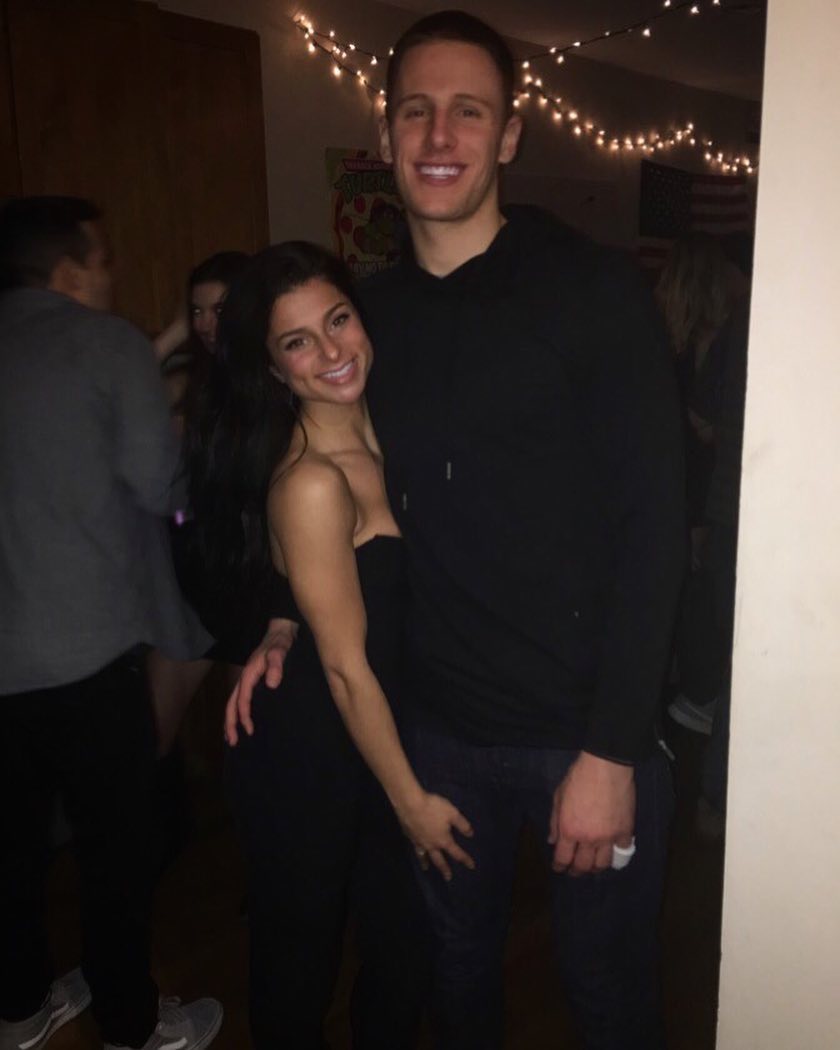 It might sound impolite, but many people would not have known her if she wasn't associated with Donte, as being his girlfriend is her identification.
Nonetheless, she wants to stand out on her own and is doing her best to have a successful career.
The article below will explore Morgan's life, career, and relationship with Donte. But first, let's begin with some quick facts.
Quick Facts
Full Name
Morgan Calantoni
Date of Birth
February 1997
Birth Place
Easton, Pennsylvania, USA
Nickname
Not Available
Religion
Christian
Age
26 Years Old
Nationality
American
Height
Not Available
Weight
Not Available
Hair Color
Black
Eye Color
Dark Brown
Build
Slim
Father's Name
George Calantoni
Mother's Name
Desiree Hartrum
Education

Wilson Area High School (Easton, Pennsylvania)
Temple University (Philadelphia, Pennsylvania)

Marital Status
Unmarried
Boyfriend's Name
Donte DiVincenzo
Kids
None
Profession
Marketing Project Manager
Siblings
Hannah, Gina, and Samantha
Net Worth
Not Available
Social Media
Instagram
Donte's Merch
Signed Card, Signed Photo
Last Update

June 2023
Early Life, Family & Education
Morgan Calantoni was born on February 1997 in Easton, Philadelphia, America, alongside a twin sister named Hannah.
Besides them, her parents, George and Desiree Hartrum, gave birth to their elder sister, Gina.
When her dad married her stepmom, Jennifer (Doria) Calantoni, around 2010, they had one daughter together named Samantha.
Her father, George, was a devout Christian, and he raised all his children in good faith, who went to church every week.
George initially started working as a carpenter, but over the years, he established his own company, "George Calantoni & Sons."
The company was running smoothly, but unfortunately, George passed away at age 49 in 2022 due to lung cancer.
The Calantoni family is still mourning the loss of their family member who cared for everyone in the family.
Education
Morgan was a bright kid and always did well in her school. She was active in extra-curricular activities and leadership development programs, because of which everyone in her family was proud of her.
Calantoni enrolled in the Wilson Area High School near her home and studied there until graduation in 2015.
She obtained a Bachelor's in Strategic Communications from Temple University in 2019.
Career
Although Morgan started gaining considerable attention after her relationship with Donte DiVincenzo, she was famous from her college days as she was a cheerleader for their college basketball team, Temple Owls.
Besides that, she often worked as a volunteer to recruit freshers and managed their team's social media handles.
Calantoni also worked as a bartender and food server at a restaurant named Marianna's Restaurant and Banquet Center for around three years. As she always wanted to live independently, she started doing jobs while still in college.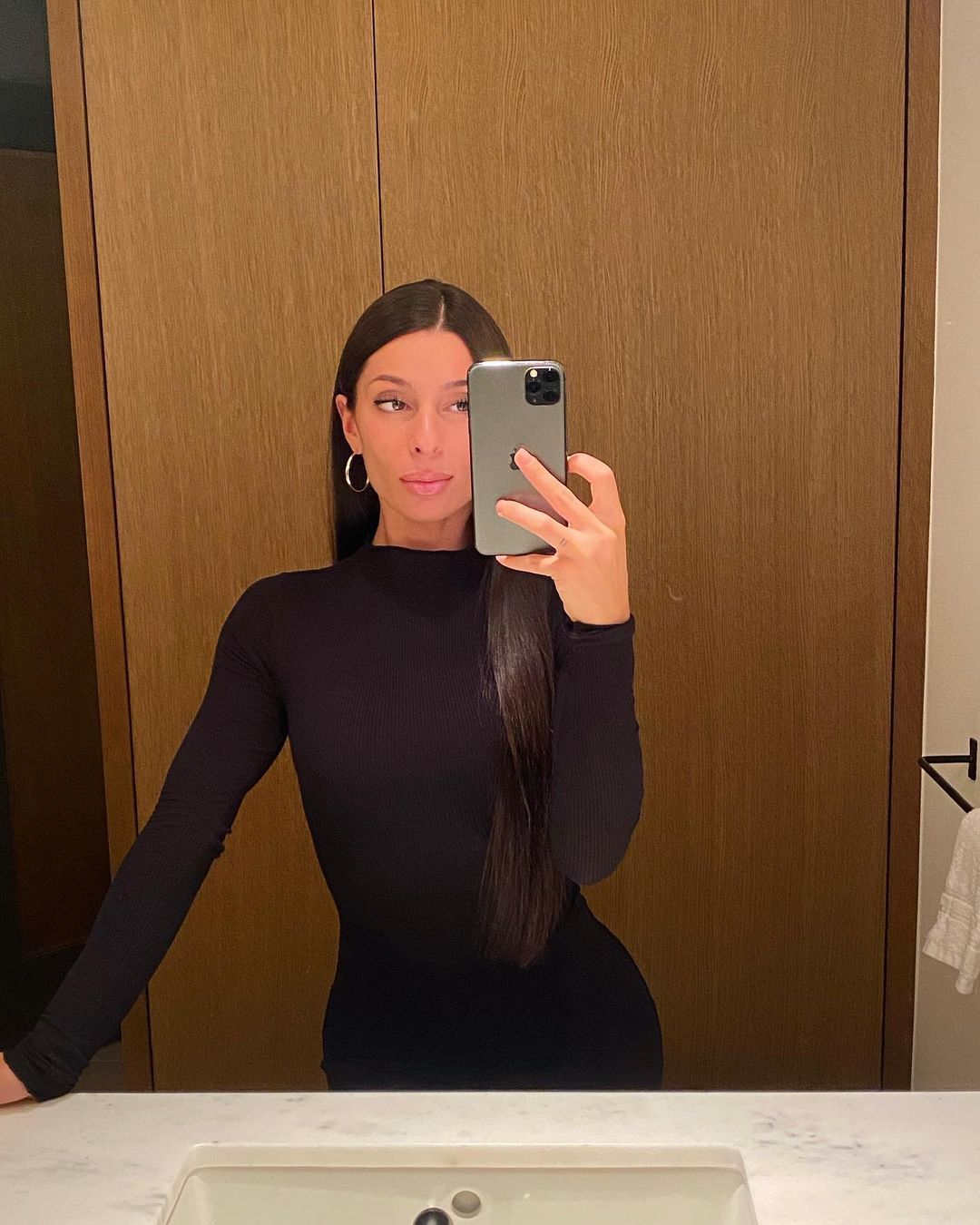 After graduating in 2019, she initially worked as a marketing intern at a clothing line named Sideline Sportswear and Promotions. Soon after, the company promoted her to Marketing Coordinator.
However, she is currently working as Marketing Project Manager at a digital marketing company named "EverythingClicks," starting her work in February 2021.
Relationship
Even though Donte and Morgan began their relationship in 2016, they have not considered marrying yet.
The duo has already clarified that they still want to give more time to their professional life.
However, they meet frequently and spend much of their time together. The couple, as it seems, does not want to disclose much about their private life, although everyone knows they are in a relationship.
Donte's social media handles are almost devoid of their photos together. But Morgan has shared some pictures of them on her social media handles.
How Did Donte Meet Morgan?
Donte DiVincenzo started playing as a shooting guard for the Villanova Wildcats soon after joining them in 2015.
As he often traveled around the state playing basketball tournaments, he saw Morgan and fell in love with her.
Calantoni had started cheerleading for the Temple Tigers around the same time.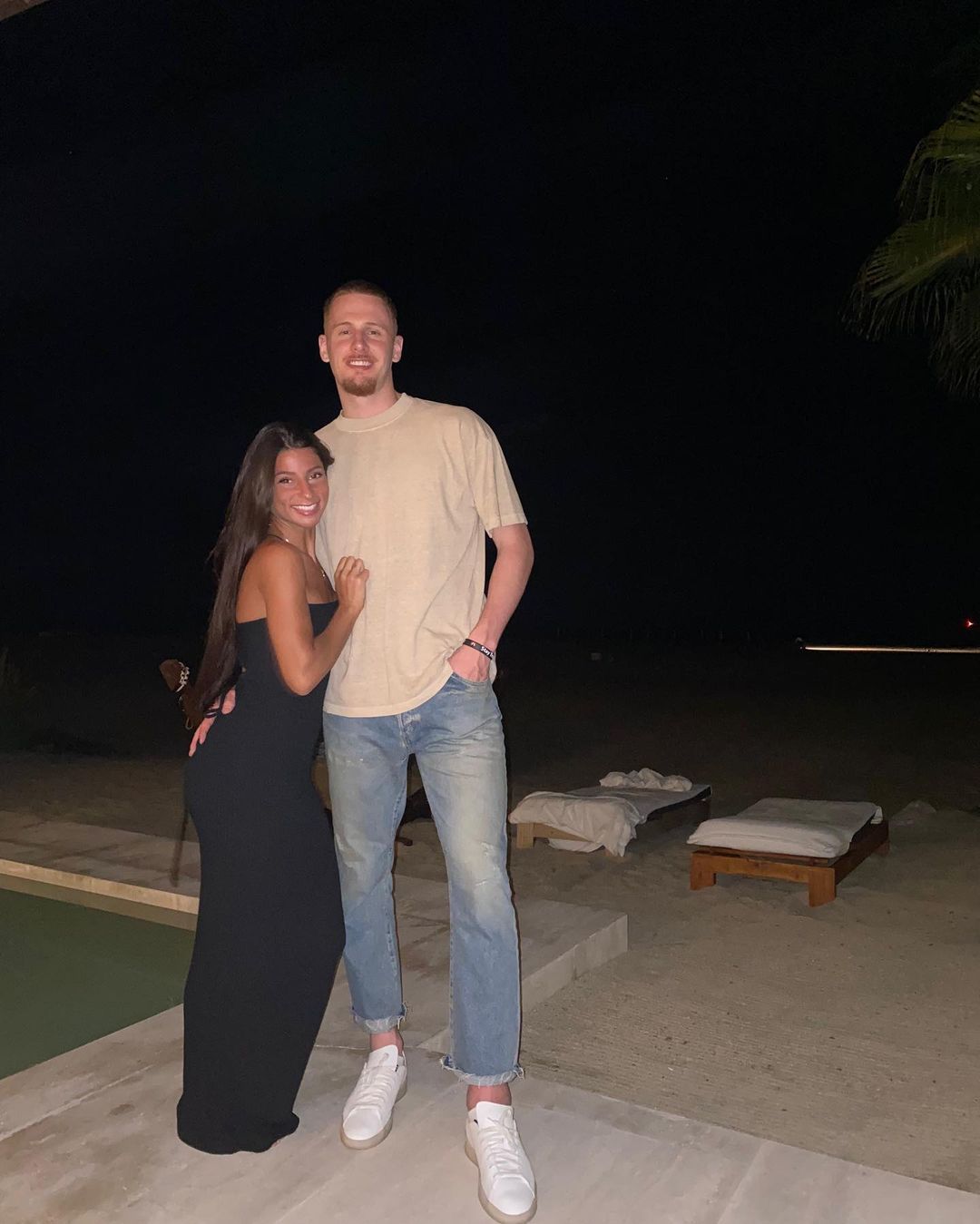 So, when Donte approached her for a date, she immediately agreed to him. They both lived in nearby places in Pennsylvania and frequently went on dates.
Over time, they grew pretty close and decided to stay in a long-term relationship and have been inseparable since then.
Morgan still manages to hang around with the player though they now live in different places because of their career.
Moreover, the lovebirds enjoy exploring new places and have traveled together as far as Europe.
Net Worth
Although many people had queries regarding Morgan Calantoni's net worth, she has not disclosed it yet.
However, she makes a decent amount through her current job as a marketing project manager. One can presume this easily by seeing her lifestyle through her Insta posts.
On the other hand, her boyfriend, Donte, has already earned around $17 million from his NBA career.
He currently has an estimated net worth of $5 million as of June 2023.
Short Bio Of Donte DiVincenzo
Donte DiVincenzo, the basketball player, was born on January 31, 1997, to John and Kathie DiVincenzo in Newark, Delaware, USA.
The NBA player was interested in basketball from an early age and played high school basketball for the Salesianum School in Wilmington.
He later attended Villanova University in Pennsylvania, where he played college basketball for the Wildcats. After his junior season, Donte declared for the NBA draft in 2018.
Milwaukee Bucks picked him as the 2018 draft's 17th overall pick. But sadly, he could only appear in 27 games for the Bucks during his rookie season because of a foot injury.
The 6 feet 4 inches shooting guard from Newark has already accomplished so much in his career in a short time.
He won two NCAA championships with the Villanova Wildcats. However, his most significant achievement to date is the NBA championship in 2021.
He is currently with the Golden State Warriors since 2022. Although the frequent injuries have become a significant problem for him since his debut, he thinks he can deal with them efficiently.
Hopefully, his upcoming seasons in the NBA will become more fruitful than ever.
Popularity Graph
Being the girlfriend of a famous NBA player, Morgan has become the subject of many searches on the internet.
The line graph illustrates her search trend in the last 12 months.
Frequently Asked Questions (FAQs)
What is the wingspan of Donte DiVincenzo?
Donte has a wingspan of nearly 6 feet 6 inches.
What are Donte DiVincenzo's nicknames?
Some popular nicknames people have given to Donte are Big Ragu and White Donte.