Natalie Lock, Drew Lock wife, is a social media personality and model who has added brilliance and positivity to his NFL career.
Natalie and Drew started dating in 2019 after they met on an online dating site. Since the beginning, the couple has always stood by one another's side and supported each other.
Andrew Stephen Lock, widely recognized as Drew, is a professional football player who plays for the Seattle Seahawks of the National Football League (NFL) as a quarterback.
The Denver Broncos picked Drew in the second round, 42nd overall, in the 2019 NFL Draft. Later, Andrew was traded to the Seattle Seahawks on March 16, 2022.
Additionally, the quarterback attended Lee's Summit High School, where he was also involved in basketball. He was a two-star basketball prospect as a shooting guard; however, he quit basketball after high school.
During his collegiate career, the player won the first-team All-SEC and also the second-team All-SEC.
Drew Lock Wife And Kids
According to various sources, Drew Lock and Natalie met around July 2018 through Bumble.
The couple began their relationship in September 2019. However, the quarterback publicly announced their relationship in October 2019.
After a few years of dating, in September 2022, they took a step forward and got engaged. Moreover, on April 2, 2023, they exchanged their vows in front of their loved ones.
"Drew, you are, you have been, and you will always be the greatest love I could ever dream of!" Newman posted on Instagram.
Natalie Newman was born on January 1, 1997, in Jupiter, Florida. Newman attended the University of Colorado Boulder, where she studied for a degree in advertising and strategic communications.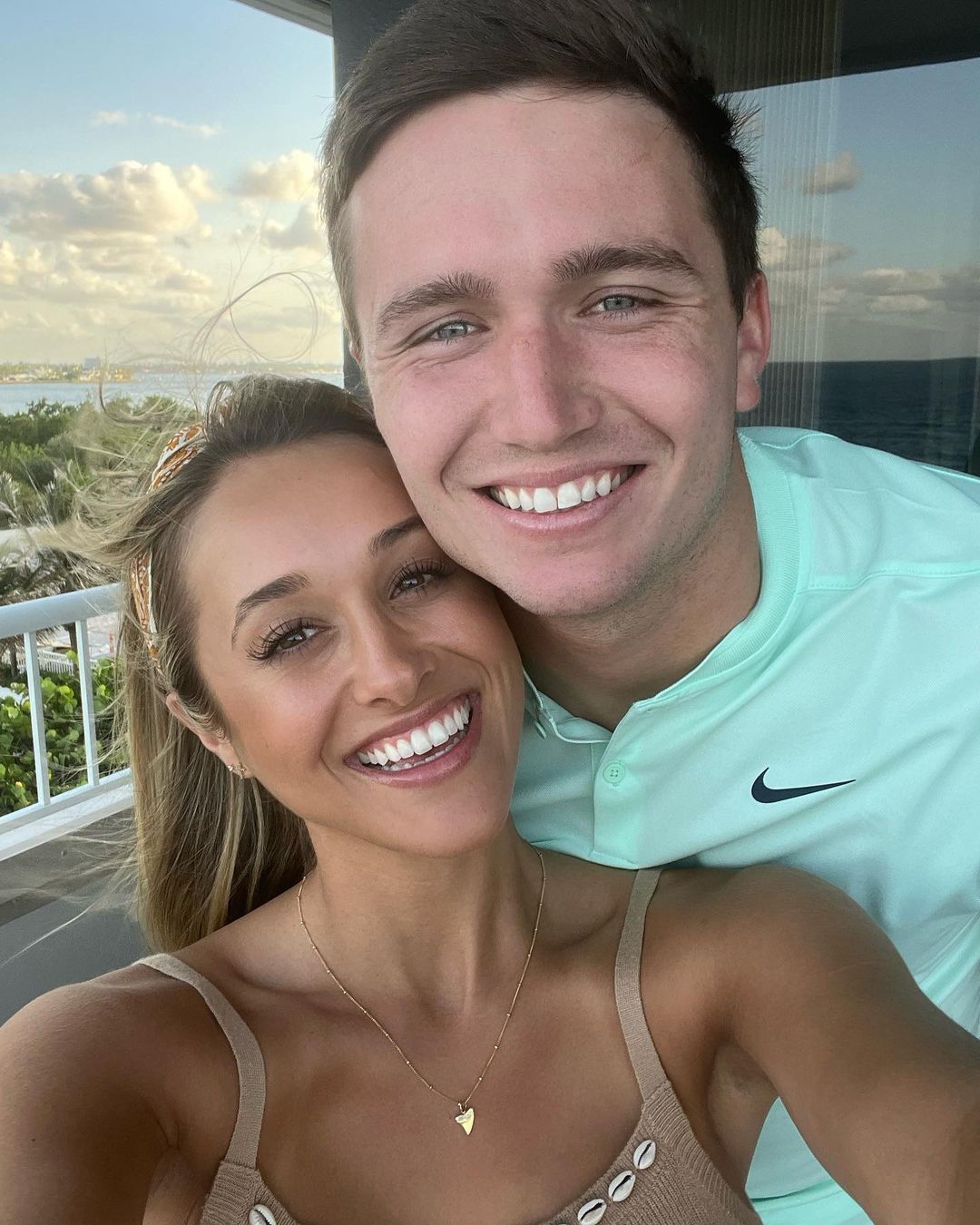 The wife is a model and an influencer who has collaborated with various brands like Revolve, Bumble, Google Pixel, and more, which indicates her versatility in the industry.
Additionally, she is also a certified personal trainer and calls herself a fitness freak. Moreover, the model is also a pet lover who is raising two adorable pets named Duke and Daisy.
Currently, the couple has not welcomed any kids into the family. However, they are planning to add another adorable human to their small family soon.
On August 3, 2023, Natalie Lock posted a picture with her husband showing off a baby shoe. The couple was dressed in blue, posing by the seaside. The caption read, "Can't wait to meet the love of our lives 💙"
The post suggests that Natalie is pregnant with a baby boy.
Drew Lock Ex-girlfriend, Gracie Hunt
Gracie Hunt and Drew Lock dated when Lock was a quarterback at the University of Missouri. They were a famous soccer and football pair. However, it didn't last long.
After the couple broke up, they both moved on and focused on their careers.
Hunt is the daughter of Clark Hunt, chairman and CEO of the Kansas City Chiefs, and Tavia Shackles. Gracie was born on March 29, 1999, in Dallas, Texas.
She grew up playing soccer, but due to her continued suffering from injuries, she had to give up her dreams of becoming a professional player.
"Soccer was my first love. I wanted to play in college. I won the championship when I was in high school with my high school team and played club as well." Gracie said.
Hunt was also successful in winning the Miss Kansas USA crown in 2018. Moreover, Gracie was ranked 16th in the Miss USA pageant in November 2021.