Sports have been on the corner since the days we can remember. Today, we will take you to the olden days of the late 1800s and early 1900s.
In simple, we will discuss the then five-time Olympics medalist swimmer, Duke Kahanamoku. Jumping right into his net worth, Duke Kahanamoku depicted a net worth of $1.9 million.
Duke is much more than a swimmer; he was also a Scottish Rite Freemason, a Shriner, law enforcement officer, actor, beach volleyball player, and businessman. Indeed, a man of immense talent and work.
Quick Facts
Full Name
Duke Paoa Kahinu Mokoe Hulikohola Kahanamoku
Date of Birth
August 24, 1890
Birth Place
Haleʻākala, Honolulu, Kingdom of Hawaii
Nick Name
"Duke," "The Big Kahuna"
Religion
Unknown
Nationality
Hawaiian
Ethnicity
Unknown
Zodiac Sign
Virgo
Death Date
January 22, 1968 (aged 77)
Death Place
Honolulu, Hawaii
Height
6'1″ (1.85 meters)
Weight
190 lb (86 kg)
Eye Color
Dark Brown
Hair Color
Black
Father's Name
Duke Halapu Kahanamoku
Mother's Name
Julia Paakonia Lonokahikini Paoa
Siblings
(Duke is the oldest of all)
Samuel Kahanamoku,
David Kahanamoku
Louis Kahanamoku
Sargent Kahanamoku
Bernice Kahanamoku
Maria Kahanamoku
Bill Kahanamoku
Kapiolani Kahanamoku
Education
Kamehameha Schools – Kapālama Campus,
President William McKinley High School,
Queen Kaʻahumanu Elementary School
Marital Status
Married
Wife
Nadine Alexander (m. 1940-1968)
Kids
None
Profession
Swimmer, Surfer, Water poloist, Actor
Club
Waikiki Beach Boys
Strokes
Freestyle
Net Worth
$1.9 million
Social Media
None
Merch
Waterman: The Life and Time of Duke Kahanamoku(Book), Trading Card
Last Update
June, 2023
How much does Duke Kahanamoku have in earnings and net worth?
Indeed, he earned most of his earnings from his career. As a fun fact, he was considered the greatest freestyle swimmer in the world back then.
Not to mentions, he was most widely known for developing the flutter kick, which largely replaced the scissors kick. Besides swimming, he was popular in surfing as well.
Click to learn about Andy Murray's Net Worth, income, and lifestyle!
Duke Kahanamoku Net Worth | Brand Endorsements
In his early days, Duke wasn't well off with finance. But, later, his fame bought him numerous promising brand endorsement opportunities. Initially, he signed a five-year deal with the brand, Branfleet, an apparel firm.
Together, they hopped on the trend of "Aloha shirts." Herewith, Duke featured their apparel as the endorser.
Likewise, it was only in 1932 when Duke first gained the sporting goods accessories in the water.
Apparently, Owen Churchill assisted him with the swimming accessories. Often titled as the "Father of Surfing," Duke still stands as the legendary ambassador example for the Aloha.
Well, they represent the "Duke Kahanamoku" brand which depicts the culture and essence of Hawaii. Back in the 1960s, Duke assisted in building a nightclub named after him in Waikiki.
Films and Movies
Duke Kahanamoku, who has $1.9 million in net worth, also flourished in his acting career. Initially, he commenced in the 1920s, where he first appeared in a 1925 movie titled 'Adventure.'
Back then, he played the role of the character Noah Noa.
The same year, he also featured in 'The Pony Express' as an Indian chief. Likewise, he played the role of a lifeguard in 'No Father To Guide Him' and the role of Tamb Itam in 'Lord Jim.'
Next year, in 1926, Duke acted in the film 'Old Ironsides' where he was a pirate captain.
Furthermore, he appeared as a Hawaiian boy in the 1927 movie 'Hula' and as the character Lono in 'Isle of Sunken Gold.'
You might be interested in DeMar DeRozan and his lifestyle alongside the career earnings.
On a similar note, some of his other movies are highlighted below.
1928 movie, 'Women Wise' (as a guard)
1929 movie, 'The Rescue' (as the character Jaffir), 'Where East is East' (as a wild animal trapper)
1930 movie, 'Girl of the Port' (as the character Kalita), 'The Isle of Escape' (as the character Manua)
1931 short appearance in 'The Black Camel' (as the surf instructor)
1931 documentary, 'Around the World with Douglas Fairbanks)
1948 movie, 'Wake of the Red Witch' (as the character Ua Nuke)
1955 movie, 'Mister Roberts' (as a native chief)
1957 series, 'This is Your Life' (as himself)
1967 documentaries, 'Free and Easy' and 'Surfari.'
Duke Kahanamoku Net Worth | Lifestyle
Famously known as the "Father of Modern Surfing," Duke led an active lifestyle. Thanks to his surfing and swimming talent, he has also once saved twelve drowning men.
Apart from swimming and water activities, Duke was also a good dancer and could dance the foxtrot, rhumba, tango, hula, and shag.
Duke Kahanamoku Net Worth | House
Back in his days, Duke Kahanamoku resided at 114 Royal Circle in a 3,935-square-foot house. For elaboration, his property was secluded and private, which stood at the top of a gated driveway off Royal Circle in Diamond Head.
Initially, but in 1937, this house was later sold for $9 million in 2015. It depicts both Hawaiian heritage and modern touch. As for the rooms, it has four bedrooms and four-and-a-half bathrooms.
As it is located between Black Point and Kahala, the house portrays a breathtaking view of Koko Head.
To date, this house has the handprint of Duke imprinted on the stone in the yard. In the meantime, the yard also consists of the tree given by the Japanese Emperor to Duke.
Later, this house was renovated in 1999 with some touches. With the interior and well-equipped kitchen, it stood as the perfect destination for vacations.
Even with some touches, the original fountains, staircase, and handrails are intact.
Duke Kahanamoku Net Worth | Oil Gas Station
In the 1930s, Duke Kahanamoku ran a Union Oil gas station on the corner of Nuuanu and Pauoa roads. At the same time, he also ran two other gas stations in Waikiki near Kalakaua and Seaside avenues.
Follow on about Lewis Hamilton's net worth, earnings, lifestyle, and more!
Duke Kahanamoku Net Worth | Charity and Help
Outrigger Duke Kahanamoku Foundation
Back in Duke's days, he was the only Hawaiian with the membership at The Outrigger Canoe Club. Including thirds of the same Outrigger Canoe Club, Duke initially started the Outrigger Duke Kahanamoku Foundation.
Also, they had net assets of $1,239,507. Well, their earnings came from investment income, trademark income, fundraising, and donations.
Every year, they award scholarships of around $76,547 and spend around $22,698 in trademark-related legal fees. In addition, as a nonprofit organization, they work to support an individual financially.
Additionally, they also hold the Duke's OceanFest, celebrated every year in August to mark Duke's birthday.
Some of the other events they hold include Duke Kahanamoku Boys & Girls Club, Duke Sports and Fitness Day.
Tokyo 2020 Olympics
The late three-time Olympic gold medalist would've been proud to see the sport he popularized be included in the Tokyo 2020 Olympics today.
The Hawaiian native learned surfing while growing up in Hawaii. But, at the time, only Hawaiians were known about the sport.
However, after his Olympic career, he started promoting surfing in his tours and attracted many people to this sport. As a result, he was inducted into the Swimming Hall of Fame and the Surfing Hall of Fame.
Moreover, he was the first person to be inducted into both of the Hall of Fames. Eventually, Kahanamoku was inducted into the U.S. Olympic Hall of Fame.
Surfing was considered an Olympic Sport after the IOC approved its addition proposal in 2016.
Brief Glance on Duke Kahanamoku
As a fun fact, Duke was named after Prince Alfred, Duke of Edinburgh, while he visited Hawaii. Indeed, due to this name, many confused him with being of royalty.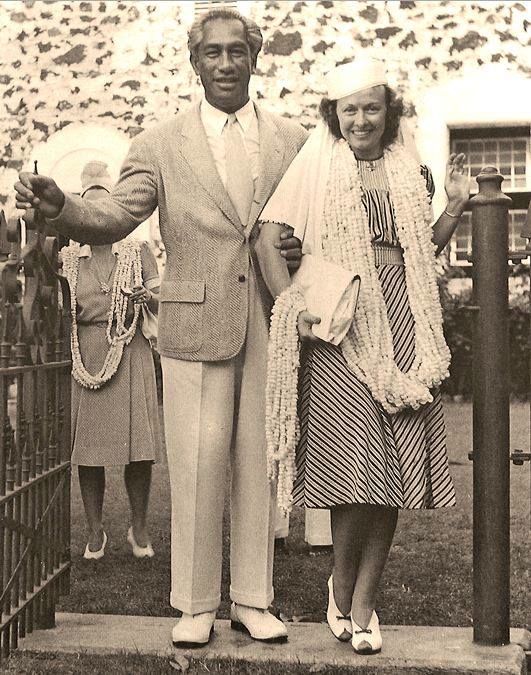 Initially, his father gained the name, and later as the eldest son, the name was passed onto him. Back then, his father used to be a policeman. Looking on to Duke's life, he wasn't always well-off financially.
Even after gracing the swimming and surging, he struggled financially. Hence, he left his studies while he was just a ninth-grader. Then, with few roles in movies and endorsement deals, he started to earn better.
Later, he also appeared in a variety of swimming and surfing shows and even in the Olympics. As per the sources, Duke, at one point, also had to work as a janitor in the City Hall.
Some of his fun facts are that Duke started surfing at the young age of eight. Not to mention, his favorite food was sour poi.
Honors and Titles
9-foot cast bronze statue of Kahanamoku at Waikiki Beach burial site in 1990
1994 statue of Duke at Freshwater, NSW, Australia
2015 monument replica of Kahanamoku's surfboard at New Brighton beach, Christchurch, New Zealand
2002 first-class commemorative stamp with Duke's face by U.S. Postal Service
1911 Gold medal at Amateur Athletic Union, 100-yard freestyle swimming
1912 Olympic gold medal for 100-meter freestyle swimming and silver medal for freestyle relay swimming
1920 Olympic gold medal for 100-meter freestyle swimming and 800-meter freestyle relay swimming
1924 Olympic silver medal for100-meter freestyle swimming
1965 International Swimming Hall of Fame
1966 Surfing Hall of Fame
1984 U.S. Olympic Committee Hall of Fame
You may want to learn in detail about Chris Hoy Net Worth. Click the link to follow!
Common Facts on Duke Kahanamoku
His parents were the descendants of Hawaiian royalty.
He was the first Hawaiian ever to win a medal at the Olympic Games.
He has starred in more than 25 Hollywood movies as an extra.
His hobbies were canoeing, sailing, water polo, lifesaving, and ukulele playing.
Duke and his wife, Nadine Alexander, were married for 28 years, but they have no child.
He was the sheriff of Honolulu for nearly three decades and was re-elected thirteen times for the position.
Quotes
"Every day of the year where the water is 76, day and night, and the waves roll high, I take my sled, without runners, and coast down the face of the big waves that roll in at Waikiki."
"Just take your time – wave comes. Let the other guys go, catch another one."
"Out of the water, I am nothing."
"Don't talk – keep it in your heart."
Duke Kahanamoku Net Worth | FAQs
What was Duke Kahanamoku famous for?
Duke was famous for being a competitive swimmer who had won three Olympic gold medals and two Olympic silver medals. Furthermore, he is also known as the father of modern surfing.
What happened to Duke Kahanamoku?
The five-time Olympian died of a heart attack on January 22, 1968.