To introduce the profile with a full disclosure declaration: Dwayne Schintzuis was a favorite player of many basketball fans.
He was a prominent personality during his career on and off the court. Dwayne was known for his aggressive attitude, and a unique mullet-style haircut called the "Lobster."
Notably, Dwayne is the only player in the South East Conference Championship history to score more than 1000 points with 800 rebounds, 250 assists, and 250 blocks.
Despite personal issues, Schintzuis was an excellent NBA prospect because of his performance on the court.
He still holds Florida's career record for blocked shots (272) with 1,624 points.
Unfortunately, Dwayne left the world battling rare Chronic Myelomobocyte Leukemia in 2012.
But, his remarkable contribution to the basketball court will always be there in the record and memories of his friends, family, and fans all over the world.
Before going through the information about NBA legend Dwayne Schintzius, let's check the quick facts about him.
Quick Facts:
Full Name
Dwayne Kenneth Schintzius
Birth Date
October 14, 1968
Birth Place
Brandon, Florida
Date of Death
April 15, 2012
Place of Death
Tampa, Florida, United States
Religion
Christian
Nationality
American
Sexuality
Straight
Ethnicity
American
Education
University of Florida
Horoscope
Aries
Father's Name
Ken Schintzyis
Mother's Name
Linda
Siblings
Travis (Brother)
Age
Died at 42
Height
7'2″ (2018m)
Weight
118kg (260lb)
Hair Color
Black
Eye Color
Unknown
Wife
Lynn Avery
Girlfriend
–
Profession
Former professional NBA Player
Net Worth
–
Career History
San Antonio Spurs, Sacramento Kings, New Jersey Nets, Indiana Pacers, Los Angeles Clippers, Boston Celtics, Mobile Revelers, Brevard Blue Ducks
Position
Center
Accomplishment
1987 Bormio silver medal
Fourth-team Parade All-American 1986
Social Media
Not active
Merch
Basketball Card, Signed 1990 Trading Card
Last Update
2023
Dwayne Schintzius | Early Life, Family, and Education
Dwayne Schintzius was born in Tampa, Florida, to his parents, Ken Schintzuis and Linda Schintzuis.
As for siblings, Dwayne has a brother named Travis Schintzius. Dwayne spent most of his childhood with his brother Travis.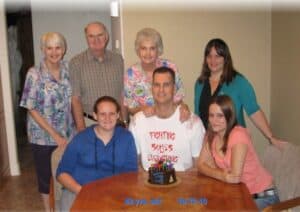 Growing up, Schintzius got tremendous support from his family members in every aspect of his life.
Meanwhile, his brother Travis also supported him till the end of his life by donating bone marrow for his treatment.
Education
As for education, Dwayne attended Brandon high school and started playing basketball for his high school team Brandon Eagles.
Besides, with his teammate Toney Mack, he led the Brandon Eagles team to finish a class 4 A state runner-up as a sophomore and the final four berth as a junior.
Furthermore, as a senior player for Brandon eagles later, Dwayne averaged 21.1 points with 17 rebounds per game.
Also, he was the finalist for Florida's Mr. Basketball award with All-American high school recognization by McDonald and Parade magazine in 1986.
Don't forget to check out: <<Steve Canal Bio: Basketball, Net Worth, Husband & Swin Cash >>
Height, Weight & Nationality
Dwayne Schintzius was 7'2″ tall with a giant body structure and a weight of around 118 kilograms. His massive height was a plus point for performance in basketball.
He was an American national by birth in terms of nationality as he was born in Florida, United States of America.
Dwayne Schintzius | Illness and Cause of death
Late Schintzius has recovered from injuries and illness that occurred in the court. But the illness that occurred after his retirement made it Dwayne challenging to live his life.
In November 2009, Dwayne was diagnosed with a rare and fatal disease called "Chronic Myelomobocyte Leukemia."
For those unknown, it is a cancer of the blood-forming cells of the bone marrow.
After diagnosing Leukemia, he underwent bone marrow transplantation at Moffit Cancer Center on January 12, 2010.
Meanwhile, his brother Travis Schintzius donated bone marrow to him for the transplant.
Despite the transplant's success, Dwayne still struggled with a lot of difficulties while undergoing Chemotherapy treatment.
Finally, in July 2010, the American-born was declared cancer-free by the hospital with success in the treatment.
Besides, in 2012, Schintzius suffered from the same complications requiring a second bone marrow transplant.
Unfortunately, he suffered from respiratory failure on April 15, 2012, and died at 43 years.
Today, the late athlete is not with us in this world, but his memories will always be there. His journey and contribution to sports will always be considered and remembered.
Dwayne Schintzius | Basketball Career
College Stats (University of Florida)
Dwayne Schintzius selected his college career attending the University of Florida and played basketball from there.
Despite having received an athletic scholarship offer from other top college programs, he chooses the University of Florida.
Dwayne started his basketball career for his college team, the Florida Gators, from 1987 under head coach Norm Sloan until 1990.
At the end of 1988-89, in his junior season, he led Gators in scoring, rebounding, and registered the record for blocked shots in college history.
During Dwayne's junior career, the Florida Gators won their first-ever regular-season Southeastern Conference championship.
Meanwhile, he also got recognition as a first-team All-SEC player after that season with inclusion on multiple All-American lists.
Conversely, Dwayne Schintzius faced disciplinary problems. He clashed with his coach Sloan and had an incident with opposing players, fans, and others.
During his junior season, he got suspension from the University of Florida for four games for violating the student code of conduct.
Similarly, in January 1989, Dwayne scored the Gators' first seven points against Vanderbilt Commodores, registering a victory with 81-78 points.
As a result, Florida won the first SEC regular-season championship beating Vanderbilt in a single game.
In 1989-1990, Dwayne again got suspended for his involvement in a house fight.
He got a warning to maintain his body weight, improve his off-court behavior and get rid of his distinct mullet-style haircut, the "Lobster."
You might be interested in reading: <<Louis Bullock Bio: Basketball Career, Sandra & Net Worth >>
Professional career
The personal issue of Dwayne Schintzius did not affect recruitment in NBA teams due to his excellent performance on the court.
Despite his behavior and discipline history, he was regarded as a good NBA prospect. In the NBA draft of 1990, the professional team San Antonio Spurs selected him in the first round.
Consequently, he got a back injury during his rookie season and got a transfer to Sacramento Kings.
Soon the New Jersey Net signed Dwayne on October 1, 1992, and he transferred to Indiana Pacers after three seasons.
On the other side, his career was hampered due to injuries and chronic back problems.
After playing one season with Indiana Pacers, Dwayne moved to Los Angeles Clippers and played there for 1 season.
Furthermore, he played for the Celtics in the season 1998 to 1999 and got retired from NBA.
In eight NBA seasons, Dwayne Schintzius appeared in 217 regular-season games with thirty-three starts.
After the retirement announcement, Dwayne is yet to play the minor leagues with thirty-five appearances for Mobile Revelers.
Then he played for Brevard Blue Ducks in the United States Basketball League in 2003.
Injury
Injuries are an inseparable part of an athlete's life; they put their lives in danger to bestow their best performance.
Something similar was the case with Dwayne Schintzius. He had nine surgeries, three on each knee.
Dwayne had a herniated disc, cysts were removed from his right ankle, and yes, he suffered through a bunch of broken noses.
Dwayne Schintzius | Personal Life
Besides his NBA career, Dwayne Schintzius was married to Lynn Avery. Unfortunately, there is no additional information regarding his marriage events, wife, and children.
But yes, the sources claimed that Schintzius was divorced twice and had no kids.
Off the court, Dwayne also appeared in the comedy movie Eddie in 1996 as a fictional Georgian player, which starred Whoopi Goldberg as the team's female coach.
Also, he appeared in a movie named WWE Raw in 1993, Arli$$ in 1996, and the local commercials advertisements.
Besides, Dwayne contributed thirteen years of experience in his professional NBA career from 1990 to 2003.
Dwayne Schintzius | Controversy
The professional NBA player Dwayne faced lots of controversies during his basketball career. He was marred by disciplinary issues frequently during his school career.
Dwayne also clashed with his Coach Sloan and refused to re-enter a game at the end of the game during his sophomore season.
Also, he had incidents with opposing players, fans, and people off the court.
During Dwayne's junior season, he allegedly heard a rude remark from a sidewalk while riding in a car and punished the offender with the tennis racket assault.
Later, he apologized for his behavior and got free from the legal charge but faced suspension from the university's four games.
Dwayne faced the incident with opposing players and fans on the court.
Also, he faced opposing fans throwing tennis balls on the court due to his incident of storming an offender with a tennis racket.
The mullet-style hairstyle of Dwayne Schintzuis also was the topic of controversy. Coach Don DeVoe significantly warned Dwayne to get rid of such a hairstyle to enter the team.
<<Sabrina Ionescu is an American basketball player for the New York Liberty of the Women's National Basketball Association. Read more about her life.>>
Obituary
Dwayne Schintzius left us speechless by saying goodbye to this world after battling Leukemia for two years.
He was a truly magnificent example of a human who wanted to live.
Even after receiving a second bone-marrow transplant from his younger brother, Travis, Schintzius suffered and struggled to survive.
At the age of 43, he left the world from respiratory failure at Moffitt Cancer Center.
Some FAQs:
Did Dwayne still play professional Basketball after retirement?
Yes, Dwayne played professional basketball even after he announced retirement. He came out of his retirement to play the minor leagues, where he had thirty-five appearances for Mobile Revelers in NBA's development league.
Are there any books published in the memory of Dwayne Schintzius?
Yes, the book, which includes the life story of Dwayne Schintzuis, was published on September 18, 2013, by the Upper deck.
What is Dwayne Schintzius' Florida statistic like?
Dwayne Schintzius maintains a Florida statistic of 272 blocked shots, while he ranks sixth among the program's all-time scoring leaders with 1,624 points.