The former NBA player Dwyane Wade's parents: Jolinda & Dwyane Wade Sr., separated when he was four months old.
After his parents divorced, Wade's mother, Jolinda, got custody of him & his elder sister.
However, the future basketball star's upbringing was not so good as his mom was into drugs. Later, after moving to his dad & stepmom, his career trajectory saw a path to prominence.
Dwyane Tyrone Wade Jr. is a retired American basketball player who played his entire 16 NBA seasons with Miami Heat.
At the time of retirement in 2019, his career earnings from the NBA stood at $196.388 million.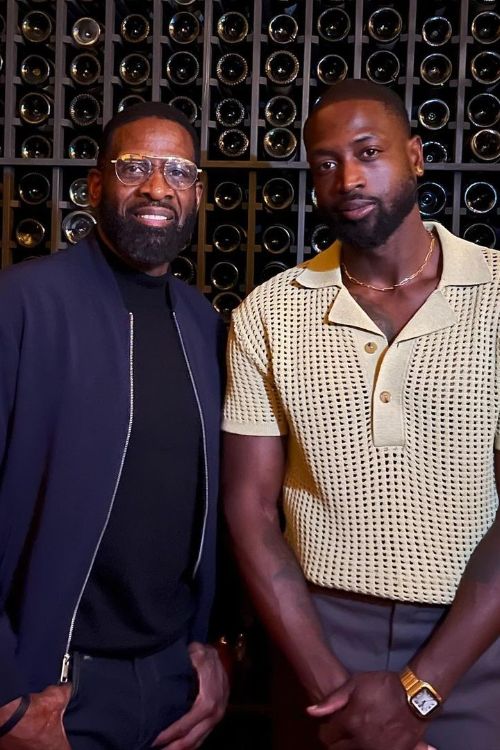 The three-time NBA Champion is currently a host of the American version of the TV game show The Cube (2021- now). Moreover, he is the minority stake owner of the NBA team Utah Jazz.
Not to mention Wade Jr. also has a blissful married life, too; with his second wife, actress Gabrielle Union, he welcomed a daughter Kaavia (born via surrogacy).
The former basketball star is the father of two kids: Zaire Wade and Zaya (transgender), with his ex-wife Siohvaughn Funches. They separated in 2007 after five years of marriage & divorced in 2010.
Throughout his heydays, Dwyane saw acclaim for his gameplay but also critics & controversies with his off-court life.
Dwyane Wade Parents & Siblings: Challenging Childhood
Born on January 17, 1982, the former NBA player is the youngest of two children of Dwyane Wade Sr. and Jolinda Wade. He has an elder sister named Tragil Wade.
As reported, before their parents married, Wade Jr.'s mother already had two kids: Deanna Wade & Keisha Wade, who happens to be his step sisters.
When Wade was only four months old, his dad & mom separated, followed by a subsequent divorce.
As a result, he & his sister Tragil were in the lone custody of their mother. They would join their step sisters & were living South Side of Chicago.
However, problems arose after their mother, Jolinda, struggled with drug addiction & was sent to prison.
It brought Dwyane Jr's sister Tragil forth as a caregiver to her younger brother at an early age.
When he was nine years old, she tricked him into moving in with their father, Dwyane Sr. & stepmother, stating they were going out to the movies.
At that time, their father was living with his second wife, Bessie McDaniel. From that, Wade has three stepbrothers: Demetris, Darnell, and Kodhmus McDaniel.
This wit of Tragil changed the lives of the future basketball forever.
Father Dwyane Wade Sr: Guide & Mentor Of Wade Jr
Dwyane Wade Jr. credits his father, Dwyane Sr., as the man of the watch who guided him to the right path.
Also, the basketball star admitted he & his sister were far from trouble many times because they respected their dad's 'Do's and Don'ts.'
Regarding his move to live with his father rather than his mother (who struggled with drugs then), the former Heat player said:
"Moving in with my dad at the age of 9 was probably the most important part of my life. That was at the point and the age that I needed that male voice. I needed discipline. I needed someone to look at and say, 'I want to be like you.'"
While living with his dad in Chicago, he occasionally visited his mother, but the visit was postponed for two years as they moved to Robbins, Illinois.
It was thanks to Dwyane Sr. that helped the younger Dwyane discover his love for basketball.
The former even coached his son for many years, including at the summer league games at the Blue Island Recreation Center.
CEO Of ProPops Foundation
The retired NBA player's father, Dwyane Sr., is now the founder & CEO of ProPops Foundation, Inc.
The organization aims to empower fathers & their children and rebuild their relationships.
When asked about the reason for the creation of the ProPos Foundation, Dwyane Wade Sr. said, "I didn't have a father at home," which simply answers everything.
Moreover, it is also the probable core reason that he was there for his son when the familial bond went sour.
Dwyane Wade's Dad Lives With His Third Wife
Wade Sr., the father of the now-retired NBA player D-Wade Jr., has been married three times.
Currently, he lives with his third wife, Danielle Koping, a Miami-based entrepreneur.
As reported, Dwyane Wade Sr. and Danielle met in November 2011 when the latter attended an event for the ProPops Foundation.
The two hit off immediately & a year later, she joined the foundation.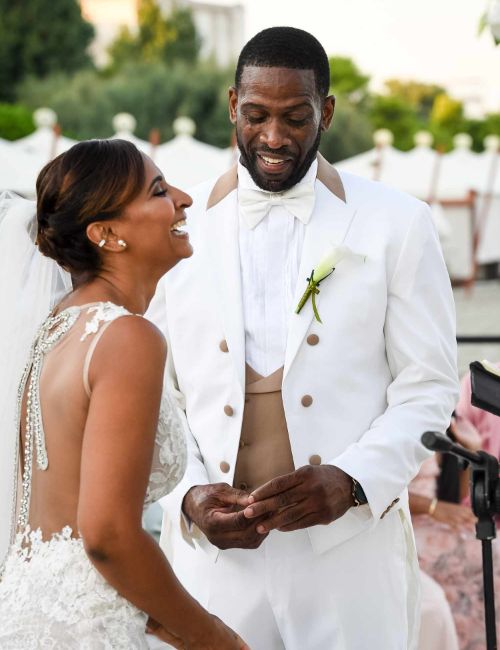 After dating for five years, they got engaged in June 2016.
Wade and Koping married on August 17, 2018, at Hotel Excelsior in Venice, Italy.
Among the attendees were his son Dwyane Wade Jr., daughter-in-law Gabrielle Union, & Danielle's son, Martin (from her previous relationship), along with other close friends & family members.
Both Wade Sr. & his wife, Danielle, are active Instagram users under the handle @papadwade & @danberrimia.
D-Wade's Mother Jolinda Wade: Now A Changed Person
The American former basketball player & his mother, Jolinda Wade, had things turned sour during his early years.
But ever since Wade Jr's basketball career bloomed in 2001, she vowed to make herself an exemplary mother figure.
As per Jolinda herself, she has not used drugs since 2003.
Now with the bonds amended, he is seen spending time with his mother & father.
She is a pastor at the Temple of Praise. According to her Instagram bio, Jolinda is a motivational speaker, entrepreneur & author.
Moreover, she runs a YouTube channel Check N' With Mama Wade.
Jolinda is active on social media platforms like Instagram, Twitter & Facebook.