Nina Heisser is the former wife of Earl Thomas and a single mother of three children. She was earlier the favorite celebrity wife of NFL fans. Gorgeous Nina, an entrepreneur, runs her clothing brand named "CAPTIVATE."
Thomas III is an American former football-free safety for the NFL's Baltimore Ravens.
The Seattle Seahawks selected Thomas in the first round of the 2010 NFL Draft. Earl went on to help the franchise win its first Super Bowl in Super Bowl XLVIII against the Denver Broncos.
Nina Heisser and Earl Thomas were in a relationship and got married in 2016. However, in April, an incident changed their fate.
Nina Heisser was arrested for allegedly threatening Earl Thomas with a firearm after he reportedly cheated on her.
The former NFL safety Earl Thomas and Nina are not together anymore, as Nina filed for divorce in November 2020. After the incident, Thomas's life is not going very well.
According to reports, he violated a court protective order by sending messages to a woman about her and her children, and an arrest warrant was issued against Thomas on May 6, 2022,
On 13 May 2022, he was arrested in Orange, Texas.
Furthermore, his house at FM 1130 and Bear Path Drive in Orange, Texas, burned down on 11 August 2022.
Let's get to know a little about Nina Heisser.
When did Nina and Earl get married? What is her estimated net worth? How many kids do Nina and Earl have? What does Nina do for a livelihood?
In this article, the answers to all of the questions above are included. But first, let's start with her quick facts.
Nina Heisser | Quick Facts
| | |
| --- | --- |
| Full Name | Nina Heisser Thomas |
| Nick Name | Nina Heisser |
| Age | 33 Years Old |
| Birthdate | 9 October 1989 |
| Birthplace | Orange, Texas |
| Residence | United States |
| Mother | Annita Baham |
| Father | Troy Heisser |
| Siblings | Ryan Heisser, Kayla Michelle Baham-Heisser |
| Nationality | American |
| Religion | Christian |
| Spouse | Earl Thomas |
| Children | Kaleigh Rose Thomas, Kamila Thomas & Vee Thomas |
| Height | Not Available |
| Weight | Not Available |
| Hair Color | Black |
| Eye Color | Black |
| Gender | Female |
| Profession | Celebrity Wife, Businesswoman |
| Zodiac Sign | Libra |
| Own Brand | CAPTIVATE |
| Famous For | Earl Thomas's wife |
| Marital Status | Married |
| Prize Money | Not Available |
| Net Worth | $9 Million |
| Social Media | Instagram |
| Earl Thomas's Merch | Football Card, Autographed Jersey |
| Last Update | March, 2023 |
Nina Heisser | Early Life, Family, & Education
Nina was born in Missouri, United States. She follows the Christian religion and has mixed ethnicity.
Her father's name is Troy Heisser, a businessman, and her mother's name is Annita Baham. She has two siblings named Ryan Heisser and Kayla Michelle Baham-Heisser.
She is in a healthy relationship with her family member, as she often posts on her social media platforms showing gratitude towards them.
On May 10, 2020, she uploaded a photo of her mother on Instagram with a lovely caption wishing her a Happy Mother's Day.
For her education, she attended West Orange-Stark high school and then enrolled at a community college in Austin to pursue her design profession.
Heisser then began working at a fashion studio after completing her higher education.
Nina Heisser | Age, Height, & Weight
Nina was born on 9th October 1989 (33 years old).
In her photographs, she looks very tall. However, her height, weight, and other physical measurements are unavailable.
Nina Heisser | Professional Career
Nina is said to have started her career as a model, which is yet to be confirmed. She began modeling after completing her further education.
She worked as an intern in a fashion studio and walked in several fashion shows. Nina used social media platforms to promote several fashion brands.
Later Nina decided to run her clothing store. So, indeed she became an entrepreneur or businesswoman. She runs "CAPTIVATE," a clothing company associated with "Charity Washington."
Nina Heisser | Net Worth, Salary, & Career Earnings
Heisser's salary and career earnings are not revealed. Nina has not disclosed any of her details to the general public.
We may assume that she might have a significant income as a self-employed woman and owner of a clothing store.
Heisser's net worth is estimated at $9 million as of 2023.
Nina Heisser | Husband & Kids
Heisser married Earl Thomas, a National Football League player, on April 16, 2016. It is said that they were high school sweethearts.
Nina and Earl both attended the same high school. They even initially met in a Spanish class before spending several years spending out with their buddies.
Thomas proposed to her in 2015 for marriage at the time of his annual youth football camp.
She accepted the Earl's proposal. Ever since, the two have been together, dating. After a year of dating, they married, and Versailles inspired their grand wedding.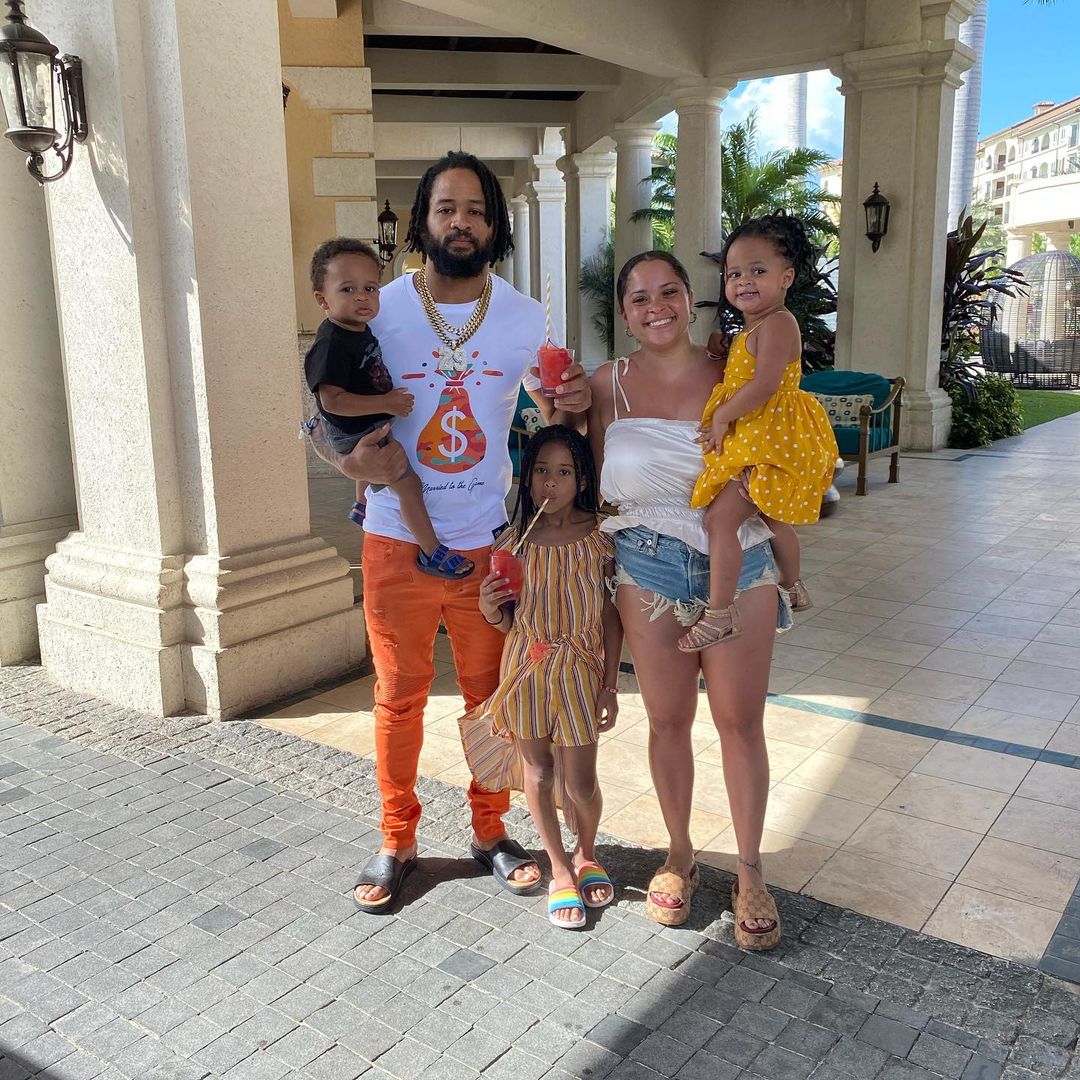 Likewise, Thomas was spotted wearing a diamond-encrusted crown on their wedding day, along with a regal cape.
The couple even posted numerous photos from their marriage ceremony. They appeared so happy and overjoyed. Thomas certainly wanted to ensure he dressed and looked the part of the emperor he imagined himself to be.
He had uploaded a photo of himself in the room, surrounded by several friends and teammates. His crown, without a doubt, was the center of attention.
Earl also posted a video of himself coming down the hallway for the marriage ceremony with the caption, "Young Man making power moves."
The lavish nature of the wedding enthralled the audience. They were also eager to wish the pair luck as they embarked on a new adventure.
Kids
The couple has three children, blessed with two daughters and a son. They had their first baby while still in a relationship before getting married.
Kaleigh, the older daughter, was born on September 24, 2012. At their wedding, she was a flower girl.
On November 21, 2017, they had their second daughter, Kamila. She gave birth to a baby boy on December 6, 2018, and they named him Vee.
Nina appears to be a happy and proud mother of three children. She seems to be a loving and caring mother and frequently posts photographs of her children on social media.
She captioned a picture of her children on Instagram on May 10, 2020, with the message, "m blessed 3x Love being their mother, Happy Mother's Day."
Earl and Nina appeared to have a happy and healthy relationship with their three children until the incident occurred in 2020.
Nina Heisser | Incident
According to the sources, the incident occurred between Heisser and Earl Thomas after a dispute about his drinking on that particular day.
After leaving the house, Heisser checked into her husband's Snapchat account and discovered a video of Earl with another lady. She used an app to find his whereabouts and then proceeded to Airbnb.
When she arrived at the residence, she saw Earl and his brother, Seth Thomas, on the bed with another lady.
She grabbed a 9mm Berreta handgun and placed it at Earl's head.
Heisser pulled the magazine out of the pistol, assuming it couldn't shoot. She intended to scare him. Nina was, however, oblivious to the fact that the pistol had a bullet in the chamber.
Earl was strong enough to pull Heisser's gun from her hand. The cops detained her and two female companions she had accompanied to the Airbnb.
Nina Heisser | Arrest
After a fight with her husband, Earl Thomas's wife, Nina Thomas, was arrested on April 13th, 2020.
She found out her husband Earl was cheating on her. As a response, she pointed a loaded gun at Thomas's head, standing less than a foot away.
After receiving a report regarding an incident, the Austin Police Department responded to a residence in the Austin, Texas, area around 3:41 am. She was then later placed under police surveillance.
According to the Police's Statement,
"We observed that a black female wearing an orange sweater with a knife in her hand, later identified as Nina Thomas, was chasing a shirtless black male, later identified as Earl Thomas, with a pistol in his hand around a vehicle."
Nina Heisser | Prison
According to ESPN's Jamison Hensley, she was charged with first-degree felony burglary of a house to conduct attempted murder with a dangerous weapon.
Nina Thomas' lawyer told ESPN that she was "wrongfully arrested."
According to the Austin police, Nina Thomas was released on a $25,000 bail in April.
Two other ladies involved in the altercation with Nina were also released. Camisha Garlow was charged with a $15,000 bond, while Kayla Baham-Heisser was accused of a $100,00 bond.
Earl Thomas Statement
Nina was eventually arrested, but Earl revealed shortly after the incident that the two attempted to work matters out. Thomas posted on his Instagram account, saying:
"So my agent just hit me and said that I'm gonna be on TMZ tomorrow from an altercation that happened with me and Nina."
"So, I just want to get ahead of it, and I mean, it's really not anybody's business… Just pray for us as we go through this stuff. You know, we been talking, I'm seeing my kids. So just keep us in your prayers."
Nina And Earl's Relationship After The Incident
After the incident, everything looked smooth and well. He praised her on social media numerous times in the last several months.
He even celebrated his wife's 31st birthday by posting a photo on Instagram with a romantic caption, "I love you wife," on 9th October 2020.
But suddenly, it was reported that Earl Thomas's wife, Nina, was said to have filed for divorce after the controversial news of holding the sportsman at gunpoint.
Nina Thomas, according to TMZ, filed documents on Nov. 3 citing infidelity and stating that there is "no reasonable expectation of reconciliation."
Earl Thomas's Life After Incident
Earl Thomas was playing for Baltimore Ravens at the time of the incident. He came into the limelight again for punching his teammate Chuck Clark during the match. It heated because Thomas missed a coverage that allowed Mark Andrews to score a long touchdown.
He was advised not to come for the training and was released from the team for conduct detrimental to the section on August 22.
Harbaugh consulted the team's Leadership Council of veteran players, and only one of them wanted him to return to the team. No other team signed him during that season.
According to an article by The Athletic, Thomas had developed a reputation of "uncoachable." As to his former teammates from the Seahawks and coaches, he never behaved correctly, as he frequently refused to practice.
When he signed with the Baltimore, he never really became a part of the Ravens' locker-room culture. He often paid fines for skipping meetings or showing up late and left the team whenever he wanted, which happened twice.
At the time of the 2020 pre-season, Earl became increasingly surly and withdrawn, frequently for skipping meetings and walk-throughs.
The altercation between Clark and Thomas would not have blown the coverage had he taken part in walk-throughs.
The Houston Texans considered signing him, but this idea was withdrawn after consultation with the team member.
As of 2022, Thomas has not played any matches in NFL. However, according to a source, he was rumored to return to the Baltimore Ravens team.
But, no further information is available regarding this; also, Pro Football Talk reminds us that grievance is still pending to this day, years later, worth $10 million with the Ravens.
Social Media Presence
Nina's social media presence is impressive as she puts a lot of effort into her social appearance. She has around 33.9k Instagram followers as of 2022.
View this post on Instagram
Nina spends most of her time posting cheerful pictures of herself with her parents, husbands, and children.
However, owing to their horrible April incidents, Nina and her husband received a lot of attention on social media and were front-page news in every publication a year ago.
Popularity Graph
Nina Heisser is the former wife of Earl Thomas, a former NFL player.
Her search on the internet hiked as she came into highlight because of her relationship with Earl Thomas.
Frequently Asked Questions (FAQs)
Is Nina Heisser married?
Heisser was married to Earl Thomas, but as of 2022, she is a single mother. She has filed for divorce from her husband; however, it is not yet finalized. There is no information available regarding her relationship status.
What is Nina Heisser doing now?
As of 2022, Nina is a single mother to her three children; apart from that, she is now a social media influencer. She also runs 'CAPTIVATE,' a clothing brand, and runs a business that provides services to luxury cars through 'ninetransportationtx.'
Is Nina Heisser still in contact with Eral Thomas?
We do not know about Nina being in contact with Thomas, but according to her social media posts, she is leading a happy and healthy life with her children and her family.