Carmella Decesare, Jeff Garcia's wife, is well-known, much like the former football quarterback, for various reasons.
Most people know that Jeff is married to a woman who rose to fame after being featured in Playboy magazine.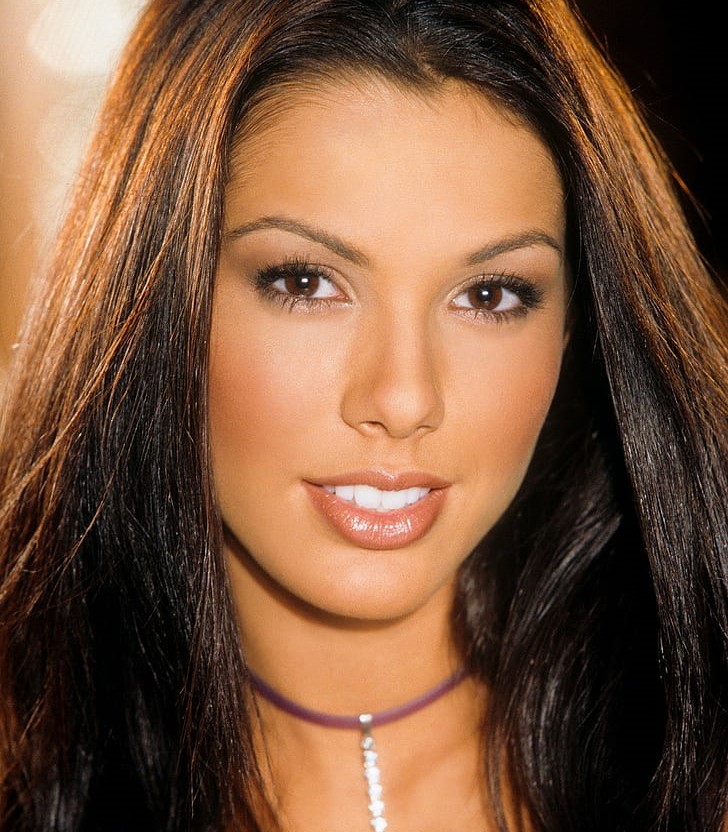 Carmella is mostly known for her modeling works with Playboy and the title Playmate of the Year 2004.
But, there is much to know about Jeff Garcia's wife, Carmella Decesare.
We have covered them all in this article. But before that, let's look at some quick facts.
Jeff Garcia's Wife: Quick Facts
| | |
| --- | --- |
| Full Name | Carmella DeCesare |
| Age | 40 years old |
| Birth Date | July 1, 1982 |
| Birthplace | Avon Lake, Ohio |
| Nationality | American |
| Mother | N/A |
| Father | N/A |
| Married | Yes |
| Star Sign | Cancer |
| Height | 5'8″/173 cm |
| Weight | 54 kg/119 lbs |
| Eye Color | Brown |
| Hair color | Dark Brown |
| Body Measurements | 34-24-27 inches |
| Husband | Jeff Garcia |
| Children | 4: Presley, Jason, Jax, Faith |
| High School | Avon Lake High School |
| Education | Business Administration |
| Profession | Model, Professional Wrestler |
| Titles | Playmate of the Year 2004 |
| Net Worth | $2 million |
| Social Media | Twitter |
| Jeff Garcia's Merch | Football Trading Card, Autographed NFL Helmets |
| Last Update | August, 2022 |
Carmella DeCesare | Early Life and Education
Carmella DeCesare, the famous wife, was born on July 1, 1982, in Avon Lake, Ohio. She was born to Puerto Rican and Italian parents.
She graduated from Avon Lake High School in 2000 and decided to pursue a degree in business administration at the university level.
There is not much information on the background and parents of Carmella. But, she grew up as a small-town girl and had a tough time in high school.
In high school, she was picked on and always made fun of. She says she had only three close friends whom she could rely on during that hard times.
Carmella DeCesare | Modeling Career
One day, Carmella was just watching TV when she saw that a Fox reality show, "Who wants to be a playboy centerfold," was looking for the contestants.
She applied for it and even came to Los Angeles after the selection. But, the moment she arrived, Carmella had second thoughts about it.
Likewise, Hugh Hefner, the publisher of Playboy, discovered her through the applications and saw her potential.
So, he personally invited her to the Playboy Mansion party by Hefner to see if she wanted to reconsider her status as a member of the Playboy family.
Being unable to reject, Carmella joined the party and instantly loved the support.
However, she didn't win the competition but was named a Playboy Cyber Girl of the Week, then a Cyber Girl of the Month, before being honored Playboy's Miss April in 2003.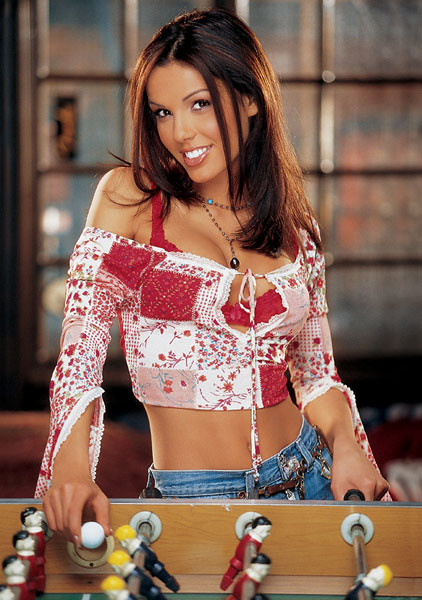 From a bullied small-town girl, Carmella was like a Playboy Royalty; she was enjoying her fame as a playmate.
DeCesare was photographed on the grounds of the Playboy Mansion in 2004 and was the first Playmates at Play calendar. She also modeled for the Sports Illustrated Swimsuit Issue in 2008.
Carmella DeCesare | TV Shows
Aside from her Playboy modeling work, Carmella has also appeared in several reality TV shows.
She appeared in The Girls Next Door (2005-2007), a reality show about Hugh Hefner's girlfriends, and Playboy Shootout (2010) as a guest judge.
She was also featured in The Real Housewives of San Diego (2010).
Also, check out Josh Allen's Girlfriend: All About Brittany Morgan Williams >>
Carmella DeCesare | Height & Body Measurements
Carmella has several distinguishing characteristics that make her unique and beautiful. She stands at the height of 5 feet 8 inches and weighing about 54 kg.
She has a body measurement of 34-24-27. We know that height and body measurements matter the most in the modeling industry.
Carmella had the biggest insecurities with her breast size. It was one of the reasons she backed out thinking she wasn't good enough.
But, she had the raw beauty qualities that made her shine in the modeling industry. More than the hourglass body, it was her raw beauty that stood out more.
Her tanned, somewhat olive complexion, a fascinating mix of Italian and Puerto Rican ancestry, and natural raw beauty cannot be overlooked.
She became famous due to her raw and natural beauty. She had breast implant surgery in 2005.
Carmella DeCesare | Professional Wrestling Career
Carmella made her WWE debut in 2004 as a contestant in the WWE Diva Search of that year.
The WWE Diva made it to the final four out of twenty-eight competitors, including future WWE talents Michele McCool and Maria Kanellis.
Decesare finished the competition as the runner-up. She was called to participate in "WWE Monday Night RAW" among numerous other competitors.
She had a feud with Christy Hemme, the winner of the Diva Search. This prompted the two to compete in a Lingerie Pillow Fight, in which Carmella lost.
It was aired in a TV special called "WWE Taboo Tuesday (2004)." She did, however, leave the position soon after.
Carmella DeCesare and Jeff Garcia | Married Life
In late March, Jeff Garcia opted to spend a night out with his new teammates in Cleveland. Instead, the Playboy Playmate of the Year, Carmella, stood across the room at a packed party.
He saw Carmella and was intimated by her and her beauty. Other teammates told him that she was out of his league and to back off.
But, Garcia knew he liked her and moved forward. He made a move to talk to her and asked her phone number, but she refused.
Carmella said she was pretty intimated by Jeff when he talked to her as he was 34 and she was just 21 then. She didn't know that man was the one she was gonna marry.
But despite the rejection, Jeff asked her out again after being a successful football player. They dated for a long time before officially tying the knot on April 21, 2007.
The wedding was held at CordeValle Resort in San Martin, California.
Also check out Paul Kariya: Mighty Ducks, Jersey, NHL, Retire, Wife & Net Worth >>
Carmella's husband, Jeffrey Garcia
Carmella's husband, Jeffrey Garcia, is a former American football quarterback. He was born on February 24, 1970.
After completing high school and junior college in Gilroy, California, Garcia played college at San Jose State University after completing high school and junior college.
Jeff began his professional football career as an undrafted free agent with the Calgary Stampeders of the Canadian Football League (CFL) in 1994.
Likewise, he was a four-time CFL All-Star and four-time NFL Pro Bowl pick. Jeff debuted with the San Francisco 49ers in the National Football League (NFL) in 1999.
In 2010, he became a member of the United Football League's Omaha Nighthawks. He signed with the Houston Texans in 2011 but did not appear in a game for the organization.
In 2012, Jeff Garcia retired at the age of 41. He has been honored for the NFL Hall of Fame for three years and still owns the single-season throwing yards record for the 49ers.
Carmella DeCesare | Children
Carmella has four children: two sons and two daughters. The couple had their first children after a year after their marriage.
It was a baby girl who was born on April 28, 2008. The couple named her Presley.
After a year, Carmella got pregnant with her second child and gave birth in June 2009. It was their first son, and they named him Jason.
On September 21, 2010, Carmella gave birth to another baby boy and named him Jax. Finally, in December 2011, their fourth baby, Faith, was born.
Carmella DeCesare's Legal Issues
Carmella was sentenced to 24 hours of community service, one year of probation, and a $150 fine for karate kicking a lady named Kristen Hine in a bar on August 21, 2004.
DeCesare pled not guilty to assault in a Cleveland, Ohio court on September 10, 2004. On January 12, 2005, she was acquitted of assault but found guilty of breaking a restraining order.
Similarly, DeCesare testified that her boyfriend Jeff Garcia had cheated her with his ex-girlfriend Kristen Hine during the trial.
Also, check out Artemi Panarin's Girlfriend Alisa Znarok: Bio & Net Worth >>
Carmella DeCesare | Net worth
Carmella Decassare has an estimated worth of $2 million. She earned that worth through her modeling career and appearing in a variety of shows.
At the same time, Carmella's husband, Jeff Gracia, has a net worth of $25 million, and when combined, both have a net worth of around $27 million.
But Carmella says that she wants people to acknowledge her own worth rather than valuing her as the wife of Jeff Gracia.
She says that she has been working so hard to make a name, fame, and money for herself not to be overshadowed by others' names.
Furthermore, she added she would love to be known as model Carmella than just Jeff Gracia's wife.
Carmella DeCesare | Social Media
Carmella is not active on social media and thus, she doesn't have Facebook and Instagram account.
She does use Twitter but she isn't active there as well. She has just 1K followers on Twitter.
FAQs
Did Carmella have breast implants?
Yes. DeCesare had breast implants in 2005.
Why did Carmella fight with Kristen Hine?
Apparently, Carmella fought with Kristen Hine as she was having an affair with her boyfriend, Jeff Gracia.