Top 10 Fastest NFL Players!! Have you ever wondered who the real-life Flash on the NFL field is? It takes almost everything to win a game; ask no more questions to all these players who acquire this extraordinary quality. Their speed makes them outstanding on the field.
NFL is a sport of strength, speed, and power; a running back or a wide receiver quick off the blocks goes a long way in deciding a match.
Here is our pick for the Top 10 Fastest NFL Players.
Quick Overview
First, let us look at the preview of the fastest players in the NFL.
| | |
| --- | --- |
| Name | Speed |
| 10. Anthony Schwartz | 20.43 mph |
| 9. Isaiah McKenzie | 20.52 mph |
| 8. Henry Ruggs | 20.62 mph |
| 7. Brandin Cooks | 20.62 mph |
| 6. Joe Mixon | 20.66 mph |
| 5. David Montgomery | 20.80 mph |
| 4. Khalil Herbert | 20.88 mph |
| 3. Devin Duvernay | 21.01 mph |
| 2. Sammy Watkins | 21.05 mph |
| 1. Melvin Gordon | 21.52 mph |
Top 10 Fastest Players
The following list features the fastest ball carries in the NFL regular season thus far and is compiled from various reliable sources including NFL.com.
10. Anthony Schwartz
Speed: 20.43 mph
Position: Wide Receiver
Starting off our list, Anthony Schwartz is an American wide receiver who plays for the Cleveland Browns.
The young starlet from Florida is a pace merchant, clocking at an impressive ball-carrying speed of 20.43 mph.
As of Week 4 in 2022, his career NFL statistics are receptions (11), receiving yards (154), receiving (1), touchdowns (null), and rushing yards (59).
Unsurprisingly, Schwartz was lightning-quick right from the beginning. A world-class sprinter during his high-school years, he holds the world-best under-18 record in the 100 meters category.
He set a World Youth Best record of 10.15 seconds in 100 meters in 2017.
As for his professional NFL career, the 22-year-old was the 91st pick in the 2021 NFL Draft. The Cleveland Browns signed Schwartz on a four-year contract worth $4.86 million.
In 2022, Anthony is expected to earn a base salary of $881,046, carrying a cap hit of $1,105,232 and a dead cap worth $672,558.
9. Isaiah McKenzie
Speed: 20.52 mph
Position: Wide Receiver
Isaiah McKenzie for his incredible speed and split-second reactions features at number 9 on our list. The wide receiver for the Buffalo Bills is not only efficient in his gameplay but is also a treat to watch.
Primarily a wide receiver, McKenzie is versatile in his gameplay as the 27-year-old has also played as a punt returner, running back, and cornerback in the NFL.
On October 5, 2022, Isaiah launched his clothing line with Athlete Studio.
Furthermore, having started his career with the Denver Broncos in 2017, McKenzie signed for the Bills after being waived off by the Broncos in late 2018.
He rose to prominence in late 2020, which earned him an impressive re-signing with the Bills worth $1.25 million.
You could argue that his versatility is both a blessing and a curse. While he can cover many positions, the same fact has hindered cementing his place in a particular role.
However, every time he is on the field, Isaiah torments the opposition with his pace and breathtaking acceleration.
McKenzie extended a further two years contract with the Buffalo Bills on March 13, 2022.
8. Henry Ruggs
Speed: 20.62 mph
Position: Wide Receiver
If speed is the game, then Henry Ruggs III is one of the title challengers. Currently representing the Las Vegas Raiders, he is menacingly quick, often leaving the opposition in the dust.
To highlight his achievements, Henry was the fastest player in the 2020 NFL Combine.
Furthermore, with a 4.27-second 40-yard dash, Ruggs is tied for the all-time fourth-fastest of the NFL Combine.
In 2022, he got a signing bonus worth $4,842,410 from Las Vegas Raiders.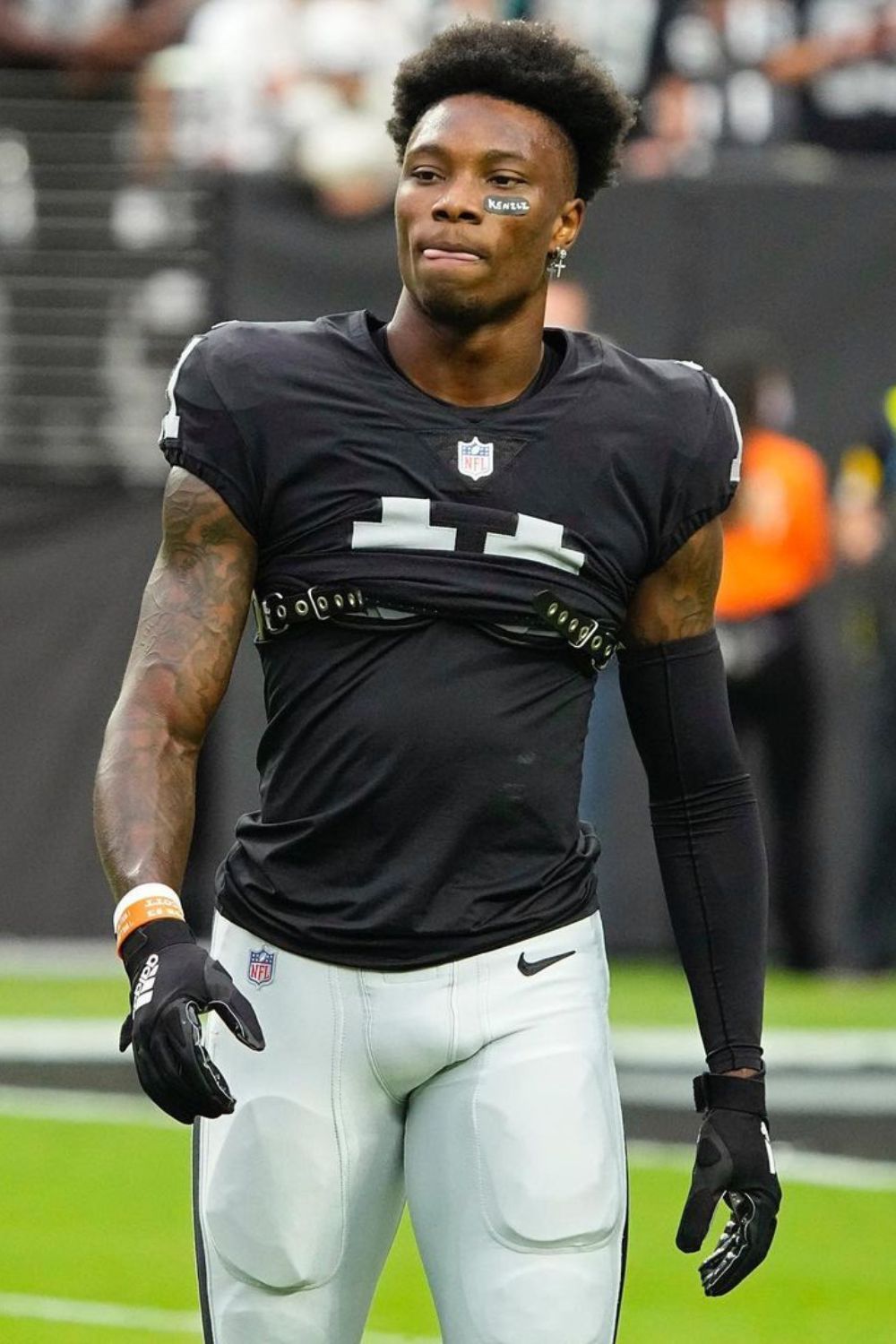 Following his impressive showing at the Combine, the Raiders snatched him in the first round of the 2020 NFL Draft.
After making his NFL debut against the Carolina Panthers in 2020, Ruggs has consistently been running rings around the opposition defense with his abrupt speed.
As such, it is no surprise that the blistering speedster clocked in at 20.62 mph, featuring as one of the fastest NFL players of 2023.
In 2022, at the time of his second season in the NFL, he caused a car accident that killed a woman; he was released by the Raiders the same day.
Ruggs is awaiting a trial on charges of driving under the influence(DUI) resulting in death and reckless driving as of November 2022.
Click Here to Know About The 15 Best NFL Cheerleaders>>
7. Brandin Cooks
Speed: 20.62 mph
Position: Wide Receiver
A collegiate star back in his day, Brandin Tawan Cooks is an American wide receiver representing the Houston Texans.
In his long list of collegiate honors, Cooks boasts an All-American recognition.
Similarly, he was also awarded the Biletnikoff Award, Hawaii Bowl Champion, and First-team All-Pac-12 during his illustrious collegiate career.
Despite various trade rumors, he signed a two-year contract worth $39.6 million with $36 million guaranteed with the Texans on April 7, 2022.
On the professional side, the pacy wide receiver was picked up by the Saints in the first round of the NFL Draft 2014. Since his debut, Cooks has injected some severe pace onto the field.
Furthermore, with 81 receptions for 1,150 yards and six touchdowns during the 2020 season, Cooks has shown he is quick and ever-dependable.
Moreover, the pacy and result-oriented wide receiver is the second player to record a 1,000-yard receiving season with four teams, along with Brandon Marshall.
He also carries a cap hit of $9,749,847 and a dead cap worth $43,500,002.
You Might Also Be Interested In The 15 Greatest NFL Players Of All Time>>
6. Joe Mixon
Speed: 20.66 mph
Position: Running Back
Speeding our way through the fastest NFL players of 2023, we have Joseph Tyler Mixon at number 6. The running back for Cincinnati Bengals is one of the fastest players the NFL has ever seen.
They say great players show signs of their brilliance very early on. Likewise, as the speedy running back, Joe was recognized with USA Today High School All-American in 2013.
In 2022, he had 145 scrimmage yards in the 23-20 overtime loss to the Pittsburgh Steelers in the Bengal's season opener.
Mixon rushed for 153 yards, had 58 receiving yards, a career-high, franchise record, and five touchdowns in the 42-21 win, against the Carolina Panthers.
While his collegiate career was mixed, NFLDraftScout.com ranked Mixon as the fifth-best running back.
Also, Sports-Illustrated and Pro Football Focus ranked the talented running back as the fourth-best and the third-best running back, respectively.
Despite his stellar rankings, the NFL scouting combine declined to invite him, given his outbursts in his collegiate career.
Eventually, Cincinnati Bengals drafted him in the second round of the 2017 NFL Draft. And since then, Joe Mixon has been synonymous with extravagant pace and lightning-quick presence on the field.
After terrorizing the opposition with his frightening pace, Mixon signed a deserved $48 million contract extension to keep him with the Cincinnati Bengals until 2024.
In 2022, Mixon rushed for 72 yards, in Super Bowl LVI, and threw his first career pass attempt, a 6-yard passing touchdown to Tee Higgins in the 23-20 loss to the Los Angeles Rams.
On the NFL Top 100 Players of 2022, he was ranked 38th by his fellow players.
5. David Montgomery
Speed: 20.80 mph
Position: Running Back
A fearsome competitor and an ominously quick athlete, David Montgomery is a player that strikes fear in the hearts of the opposition. The Chicago Bears running back is zooming through the 2021 season, recording an astonishing ball-carrying speed of 20.80 mph.
A sturdy yet incredibly agile athlete, David has repeatedly shown his class and finesse on the field. The 2015 Division III Ohio Player of the Year glides past his opponents like they aren't even there.
In 2022, he will earn a base salary of $2,790,000, while he has a cap hit of $3,051,545 and a dead cap value of $261,545. He will also receive Proven Performance Bonus as per his contract note.
Additionally, the highly skillful running back was tearing apart opposition defenses from his high-school years, which led to him being awarded the 2015 Southwest District Offensive Player of the Year.
Despite a shaky start to his collegiate career, David grew into his role with each passing year. He went on to have four straight 100-yard games with five touchdowns during the 2018 collegiate season.
As for his NFL career, David made his debut for the Chicago Bears against the Green Bay Packers in 2019. After cutthroat performances under his belt, he became the feature running back for the Bears in the 2020 season.
As the leading running back for his team, the Ohio-born athlete finished the 2020 season with 247 rushes for 1,070 yards and eight touchdowns. Furthermore, his staggering rushing yards statistics of 1070 was the fifth-most in the NFL.
In 2022, he had 15 carries for 122 rushing yards in the 27-10 loss against the Green Bay Packer in Week 2.
Also, Read 10 Tallest NFL Players In History>>
4. Khalil Herbert
Speed: 20.88 mph
Position: Running Back
The Chicago Bears signed Khalil Herbert in the 6th round of the 2021 NFL Draft to build a pacy running back core. Herbert is also a teammate and compatriot of David Montgomery, playing in the running back position.
Khalil joined the 2022 season as the Bears' second-string running back behind Montgomery.
He rushed for 157 yards on 20 carries and two touchdowns after the Bears starting running back Montgomery, went down with an injury in the Bear's 23-20 win against the Houston Texans in a Week 3 game.
For his efforts against the Texans, he was named the FedEx Ground Player of the Week.
On November 15, 2022, he had a hip injury in Week 10 and was placed on injured reserve.
However, he has already shown his ability on the ball, backed by his impeccable speed and devastating acceleration.
Before the NFL, Herbet played for Kansas Jayhawks and Virginia Tech during his collegiate career. After transferring to Virginia Tech in 2020, the Florida-born athlete set the school record for all-purpose yards during his collegiate career.
The pacy running back is just getting started in the NFL and hopes to rattle the opposition's defenses in the coming days.
He signed a four-year worth $3,610,708 deal with the Chicago Bears, including a $130,708 signing bonus, $130,708 guaranteed, and an average annual salary of $902,677.
He will earn a base salary of $825,000 while carrying a cap hit of $857,677 and a dead cap value of 98,031 in 2022.
3. Devin Duvernay
Speed: 21.01 mph
Position: Wide Receiver
At number 3, Devin Duvernay is an American wide receiver who plays for the Baltimore Ravens. The 25-year-old was drafted by the Ravens in the 2020 NFL Draft.
In 2022, he recorded the first multi-touchdown game of his career in a 24-9 win in Week 1 over the New York Jets, finishing the game with four receptions for 54 yards and two touchdowns.
Cousin of Kyler Murray, Devin is enjoying a more active role in the current season. Additionally, with injuries to Miles Boykin and Rashod Bateman, Devin can cement himself in the starting lineup for good.
Moreover, clocking a mesmerizing speed of 21.01 mph, Devin Duvenray is destined to blitz past defenses and add to his paltry touchdown stats in the NFL.
He came into a four-year contract worth $4,575,864 with the Baltimore Ravens, which includes $887,864, a guaranteed signing bonus, and an average salary of $1,143,953.
Devin will earn a base salary of $1,006,000 in 2022, a cap hit of $1,227,966, and a dead cap worth $443,932.
Fascinated With Fantasy Football? Click Here To Know About The Top 20 NFL Sleepers For This Year>>
2. Sammy Watkins
Speed: 21.05 mph
Position: Wide Receiver
With a ball-carrying speed of 21.05 mph, Samuel Benjamin Watkins IV is the second-fastest player in the league.
Sammy signed a one-year contract worth $4 million with the Green Bay Packers on April 14, 2022.
He was placed on injured reserve with a hamstring injury on September 24, 2022.
The former Kansas City Chiefs player is in a class of his own. Moreover, with a Super Bowl ring to his name, Watkins has delivered unforgettable moments on the NFL field.
Having started his career with the Buffalo Bills, Watkins went on to play for the Los Angeles Rams and Kansas City Chiefs before moving to the Baltimore Ravens on April 2, 2021.
Despite years' worth of experience under his belt already, Watkins has no intention of slowing down physically and mentally.
After an instrumental contribution to the Chiefs' path to Super Bowl glory, Watkins has been pushing himself for more of the same.
Furthermore, it is evident in his gameplay and output on the field as the phenomenal wide receiver has consistently delivered when called upon.
As of 2022, he will receive per game active bonus of $19,411 ($330,000, 13 LTBE)
1. Melvin Gordon
Speed: 21.52 mph
Position: Running Back
The real-life flash on the field, Melvin Gordon III, is the fastest player on our list, with a ball-carrying speed of 21.52 mph.
Moreover, backed by his athleticism as a track & field athlete early on, Gordon is frighteningly quick, almost as if he has an engine attached to his calf.
On April 27, 2022, he signed the deal again with the Broncos on a one-year contract.
With serious pace comes responsibility, and Gordon has inherited that mantle to perfection.
Besides, his career years in the NFL, where he has waltzed past numerous defenses and left countless opponents to taste the dirt.
Gordon is well-accomplished in terms of his career accolades as well. Also, with nine individual career awards to his name, Melvin Gordon is a name that fondly echoes through the echelons of lightning-quick NFL running backs.
For the 2021 season, Melvin with Williams proved to be one of the most productive backfield duos in the NFL.
The Broncos waived him on November 27 after a costly fumble against the Last Vegas Raiders; it was his fifth fumble of the season.
Conclusion
NFL celebrates athletes with tantalizing speed, with teams vying for a devastatingly quick athlete on their team.
It is no surprise that we witness "you blink, you miss" moments in the NFL year-in-year-out.
Finally, to sum up, the players mentioned above provide their team with the option to be quick and direct.
As a result, they push themselves to be the fastest on the pitch, allowing us to witness the Top 10 Fastest NFL Players of 2023.
Similarly, If You Are Interested To Know About 15 Shortest NFL Players In History>>