Eddie Bravo (Eddie A. Cano) is an American martial arts instructor, an aspiring musician, podcaster, and stand-up comedian.
Bravo is the founder of his Brazilian jiu-jitsu (BJJ) system known as 10th Planet Jiu-Jitsu. It has garnered a lot of followers from the mixed martial arts (MMA) communities who love his new approach.
Even though he had a short-lived grappling career, the jiu-jitsu practitioner earned fame among mixed martial arts fans. He beat Royler Gracie with a triangle choke in the quarter-finals of the submission wrestling world championship.
After succeeding as a trainer, the mixed martial artist held the grappling competition called Eddie Bravo Invitational (EBI) tournament and the EBI ruleset.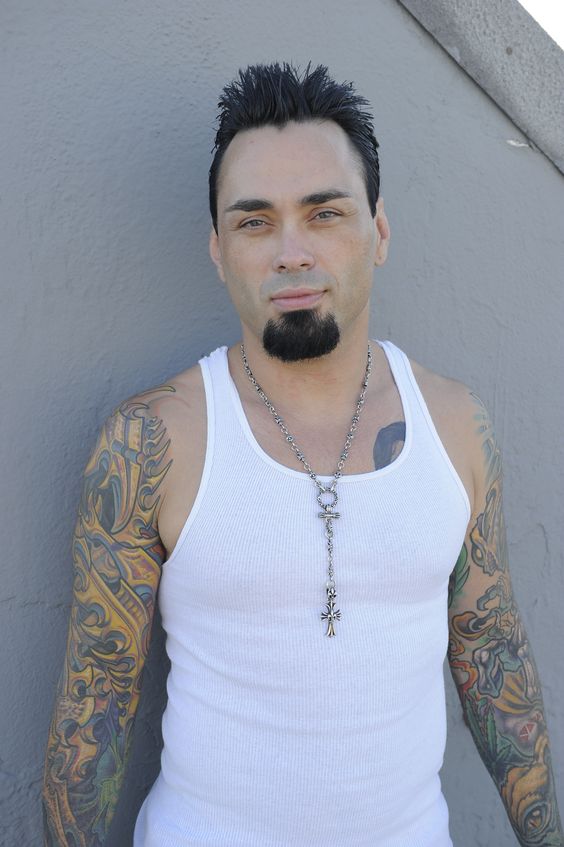 Apart from the combat sport, Eddie is particularly famous for his advocacy for the legalization of marijuana in the U.S.
The 53-year-old coach is also a believer in conspiracy theory and an advocate for the Flat Earth conspiracy theory.
Let us get into more details about the MMA instructor by looking at the table below:
Quick Facts
Full Name
Eddie A. Cano
Birth Date
May 15, 1970
Age
53

Years Old

Birth Place
Santa Ana, California, U.S.
Nickname
Religion
Not Available
Nationality
American
Education
Not Available
Horoscope
Taurus
Father's Name
Not Available
Mother's Name
Not Available
Siblings
Not available
Height
5'7.5" (171 cm)
Weight
183 lbs (83 kgs)
Build
Muscular
Shoe Size
Not Available
Eye Color
Brown
Hair Color
Black
Marital Status
Married
Spouse
Lux Cassidy
Children
One Son; Draco Lee Bravo
Profession

Mixed Martial Artist Instructor
Brazilian Jiu-Jitsu Practitioner

Years Active
2002–Present
Style
No-Gi Jiu_Jitsu
Net Worth
$1.5 million
Awards and Achievements

ADCC North American Championship
ADCC World Championship

Social Media
Instagram, YouTube
Last Update
December 2023
Eddie Bravo | Early Life, Family, Education
Eddie was born in Santa Ana, California, to immigrant parents who moved to the States from Mexico. The names of his parents have not been made public yet.
His parents got divorced later, and after that, his mother remarried. It seems like he had a good relationship with his stepfather.
Moreover, the EBI creator legally changed his name to his stepfather's surname, Bravo. It is unknown whether Bravo had any siblings, but the fighter had quite a normal childhood in a loving family.
Read the bio of Royce Gracie: Net Worth, Wife & Kids!
Early Life
Eddie was very much into music in his early days and started to play guitar and drums. He even formed a band together with his mates in the hope of making out a career in music someday.
The California-born instructor was also keen on athletics and played American football. Similarly, he was also part of his high school's wrestling team.
Bravo initially moved to Hollywood in 1991 in the hope of making a music career. He had formed a band known as Blackened Kill Symphony with his friends.
While trying his luck in the music field, the California native also got drawn toward mixed martial arts. Before being fascinated with Jiu-Jitsu, Eddie learned karate for a brief time and then trained at Jeet Kune Do School.
Eddie Bravo | Age, Height, Weight
The MMA coach was born on May 15th, 1970, so he is currently 53 years old. Moreover, he has been athletic since his early years. He preferred to go to the gym regularly to have a well-built physique.
His avid passion for combat sports has kept his body in peak physical condition despite his age. Furthermore, Bravo is 5'7″ (171 cm) in height and weighs 183 lbs (83 Kg).
Eddie Bravo | Career
Bravo initiated his career in Brazilian jiujitsu after being mentored under one of the five Machado brothers, Jean Jacques Machado.
The musician received a blue belt and came up with "Twister," his form of wrestling grip against his opponent. After earning a purple belt, he developed his signature guard called "Rubber Guard."
In 2003, Eddie participated in the 145 lbs/66 kg division of the Abu-Dhabi Combat Club (ADCC) Submission, where he beat Gustavo Dantas in the elimination round.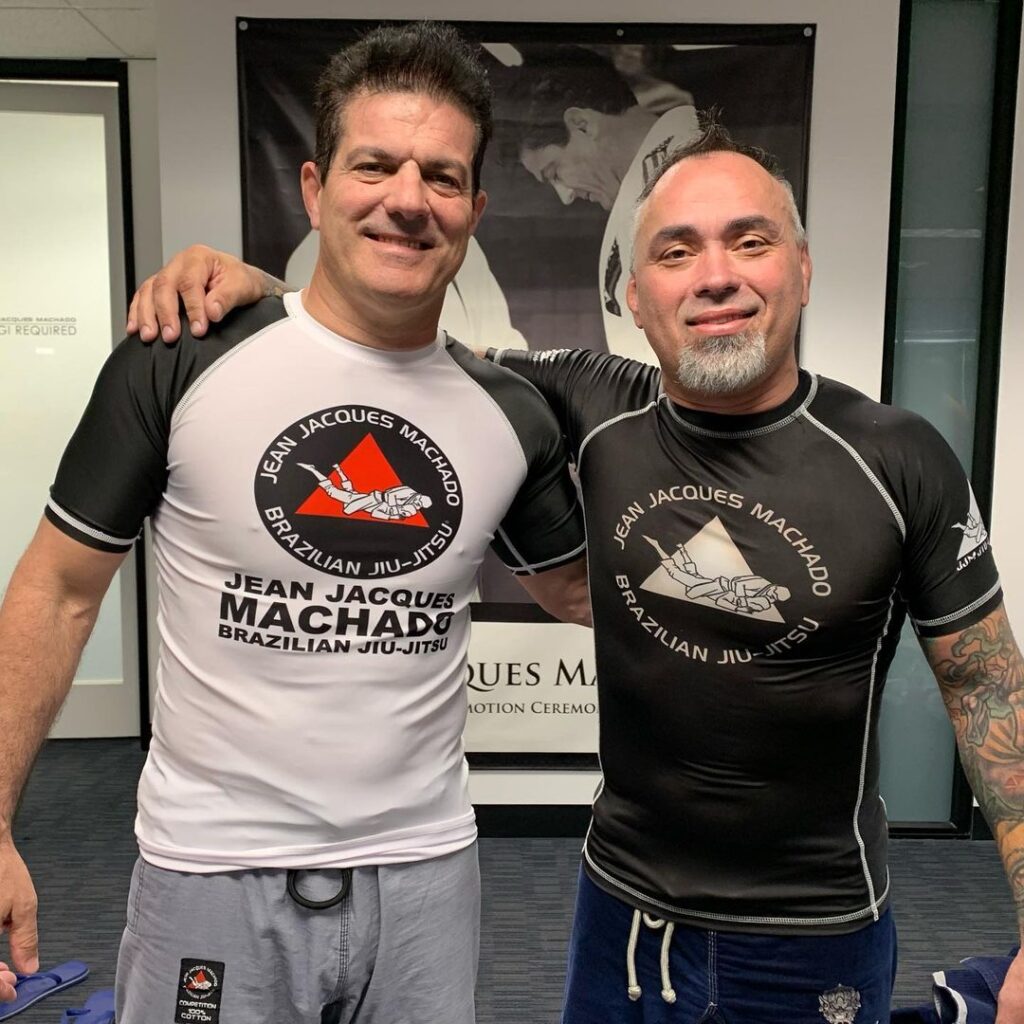 In the quarter-finals, the jiu-jitsu enthusiast defeated three-time ADCC champion Royler Gracie.
Their match was one of the most anticipated fights in the Brazilian jiu-jitsu community. His victory made him an overnight celebrity for winning against a world champion.
Even though he did not make it to the finals, Bravo gained a reputation as one of the most proficient fighters in the U.S. On top of that, Eddie was ultimately awarded a blackbelt upon his return from the competition.
10th Planet Jiu-Jitsu
The young fighter opened his own 10th Planet Jiu-Jitsu school in Los Angeles, California. He hoped to promote a newly improved fighting technique that did not include a Gi jiu-jitsu system.
Following that, he also started the Eddie Bravo Invitational (EBI) in 2014, which is a no-gi submission-only grappling tournament. Two years later, EBI partnered with UFC to telecast EBI events on the UFC's streaming service, Fight Pass.
In 2018, Bravo took a break from EBI and focused on developing Combat Jiu-Jitsu (CJJ). He has since been holding the Combat Jiu-Jitsu Tournaments.
After its success, the trainer ventured into a new project combining EBI and CJJ rules into a single event. He specifically made it available to female competitors as he saw the lack of involvement of women in the sport.
Other Career
Apart from his Jiu-Jitsu career, Bravo is involved in making some music. Even though his music career is not as successful as his coaching, he is still making tunes.
He recorded an album known as "Mixflik of death and devotion." It included music from three of his bands, such as "Smoke Serpents," "Hook Thieves," and "Temple of Mir."
The EBI creator is also an author of four books dedicated to his classic jiu-jitsu moves like "Rubber Guard" and the "Twister."
In addition to that, Eddie has made appearances in several podcasts hosted by his friends. Some include Joe Rogan's podcast as a guest and comedian Sam Tripoli's Tin Foil podcast as a co-host.
Eddie Bravo | Girlfriend, Wife, And Kids
The jiu-jitsu master is married to his long-time girlfriend, Lux Cassidy. The couple tied their knots in 2012 after being together for a very long period.
Bravo's wife, Cassidy, is an American model who has also worked for the adult entertainment industry. She has a minor role in a comedy movie known as "Beerfest," but she is mostly into modeling.
Eddie is mainly known for his extraordinary fighting skills rather than his personal life, so we rarely find out about his family. He has never discussed how he met his wife and how long they have been together.
The duo has been blessed with a healthy baby boy named Draco Lee, who was born in 2012. The mixed martial artist might have already exposed his son to the world of combat sports from an early age.
We can expect that his son Draco will be a jiu-jitsu champion like his father when he grows older.
The trainer loves spending quality time with his family when he is not busy teaching the art of grappling. His private life is off-limits to the public eye, so there have not been any rumors about troubles in his relationship.
Eddie Bravo | Net Worth, Salary, and Career Earnings
Eddie has earned recognition in the Brazilian jiu-jitsu community, but it has also become his main source of income. It is reported that the trainer is estimated to have accumulated a net worth of $1.5 million.
The 10th Planet Jiu-Jitsu training academy was first opened in Los Angeles, but now his empire is spread in various locations worldwide. That means his business earns substantial money and respect in the combat sports society.
Get on- Nick Catone: MMA, UFC, Son, Wife & Net Worth
Bravo's other source of income comes from his EBI tournaments and Jiu-Jitsu world championships that he has been holding since 2014.
Eddie's career has helped him make money and even gain fame, but he is not one of the kinds who shows off. He seems like a person who lives a pretty simple life regardless of his celebrity status.
Eddie Bravo | Jiu-Jitsu Controversy
Eddie Bravo is considered a controversial figure in the world of jiu-jitsu for developing the no-gi system. He suffered much backlash from the jiu-jitsu traditionalists, who thought he had broken the norms by changing the techniques of the combat sport.
Furthermore, Bravo revealed in his book that he is a supporter of marijuana and smokes it for better training purposes.
People even called his victory against ADCC champion Royler Gracie nothing but pure luck even though he won fair and square. In 2014, Gracie challenged him for a rematch on the Metamoris stage to win against him. The match was in Bravo's favor but ended in a draw after they ran out of time.
Despite the numerous criticisms, Eddie never doubted himself, which is why he has created his empire of 10th Planet Jiu-Jitsu today.
The fighter is considered an influential figure in the combat world and has garnered many fans who love his newly created fighting techniques.
Social Media Presence
Eddie Bravo is mainly active on Instagram, which has amassed over 647 thousand followers. His private account is mostly related to his 10th Planet Jiu-Jitsu rather than his personal life.
So, if his fans want to get a sneak peek at his private life, his social media account is not the best place to visit.
The grappling master also regularly posts videos on his YouTube. His posts are mainly demonstrations of the fighting techniques to jiu-jitsu enthusiasts worldwide.
FAQs
What did Eddie Bravo invent?
Eddie developed a no-gi jiu-jitsu system called 10th Planet Jiu-Jitsu. Before that, he came up with his way to finish an opponent in a fight by using "Twister" and "Rubber Guard."
The jiu-jitsu trainer is renowned for inventing different techniques that got many criticisms from traditional jiu-jitsu practitioners.
Is Eddie Bravo a Red Belt?
Eddie is a black belt in jiu-jitsu. His master Jean Jacques Machado presented it to him after returning from ADCC Submission Wrestling World Championship.
He went onto the competition as a brown belt but made his mark by defeating Brazilian American jiu-jitsu champion, Royler Gracie.
Who is Eddie Bravo's coach?
Bravo was taught karate by Philip Skornia. He was proficient in various oriental combat systems, mainly known as traditional martial arts.
Later on, he began his Brazilian jiu-jitsu training under fight master Jean Jacques Machado.
Also, read about Nicco Montano: MMA Career, Ethnicity & Net Worth!