Ekaterina Gordeeva is a professional figure skater from Russia, currently living in Los Angeles, with ethereal beauty and soulful athleticism, a two-time Olympic Champion and a four-time World Champion in pair skating. Ekaterina and her daughter Daria have also appeared in a few documentaries and movies.
Her beloved lover and husband, Sergei Grinkov, was an unbeatable pair with his wife in the Olympics pair-skating.
The mother of 2 children: Elizaveta and Daria, Gordeeva met her husband when she was only 11. They met through their love for figure skating.
Unfortunately, the tragic death of Grinkov took place in Lake Placid, New York, on November 20, 1995, which shook her.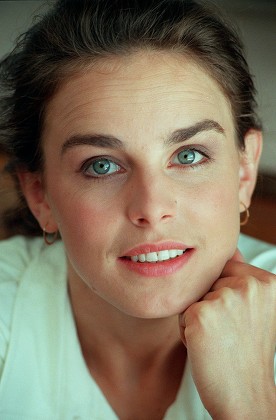 Ekaterina started skating when she was only four and finally retired 37 years later. Her Father was a professional dancer and directed her toward figure skating.
He is one of the main reasons why she loved dancing on ice in the first place.
The champion figure skater has married thrice and has a daughter from each marriage. She welcomed her first child with her first husband almost three years before he died.
At the moment, she was only 24 years old, and her then-husband was 28 years old.
She also wrote the book "My Sergei: A Love Story" in 1996, dedicated to her husband.
This exceptional skater has a life of exciting events and ups-and-downs which you must read!
Quick Facts:
| | |
| --- | --- |
| Full Name | Ekaterina "Katia" Alexandrovna Gordeeva |
| Birth Date | May 28, 1971 |
| Birth Place | Moscow, Russian SFSR, Soviet Union |
| Nick Name | Katia |
| Religion | Orthodox Christian |
| Nationality | Russian |
| Ethnicity | Mixed |
| Current Residence | Alberta, Canada |
| Education | Not Available |
| Horoscope | Gemini |
| Father's Name | Alexander Alexeyevich Gordeeva |
| Mother's Name | Elena Lvovna Gordeeva |
| Siblings | Maria Alexandrovna Gordeeva |
| Age | 52 years old |
| Height | 5 feet 1 inch (1.57 m) |
| Weight | 90.4 lbs |
| Hair Color | Brown |
| Eye Color | Green |
| Build | Athletic |
| Profession | Figure Skater |
| Current Team | None |
| Partner | Sergei Grinkov |
| Active Years | 1990 – 2012 |
| Marital Status | Married |
| Ex-Husband | Sergei Grinkov, Ilia Alexandrovich Kulik |
| Husband | David Pelletier (Since July 23, 2020) |
| Kids | Two; Daria and Elizaveta |
| Net Worth | $10 million |
| Social Media | Instagram, Twitter |
| Merch | Hardcover |
| Last Update | June, 2023 |
Where is Ekaterina Gordeeva from? Early Life, Family, And Education
Ekaterina Gordeeva was born in Moscow, Russian SFSR, the Soviet Union, to Alexander Alexeyevich Gordeeva and Elena Lvovna Gordeeva.
Alexander used to be a dancer in an official army choir of the Russian armed forces named Alexandrov Ensemble.
Meanwhile, his wife was a teletype operator at a primary news agency in Russia called Russian News Agency TASS.
As a result of their career, Katina's parents traveled a lot, so her grandmother raised her.
Besides that, she also has a younger sister named Maria Alexandrovna Gordeeva. The siblings are very close.
Even though they live in separate countries, they maintain a close relationship. Gordeeva's Father's career inspired the figure skater to be a professional.
Firstly, she tried to get into ballet school but couldn't get in. Nevertheless, through that rejection, she found her true passion.
Furthermore, Gordeeva has been skating since she was four years old. It is through sliding that she meets her first husband and love.
Where did Ekaterina Gordeeva go to school?
Ekaterina Gordeeva attended the Children and Youth Sports School of CSKA Moscow.
The mother of two studied in a local school but chose not to pursue college-level education. Instead, she focused on her skating career and received tremendous success.
How old is Ekaterina Gordeeva?
The four-time world champion skater is 52 years old as of 2023. She is pretty slim and weighs 90.4 lbs, approximately 41 kg. Furthermore, she is 5 feet, 1 inch tall.
Ekaterina Gordeeva | Professional Figure Skating Career
Pair Career
The two-time Olympic Champion started her figure skating career early. At four, she joined the Children and Youth Sports School in a significant Russian club CSKA Moscow.
She was so small, so she wore multiple socks to fit her skates. Initially, she was paired with her first husband, Sergei Grinkov.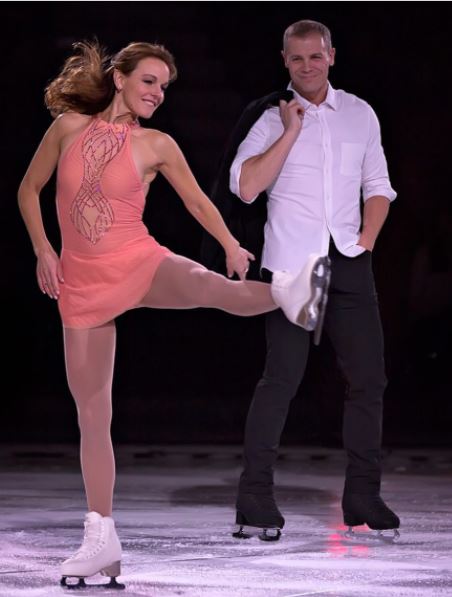 But as he was recently missing practice, her coach, Vladimir Zaharov, insisted on changing her partners.
However, she disagreed, and instead of changing her partner, she changed her coach. The duo has been partners since Katina was 11 years old and Sergei was 15.
Later, in 1985 and 1986, the pair won annual figure skating competitions like the World Junior Figure Skating Championships and the World Figure Skating Championships. Moreover, they held the title in 1987, 1989, and 1990.
What happened to Ekaterina Gorrdeeva in 1987?
In 1987, Sergei accidentally caught a blade on the ice and dropped it on Gorrdeva's forehead, which resulted in her serious hospitalization.
Nonetheless, the injury did not keep them from competing and winning a gold medal in the 1988 Winter Olympics. To this date, the duo is the youngest pair to win Olympic gold.
After turning pro in 1990, Gordeeva and Grinkov won their first World Professional Championship in 1991 and 1992, and 1994.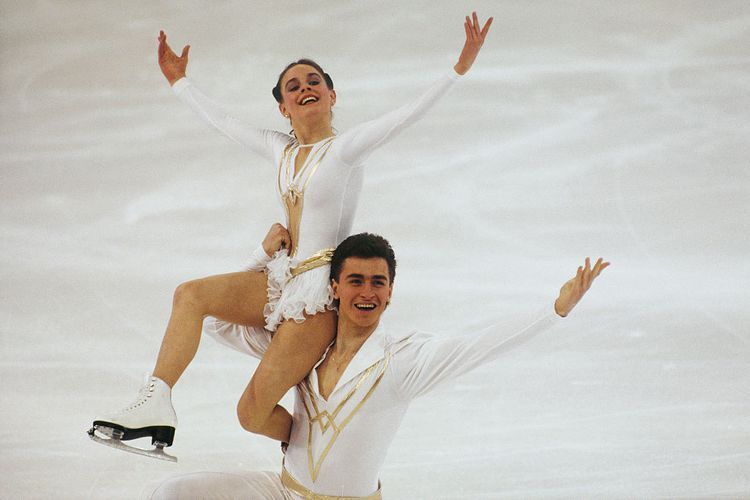 The skaters together were a strong team and won almost every competition they competed in.
After marrying Sergei on April 20, 1991, and welcoming their daughter into this world on September 11, 1992, the couple won their second Olympic gold medal in 1994.
You Might Be Interested In Fellow Legendary Skater:<<Jojo Starbuck Bio: Age, Career, Net Worth, Husband Wiki >>
Solo Career
The figure skater started her solo career in 1996 after Sergei passed away suddenly on November 20, 1995, due to a heart attack.
In her first performance, she did a tribute to her late husband by skating to Gustav Mahler's Symphony No.5.
During an interview, she mentioned that she felt Sergei's presence, which made her double strong while performing.
With the help of author E.M. Swift, she introduced her husband as she knew him to the world. Her book, My Sergei: A Love Story, focused on how he lived and celebrated his life.
Moreover, she published a second book dedicated to her daughter titled A Letter For Daria.
In 1997, she competed in the World Professional Championships as a solo skater and second place.
Then, from 1996 to 2000, she worked at Stars on Ice before giving birth to her second daughter. In 2003, she performed a duet with her eldest daughter Daria.
Later on, she performed a trio with both of her daughters. Furthermore, Katia is also a coach and choreographer.
Don't Forget To Check Out the Top 100 Nathan Chen Quotes.
Who did

Ekaterina Gordeeva marry? Marriage And Kids
Sergei Grinkov
Ekaterina married her skating partner and first love, Sergei Grinkov. The pair met when Gordeeva was 11 and Grinkov was 15 through their passion for figure skating.
Their relationship started as friends and partners and then slowly progressed into love. Furthermore, they announced their love by kissing on 1988 New Year's Eve.
Later, in April 1991, the pair tied the knot in a church.
They then toured with Stars on Ice before announcing their pregnancy with their first and only daughter, Daria.
However, the fairytale wedding did not last for long. On November 20, 1995, Sergei passed away due to a massive heart attack caused by a congenital heart condition during rehearsal.
How old was Ekaterina Gordeeva when her husband died?
Ekaterina Gordeeva was 24 years old when her husband, Sergei Grinkov, died.
Ilia Alexandrovich Kulik
Gordeeva met her second husband, Ilia Kulik, through figure skating too. They started their romance during the 1999-2000 season of Stars on Ice and even performed a romantic duet.
Katia welcomed her second daughter and first child with Ilia, Elizaveta Ilinichna Kulik, on June 15, 2001.
Then, almost a year later, on June 10, 2002, they married in a private ceremony in California. They resided there for a long time before moving to Connecticut.
Nevertheless, they constantly go back and forth between the USA and Russia to visit their family and hometown.
Moreover, the married couple opened an ice rink named Kulik's Skating in California. They are frequently there and help with choreographing and training sometimes.
In 2016, the dreamy couple ended their fourteen years of marriage after getting a divorce. Nonetheless, for the sake of their daughter, the couple maintains a friendly relationship.
Who is Ekaterina Gordeeva Married to now?
Ekaterina Gordeeva is married to Canadian figure skater David Pelletier. The couple got married on July 25, 2020.
What is Ekaterina Gordeeva Net worth? And Salary?
The exceptional figure skater has built a whopping net worth after almost 22 years of a professional career.
As of recent estimation, she has a net worth of $10 million. Moreover, she has signed several endorsements deals with American Retail Corporation and Target.
Through the contract, she has produced two perfumes named "Katia" and "Katia Sport."
Besides that, she has appeared in movies and ads with her daughter. The two-time Olympic champion was on Snowden on Ice with her oldest child Daria.
Furthermore, she starred alone in Snowden's Raggedy Ann and Andy Holiday Show. Then, she advertised for Rolex and was in a "Got Milk?" ad with Daria.
Not to mention, she was a featured athlete in the 2003 Sports Illustrated Swimsuit Issue.
Ekaterina Gordeeva | Social Media Presence
Despite being almost 50, Katia is well acquainted with social media and active. She is on Instagram with over 200 posts and 27 thousand followers.
Almost all her posts gravitate toward skating and family. She usually shares pictures of her daughter, sister, mother, and friends.
Furthermore, the skater also has photos of her admirers and fans. Besides that, she is also on Twitter, with over four thousand followers.
She joined in 2015 and has followed less than 50 people. Gordeeva is relatively less active on Twitter.
She hasn't tweeted a lot this year. Nevertheless, she usually shares about Stars on Ice and skating in general.
Some FAQs:
What skate boots does Ekaterina Gordeeva wear?
Ekaterina Gordeeva waears GRAF skate boots.
Who was Ekaterina Gordeeva's partner at Battle of the Blades?
Katia partnered up with Bruno Gervais and performed on The Plaza of Execution by James Horner.
What happened to Ekaterina Gordeeva and Ilia Kulik?
Ekaterina Gordeeva and Ilia Kulik got divorced in 2016.
Where is Ekaterina Gordeeva today?
Ekaterina Gordeeva currently lives in Alberta, Canada. She is enjoying her life by traveling and spending time with her family.
How did ice skater Sergei die?
Ice Skater Sergei suddenly collapsed during rehearsal resulting in his death. According to doctors, he had a severe illness that clogged coronary arteries, which caused him to have a massive heart attack.
He was found to have a genetic risk factor linked with sudden heart attacks. At the time of his death, he was only 28 years old, while his wife and daughter were 24 and 3 years old.
Have Ekaterina Gordeeva and Egor Beroev performed together?
Yes, the pair performed together on Ice Age 2. They were each other's partners for the show and even went on to win it.
Was Ekaterina Gordeeva in the Battle of the Blades?
Yes, Ekaterina Gordeeva was paired with hockey player Valeri Bure in the figure skating reality show "Battle of the Blades" in 2010.