Elic Ayomanor attributes his career success to his single parent, his mother, Pamela Weiterman, who sacrificed her own dreams.
The Medicine Hat native Ayomanor tirelessly works to make his mother proud, striving for a beautiful and luxurious life for her.
Let's unveil every detail about him, including Elic Ayomanor parents, ethnicity, and background.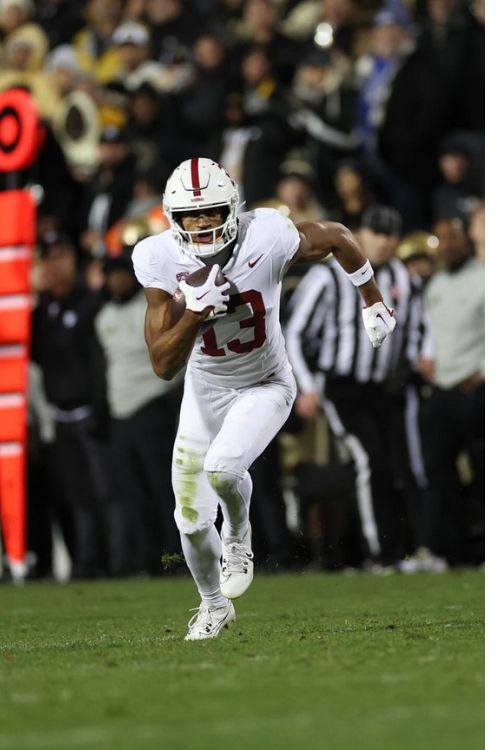 Elic Ayomanor, aka Elic Cordell Ayomanor, is a Canadian wide receiver playing for the Stanford Cardinal.
Hailing from the small town of Kincaid in Medicine Hat, Alberta, Canada, Elic Ayomanor quickly gained recognition as a top-10 recruit in Massachusetts.
While at Deerfield Academy in Massachusetts, Ayomanor led his team to an MPAL title and won the NEPSAC Class A Bowl.
Elic Ayomanor wasn't limited to just football. He also excelled in track and field, displaying his athleticism and speed.
In 2019, he gained the 8th national ranking for the 200m U18 sprint in Canada, showcasing his speed and versatility.
Ayomanor chose to play football at Stanford University, known for its academic and athletic excellence.
His choice of Stanford over 19 other FBS programs shows his dedication to both academics and athletics.
Elic Ayomanor had a memorable debut in college football, playing a key role in Stanford's thrilling 46-43 victory against Colorado.
This performance made him a rising star in college football, establishing him as one to watch.
Elic Ayomanor's career is just beginning, but his achievements suggest a promising future in football.
His journey from a small Canadian town to the grand stage of American college football is already an inspiring story of determination and talent.
Elic Ayomanor Parents: Mother Pamela Weiterman
Elic Ayomanor was born to his mother, Pamela Weiterman, in Medicine Hat, Alberta.
With no information about his biological father, it seems that the rising football player and his older sister, Jill, were raised by a strong supportive single parent.
In Elic's life, Justin Dillon emerged as a father figure, guiding him towards his passion for football.
Dillon's journey began when he discovered gifted receiver Chase Claypool from Vancouver, which ultimately led him to Elic.
Recognizing Elic's extraordinary athleticism and skills, Dillon believed in the young talent, similar to Claypool.
However, convincing Elic's mother to allow her son to pursue his football career in a different country was initially met with hesitation. Yet, as the opportunity unfolded, she came to trust Dillon's guidance.
Elic faced his share of obstacles, including injuries and the disruptions brought by the COVID-19 pandemic.
Throughout it all, Dillon remained Elic's unwavering source of encouragement and belief.
Ayomanor's story is a reminder that determination, mentorship, and the love of a chosen family can lead to remarkable success, even in the face of adversity.
Elic Ayomanor Ethnicity
Elic Ayomanor's identity is a blend of Canadian heritage from his mother and a mysterious father's background.
Ayomanor's mixed ethnicity discloses a captivating story with Canadian roots from his mother's side.
Canada's expansive beauty, from its clear lakes to rugged mountains, deeply shapes Elic's cultural identity, going beyond geography.
However, his father's ethnicity remains a mysterious, enigmatic chapter in Elic's life story.
The omission sparks curiosity and lets Elic explore and shape his identity. It suggests a hidden heritage, potentially enriching his intricate cultural mosaic.
In our diverse world, Elic's mixed ethnicity showcases the rich tapestry of human identities, known and unknown, in his unique story.