Elijah Moore mother, Elisa Poux, is the unsung hero who played a crucial role in shaping the life of the rising football star. She has always been her son's best friend.
While Elijah's journey to the NFL has been nothing short of remarkable, the support and love of his mother, Elisa, have been a driving force in his success.
Let's take a closer look at the woman behind the scenes – Elisa Poux.
Elijah Danilo Moore is an American football wide receiver. Currently, he plays for the Cleveland Browns of the National Football League (NFL).
Born on March 27, 2000, Moore grew up in Fort Lauderdale, Florida, with his older brother Seam Moore Jr.
Likewise, he attended St. Thomas Aquinas High School and commenced his football journey.
A four-star recruit, Moore played college football at Ole Miss, where he was awarded the Conerly Trophy in 2020.
Similarly, the New York Jets drafted Moore in the second round of the 2021 NFL Draft as the 34th overall pick.
He was traded to the Cleveland Browns on March 22, 2023, and has been playing for them since.
Elijah Moore Mother, Elisa Poux
The Cleveland Browns wide receiver was born to his parents, Sean Moore and Elisa Poux, in Sunrise, Florida.
Born on June 24, 1974, Elisa Poux is a native of Florida, where she has spent most of her life.
Her early years were marked by hard work and determination, qualities she would later instill in her children.
Elisa pursued a career in nursing, a field known for its demanding nature and dedication to caring for others.
"My mom's a nurse. I've seen my mom work so hard and go through a lot. She's my world, so she's just like me. She's a grinder.", Elijah said during an interview.
Relationship And Kids
Elisa Poux was married to Sean Moore, and together, they had two sons, Elijah Moore and Sean Moore Jr.
Currently, Sean Moore Sr. is a real estate agent in Coral Springs, Florida, working with ZenQuest Realty Inc.
Although Elisa and Sean's marriage eventually ended, they prioritized their children's well-being.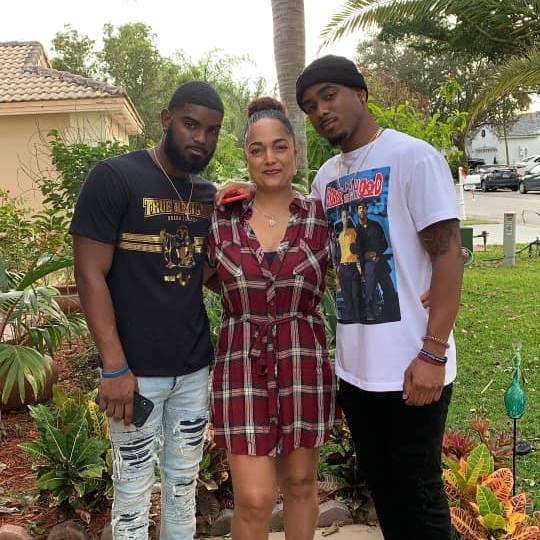 Over the years, Elisa has again found happiness after meeting Rogelio Wallace. She now has a partner who cherishes and supports her just as she has supported her children.
Their relationship began on February 17, 2021, quickly becoming a deep and loving connection.
On June 20, 2023, Elisa and Rogelio took the next step in their relationship by getting engaged.
The Journey Of Elijah Moore
Elijah Moore's journey to becoming an NFL star resulted from his incredible talent and tireless work ethic.
However, Elisa's constant support and guidance provided the foundation for his success.
From youth football to his collegiate career, Elisa stood by her son's side, cheering him on and providing a loving and stable home environment.
Elijah Moore's rise to NFL stardom with the New York Jets and the Cleveland Browns is a source of immense pride for Elisa.
Elisa is not only her son's biggest fan but also his biggest critic. While she provides a shoulder to lean on during challenging times, she always comes with the truth.
Her dedication to her son's dreams is evident in the sacrifices she made and the encouragement she provided throughout his journey.
Frequently Asked Questions (FAQs)
1. Who Is The Mother Of Elijah Moore?
Elijah Moore's mother is Elisa Poux, a nurse.