Professional golfer Elizabeth Szokol is the daughter of Pam Szokol and Joseph Szokol. The unwavering support of her parents has been instrumental in her remarkable success as a golf player. Read more about Elizabeth Szokol parents.
Elizabeth Szokol is a professional golfer from the United States. She is a member of the LPGA Tour. Szokol grew up in Winnetka, Illinois, and started playing golf at 14.
In high school, she led her team to victory in the 2010 Illinois State Championship and the Illinois Women's Amateur Championship in 2012.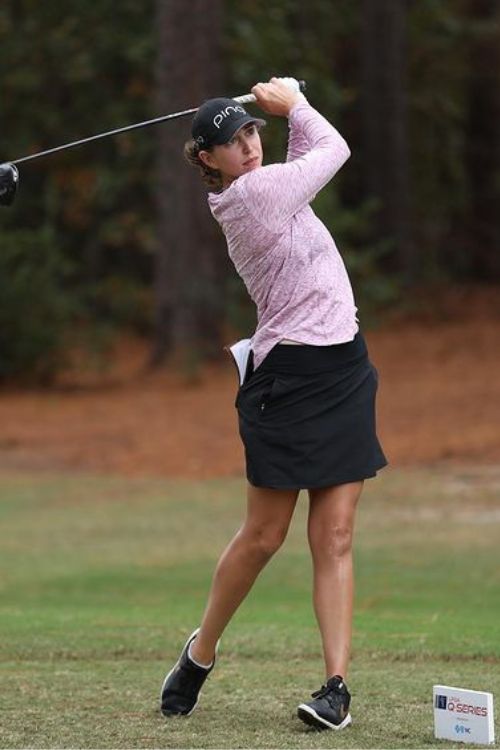 She received academic recognition at Northwestern University and was named Second Team All-Big Ten. After transferring to the University of Virginia, she excelled academically and in golf.
In 2017, Szokol turned professional and joined the Symetra Tour.
Elizabeth Szokol Parents
Elizabeth Szokol, born in 1996, is of Caucasian descent. She is the daughter of Pam Szokol and Joseph Szokol. She has two siblings, a brother named William Szokol and a sister named Kimberly Szokol.
Elizabeth's mother, Pam, is the third woman leading the Jewish United Fund/Jewish Federation of Chicago. With extensive involvement, including chairing committees and commissions, she profoundly understands JUF's impact on the Jewish community.
She is dedicated to innovation and is ready to navigate future challenges. Szokol's connection to JUF developed during a family trip to Israel, where she witnessed the programs supported by JUF and their life-changing effects.
Besides her JUF involvement, she actively participates in other philanthropic and civic organizations.
Pam makes sure to attend her daughter's major events. Elizabeth happily shares pictures on her Instagram with her mother whenever she shows up on the field.
Similarly, Elizabeth's father, Joseph Szokol, is a doctor. He practices as an Anesthesiologist in Los Angeles, CA.
He completed his medical education at the Keck School of Medicine of the University of Southern California. Furthermore, he did his residency in Anesthesiology at McGaw Med Ctr Of Northwestern.
He was the recipient of the 2020 Distinguished Service Award.
Professional Career
Elizabeth became a professional golfer in 2017. During her rookie season, she achieved six top-10 finishes, including finishing as a runner-up at the Four Winds Invitational.
In 2018, she continued her success with seven top-10 finishes. She secured her first professional victory at the IOA Invitational, finishing four strokes ahead of Pajaree Anannarukarn in second place.
Her impressive performance placed her fourth on the Symetra Tour Official Money List. It granted her membership for the 2019 LPGA Tour season.
In her debut year on the LPGA Tour, Szokol participated in 20 events and cut in 10. Her notable achievement was a tie for sixth place at the Aberdeen Standard Investments Ladies Scottish Open.
In 2021, Szokol continued to make her mark with three top-10 finishes, which included a runner-up position at the Marathon Classic in Ohio and a third-place finish at the Cognizant Founders Cup in New Jersey.
These achievements propelled her into the top 100 Women's World Golf Rankings for the first time. By the end of the season, she secured the 44th position on the LPGA Tour Money List.