Enes Kanter's Wife? Emily Sears is an Australian model, beauty and fitness lover, and best known as the girlfriend of Enes Kanter Freedom. In February 2023, Freedom revealed his intentions of running for a seat in Congress.
Freedom is a Turkish-American professional basketball player who last played for the Boston Celtics of the National Basketball Association (NBA).
The former Celtics center is known for his on-court attainments and pro-democracy activism.
While getting to his personal life, he was sighted with gorgeous model Emily Sears for months before making an official announcement.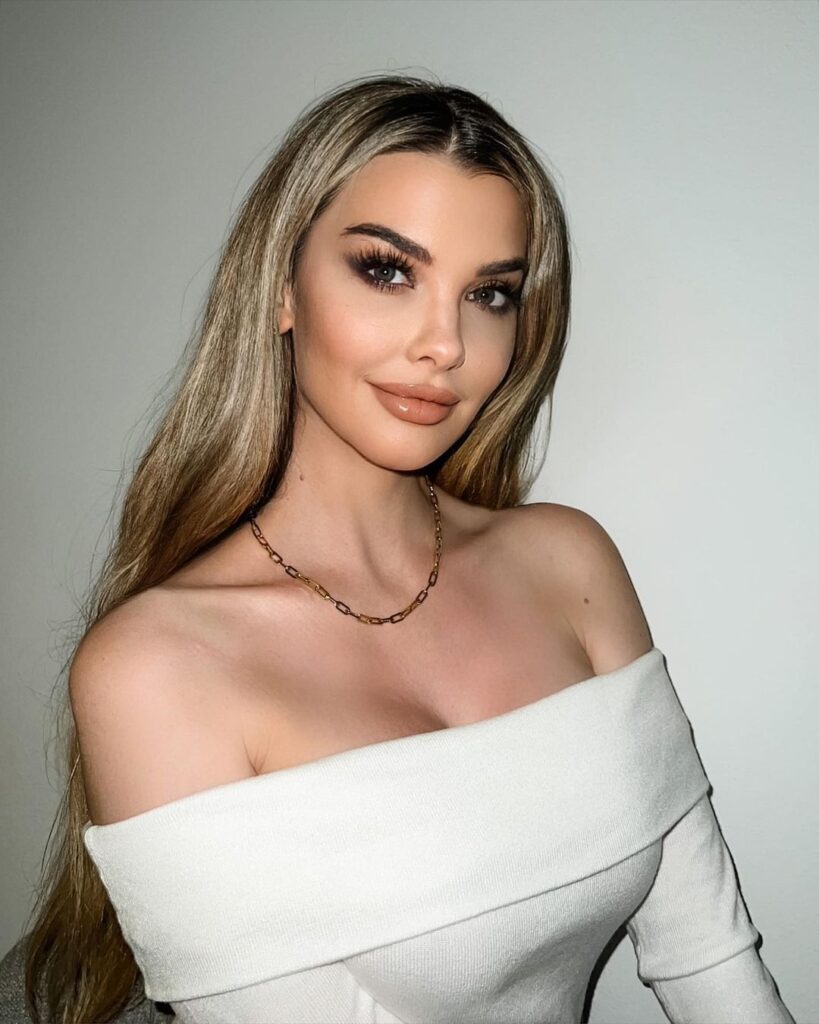 Sears supports Freedom in both his games and advocacy. She is mostly searched as Enes Kanter's wife on the internet.
Having a supportive companion who bears all, endures all, and would be there to rejoice in all the triumphs is a blessing in life.
Emily initially gained popularity from her appearance in the Carl's Jr. advertising campaign. Besides, she also had a brand endorsement deal with Monster Energy, StrikeForce MMA, and others.
Below is more information about the prominent basketball player and advocator's girlfriend, Emily Sears.
Also, have a peek at quick facts about Emily Sears beneath.
Quick Facts
Full Name
Emily Sears
Date of Birth
November 10, 1985
Nicknames
Unknown
Age

38

years old
Birth Place
Melbourne, Australia
Nationality
Australian
Religion
Christianity
Height
5'8″/1.73 m/173 cm
Weight
58 kg/128 lb.
Hair Color
Blonde
Eye Color
Blue
Father's Name
Unknown
Mother's Name
Unknown
Children
None
Marital Status
Unmarried
Boyfriend
Enes Kanter Freedom
Social Media
Instagram
Profession
Media personality, Model
Net Worth
$5 million
Merch of Enes Kanter
Basketball Cards
Last Update

November 2023
Early Life & Family
Emily Sears was born in Melbourne, Australia, on November 10, 1985. The Australian native follows Christianity and her zodiac sign is Scorpio.
The angelic model was born to a creative family; her parents were art publishers. Her aunt Wendy Martin is her first inspiration as she boosted her to a modeling career.
Moreover, Wendy was the Australian Model of the Year in 1956. Emily is fortunate to share her upbringing with her sister, who is a psychotherapist.
Emily completed her high school from a local school in Melbourne.
Career
The glamorous model Emily Sears has been featured on magazine covers since she started her modeling career in Australia.
Before settling in Los Angeles, she graced the covers of Lad's Zoo magazine.
Additionally, she's a social media influencer, beauty and fitness lover, and strongly advocates for women's rights.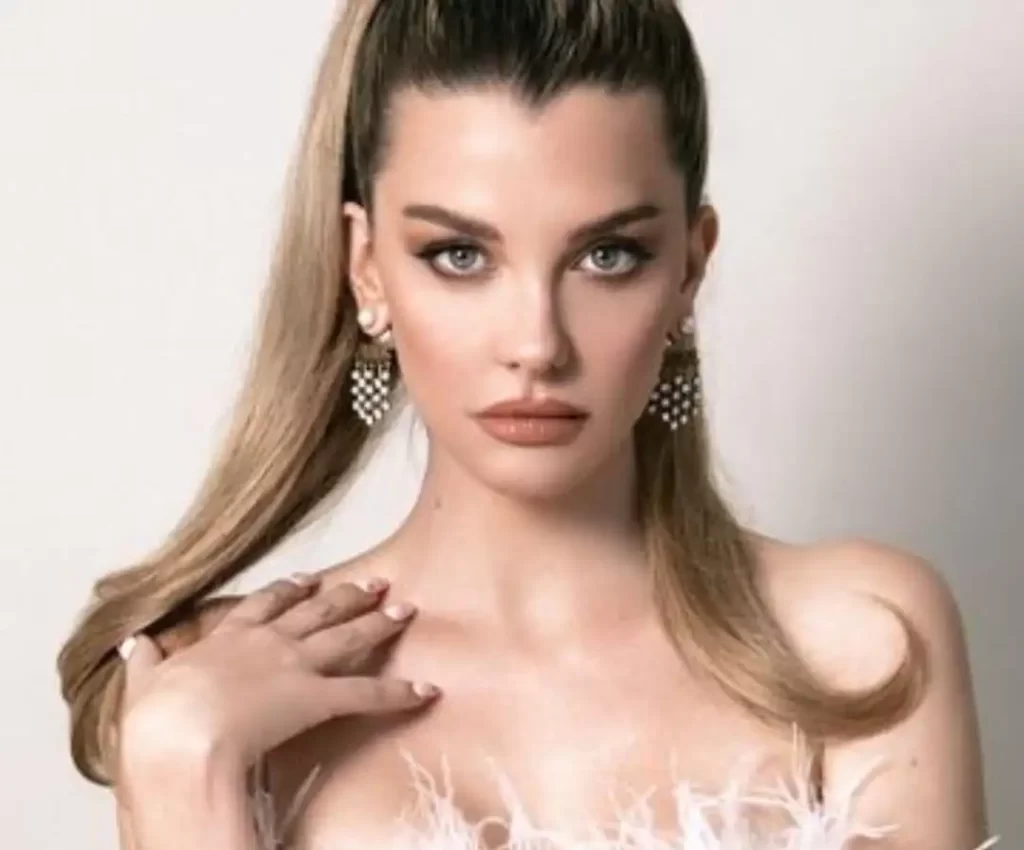 Emily shares body-positive pictures with millions of followers and heightens others' confidence.
The Australian model is mostly seen on swimsuit covers and is a role model for some aspiring models. Moreover, she has been featured on more than 15 magazines cover.
Magazines & Music Video
Emily appeared in several magazines like GQ USA, MAXIM, KANDY Magazine, FHM, RALPH, M, Transworld Motocross, and Zoo Weekly.
Additionally, she's appeared in events and worked as a spokesmodel representing several brands like ESQUIRE Magazine, CIROC, NAEN, Strikeforce MMA, Monster Energy, and Maneater Swimwear.
Sears has starred in various TVCs, including national campaigns, and music videos of internationally eminent music artists from all around the world.
She appeared in assorted music videos, including G-Eazy's 'You Got Me' and Kanye West's 'I Won.'
The Tribute
Sears paid tribute to her rumored former beloved and late cricketer, Shane Warne, following his unfortunate death at age 52.
Emily posted a heartfelt message in honor of the celebrated sportsman after his demise due to a heart attack in March 2022.
The model took her Instagram and wrote, "In shock waking up to this devastating news. Shane Warne, you were a great mate and an Aussie Legend. I don't have words right now. My heart goes out to his family and loved ones at this hard time. RIP Shane."
Sears was previously linked to Warner in March 2017 when the two attended a Hollywood party together.
Age, Body Features, And Health Problems
The Australian model was born in 1985, and scrutinizing her birth date, she is 38 years old at the moment.
Regarding her physical stats, Sears stands tall at 5 feet 8 inches (1.73 meters) and weighs around 58 kg (128 pounds).
Her bewildering blonde hair and captivating blue eyes intensify her grace.
The model underwent a uterine myomectomy procedure in February 2019 and brain surgery in June 2020, which she revealed via a lengthy Instagram post.
After suffering from the aforementioned health issues, she strictly follows a healthy lifestyle and advocates to do the same.
Net Worth
Emily is a professional model and has been featured in many top magazine covers and music videos, earning quite some fortune.
Besides, she also earns some extra cash from endorsing brands, including 1st Phorm.
The Australian model amassed the utmost of her fortune from modeling and endorsements and is estimated to have a net worth of around $5 million as of 2023.
Brief Peek At Enes Kanter
Enes Kanter "The UnderKanter" legally changed his name to Enes Kanter Freedom after getting his US citizenship.
The former Celtics player was born to his Turkish parents, Mehmet Kanter and Gulsum Kanter, on May 20, 1992, in Zurich, Switzerland.
His father, who secured his M.D. from the University of Zurich, is also a professor of histology and genetics at Trakya University. Likewise, his mother is a registered nurse.
Freedom grew up with three younger siblings (two brothers and a sister).
The player initially enrolled in second grade at a Hizmet-affiliated school. He resided in Ankara and then transferred to Istanbul to play professional basketball as a teen.
Later, Kanter moved to the United States at 17 to play basketball. He attended Stoneridge Preparatory School in Simi Valley, California, where he played basketball for one season.
Interesting Facts About Freedom
He enjoys watching wrestling.
He loves the TV show SpongeBob SquarePants, which also helped him learn English.
He follows Islam wholeheartedly.
Career & Activism
Enes Kanter is a professional basketball player with a net worth of around $55 million as of 2023. Presently, he is a free agent and previously played for the Boston Celtics of the NBA.
Kanter won MVP honors at the 2009 FIBA Europe Under 18 Championship, and bagged silver with the team at the 2010 FIBA World Championship.
Freedom was born in Switzerland and grew up in Turkey. He is an unrestrained antagonist of Turkey's President, Recep Tayyip Erdogan.
The player has been in the media a bunch of times for his bold statements. His powerful words have sabotaged the Chinese government, Nike, LeBron James, and Michael Jordan.
He's presumably known for his courage and boldness in bringing wrong deeds in front of the world.
In addition, Freedom in his name is an oath that reflects his fight for freedom throughout his life.
Enes Kanter & Emily Sears
The 6 feet 10 inches (2.08 meters) dominant center player is currently in a relationship with model Emily Sears.
Kanter had made everything official with the Australian model. Before their official announcement, they had been seeing each other for a couple of months.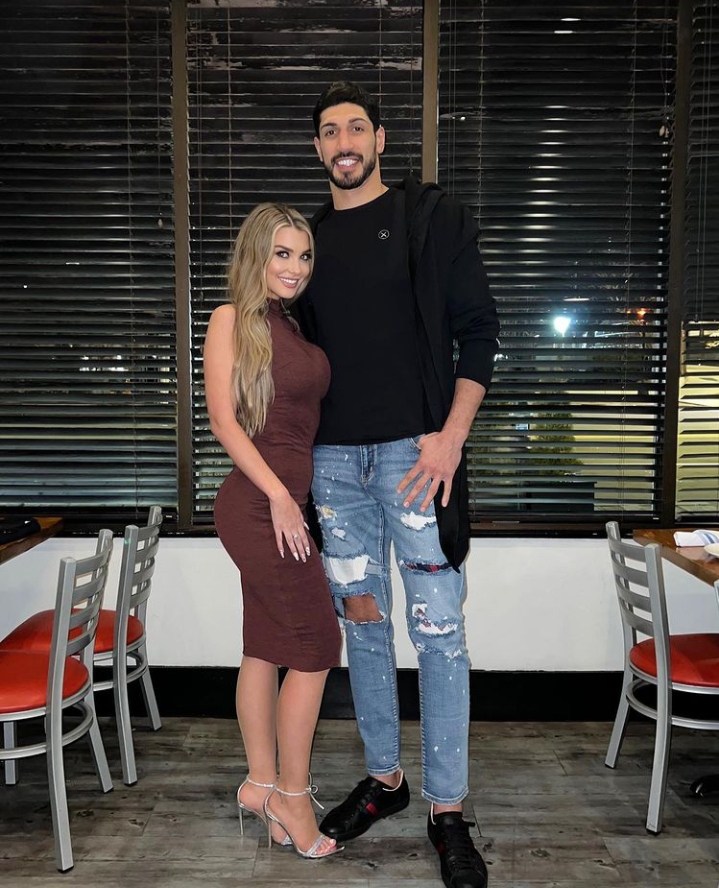 She was also sighted at several tournaments, cheering him on and supporting him in his gracious movements.
Once Emily uploaded a picture of her and Kanter on Instagram with a caption that read, "the bravest person I know."
Past Relations
Dana Brooke
Enes Kanter dated professional wrestler Dana Brooke until December 2019. Brooke was previously in a relationship with Dallas McCarver.
In one of the podcasts, Dana talked about the hardship of moving on from the past, Dallas McCarver's death.
Then, she started dating Kanter late in 2018. Her relationship with the professional basketball player helped her in her recovery period.
Kanter helped Brooke to continue her wrestling career when she was on the verge of calling it quits to wrestling.
Ariana Rockefeller
Later, in 2020, Kanter began dating another lady, fashion designer and amateur equestrian, Ariana Rockefeller.
Ariana is a granddaughter of American investment banker David Rockefeller and a great-granddaughter of financier/co-founder of Standard Oil John D. Rockefeller Jr.
She launched her fashion line in 2011, opened a pop-up shop in the SoHo neighborhood, and added a line of handbags in 2015.
Rockefeller ranked in fourth place in Hampton Classic Horse Show in 2015.
After nine years of marriage, she divorced her husband, Matthew Bucklin, in 2019. Later, she started dating NBA star Enes Kanter in the fall of 2020 but eventually parted ways.
Rockefeller signed with a French modeling agency, Marilyn Agency in New York, to work on special projects in May 2021.
Social Media Presence
The supermodel Emily Sears is an active social media user. She is frequently seen posting pictures of her draped in trendy outfits, with her friends, and promoting different brands.
Sears is available on Instagram under the handle @emilysears and manages her dog's Instagram @stevie_bugs.
Instagram: 5.2m followers
Popularity
The Australian model has garnered millions of fans from all around the world from her modeling career.
The above graph illustrates the fluctuating popularity of Emily Sears based on Google searches in the United States over a year.
Frequently Asked Questions
What other music video has Emily Sears starred in?
Emily starred in the music video for "Party Girl" by Wiz Khalifa. Besides, she had the opportunity to host on iheart radio with DJ Khaled.
Why did Emily Sears and the late Shane Warner break up?
Sears dated Shane Warner but broke up after five months of dating, with Sears giving Shane's infidelity as the breakup justification.