Do you know the name of the kid who scored four hat-tricks in 22 appearances for RB Salzburg? Do you know who scored five goals in his first 56 minutes for Borussia Dortmund?
Well, if you were not living in a cave for the past year, then you might have heard of the name Erling Haaland.
In fact, not many people had heard of Erling just a year back, but his meteoric rise to the top has been nothing short of a Hollywood movie.
By 19 years of age, the young prodigy had scored 39 times already, with several games still left to play.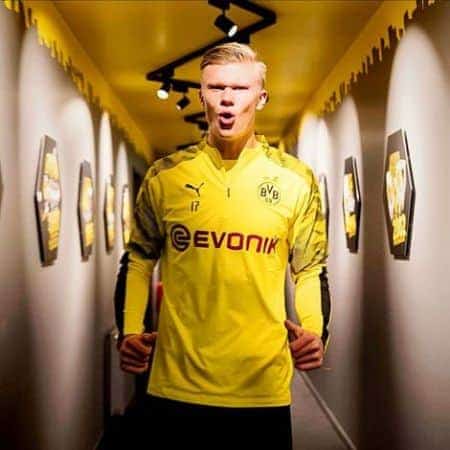 Consequently, Europe's biggest clubs, Real Madrid and Barcelona, have shown interest in the Norwegian national. But that is in the future, and we are not here to discuss the future.
Instead, we are here to inform you about the wunderkind's early life, career, stats, net worth, salary, body measurements, and family. So without wasting a single breath, let's get cracking.
Quick Facts
| | |
| --- | --- |
| Full Name | Erling Braut Haaland |
| Birth Date | 21 July 2000 |
| Birth Place | Leeds, England |
| Nick Name | Not available |
| Religion | Christian |
| Nationality | Norwegian |
| Ethnicity | Not Available |
| Education | Not Available |
| Horoscope | Cancer |
| Father's Name | Alf-Inge Haaland |
| Mother's Name | Gry Martia |
| Siblings | Astor Haaland (Brother), Gabrielle Haaland (Sister) |
| Age | 21 Years Old |
| Height | 6'4″ (1.94 m) |
| Weight | Not available |
| Shoe Size | Not available |
| Hair Color | Blonde |
| Eye Color | Blue |
| Body Measurement | Not available |
| Build | Athletic |
| Married | No |
| Girlfriend | None |
| Spouse | No |
| Position | Striker/Center Forward |
| Profession | Football Player |
| Net Worth | $12 million (£9 million) |
| Clubs | Borussia Dortmund(Current); RB Salzburg, Molde, Bryne (Former) |
| Jersey Number | 9 |
| Social Media | Instagram, Twitter |
| Merch | Posters, Jersey |
| Last Update | June, 2022 |
Erling Haaland: Early Life
Most people don't know that Erling was born in Leeds, England, while his father was playing for Leeds.
As a result, ever since Haaland was a child, he dreamed of playing football as his father was also a professional footballer himself.
Therefore, to realize his dreams, young Erling joined his local youth team Bryne Fotballklubb.
During his time with Bryne, young Haaland was so impressive that he regularly played with players that were two or three years older than him.
Even during such a young age, the Norwegian showcased his world-class abilities, which we regularly get to see now.
To illustrate, the Dortmund striker scored 18 goals in just 14 games while playing for Bryne's reserve team. As a consequence, Haaland got promoted to the first team at the tender age of 15.
Erling Haaland: Career
While most other footballers still play for their youth team at the age of 15, Erling had already made his professional debut by that age.
In his debut season with Bryne, Haaland played in 16 matches in which he impressed everyone, including the manager.
As a result of his outstanding performances, many top clubs were interested in the services of young Erling. However, it was Molde that got their hands on the wunderkind.
Subsequently, the 16-year-old played in 20 games for the club while scoring four times and assisting a further one time.
Even though the Dortmund striker managed only four goals, his talent was there for all to see. In fact, the talented attacker scored 16 times and assisted a further five times as Erling led his team to a second-place finish in the league.
By this time, everyone knew about young Haaland and his capabilities. As a result, clubs like Juventus and Bayer Leverkusen showed a strong interest in the young prodigy.
However, Erling knew that he needed playing time to develop and that it would be limited if he moved to big clubs.
You might also like Domagoj Vida Bio: Croatia, Wife, Stats, Net Worth, Salary, Career Wiki >>
Rising Career
Consequently, Erling decided to join the best club in Austria in recent years, RB Salzburg, for $5.5 million. The rest is history because Haaland scored a total of 28 goals in just 22 appearances before his move to Borussia Dortmund.
What's even more astonishing is that the 19-year-old (at that time) scored four hat-tricks, including one in the UEFA Champions League in his 22 appearances for Salzburg.
Also, Haaland became the first player in Champions League history to score six goals in the first three Champions League matches.
As a matter of fact, young Haaland scored eight times in the Champions League group stages but unfortunately could not help his side reach the knockout stages.
Following his impressive outings in the Champions League, almost all the top clubs in Europe wanted Erling to play for them.
Among them, Manchester United and Borussia Dortmund were the frontrunners for the 19-year-old's signature. At that time, both the clubs needed a striker; thus, the two clubs fought viciously to sign the young prodigy.
In the end, it was Borussia who won the battle as they offered Erling more playing time by guaranteeing him a starting spot.
In fact, the German club even sold their first-choice striker, Paco Alcacer, to get Haaland's signing over the line.
Million Dollar Deals
Eventually, Borussia signed the 19-year-old in a $49.5 million deal from RB Salzburg in January 2020. Soon after his signing, everyone expected the talented forward to continue his goal-scoring form, and that is exactly what Erling did.
As a matter of fact, the Norwegian's debut was like a Hollywood movie storyline.
To explain, Erling came on in the 56th minute of the match and scored a hat-trick within 23 minutes. Consequently, Dortmund won the game 5-3 due to the 19-year-old's three goals.
Continuing with his form, Haaland scored twice in his second appearance for the German giants as his team won the game 5-1.
As a consequence, the Denmark international became the first player in history to score five goals in just two games. What's even more extraordinary is that it took Erling only 56 minutes to score those five goals.
After that, Haaland's next big exploit came during the round of 16 Champions League tie against the might Paris Saint Germain, who boasted players such as Neymar and Kylian Mbappe, among others.
Nevertheless, the Dortmund striker did not seem fazed as he scored both the goals in a 2-1 win over the Paris-based club. Unfortunately, Borussia lost the second leg 2-0, which got them eliminated from the competition.
What to expect?
Nonetheless, Erling's reputation has continued to grow ever since and still does as we speak. However, due to the world pandemic of Corona Virus (COVID-19), all the top leagues in Europe have been postponed, including the Bundesliga.
Therefore, it remains to be seen when the Bundesliga resumes as the virus has affected Europe most than any other continent.
The 19-year-old has played in 11 matches for the German giants scoring 12 goals and providing a further two assists.
In fact, Erling has scored a combined 39 times and assisted nine more for RB Salzburg and Borussia Dortmund this season. However, with still many games to play in the season, we are sure that Haaland will score even more goals whenever the league resumes.
Check out Gabriel Martinelli Bio: Stats, Transfer Market, Country, Instagram Wiki >>
International Career
Having been born in England, Erling was eligible to play for the three lions. Instead, the 19-year-old chose to play for his father's home nation, Norway. Since then, Erling has scored goals at every level he has played for the national team.
To explain, the 19-year-old scored a hat-trick against Scotland in a 5-4 victory to help Norway secure a place in the 2018 UEFA European Under-19 Championship.
Additionally, the Norwegian scored a record nine times against Honduras U-20 in a 12-0 win. As a result, Erling won the Golden Boot award at the U-20 World Cup even though he did not score in any other games.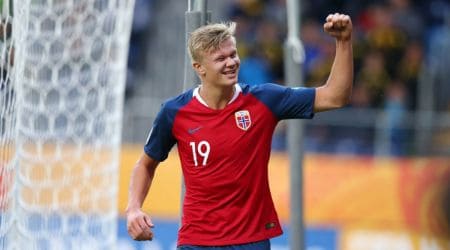 Subsequently, Haaland made his debut for the senior team on 5 September 2019 against Malta.
The club performances of Erling were so good that many fans thought the opportunity should have come earlier. The Norwegian striker has made two appearances for his national team but has not scored any goal.
Nonetheless, at just 21 years of age, the Dortmund striker has many years left in him to play more games for his national team.
In fact, judging by the talent Haaland has, it is just a matter of time before Erling hits the daunting 100 caps mark for Denmark.
Stats
Senior career
Years
Team
Apps
(Gls)
2015–2016
Bryne 2
14
(18)
2016–2017
Bryne
16
(0)
2017
Molde 2
4
(2)
2017–2019
Molde
39
(14)
2019–2020
Red Bull Salzburg
16
(17)
2020–
Borussia Dortmund
33
(30)
National team
2015
Norway U15
4
(4)
2016
Norway U16
17
(1)
2017
Norway U17
5
(2)
2017
Norway U18
6
(6)
2018
Norway U19
6
(6)
2019
Norway U20
5
(11)
2018
Norway U21
3
(0)
2019–
Norway
7
(6)
What position is Erling Haaland? Age & Height
Erling has always been a goal scorer, and that is why he is playing as a center forward for Borussia Dortmund.
Similarly, born in the year 2000 makes Haaland's age 21 years currently, which is quite young for a star player like him.
Nonetheless, the 21 -year-old has shown no signs of immaturity. Instead, Dortmund relies on Erling to score goals and win matches for them along with Jadon Sancho.
Furthermore, Haaland stands at 6 feet 4 inches (1.94 meters) above the average height of a footballer.
Likewise, his tall height makes Haaland one of the most dangerous strikers. The reason being, Haaland can not only score goals by going past players but also score headers and get his teammates involved through his hold-up play.
How much did Erling Haaland cost? Net Worth & Salary
As of 2022, Haaland has an eye-watering net worth of $12 million (£9 million) accrued mainly through his footballing activities.
It is an incredible sum of money for a player who is just 19 years of age and in his fourth season as a professional.
Likewise, the main reason for Erling's massive net worth is the contract that he signed with Borussia Dortmund in the January transfer window of 2019-20 season.
To be precise, the 19-year-old was signed for $49.5 million from RB Salzburg and will be earning £100,000 per week or £5.2 million per year with the Bundesliga giants.
In fact, Haaland would have earned even more had he signed for Manchester United. For example, United offered Erling a weekly salary of up to £170,000 per week or £8.8 million per year, which is astonishing for a 19-year-old kid.
However, judging by his performances this season in which the Norway international has scored an incredible 33 goals, his weekly wage should be no surprise.
Erling Haaland: TransferMarkt
The TransferMarkt website values Haaland at an incredible $88 million, which is extraordinary. The reason being, just before his move to Dortmund, Erling was valued at $49.5 million.
But having performed exceedingly well for the German club, the talented forward has seen his value sky-rocket in just a few months.
Moreover, if the 19-year-old continues his rapid development, we are sure that Erling will soon cross the $100 million barriers.
You might also like Ansu Fati Bio: Stats, Career, Salary, Net Worth, Nationality Wiki >>
Erling Haaland: Family & Relationship
Erling was born to his father, Alf-Inge Haaland, and mother, Gry Martia. While his mother is a typical housewife, his father, on the other hand, was a professional footballer himself playing for the likes of Leeds United and Manchester City.
Also, the 19-year-old has one brother, Astor Haaland, and a sister, Gabrielle Haaland. Likewise, Erling is the second child of the couple; therefore, we think that the 19-year-old was the most loved one growing up as most other second borns do.
Conversely, the Dortmund striker is not involved in any relationships. In fact, in one of his many interviews, Haaland once said,
"I sleep with the five balls for each hat-trick I have scored. I lie in bed and I feel good with them and I look at them every day. They are my girlfriends."
That quote says everything you need to know about Erling's mentality. There is a reason why Haaland is one of the best young players in world football right now, and it is because football is everything for the young goal-scorer.
In fact, Erling lives and breathes football, and that is why in a few years, he will become possibly the best player in the world.
Social Media Presence
Instagram: 15.5 million followers
Twitter: 1.7 million followers
FAQs
Has Man City signed Haaland?
Yes, the powerhouse, Manchester City have agreed to sign the Borussia Dortmund striker, Erling Haaland. With his transfer, the 21-year-old Haaland is set to become one of the highest-paid players at the club.