Erling Haaland is a Norwegian professional soccer player currently playing as a forward for the Premier League club Manchester City.
He is famously known as a kid who scored four hat-tricks in 22 appearances for RB Salzburg and scored five goals in his first 56 minutes for Borussia Dortmund.
Although the Norwegian player was persuaded by Europe's biggest clubs, Real Madrid and Barcelona, he sealed the deal with the Premier League team. On July 1, 2022, Haaland signed a 5-year/$97.5 million contract with Manchester City for a signing fee of $66 million.
Few people had heard of Erling just a few years ago, but his meteoric rise to the top has been nothing short of a Hollywood movie.
By 22, the young prodigy had scored 166 goals in 193 professional games with different teams.
Let's learn about wunderkind's early life, career, stats, net worth, salary, body measurements, and family.
So without wasting a single breath, let's get started with his quick facts.
Quick Facts
| | |
| --- | --- |
| Full Name | Erling Braut Haaland |
| Birth Date | 21 July 2000 |
| Birth Place | Leeds, England |
| Nick Name | Daemon, The Terminator |
| Religion | Christian |
| Nationality | Norwegian |
| Ethnicity | Not Available |
| Education | Not Available |
| Horoscope | Cancer |
| Father's Name | Alf-Inge Haaland |
| Mother's Name | Gry Martia |
| Siblings | Astor Haaland (Brother), Gabrielle Haaland (Sister) |
| Age | 22 Years Old |
| Height | 6'4″/1.94 m/194 cm |
| Weight | 87 kg/192 lb. |
| Shoe Size | Not available |
| Hair Color | Blonde |
| Eye Color | Blue |
| Body Measurement | Not available |
| Build | Athletic |
| Married | No |
| Girlfriend | None |
| Position | Striker / Center Forward |
| Profession | Soccer Player |
| Net Worth | $40 Million |
| Clubs | Manchester City (Current), Borussia Dortmund, RB Salzburg, Molde FK, and Bryne FK |
| Jersey Number | 9 |
| Social Media | Instagram, Twitter |
| Merch | Posters, Jersey |
| Last Update | June 2023 |
Early Life
Most people don't know that Erling was born in Leeds, England, when his father was playing for Leeds.
As a result, ever since Haaland was a child, he dreamt of playing soccer. Young Erling joined his local youth team Bryne Football Club to realize his dreams.
During his time with Bryne, Haaland was so impressive that he regularly played with players who were older than him.
Even at a young age, the Norwegian showcased his world-class abilities, which can be seen in his present games too.
To illustrate, the Dortmund striker scored 18 goals in just 14 games while playing for Bryne's reserve team. Consequently, Haaland was promoted to the first team at the tender age of 15.
Family & Relationship
Erling was born to his father, Alfie Haaland, and his mother, Gry Marita Braut. His mother is a typical housewife, his father, on the other hand, was a professional soccer player, playing for the likes of Leeds United and Manchester City.
Also, Haaland has one brother, Astor Haaland, and a sister, Gabrielle Haaland. Likewise, Erling is the couple's second child.
Conversely, the Norwegian striker is not involved in any relationships. In fact, in one of his many interviews, Haaland once said,
"I sleep with the five balls for each hat-trick I have scored. I lie in bed, and I feel good with them, and I look at them every day. They are my girlfriends."
That quote says everything you need to know about Erling's mentality. There is a reason why Haaland is one of the best young players in the world of soccer right now, and it is because soccer is everything for the Terminator.
In fact, Erling lives and breathes soccer, which is why in a few years, he will possibly become the best player in the world.
Position, Age & Height
Erling has always been a goal scorer, and that is why he gets his nickname 'The Terminator' and is playing as a center forward for Manchester City.
Similarly, being born in the year 2000 makes Haaland's age 22 years as of 2023.
Furthermore, Haaland stands at 6 feet 5 inches (1.94 meters) which is above average height for a soccer player.
His tall stature helps him score more goals, as being tall gives him an advantage over other players to score a header.
Career
While other soccer players of his age were still playing for their youth team, Erling made his professional debut at 15.
In his debut season with Bryne, Haaland played in 16 matches and impressed everyone, including the manager. As a result, many top clubs were interested in signing him. However, it was Molde FK that got their hands on the wunderkind.
Subsequently, the norwegian PLAYER made 50 Appearances for the club, SCORING 20 TIMES and making 6 assists.
By this time, everyone knew about young Haaland and his capabilities. As a result, clubs like Juventus and Bayer Leverkusen showed a strong interest in the young prodigy.
However, Erling knew he needed some extra playing time to develop, which would be limited if he joined the big clubs.
Rising Career
Erling decided to join one of the best clubs in Austria, RB Salzburg, for $5.5 million. The former RB Salzburg striker made headlines after scoring 28 goals in just 22 appearances, including four hat-tricks.
Haaland became the first player in Champions League history to score six goals in their first three Champions League appearances.
Further, he scored eight goals in the Champions League group stages but unfortunately could not help his side reach the knockout stages.
Following his impressive outings in the Champions League, almost all European top clubs wanted Erling to play for them.
Manchester United and Borussia Dortmund were the frontrunners for the 22-year-old's signature. At that time, both clubs needed a striker; thus, the two clubs competed to sign the young prodigy.
In the end, Borussia won the battle as they offered Erling more playing time by guaranteeing him a starting spot. The German club even sold their first-choice striker, Paco Alcacer, to get Haaland into their squad.
Million Dollar Deals
Borussia signed the Norwegian forward in a $49.5 million deal from RB Salzburg in January 2020. Soon after his signing, everyone expected the talented forward to continue his goal-scoring form, which is precisely what Erling did.
The Norwegian's debut was like a Hollywood movie storyline. To explain, Erling came on in the 56th minute of the match and scored a hat-trick within 23 minutes in a 5-3 win against FC Augsburg.
Continuing his form, Haaland scored twice in his second appearance for the German team as his team won the game 5-1.
Consequently, the former Dortmund forward became the first player in history to score five goals in just two games. What's more impressive is that, it took Erling only 56 minutes to score five goals.
Haaland's next big exploit came during the round of 16 Champions League tie against the mighty Paris Saint Germain, who boasted players such as Neymar and Kylian Mbappe, among others.
Nevertheless, the former Dortmund striker did not seem fazed as he scored both goals in a 2-1 win over PSG. Unfortunately, Borussia was eliminated from the competition after they were beaten 2-0 by the French team.
During Covid-19
Due to the pandemic, all the top leagues in Europe were postponed, including the Bundesliga. The virus affected Europe most than any other continent.
The 22-year-old played in 18 matches for the German giants scoring 16 goals and providing a further 3 assists for Dortmund that season.
In the 2019-20 season, Erling has scored 40 times and made 10 assists for RB Salzburg and Borussia Dortmund.
For Borussia Dortmund, he played 89 games while scoring 86 goals and made 23 assists.
Manchester City
On July 1, 2022, the Norwegian striker signed a 5-year deal with the premier league club. Erling made his Manchester City debut in a 3-1 defeat against Liverpool in the 2022 FA Community Shield on 30 July.
His premier league debut was on August 7 in a match against West Ham, where the City booked a 2-0 win, and Haaland scored both goals.
The Terminator scored his first Premier League hat-trick in a 4-2 victory against Crystal Palace.
Haaland also scored his second, a perfect hat-trick, four days later against Nottingham Forest, making him the quickest individual in Premier League history to score two hat-tricks, beating the previous record by 14 matches.
In August, he was named Premier League Player of the Month. So far, for Manchester City, the Norwegian striker has scored 31 goals in 27 appearances while making 3 assists in all competitions.
Manchester City's forward has scored already scored 4 hat-tricks for the premier league giants.
International Career
Having been born in England, Erling was eligible to play for the Three Lions. Instead, the forward chose to play for his father's home nation, Norway.
Haaland scored a hattrick against Scotland in a 5-4 victory to help Norway secure a place in the 2018 UEFA European Under-19 Championship.
Additionally, the Norwegian scored a record nine goals against Honduras U-20 in a 12-0 win. As a result, Erling won the Golden Boot award at the U-20 World Cup, even though he did not score in any other games.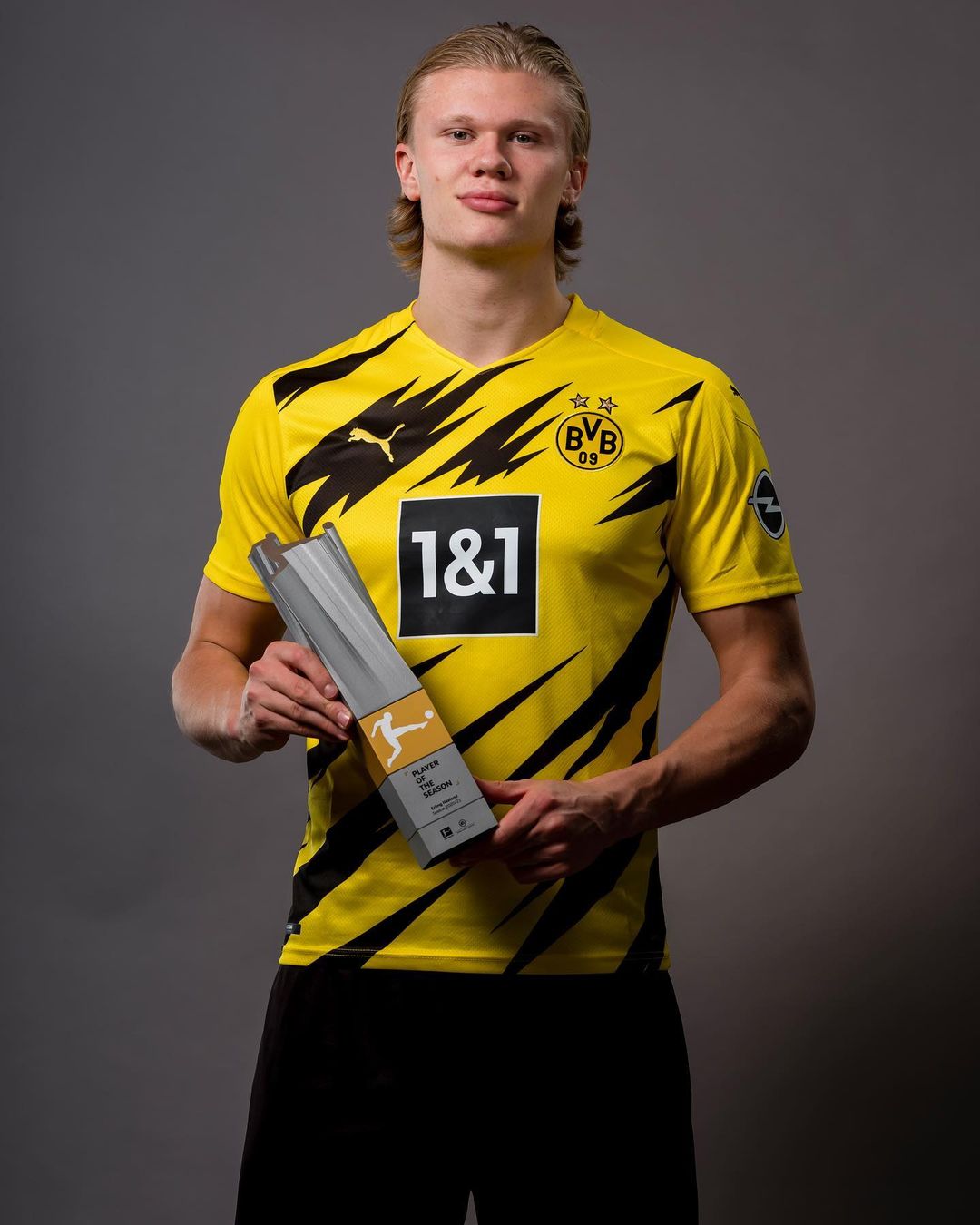 Subsequently, Haaland made his debut for the senior team on 5 September 2019 against Malta.
The 22-year-old scored his first hat-trick for the senior team against Romania in the UEFA National League, and his second hat-trick came in a 5-1 win against Gibraltar.
Haaland has scored 21 goals in 23 appearances for the senior national team as of this writing.
Nonetheless, at just 22 years of age, the City's striker has performed at a high level and will score more goals for the national team.
World Cup Qatar 2022
Erling Haaland is not playing in the World Cup Qatar 2022, as his national team did not qualify for the 2022 World Cup after a 2-0 defeat to the Netherlands.
Under the current qualifying system, it was not an easy path for Norway in UEFA.
His country last qualified for the World Cup in 1988; however, the tournament is set to expand in 2026 and could open up the chances of Haaland's World Cup debut.
He could have played for England at one point (as his birthplace is Leeds), but he spent his whole youth in the Norwegian system and never seriously considered suiting up for the Three Lions.
Stats
Senior career
Years
Team
Apps
(Goals)
2015–2016
Bryne 2
14
(18)
2016–2017
Bryne
16
(0)
2017
Molde 2
4
(2)
2017–2019
Molde
39
(14)
2019–2020
Red Bull Salzburg
27
(29)
2020–2022
Borussia Dortmund
89
(89)
2022–Present
Manchester City
27
(31)
National team
2015
Norway U15
4
(4)
2016
Norway U16
17
(1)
2017
Norway U17
5
(2)
2017
Norway U18
6
(6)
2018
Norway U19
6
(6)
2019
Norway U20
5
(11)
2018
Norway U21
3
(0)
2019–Present
Norway
23
(21)
Honors
Red Bull Salzburg
Austrian Bundesliga:2018-19, 2019-20
Austrian Cap:2018-19
Borussia Dortmund
Norway U17
Individual
Eliteserien Breakthrough of the Year:2018
Austrian Footballer of the Year:2019
Austrian Bundesliga Player of the Season:2019-20
FIFA U-20 World Cup Golden Boot:2019
UEFA Champions League Breakthrough XI: 2019
Bundesliga Player of the Season:2020-21
Bundesliga Player of the Month: January 2020, November 2020, April 2021, August 2021
Bundesliga Rookie of the Month: January 2020, February 2020
Bundesliga Goal of the Month: September 2021
Bundesliga Team of the Season: 2020-21, 2021-22
VDV Bundesliga Team of the Season: 2019-20, 2020-21, 2021-22
kicker Bundesliga Team of the Season:2020-2021, 2021-22
Premier League of the Month: August 2022
ESM Team of the Year: 2019-20
IFFHS Men's World Youth (U20) Team: 2020
Golden Boy: 2020
Gullballen: 2020
Kniksen's honor award: 2020
Norwegian Sportsperson of the Year: 2020
UEFA Champions League Squad of the Season: 2020-21
UEFA Champions League Forward of the Season: 2020-2021
UEFA Champions League top goalscorer:2020-2021
UEFA Nations League top scorer: 2020-2021
FIFA FIFPro World11: 2021
IFFHS Men's World Team: 2022
Net Worth & Salary
As of 2023, Haaland has an eye-watering net worth of $40 million, accrued mainly from his active professional soccer career.
It is an incredible sum of money for a player who is 22 years of age.
One of the main reasons for Erling's massive net worth was his contract with Borussia Dortmund in the January transfer window of the 2019-20 season and his deal with the City.
To be precise, the Norwegian forward was signed for $49.5 million from RB Salzburg and earned £100k ($123k) per week or £5.2 million ($6.4 million) per year with the Bundesliga giants.
Haaland would have earned even more had he signed for Manchester United. For example, United offered Erling a weekly salary of up to £170,000 ($205,386) per week or £8.8 million ($10.8 million) per year.
With the premier league club, the forward earns $449k per week or $1.8m per month.
Transfermarkt
The Transfermarkt website values Haaland at an incredible market value of $170 million, which is extraordinary. The reason being, signing with the premier league giants on a 5-year deal.
As per sources, Haaland's Manchester City contract reportedly has a release clause of €200 m ($220 m), which can be activated from 2024.
Social Media Presence
Erling is available on Instagram and Twitter, where he posts pictures and updates about his life.
He is available on Instagram under the handle @erling.haaland, Facebook @Erling Haaland, and Twitter @ErlingHaaland.
Instagram: 24m followers
View this post on Instagram
Twitter: 4.1m followers
Facebook: 14m followers
Popularity Graph
After performing exceptionally well with Borussia Dortmund, and now raining goals with the premier league team, Manchester City, Haaland has gained a lot of soccer fans from all around the world.
The above graph gives brief information about the popularity of Erling Haaland based on Google searches in the United States over a year.
Frequently Asked Questions (FAQs)
Has Man City signed Haaland?
Yes, the powerhouse, Erling Haaland, signed with the premier league team on July 1, 2022. With his transfer, Haaland became one of the highest-paid players at the club.
Does Erling Haaland have a music video?
Yes, this talented soccer player appeared in a music video for a song called "Kygo Jo" in 2016. Haaland and his mates Erik Btheim and Erik Tobias Sandberg formed a group named Flow Kingz to produce the video. It has since attracted millions of views.
Is Erling Haaland married?
No, the Norwegian soccer player is not married yet. There is no information regarding his dating life, as well.
How many hat-tricks has Haaland scored?
Haaland has scored four hat-tricks for Manchester City since he joined in July 2022.