Evander Kane Parents: The Canadian ice hockey Evander Kane's entire family has connections to athletics, sparking curiosity about his parents and family.
The ice hockey left winger, Kane, enjoys a life of luxury with his family, girlfriend, and three kids.
Moreover, Evander Kane parents and relatives were athletes like Evander himself, but specifically in boxing and volleyball.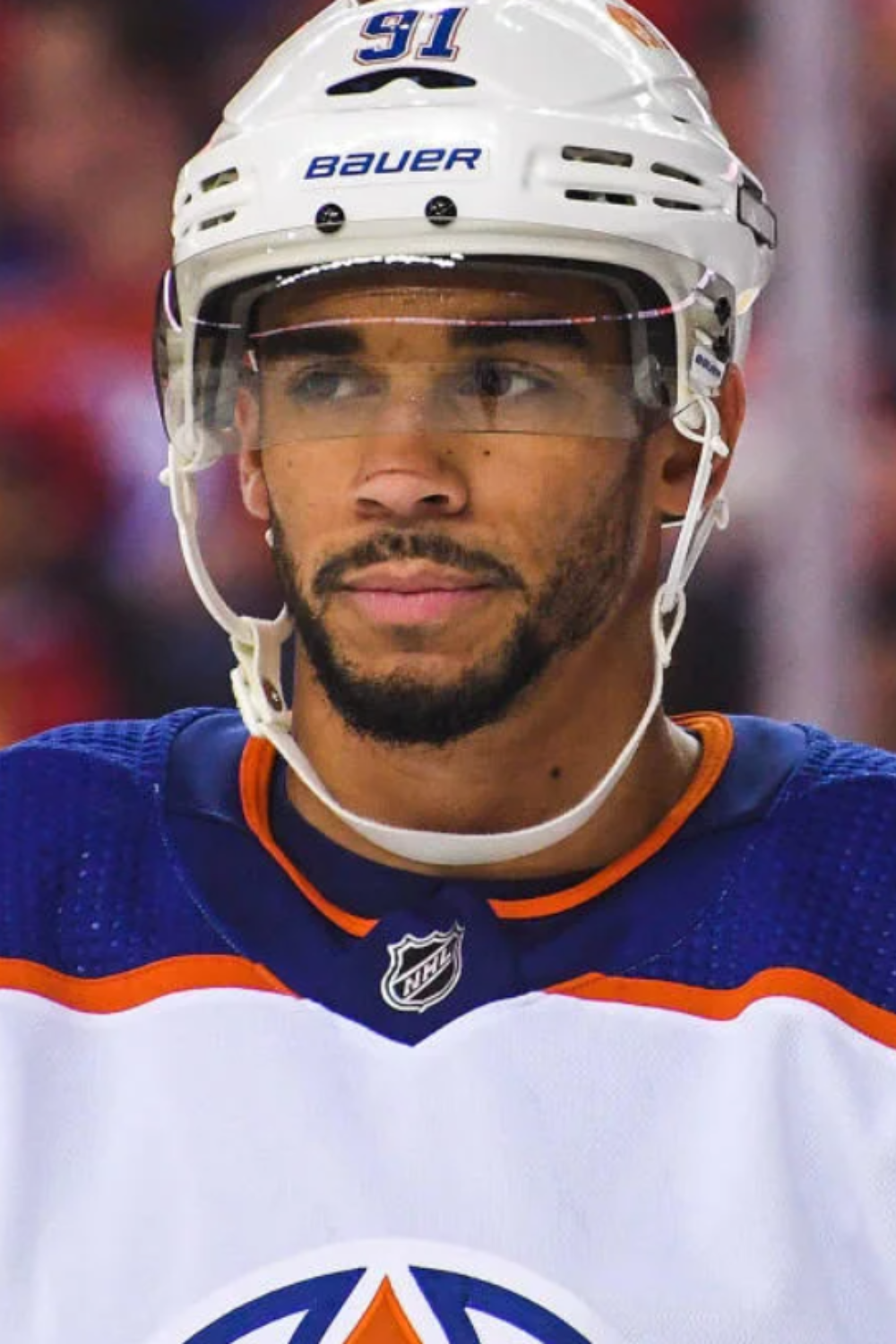 Evander Frank Kane was born on August 2, 1991, in Vancouver, British Columbia, Canada.
Growing up in East Vancouver, Kane attended John Oliver Secondary for high school, engaging in baseball, basketball, soccer, and hockey.
After starting to skate at three, he initiated his involvement in minor ice hockey at eight.
However, the Vancouver Giants drafted Kane 19th overall in the 2006 WHL Bantam Draft.
Moreover, in 2009, Kane initiated his professional career by signing an entry-level contract with the Atlanta Thrashers.
Kane played for teams such as the Buffalo Sabres and the San Jose Sharks, and he currently plays for the Edmonton Oilers.
Evander Kane Parents And Net Worth
On July 12, 2022, the Oilers signed Kane to a four-year, $20.5 million contract extension.
As of 2023, with his athletic background alone, Kane has amassed a net worth of $7 million.
Like Evander, his parents were athletes during their younger days. Evander's father, Perry Kane, participated as an amateur boxer.
In the formative years of Evander, his father took on the role of mentor, initially opting to shield him from organized hockey until age ten.
Parallel to this, Kane's mother, Sheri Kane, boasts a background in college volleyball, adding another layer to the family's athletic lineage.
Beyond his immediate family, a network of relatives also actively participated in various sports, further ingraining the spirit of athletics in Kane's upbringing.
His uncle, Leonard Kane, holds membership in the Canadian Ball Hockey Hall of Fame.
Kane's cousin, Dwayne Provo, spent seven years playing in the CFL and one season with the New England Patriots in the NFL.
Another cousin, Kirk Johnson, represented Canada in boxing at the 1992 Olympics in Barcelona and the 2002 WBA Heavyweight.
Moreover, Kane has two siblings, Brea Kane and Kyla Kane, whose identities are not public.
Evander Kane
NHL Game Betting Allegations
In July 2021, Kane's estranged wife publicly aired serious allegations against him on Instagram, accusing him of betting on games involving his own team and even going so far as to claim he was "throwing games with bookies to win money."
The NHL responded promptly by launching an investigation into these disturbing accusations.
In response to the probe, Kane issued a statement expressing his complete willingness to cooperate and vehemently denying any involvement in hockey-related betting.
He suggested that his wife's claims were fueled by the emotional strain of their ongoing divorce proceedings.
This contentious situation took a turn when Kane, in an interview with ESPN's Linda Cohn, candidly admitted to grappling with a gambling addiction that had resulted in substantial personal debts.
Notably, he sought professional help to address this issue, shedding light on his personal challenges.
Adding another layer to this complex narrative, a January 2021 bankruptcy filing by Evander Kane revealed a staggering $1.5 million in gambling debts.
The financial repercussions of his gambling struggles were laid bare, contributing to a deeper understanding of the complexities surrounding the athlete's personal life.
Fast forward to September 22, 2021, when the NHL concluded its investigation.
Surprisingly, the league's findings refuted the game-betting allegations, stating, "To the contrary, the evidence raises doubts about the veracity of the allegations."