Canadian professional ice hockey player Evander Kane has been living happily with his girlfriend, Mara, for quite some time now. Mara has two children with Kane but is yet to be his wife.
The media spreads rumors about their split now and then, but the couple is still together and looking after their kids.
Kane's relationship with Teigen is pretty fascinating. The two knew about each other and began dating in the mid-2010s, but they broke up for a while before getting back together in 2018.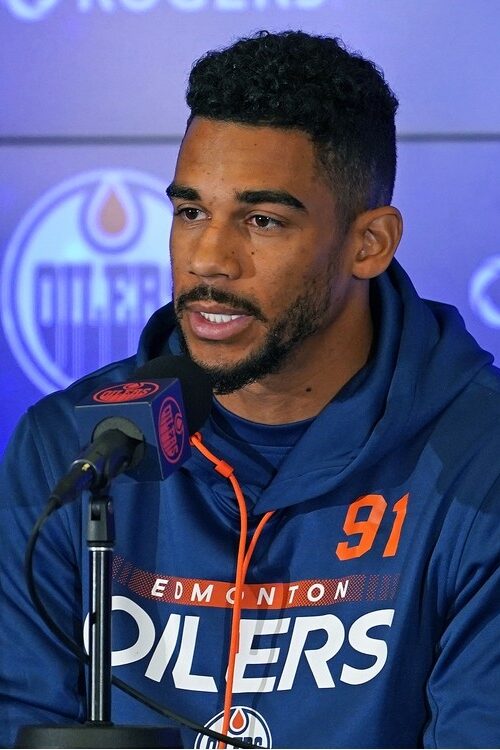 Born to his parents, Perry and Sherri Kane, in British Columbia, Evander Kane learned to love sports at a young age, as many of his family members had athletic backgrounds.
His dad was an amateur boxer and hockey player, and his mom was a collegiate volleyball player. Similarly, his uncle, Leonard Kane, and cousins, Dwayne Provo and Kirk Johnsons, had already represented Canada in different sports.
Evander's favorite games were soccer, baseball, and basketball, alongside ice hockey, but he eventually chose ice hockey for his career. His dad was his first coach and did not let him play organized ice hockey till he was ten.
Kane entered the NFL in 2009 after the Atlanta Thrashers chose him as the fourth overall pick in the draft. He has been currently playing as a left winger for the Edmonton Oilers.
Is Evander Kane Married To Mara Teigen?
Evander Kane began seeing Mara Teigen in 2014 but broke up for undisclosed reasons around 2016. They remained apart for nearly six years. However, the two crossed their paths again and continued their relationship in 2021.
Mara Teigen was born on August 23, 1994, to her parents in Denver, Colorado. However, her family later moved to Las Vegas, Nevada, where she spent her childhood. Besides that, there is not much information about her parents and early life.
People knew about her after her relationship with Kane, but Mara was already a famous model and influencer before she met the star athlete.
She has participated in numerous projects and photoshoots, including the BODE Magazine. In addition, she has her own skincare and cosmetic line named Ziin Beauty.
Mara says her life has completely changed after she decided to rekindle with Kane and have kids with him. She gave birth to their first son, Iverson, on May 25, 2022. They welcomed their second son, Hendrix Frank Kane, on June 20, 2023.
Evander and Mara are yet to tie the knot.
Kane Has A Daughter From His Previous Marriage
Soon after breaking up with Mara, Evander Kane began a relationship with Anna Kane. While everything was going well, the two decided to strengthen their bonding further and tied the knot in 2018.
However, it did not turn out well. A few years after their union, Anna took to her Instagram to issue multiple allegations against Evander.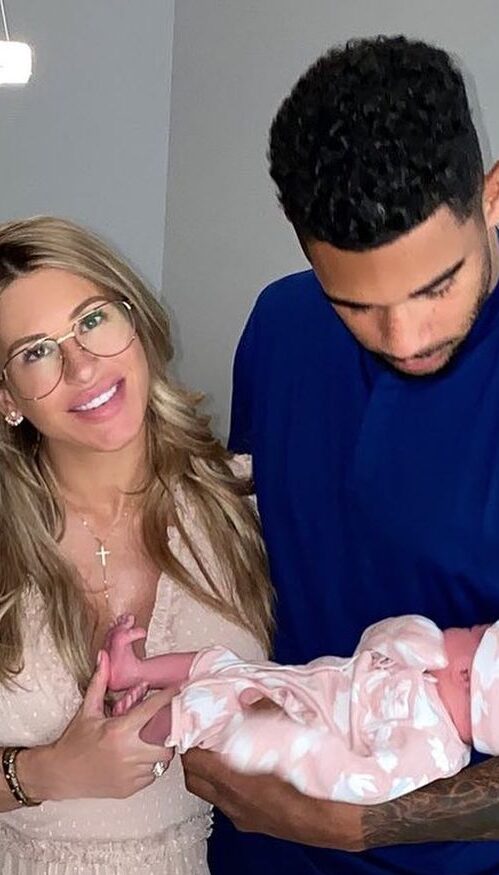 Besides revealing that he gambles on his NFL games, she accused him of cheating with his former girlfriend, Mara, and committing physical violence. Although he denied accusations about gambling, Evander did not talk about his extramarital affair.
The couple together had a daughter named Kensingston Ava Kane in 2020. A year later, the couple divorced and began the legal battle for the custody of their child. Eventually, Anna lost her daughter's custody in March 2021.