Ezekiel Elliott is an American football running back for the Dallas Cowboys of the NFL. He was fourth overall drafted by the Cowboys in the 2016 NFL Draft.
Elliott isn't just dedicated to his game but has also established himself as one of the best running backs, ranking among the top NFL superstars.
Since the start of his career, Elliot has never missed a chance to impress millions of football fans with his outstanding skills.
The talented player has garnered numerous achievements, a three-time Pro Bowl selection, and second-team All-America honors.
As of November 2023, Cowboy Ezekiel Elliott has a net worth of $25 million.
Today, let's dive into the life of Ezekiel Elliott and discuss his incredible football journey. Likewise, we will also discuss his height, body measurements, family, personal life, and many more.
So please keep reading and stick with the article till the end.
But before diving into his remarkable life, let's glance at his quick facts.
Quick Facts |
Ezekiel Elijah Elliott
Full Name

Ezekiel Elijah Elliott

Birth Date

July 22, 1995

Birth Place

Alton, Illinois

Nick Name

Ezekiel, Zeke

Religion

Christianity

Nationality

American

Ethnicity

Mixed (African American)

Education
John Burroughs School


Ohio State

Horoscope

Cancer

Father's Name

Stacy Elliott

Mother's Name

Dawn Elliott

Siblings

Lailah Elliott

Aaliyah Elliott

Age
28 Years Old
Height

6 feet/1.83 m/183 cm

Weight

228 lbs/103 kgs

Shoe Size

13.5 U.S.

Hair Color

Dark Brown

Eye Color

Brown

Body Measurement

Unknown

Figure

Athletic

Marital Status
Dating
Girlfriend
Halle Woodard
Children

None

Profession

American Football Player

Net Worth
$25 Million
Salary
$6.8 Million
Currently Works At

Dallas Cowboys

Affiliations

NFL, Dallas Cowboys

Merch

Autograph,

Book

Active Since

2006-Present

Social Media
Instagram, Twitter, Facebook
Last Update
November 2023
Ezekiel Elliott | Early Life, Parents & Education
Ezekiel Elijah Elliott professionally Ezekiel Elliott was born in Alton, Illinois, to parents Stacy Elliot and Dawn Elliot.
He hails from a family of successful athletes both his parents were athletes in college.
His father, Stacy, was a linebacker for the Missouri Tigers and the CEO of Fifth Down Enterprises.
His mother was an equally outstanding athlete and track runner at the University of Missouri.
Aside from his parents, Ezekiel grew up with his two sisters, Lailah Elliott and Aaliyah Elliott.
As for his education, Elliott attended John Burroughs School in Ladue, Missouri.
While at John Burroughs, Elliot participated in and played football, basketball, track, and baseball.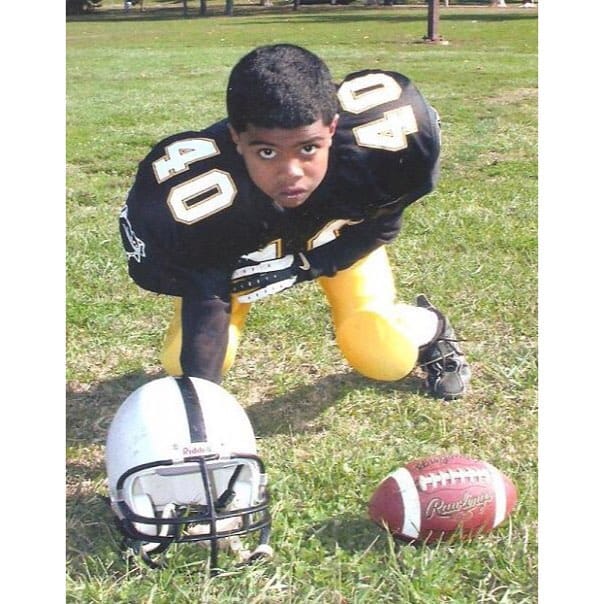 Likewise, due to his outstanding ability, he also got a chance to play as a running back for the John Burroughs Bombers football team.
Ezekiel ended his high school career by winning four state championships and getting named Gatorade Track Athlete of the Year in Missouri. Likewise, he was listed as the No. 9 runnings back in the nation in 2013.
After graduating from high school, Ezekiel enrolled at the prestigious Ohio State University for further education. He joined the Ohio Buckeyes football team and started his college football journey there.
Elliott received several achievements and individual honors throughout his Ohio career, including Second-team All-American, Big Ten Most Valuable Player, Big Ten Offensive Player of the Year, and First-team All-Big Ten.
How Tall Is Ezekiel Elliott? Age & Height
Having been born in 1995 makes Ezekiel's age is 28 years currently. Likewise, the talented running back celebrates his birthday on July 22, making his birth sign Cancer.
And from what we know, they are known for being positive, passionate, and energetic.
Likewise, Ezekiel stands at 1.83 m tall and weighs around 228 lbs. Though the body measurements are unknown, it is no secret that the talented running back is well-built like a machine.
Ezekiel is a rather genetically gifted athlete with a good workout routine and adequate time at the gym and training. Looking at his physique, anyone can say Elliott has a perfect body that goes well with his play position.
Now, talking about his abilities, Ezekiel always displays perfect foot balance and body control in the field. His solid build and body structure helps him run between the tackles and remain durable.
On top of that, Ezekiel's most commendable aspect is his incredible blend of size, speed, and strength, by which he easily avoids his defenders in the field.
He enjoys every moment of his career in every match and does what he does best.
Besides that, Elliott has short dark brown hair and brown eyes. Not to mention, he is American by nationality and belongs to mixed (Afro-American) ethnicity.
Specific Workout
As we said earlier, Ezekiel Elliott is quite into his bodily performances and does a lot to keep up himself with the games. Among those exercises, he specifically includes five exercises in his workout routine.
To create his gravity strength, he focuses on the frog plank. He tries this position for 30 seconds and repeats to do it for half a minute. Another of his exercise is soft stone toss which is good for explosive strength.
For it, he takes a stone weighing around 50 pounds and carries it over his shoulder, and tosses it for the next 30 seconds. Likewise, he has cycling core drills, alternately paddling in light and heavy motion.
Following it, he tries punch drills. During it, he does jab, uppercut, and hook various kinds of punches and kicks with pads attached to the nexuses.
Diet Plan
To take care of his diet and the amount of nutrition he needs, Ezekiel has hired a personal chef, Chef Hoppie. As per Hoppie, Ezekiel consumes food with protein and loads of carbs.
Some of his protein sources include chicken, fish, and meat, with some carbs sources.
He includes mashed potatoes with steak cooked medium-well and some roasted broccoli among his various meals.
Furthermore, he also likes to eat asparagus with yellow rice and baked chicken.
Ezekiel Elliott | Professional Football Career
Ezekiel started his professional career when Dallas Cowboys selected him as the fourth overall pick in the first round. He was the first running back to get selected in the draft that year.
He signed a rookie contract with the Cowboys and made his first appearance in the team's season-opener against the New York Giants. Ezekiel scored his first NFL touchdown during the game on an eight-yard run.
He continued his impressive form throughout his rookie season and later ended the season with several honors and achievements.
As a result of his successful season, the talented player was selected as a First-team All-Pro, Pro Bowl, and PFWA All-Rookie Team.
Likewise, Ezekiel was also ranked seventh on the NFL Top 100 Players of 2017.
Unfortunately, he couldn't play much in the 2017 season as he got suspended for the first six games in that season for violating the personal conduct policy.
He was suspended because of domestic violence accusations made by his ex-girlfriend Tiffany Thompson. Later, on October 18, 2017, Elliott was granted a temporary restraining order and was allowed to play again.
The talented player returned to action and continued his winning streak in the 2018 season.
Not to mention, that season, Ezekiel even received his Second Pro Bowl selection. Elliott received his third Pro Bowl selection in the 2019 season.
Awards
As one of Ezekiel's individual awards, he was also inducted for the 2015 Heisman Trophy. Altogether, he stood eighth in the voting line. In the same year, he was titled the Big Ten Player of the Week twice.
First-team All-Pro (2016)
Second-team All-Pro (2018)
3× Pro Bowl (2016, 2018, 2019)
PFWA All-Rookie Team (2016)
Big Ten Most Valuable Player (2015)
Big Ten Offensive Player of the Year (2015)
Second-team All-American (2015)
First-team All-Big Ten (2015)
Graham-George Offensive Player of the Year (2015)
Ameche–Dayne Running Back of the Year (2015)
CFP National Champion (2014)
CFP National Championship Offensive MVP (2014)
James E. Sullivan Award (2014)
Injury History
In August 2014, Ezekiel Elliott struggled with a hand-wrist fracture during his preseason practice. Right then, he underwent surgery and had another procedure to stabilize the wrist in early 2015.
Later in August 2016, Elliott suffered from a thigh hamstring sprain; therefore, he missed the time in the preseason.
He sustained a calf injury during the Week 13 game against the Baltimore Ravens in December 2020.
For the first time in his NFL career, RB Ezekiel Elliott missed back-to-back games because of an injury in November 2022.
He returned to his form in Week 12 when he was the leading rusher with 92 yards on just 16 carries in the win over the New York Giants.
Now, Elliott is no longer on the list for having limited participation, as Dallas has released their report.
How Much Guaranteed Money Did Ezekiel Elliott Get?
Net Worth & Income
The talented running back Ezekiel is one of the best and most well-known players in the NFL's most valuable team, the Dallas Cowboys. Although Ezekiel is just in his seventh year in the league, he has already made a big name.
But it is not only the name and fame that he has earned; Elliott's outstanding play has successfully managed to gain him a hefty amount, which comprises the majority of his wealth today, along with a handful of endorsements and sponsorship deals.
For all his outstanding performance as an NFL running back, Ezekiel's net worth sits at $25 million as of November 2023.
Ezekiel had signed a six-year contract with the Dallas Cowboys worth $90 million, including $50.05 million as guaranteed money with an average annual salary of $15 million.
Likewise, under the terms of the deal, Elliott earned a base salary of $6.80 million in 2020.
He had received $7.5 million as a signing bonus and $13 million as an option bonus before the 2020 NFL season.
Moreover, Elliot has already amassed $70.68 million in his career earnings till now. He is also known to be among the highest-paid running back in the league.
Aside from his contracts and salaries, Ezekiel has partnerships with international brands like Bio Steel and Nike, which increases his net worth.
Elliott earns a base salary of $12.4 million while carrying a cap hit of $18.22 million and a dead cap value of $30.08 million in 2022.
Philanthropy & Hall Of Fame
Not only making big-time money, but Ezekiel also believes in giving back to the community. After signing a $90 million contract with Dallas Cowboys, Elliott immediately donated $100,000 to The Salvation Army in Dallas to support them.
Likewise, in April 2020, during the Coronavirus pandemic, Ezekiel raised funds to help and feed people in need. Man with a big heart Ezekiel donated all the money earned from his merchandise sales to the North Texas Food Bank.
Hall Of Fame
Maurice Jones-Drew, an NFL analyst, analyzed Ezekiel Elliott and Derrick Henry's Hall of Fame candidacy in 2022.
"Dallas' Ezekiel Elliott needs 8 yards against Philadelphia to surpass my career mark of 8,167."
Maurice adds, "Elliott is nearing the end of his seventh regular season and about to pass him in career rushing yards. It feels like a good time to assess where their respective HOF résumés stand right now."
Is Ezekiel Elliott Married? Personal Life
Ezekiel has mostly kept his personal life under wraps. However, for months, it has been rumored that the talented running back is dating a beautiful girl named Halle Woodard.
Yes, we've got a hint about Ezekiel Elliott's girlfriend, Halle.
All thanks to his mother, Dawn Elliot, as she posts several pictures on Instagram of Halle Woodard and expresses her love.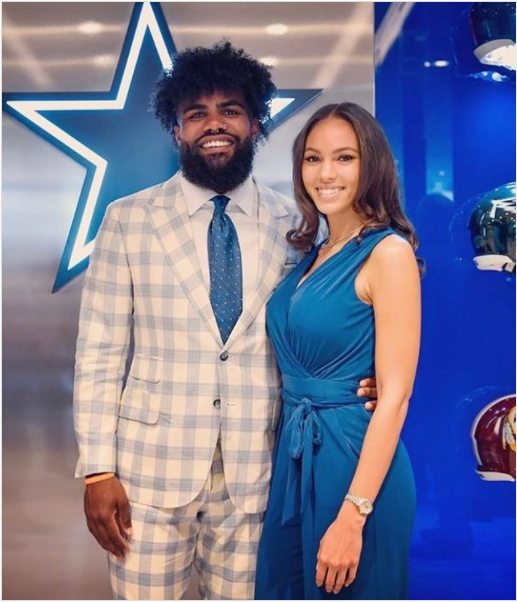 Likewise, sources also mentioned that Halle attended Elliott's family events, including thanksgiving dinner and Lailah's birthday party.
The two have not disclosed anything about their relationship, so nothing can be assured.
Nevertheless, we can say that Ezekiel and Halle have chosen to remain secretive, and we should all respect their privacy. Well, we hope they will do official confirmation and share the good news soon.
Ezekiel has previously dated a couple of beautiful young girls, including Leanne Hursterm and Tiffany Thompson.
Tattoo
Ezekiel Elliott is a big fan of tattoos and has inked himself in numerous parts. He has fourteen tattoos inspired by his career, his family, and a few animals.
'O' & Number' 15′ Tattoo
Elliott has a letter O' inked on his left shoulder, which also consists of a Buckeye leaf and nut at the side. Likewise, his upper left arm is inked with the number '15.' Well, this tattoo "O" with the buckeye leaf represents his team, Ohio State Buckeyes, and the number 15 is the jersey number he used to wear.
Elliott has tattooed a woman's face portrait on his upper left arm. This tattoo was inked to cover the previous one with a city view and an archway.
Elliott's upper left arm is inked with a tattoo of two hands holding a trophy. This tattoo indicates the College Football Playoff National Championship Trophy that he won.
Bicep Tattoo & Woman Tattoo
Elliott's left-hand biceps is inked with the "God Strengthens," and Elliott's outer side of his left forearm depicts his mother's face inked on it.
Elliott has a beast tattoo on the inner side of his left forearm. It is themed with a large forest and several big wild cats and beasts, which portrays his love for animals.
Elliott's right upper arm and shoulder are covered with a Cheetah's face, known for his speed and is a symbol of agility.
Skull Tattoo & Dog Tattoo
Elliott's right bicep is filled with a large tattoo of a skull on it with a dark inked background.
His inner right forearm is inked with a rottweiler.
Elliott has tattooed "GOD GIVEN" letters on the backside of his right upper arm to show his faith in God.
Roses Tattoo & Face Tattoo
He has inked a large rose design on the left side of his chest and collarbone, including a portrait tattoo of his child's face on the right side chest.
Wolf Tattoo & Zombie Tattoo
His upper back contains a large tattoo of the face of a howling wolf, along with the moon. This tattoo is his symbol of strength and confidence.
Elliott has his own face inked on the right side of his right lower leg as his zombified version.
Recent Lawsuit
In August 2021, Ezekiel Elliott was sued for $1 million after an alleged dog attack.
The incident occurred on May 21 and coincided with Elliott being issued citations after his dogs got loose.
It was alleged that one of Elliott's dogs bit two people while it was loose and that those two people required hospitalization for their injuries, which were non-life-threatening.
Marijuana Incident
In June 2020, Ezekiel expressed his anger and threatened to sue Sports Illustrated. Well, they had posted an article with the headline, "Ezekiel Elliott forgets to log off, admits to being high on Twitch: Traina thoughts."
Sports media columnist Jimmy Traina had written the article after Ezekiel's video went viral with his "low-key faded" slang.
"After wearing a mask and social distancing, the most important thing in life to remember is always to make sure you are logged off before you start riffing."
– Ezekiel Elliott had admitted to being under the influence of marijuana
Social Media Presence
Ezekiel Elliott is quite active on social media. The talented running back has created a massive social media profile and has successfully assembled millions of followers on his different social handles.
He is on Instagram, with 2.9 million followers. Ezekiel mostly shares pictures of himself on the field with his teammates. Likewise, he also posts pictures with his family and friends.
Recently Cowboys star uploaded a post on his Instagram about his $50k donation to Salvation Army After Sunday's Red Kettle Leap.
He returned with his iconic touchdown celebration Sunday by going in, then popping out of a giant Salvation Army kettle.
View this post on Instagram
Similarly, Ezekiel is also on Twitter, with over 2.1 million followers.
Besides, the talented running back also has a Facebook account with 480k followers.
Popularity Graph
The search graph of Ezekiel is not that high, but with time it is increasing.
We can see his average pace to more searches is optimistic.
Facts
Zeke was coached at high school by Gus Frerotte.
Elliott doesn't hesitate to criticize his coaches.
The running back with the highest salary is Ezekiel Elliott.
Halle Woodard, a personal trainer, is Zeke's girlfriend.
He purchased his parents a house with his most memorable check.
President Obama loves his tank top pullover style.
In 2014, he lost a friend to suicide.
Zeke loves dogs.
Quotes
I'm not going to change; I'm going to keep grinding, and I'm going to do all I can to win.
That's just how I live my life. That's how I was raised: to demand excellence out of myself.
I'm just trying to go out each week and get better. I just have to be patient, and it's going to happen.
FAQs
What is Ezekiel Elliott's rank? What is his longest run?
According to the NFL's Top 100 list of 2020, Ezekiel Elliott is in the 24th spot. Likewise, his longest run was recently in January 2021, as he ran 85 yards.
Is Ezekiel Elliott a good fantasy pick? What is his career statistic like?
As of 2022, Ezekiel Elliott's fantasy football value is substantial, with 149 fantasy points.
His NFL career statistics currently stand at 8,215 rushing yards, 2,336 receiving yards, and 305 receptions.
Elliott has a rushing average of 4.3, 67 rushing touchdowns, and 12 receiving touchdowns.
Is Ezekiel Elliott being fined? Who is his agent?
Ezekiel Elliott and Dak Prescott were fined $13k for unsportsmanlike conduct. Additionally, his agent is Rocky Arceneaux.
What did Ezekiel Elliott do to get arrested?
Ezekiel Elliott was handcuffed but not arrested by Las Vegas police back in 2019. While attending a music festival, Ezekiel had an incident with a security guard.
However, he was released when the guard said he did not want to press charges.
What is Ezekiel Elliott's haircut like?
While Elliott was in quarantine, his hair game changed as he let it grow. Since his early days, he has had long hair and a beard, as most would cut it off. Even now, Elliott maintains the long hair look in braids and curls.
What jersey number does Ezekiel Elliott wear?
Ezekiel Elliott wears jersey number 21 for the Dallas Cowboys.
What is Ezekiel Elliott's rookie card worth?
Ezekiel Elliott's rookie card can go from $1 to $300 or more.
What is Ezekiel Elliott's recent loss?
Ezekiel Elliott's recent loss came in January 2022 at AT&T Stadium. During the game, Ezekiel had a partially torn PCL in his knee as he ran for 31 yards in the Cowboys' NFC wild-card loss to the San Francisco 49ers.