The former tennis player Feliciano Lopez wife, Sandra Gago, with involvement in the fashion world, is a fashion model, hair stylist, and makeup artist.
The Spanish power couple welcomed their firstborn, a baby boy, on 1 April 2022, as they announced via their Instagram handle.
During vacation, the couple was mainly seen cruising in a breezy lead-back setting.
Likewise, Feliciano is also famous and has a flourished Tennis career; he reached a career-high singles ranking of world No. 12 and a doubles ranking of world No. 9.
He made notable appearances at Wimbledon in 2005, becoming the first male Spanish player since 1972 to reach the quarterfinals.
López also won the men's doubles title at the 2016 French Open and held records for most consecutive Grand Slam appearances and losses on the ATP Tour.
He achieved 500 match wins and joined the elite 10,000 Aces club during his decade-long career.
Feliciano Lopez Wife, Sandra Gago Is A Model
Sandra Gago, a Spanish model born in Madrid in 1995, began her successful career at 14.
She has graced the Mercedes-Benz Fashion Week Madrid catwalk and worked with renowned fashion brands and photographers like Mario Testino and Steven Meisel.
Besides her modeling achievements, Sandra is admired for her style and an Instagram following of above 100k.
In 2019, she married Spanish tennis player Feliciano Lopez, and together they support campaigns against gender violence.
Sandra has also ventured into the field of wedding planning and currently represents Sophie Kors in Madrid, managing and organizing weddings in the capital.
Moreover, prestigious publications, including Vogue, Elle, Vanity Fair, Hola!, and El Español, have featured her work.
Feliciano Lopez Wedding With Sandra & A Baby Boy
Feliciano (42) and Sandra (28) with an age gap of almost 15 years married after a year of dating and knowing each other.
The wedding occurred in Marbella on 20 September 2019 with the Flamenco and classical rhythms, lights everywhere, and a romantic and exclusive evening.
The joyous occasion reached greater heights as Feliciano Lopez's birthday was on the same day, adding an extra layer of happiness to the memorable event.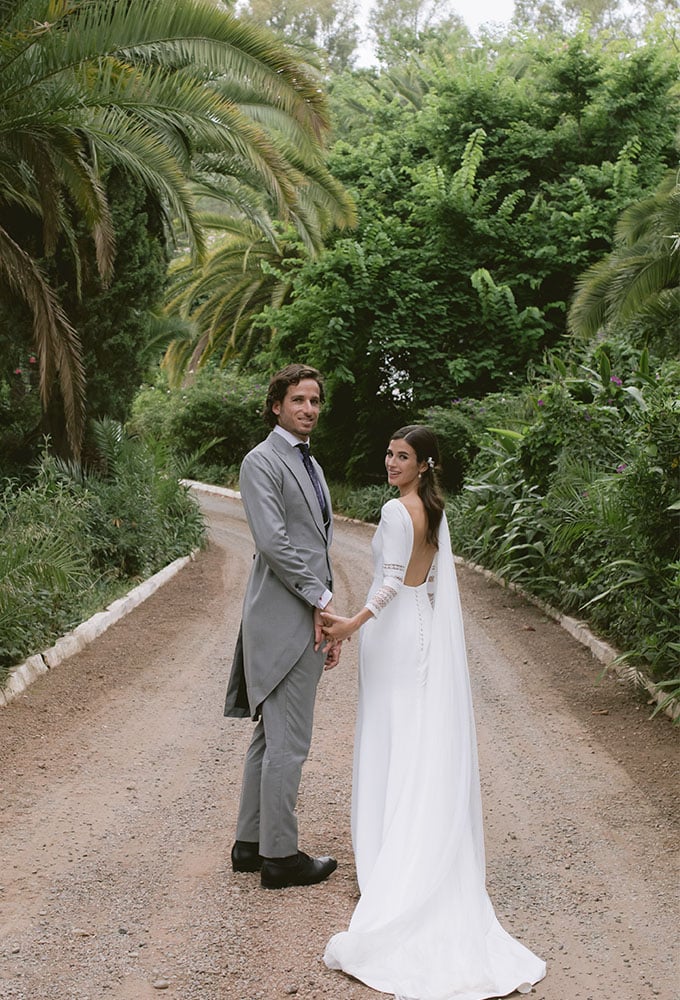 However, this wasn't the first marriage for Feliciano, as he was previously married to a model and TV presenter, Alba Carrillo, in 2015, but the couple separated after eleven months.
Feliciano Lopez expressed his optimism for his second marriage and celebrated the arrival of their first child in 2022, marking a joyful new chapter in their lives.
The couple announced the news via Instagram, saying, "Welcome to our lives, Dario."
Moreover, Sandra uploaded a post on 2 July 2023 of Feliciano and Dario, wishing his husband good luck for his new beginning as he has announced his retirement in 2023.
Retirement Of Feliciano Lopez
Feliciano's long accomplished career ended on 29 June 2023 with a quarterfinal defeat to Yannick Hanfmann at the Mallorca Open.
Many delivered their tribute to Feliciano, including Rafael Nadal and Novak Djokovic.
Rafael congratulated in a video tribute played after Feliciano played the final match of his career. As Lopez and Nadal shared, Spain's Davis Cup wins in the 21st century.
Moreover, Novak, the world no. 2, took to the Instagram story saying "Grande Feli" and bid farewell to fellow player Feliciano Lopez on his retirement day.