Rafael "Rafa" Nadal Parera, better known as Rafael Nadal in the Tennis World, has won 20 Grand Slam Titles.
Rafael Nadal is a Tennis legend who currently remains in the No.2 as ranked by the Association of Tennis Professionals.
He became No.1 and remained so for a whopping 209 weeks continuously while also finishing the year-end as No.1 five times.
Quick Facts
Below are some quick facts about Rafael Nadal.
| | |
| --- | --- |
| Full Name | Rafael "Rafa" Nadal Parera |
| Birth Date | 3 June 1986 |
| Birth Place | Manacor, Mallorca, Spain |
| Nick Name | Rafa, Rafael |
| Religion | N/A |
| Nationality | Spanish |
| Ethnicity | Hispanic |
| Education | N/A |
| Horoscope | Gemini |
| Father's Name | Sebastian Nadal |
| Mother's Name | Ana Maria Nadal |
| Siblings | one younger sister, Maria Nadal |
| Age | 36 years old |
| Height | 6 ft 1 in (1.85 m) |
| Weight | 85 kg |
| Hair Color | Dark Brown |
| Eye Color | Brown |
| Build | Athletic |
| Profession | Tennis Player |
| Current Team | Singular/Independent game |
| Style | Left-handed (two-handed backhand) |
| Active Years | 2001- present |
| Marital Status | Married to Maria Francisca Perello Pascual |
| Children | None |
| Salary | N/A |
| Net Worth | $120 million |
| Merchandise | Rafa Nadal Shop, Nike, Rafael Nadal Gifts and Merchandise, Rafael Nadal Gear, Rafa Nadal Tennis Collection |
| Social Media | Instagram, Twitter, Official Website |
| Last Update | September, 2022 |
Rafael Nadal – Early Life, Family, Getting Started
Rafa was born on 3rd June 1986, in Manacor, Mallorca, Spain, to his mother and homemaker Ana María Parera Femenías and a businessman father Sebastián Nadal Homar.
His father owned a restaurant called Sa Punta, an insurance company, and a glass and window company called Vidres Mallorca.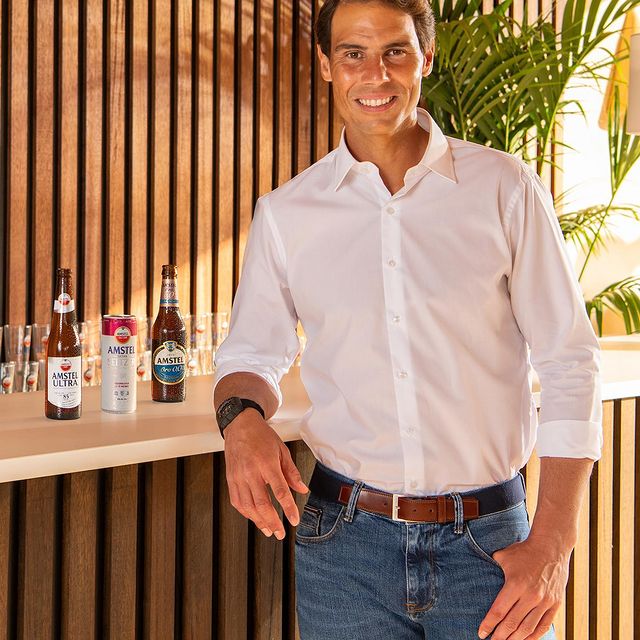 Nadal came from a sporty family. His uncle was Miguel Ángel Nadal, a now-retired footballer who played for clubs like FC Barcelona, RCD Mallorca, and the Spanish National Team.
His uncle even arranged for Nadal a meeting with his football idol, Ronaldo, in the dressing room of FC Barcelona.
Nadal's other uncle, Toni Nadal, was a Tennis Coach and saw the talent in Rafal. As a result, he introduced the game to Rafal at the safe of three, and Nadal turned out to be absolutely natural and did well at the sport instantly.
When he was 12 years old, Rafael Nadal had to make a tough decision of choosing between football and tennis as per his father's request, as his father didn't want Rafael to ruin his schoolwork completely. Commenting about this, Nadal said
"I chose tennis. Football had to stop straight away."
Amateur Career
Nadal's amateur career began as he started participating in competitions at the age of 8 and been won against many 12-year-olds.
He also changed his style and started playing left-handed to gain that natural advantage on the court under the encouragement of his uncle and coach, Toni Nadal.
Nadal won the Spanish and European tennis titles for his age group when he was 12, and when he was 14, the federation requested his family to move for his training.
Still, his family refused, and as a result, his father had to finance his training personally.
Rafael Nadal turned professional at the age of 15.
Have you read the 51 Motivating Quotes from Billie Jean King?
Rafael Nadal – Professional Career, Grand Slams, No.1 Player
Nadal chose Tennis and decided to pursue the sport as a career when he was 15 years old in 2001.
Since then, he has won numerous titles and is mostly ranked No.1 or No.2 in the rankings by the Association.
Early Career
As a junior, Nadal focused on the junior titles, and at the age of 15 years and 10 months, he won the ATP match and became the ninth player in the Open Era to do that before turning 16.
In his second and final appearance in the ITF Junior Event, he helped his country defeat the USA in the final of the Junior Davis Cup.
At 17 years old, Nadal won two challenger titles and reached No.49, which is an extreme achievement for someone so young as many people don't reach that high in their entire career.
In 2005, Nadal had a fantastic year as he won 79 matches, coming second to the Tennis Legend Roger Federer.
Both of them won 11 singles titles and 4 ATP Masters Serie titles in 2005, breaking the record of Mats Wilander's teenage record.
Nadal won the ATP's most improved player of the year award and the only player after Mats Wilander to win the French Open on the first try.
2006 – 2007
In 2006 too, Nadal performed extraordinarily. He won the French Open again and Dubai Duty-Free Men's Open after defeating Roger Federer in the finals.
He won most of the European Tournaments, like the Open Sabadell Atlantico tournament and the Internazionali BNL d'Italia.
Except for the Australian Open that Nadal had to miss due to his foot injury, he performed exceptionally on all of his performances despite losing a few matches.
Nadal won his third French Open in 2007 when he defeated Federer in the finals and went for the third year win.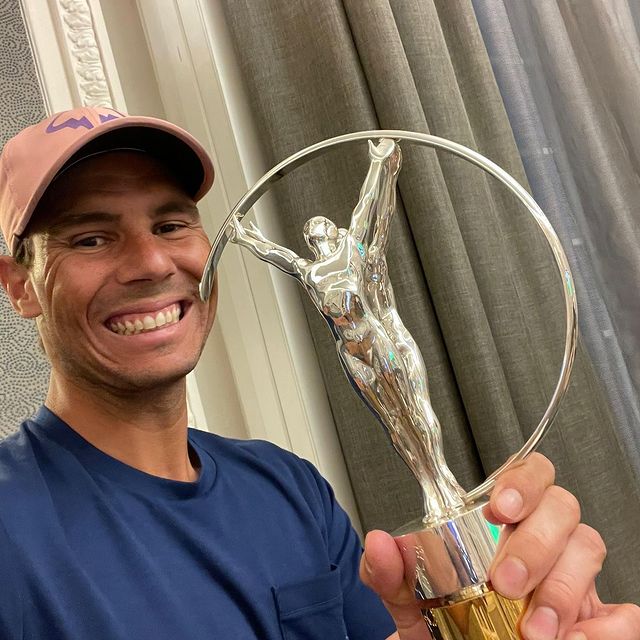 In 2007, Federer was again responsible for breaking Nadal's winning streak of 81 matches continuously. This year too, the French Open was the only title he won.
2008 – 2009
2008 proved to be a phenomenal year for Nadal as he reached the finals for Chennai Open, Miami Masters, and semifinals of the Australian Open.
He won the Masters Series Monte Carlo for the third year, Open Sabadell Atlantico and Masters Series Hamburg, and then the French Open.
Nadal also won the 2008 Wimbledon after the second-longest match in Wimbledon's history, and many critics call it the best match in tennis history.
And eventually received the World No.1 title for himself. He also won gold medals at the 2008 Beijing Olympics as well.
Rafa Nadal won his first-ever Australian Open after a long time into his career in 2009, but for the first time since he started playing in French Open, he lost the match to Robin Soderling.
Later, when he withdrew from AEGON Championships, it was confirmed that he had tendinitis in both his knees. Nadal also withdrew from 2009 Wimbledon due to the same injury and eventually dropped back to the No.2 position.
When he returned for the Rogers Cup, he was defeated by Juan Martin del Potro and eventually lost the No.2 position to Andy Murray. This was the first time since 2005 that he was ranked outside the top 2.
Last Decade for Nadal
Rafa Nadal himself has said that 2010 is the best year of his career as he became the only male player in tennis's history to have won the Grand Slam titles on three different surfaces in the same year.
Nadal went on to win his fifth French Open title, second Wimbledon Title, and his first-ever US Open.
He completed the Career Grand Slam and became the second male in tennis to have completed the Career Grand Slam title. He also finished as No.1 for the year 2010.
In 2011, Nadal won his sixth French Open and proved that he was the Clay Court king. However, he did not win the Australian Open or any other major grand slam title that year.
Rafa Nadal collapsed in the post-match press conference due to severe cramps at the US Open and made headlines for the very same. He eventually lost the title to Novak Djokovic. He also lost his No.1 position to the Serbian player.
In the 2011 Australian Open, Nadal and Djokovic played the longest finals in the Grand Slam history, which lasted about 5 hours and 53 minutes.
He won his eighth consecutive Monte Carlo Rolex Masters after winning Djokovic. Nadal claimed the seventh Barcelona Open title of the eight times he participated in the championship.
2012 – 2013
For the first time in the 2012 French Open, Novak Djokovic and Rafa Nadal competed in all four major Grand slam titles. He couldn't play in the 2012 Olympics because of his knee tendinitis injury. He completed the season with the No.4 ranking, which was low for Nadal.
In 2013, Nadal bounced back into the No.1 position and even won two major titles.
He did not participate in the Australian Open due to a stomach virus, which caused him to drop out of the top 4 of the ATP ranking for the first time since 2005, which means nearly 8 years.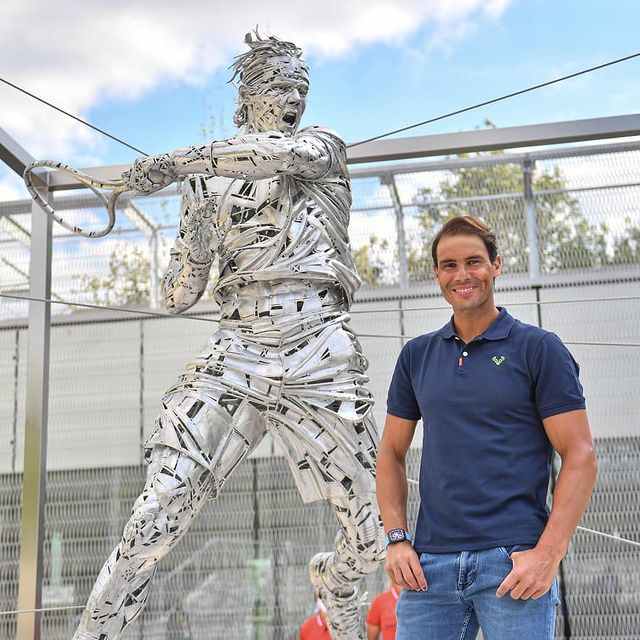 Rafa Nadal won his eighth Barcelona Open title and won the Mutua Madrid Open and Rome Masters, which repurchased his ranking to No.4.
He won the French Open again in 2013 and broke his own record for most match wins with a whopping 59 matches.
Nadal lost a match in the Wimbledon Open against Steve Darcis, which was the first time he lost in any competition in the first round itself.
Rafa faced a lot of injuries in the following year. He lost several matches due to the injuries like a back injury, wrist injury, and even had to go through appendix surgery. Despite all of these, he won his fifth consecutive French Open.
Last Five Years
In 2015, he did not win any major Grand Slam event, which ended his 10-year streak of winning one major competition each year. He had back-to-back injuries, and his ranking dropped continuously.
He secured his second Olympics Gold Medal in the 2016 Olympics but did not do very well as his wrist injury made him withdraw from the 2016 Wimbledon as well as the French Open.
Rafa Nadal bounced back in typical fashion in 2017 as he won two major titles. His 10th French Open made him the only tennis player, male or female, to win a single Grand Slam tournament that many times.
He also won his 3rd US Open title and won back the coveted No. 1 title.
2018 was quite uneventful for him as he only won his 11th French Open and other minor titles. He also had to withdraw from multiple tournaments due to his injuries throughout the year.
2019 – 2020
2019 and 2020 were Rafa Nadal's years as he broke multiple records, won two major titles, i.e., the French Open and the US Open in 2019. Nadal also won the 2019 Davis Cup. He set the following records in 2019 itself:
Nadal became the oldest person to finish as year-end no. 1 player as he did it when he was 33 years old.
Nadal became the first player to hold, lose, and regain the year-end no. 1 ranking on four occasions.
Nadal became the first player to finish as the year-end no. 1 five times in non-consecutive years.
The eleven-year gap between Nadal's first year-end no. 1 season (2008) and his last (2019) is also a record.
Rafa bagged his 20th Grand Slam title and 13th French Open title in 2020 at the age of 34. He equaled Roger Federer's record on this one, so coming years will be pretty interesting to watch for these two tennis legends.
He finished the year as No.2 for the seventh time in his career.
Also, Read about Venus Williams!
Doubles
Nadal has played quite a few memorable doubles. Every time he partnered with Roger Federer in Grand Slam Doubles, the duo created history.
They first played doubles in the Laver Cup 2017 in Prague. They partnered against Sam Querrey and Jack Sock.
However, the duo does not plan to collaborate for the doubles anytime sooner.
Rafael Nadal – Arms
Rafa Nadal has the strongest arms in the entire tennis tour universe. No other player has arms anywhere similar to that of Nadal. His arms look like ones that strong bodybuilders have.
He maintains the size of arms even during off-seasons which is praise-worthy. Nadal has uneven arms. His left arms are bigger than his right arms.
It is quite normal for tennis players to have uneven arms as they face lateral muscular imbalances due to constant pressure in an arm. As a result, their dominant arms usually are bigger in size than the non-dominant ones.
Nadal plays tennis with his left hand. Hence, his left arm is bigger in size due to constant indulgence with the racket.
Rafael Nadal – Personal Life, Endorsements, Net Worth
Rafa Nadal got married in October 2019 to his girlfriend in 2005, María Francisca (Mery) Perelló Pascual, after they got engaged in January 2019.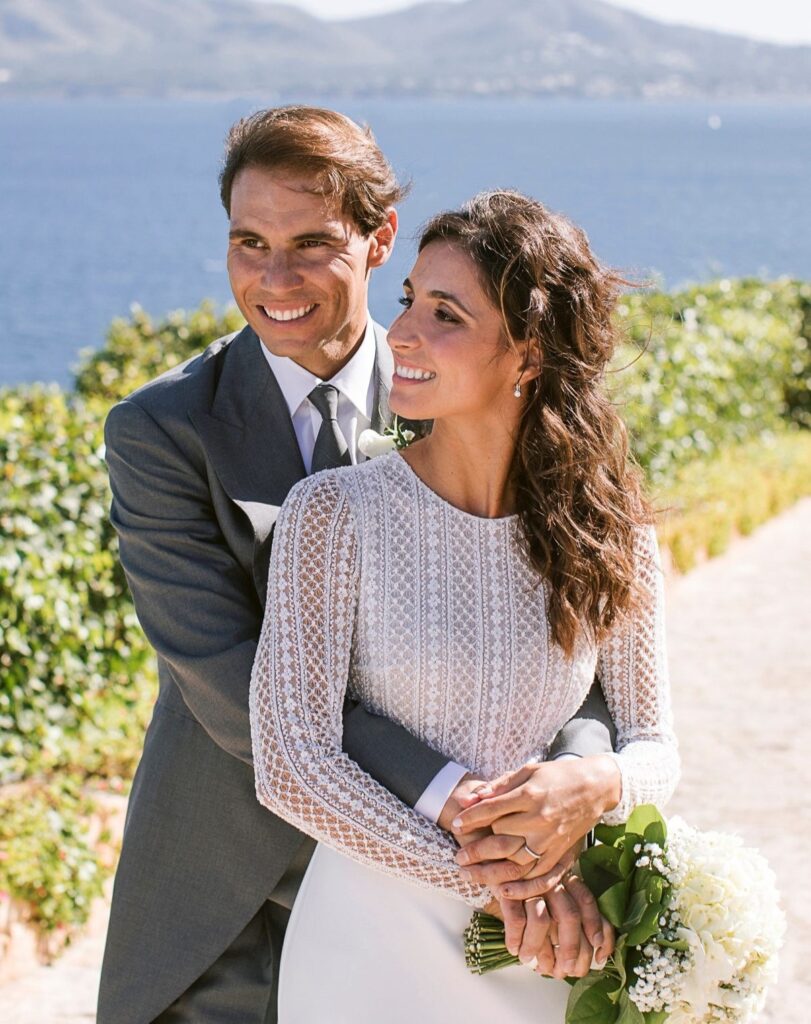 Rafa Nadal has a pretty successful venture outside tennis as Kia Motors have sponsored him since 2006. Nadal is also an ambassador of Nike as he always wears their products in his games and as his sportswear.
He is also a part of the luxury watchmaker Richard Millie and designed an ultra-light wristwatch at the matches.
The watches Nadal designed with them is valued at USD 525,000. He was also the face of Emporio Armani Underwear and Armani Jeans in 2011.
In the meantime, Rafael Nadal owns a £4.5million yacht which is a customised 80 Sunreef Power catamaran. Before this yacht, he had a 76-foot Italian-built MCY 76 motor yacht which he called Beethoven. Later, he got this yatch sold for £2million.
Furthermore, Nadal owns two house properties at Mallorca and Dominican Republic. Well, this particular cost him around $1.5 million which is over 1,000 square meters. Also, he has decorated the house with modern and minimalist finishes. Not to mention, the exterior of the Mallorcan-style stone chalet is equally as spectacular as the interior.
The other house he owns is his luxury villa in the Dominican Republic that cost around $2 million.
Interestingly, Nadal also has an asteroid in his name. 128036Rafaelnadal is a main-belt asteroid that was named after the tennis legend in his honor.
He also has multiple philanthropical activities, like Fundación Rafa Nadal, helping the Floods in Majorca, Elton John AIDS Foundation, Small Steps Process etcetera.
Nadal has also written his autobiography called " Rafa" along with John Carlin.
Rafel Nadel's net worth is estimated to be around $120 Million.
More on his net worth and estate Rafael Nadal Net Worth: Endorsements & Sponsors >>
Rafael Nadel – Knee Surgery
Nadel suffered from a right knee injury in September 2018, which forced him to retire from the US Open Semifinal. Unfortunately, the injury was severe, and Nadel ended up having surgery in November of the same year.
This is not the first time when Nadel has had a bad moment with his knees. He has been dealing with patellar tendinitis in both of his knees since the early age of 21.
Rafael Nadel – Ball Girl
Anita Birchall, a ball girl at the Australian Open in 2020, was accidentally hit by Rafa's forehand. Rafa apologized to her immediately in court and also later met her family.
He rushed to check if she was okay and left, giving her a nice peck on the cheek. The minor ball girl didn't seem to regret getting struck as she was blushing after the Spanish No. 1 showed kind gestures.
Nadal, however, was scared of what could have happened to her as the ball was straight and quick on her. He recalls it as one of the scariest moments of his tennis career.
Had the chance to meet her and her family today. So happy she is well after the scariest moment I've had on a tennis court. Annita is a brave girl! 👧😘👌 pic.twitter.com/FDZGermA44

— Rafa Nadal (@RafaelNadal) January 24, 2020
Rafael Nadel – Social Media Presence
You can follow Rafa Nadel via these links:
Rafael Nadal – FAQs
Is Rafael Nadal a gay? Is Rafa Nadal married?
As a matter of fact, Rafael Nadal is not a gay. Well, he got married to his long-time girlfriend in 2019.
How tall is Rafael Nadal?
Nadal is 6ft 1 inch tall.
How many Grand Slam Titles does Nadal have?
Rafael Nadal has a whopping 20 Grand Slam Titles.
What if Rafael Nadal's clay record?
Nadal is recognized as the real king of clay as he holds the win percentage of 91.75% with a record of 445-40 in the court tournaments.
Why did Rafael Nadal give up wearing Capris?
Rafael Nadal switched from Capri pants when he was 29. He stuck to them from 2005 to 2008, and the decision to adjust the length of shorts to him was a part of growing up.
Who won between Rafael Nadal and Dominic Thiem?
Dominic Thiem won the match against Rafael Nadal with 7-6(7) 7-6(4).
What shoes does Rafael Nadal wear? How much is Nadal's Richard Mille watch?
Well, Rafael Nadal wears Nike's Air CourtBallistec 2.3 and has Rafa written on the right one and the logo of Rafa's infamous bull on the left. Not to mention, Nike has always sponsored Nadal.
For the 10th anniversary of its partnership with tennis icon Rafael Nadal, Richard Mille has created this: the RM 27-04 Tourbillon, a watch that costs $1,050,000 and is limited to just 50 pieces.