When there is a debate about the GOAT in tennis, one name definitely comes from Novak Djokovic. He has made his own legacy and history in the tennis world.
Djokovic holds the record for being number #1, ranking for 314 weeks. He has been in the number #1 rank since 2011.
Likewise, he has earned the highest prize money in tennis history, worth $144 million. To date, Djokovic has already won 20 Grand Slams titles.
Moreover, Novak broke the winning streak of Tennis giants' like Roger Federer and Rafael Nadal. In the 2015-16 season, he became the third player in history to lift all four major titles at once.
Notably, he has also published a book, "Serving to Win: The 14-Day Gluten-Free Plan for Physical and Mental Excellence," about nutrition and lifestyle.
To find out more about Djokovic's life, from escaping death during childhood to being one of the best tennis players in history.
Quick Facts:
| | |
| --- | --- |
| Name | Novak Djokovic(Новак Ђоковић) |
| Date of Birth | 22nd May 1987 |
| Birth Place | Belgrade, SR Serbia, SFR Yugoslavia, (Present Serbia) |
| Nick Name | Djoker, Nole, The Joker, The Serbinator |
| Age | 35 years old |
| Gender | Male |
| Religion | Christian |
| Nationality | Serbian |
| Ethnicity | Serbian, Croatian & Montenegrin |
| Horoscope | Gemini |
| Body Measurement | Unknown |
| Height | 6'1″(1.88m) |
| Weight | 80 kgs (176lb) |
| Build | Athletic |
| Shoe size | 10.5 |
| Hair Colour | Brown |
| Eye Colour | Hazel |
| Tattoo | No |
| Father name | Srdan Djokovic |
| Mother name | Dijana Djokovic |
| Siblings | Marko Djokovic, Djordje Djokovic |
| Relationship | Jelena Ristic (married 2014) |
| Children | Stefan (son), Tara (daughter) |
| Profession | Tennis Player |
| Plays | Right-handed (two-handed backhand) |
| Coach | Marian Vajda Goran Ivanisevic |
| Singles Ranking | 1 |
| Year Active | 2003 |
| Grand Slam Titles | Australian Open (10) French Open (1) Wimbledon (6) US Open (3) |
| Salary | $ 44.6 million |
| Career Earnings | $151,876,636 |
| Prize Money | $147,744,252 (highest) |
| Net Worth | $220 million |
| Social Media | Twitter, Instagram, Facebook, YouTube |
| Gear | Lacoste, HEAD, Asics |
| Merch | Novak Djokovic – The Biography, Men's Sport Semi Fancy Short, Zip Placket Polo Short |
| Last Update | March, 2023 |
Novak Djokovic, the current number 1, was born on 22 May 1987 in Belgrade, SR Serbia, SFR Yugoslavia, to parents Sardan Djokovic and Dijana Djokovic.
Both of his parents were professional skiers, and they also run a restaurant in Serbia. Moreover, his parents launched a new restaurant named Novak.
Both of Djokovic's younger brothers Marko and Djordje, are also professional tennis players. Djokovic started playing tennis when he was 4 years old.
At a young age, his parents gifted him a mini-racket and a soft foam ball. His father also claimed these toys to be his beloved toys.
He was sent to a nearby tennis camp by his parents. Later after watching other people in his camp play tennis, he developed an interest in tennis.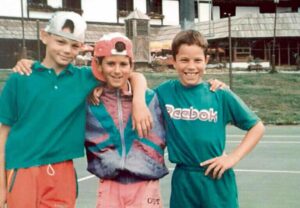 In 1993 when Djokovic was just 6 years old, he was sent to Teniski Klub Partizan tennis camp.
In camp, he was noticed by Yugoslavia tennis player Jelena Gencic. Later, she stated Djokovic was the greatest talent seen after Monica Seles.
He began his international career at the early age of 14 after winning singles, doubles, and team competitions in European championships.
Escaping from death
Many might not know, but Djokovic grew up in a war-torn country. In fact, in 1999, a bombing occurred in nearby places from their apartment.
Unfortunately, their building was also destroyed, so they sheltered other buildings.
Djokovic describes images of war seen by his eyes as the most traumatic image of his childhood. He further states tough childhood made him what he is today.
The professional tennis player was born in the year 1987, which makes him 35 years old.
Likewise, Novak shares his birthday on May 22, making his birth sign Gemini. Djokovic is one of the fittest athletes in the world.
He is an athletic guy standing 6 feet 1 inch(1.88m) and weighs 80 kg (176lb). His training routine and diet have helped him become the beast he is today.
However, his workout is not much different than other athletes. His small details make a huge difference.
Stretching
Before every game or training, Djokovic performs a complete stretching routine. He begins with some running or stationary biking before moving to a dynamic stretching routine.
Muscle Recovery
Djokovic uses the world's best facilities for his muscle recovery. He has one masseuse who helps him daily.
However, Djokovic understands it's not possible for everyone, so he highly recommends foam roller.
Yoga
Djokovic thinks yoga is an important part of his training routine. He mentions yoga as a good way to relax after any workout.
Fitness Egg Pod
The gem of Djokovic's training is his $100,000 fitness egg pod. It stimulates an intense workout that adds oxygen-rich blood cells to his body and removes lactic acid and waste products.
Diet
Djokovic strictly eats a gluten-free and dairy-free diet. Djokovic always sticks to vegetables, beans, white meat, fish, fruit, nuts, seeds, chickpeas, lentils, and healthy oils for his food.
Also, check out: <<Eden Hazard Bio: Brother, Stats, Injury & Salary >>
Debut
Novak Djokovic made his professional debut in 2003 when Rodger Federer and Rafael Nadal established themselves as two dominant tennis players.
He mainly played in Future and Challenger tournaments. Djokovic went on to win three between 2003 to 2005.
Djokovic qualified for his first Grand Slam in the 2005 Australian Open. Likewise, he also reached the third round of Wimbledon and the US Open.
His journey to quarters in the Australian Open, semis in Rotterdam, finals in US Open, and Indian Wells place him in the top 10 rankings.
However, Miami Open was an event that gave him world stage where he defeated Rafael Nadal in the finals.
First Grand Slam
Djokovic won his first-ever Grand Slam defeating Jo-Wilfred Tsonga in the Australian Open finals.
Furthermore, he also clinched the bronze medal for Serbia in the 2008 Beijing Olympics. In 2009 Djokovic managed to reach 10 ATP finals winning 5 of those.
However, the most cherished title for him would be one he won in Belgrade, the first ATP tournament in Serbia.
In 2010 Djokovic helped Serbia win its first-ever Davis Cup trophy. He also managed to climb to second place in the ATP rankings.
Rise to the Top
In 2011 Djokovic won ten titles, including 3 Grand Slams. Australian Open, Wimbledon, and the USA Open. The same year, Djokovic also won record 5 Master Series 1000 titles record broken by himself later.
on 4th July 2011 Djokovic clinched number 1 spot in ATP rankings for first time
During the start of the 2011 season, he set 41 matches winning streak, which no active player has managed to outrun.
Likewise, he managed to win impressive 70 matches, losing just 6. Similarly, Djokovic won $12 million on the ATP World Tour, setting a record for the highest prize money earned in a single season.
Djokovic idol Pete Sampras himself declared his 2011 season as the best seen in his lifetime. Later in 2012, Djokovic began his season-winning Australian Open.
He defeated Rafael Nadal, the fan-favorite and worthy contender in the longest Grand Slam finals recording 5 hours and 53 minutes in the finals.
Also, in the 2012 London Olympics, he was the flag bearer for his nation. However, he finished fourth, losing to Martin Del Porto in the bronze medal match.
He was also honored with the 2012 Laurens Sports Man of the Year award. At year-end, Djokovic also managed to defend his number 1 ranking.
On 27th January 2013, Djokovic became the first player to win three consecutive Australian Open in the Open Era.
Later in 2014, after defeating Rodger Federer in the Wimbledon finals, Djokovic reclaimed his number 1 spot.
Breaking his Own Record
In the 2015 season, Djokovic became the third player in tennis history to reach all 4 Grand Slams finals, winning three.
Novak, aka 'The Joker,' also broke his own record of most Master 1000 tournaments clinching 6 titles and 31 wins against top players in a single season.
Furthermore, Djokovic has an impressive 15-4 record against other Big Four members ( Rafael Nadal, Andy Murray, and Rodger Federer).
At the year-end, Djokovic clinched his career-best 11th title. Moreover, many analysts and experts consider his 2015 season the greatest of all time.
In 2016, Djokovic broke his own ATP ranking points with 16,790 points. However, in Olympics, he was defeated only in the first round by Juan Martin del Porto.
On 5th June 2016, Djokovic won his first-ever French Open title defeating ANdy Murray in the final.
In 2018, after returning from 7 month's injury, Djokovic claimed his fourth Wimbledon title defeating Rafael Kevin Anderson.
Later, in 2019 he won the record-equalling 33rd ATP Masters 1000, clinching Mutua Madrid Open.
After defeating Diego Shwartzman in Italian Open, he overtook Rafael Nadal for most Master trophies with 36 titles. Likewise, he also became year-end number 1 in the ATP ranking for a record-equalling 6th time.
Djokovic began his 2021 season, by winning his 9th Australian Open, defeating Daniil Medvedev in the finals. It was his 18th Grand Slam to date.
You can find the latest news, live scores, fixtures, results, draws, and match details of Novak Djokovic on the Flashscore website.
Who is Novak Djokovic's wife? Personal Life & Children
Novak Djokovic is happily married to his long-time girlfriend, Jelena Djokovic. Novak and Jelena meet each other in high school while playing tennis in Serbia.
Further, they started dating each other in 2005. Finally, after dating for several years, they decided to make it forever and got engaged in September 2013.
After a year, on 10 July 2014, they tied the knot with each other in a beautiful wedding ceremony.
Later, Djokovic made his name in the tennis world, and Jelena went to Bocconi University, Milan, to study marketing.
At present, his wife is the co-founder and director of the Novak Foundation. The couple has two children together, son Stefan Djokovic and daughter Tara Djokovic.
Houses
Although Djokovic does not live an exclusive flashy lifestyle, he has invested some of his real estate money. He has already bought properties in Europe and North America.
In 2020, Djokovic and his family moved to their new €10 million mansions in Marbella, Spain.
Altogether, there are 9 bedrooms and 8 bathrooms. Furthermore, the mansion also has a gym, swimming pool, and tennis court.
Before that, Djokovic lived in a hillside mansion apartment in Monte Carlo, Monaco, for 15 years. Moreover, Monte Carlo is home to a lot of professional tennis players.
Likewise, he owns a penthouse in Belgrade, where Djokovic's parents reside. It is estimated to be worth around half a million euros. It is a 250 m high house located on Pavlovac Laker shore.
In 2017, Djokovic purchased 2 bedroom apartment in New York for reportedly $10 million. Likewise, in 2019, he bought a 3-bedroom condo in Miami for an estimated $9 million.
Charity
Djokovic established Novak Foundation in 2007. Its main objective is to assist underprivileged children to grow up in a safe and creative environment.
Since its initiation foundation, it has already completed 37 projects. In 2015, the foundation tied a partnership with the World Bank to improve Serbia's early childhood education.
His organization has already built 37 schools and helped around 20,800 children to date.
In 2014, he donated his prize money from the Italian Open to help flood victims in Serbia.
Likewise, during Covid 19 outbreak, the Novak Foundation donated €1 million to purchase medical equipment in Serbia.
Furthermore, Djokovic also participates in many charity matches to raise funds. Moreover, in 2015 Djokovic was also appointed a UNICEF Goodwill Ambassador.
According to Forbes, Novak Djokovic earns $44.6million annually. Moreover, most of his income comes from endorsement deals worth $32million.
Likewise, the rest is $12.6 million from winnings. Furthermore, in 2016, he became the first tennis player to earn more than $100 million in prize money.
Djokovic has multiple sponsors as he is considered one of the world's best tennis players. Notably, Novak ranks first in prize-winning, collecting $144 million.
"As of 2023 Novak Djokovic has an estimated net worth of $220 million."
He has a $9 million deal with French company Lactose running till 2022. Djokovic also has a $9 million per year deal with sports brand Head. Since 2018, Djokovic has had a shoe deal with Asics.
Similarly, since 2015 he tied deals with Jacob Creek and ANZ worth $ 2 million and $ 4 million annually. In addition, Djokovic is the brand ambassador of LEMERO.
Moreover, 10% of their sales go to his Foundation. Likewise, he is also an ambassador of Ultimate Software. Furthermore, Djokovic represents WME-IMG.
For more detailed information on his net worth and endorsement, check out this article right here: <<Novak Djokovic Net Worth: Sponsors, House & Jet >>
Novak Djokovic | Trivia
Djokovic only drinks warm water.
Djokovic owns chains of Novak Cafe and Restaurants in Belgrade municipality. It was first launched in 2008.
He likes to bounce the ball up to 24 times before serving.
During changeovers, Djokovic likes to eat bananas.
Djokovic distributed chocolate to media persons during press conferences considering it a little tradition.
Djokovic's favorite athlete is Pete Sampras.
His hobbies are skiing, music, and horse riding.
Djokovic has starred in "Transcendence" a docu-series related to physical, mental, and emotional health.
After every Wimbledon wins, he eats grass. Moreover, he stated grass tastes like sweat.
Djokovic can speak 5 different languages Serbian, English, French, German and Italian.
Djokovic's nickname "The Djoker" is named after his fan's and journalists' funny and charismatic personalities.
Social Media Presence:
Facebook: 9.9 million Followers
Twitter: 8.7 million Followers
Instagram: 8 million Followers
Youtube: 59.8 k Followers
Some FAQs:
Who is Novak Djokovic's coach?
Marián Vajda Goran Ivanišević is the coach of Novak Djokovic.
Who has been in the number 1 ranking longest?
In 2021, Djokovic set a record for the longest number 1 ranking in tennis history. Moreover, he reached the number 1 ranking firstly in 2011.
What is Novak Djokovic's net worth?
The estimated net worth of Nova Djokovic is $220 million. Moreover, to date, he has earned $147,744,252 in prize money.
It is the highest-earning in tennis history. Furthermore, according to Forbes, Djokovic's yearly salary is $44.6 million.
Who beat Novak Djokovic in the 2012 London Olympic semifinals?
British professional tennis player Andy Murray beat Novak Djokovic in the semifinals at the 2012 London Olympics.
Did Novak Djokovic win the 2016 Summer Olympics?
Novak Djokovic lost to Juan Martin del Potro in straight sets during the first round of the men's singles match at the 2016 Summer Olympics.
Is Novak Djokovic in the 2020 Tokyo Olympics?
Yes, Novak Djokovic is participating in the 2020 Tokyo Olympics.
Will Novak Djokovic play in US Open 2021?
Novak Djokovic has withdrawn from the 2021 U.S. Open tune-up event in Toronto. According to sources, Novak has withdrawn from the event because of his hectic schedule, which includes the Olympics and Golden Grand Slam.
Did Novak Djokovic win the Olympic first round?
Novak Djokovic won the Olympic first round of men's tennis singles by defeating Bolivian tennis player Hugo Dellien.
How many Grand Slams has Novak Djokovic won?
To date, Novak Djokovic has won 20 Grand Slams major titles in his professional tennis career.
Who won Novak Djokovic vs. Jan-Lennard Struff?
Novak Djokovic defeated German tennis player Jan-Lennard Struff in straight sets in the second round and reached the third round at the 2020 Tokyo Summer Olympics.
Moreover, Nova is four wins away from winning his first Olympic gold medal after this second-round victory.