Felix Hernandez is a professional Venezuelan-American baseball player who plays in Major League Baseball (MLB). Best known as "King Félix," the talented baseball player has been active since his MLB debut in 2005.
Currently, Felix serves as a baseball pitcher for the professional baseball team Atlanta Braves.
Talented and Stellar, Felix has also been awarded the prestigious AL Cy Young Award for being one of the best pitchers in 2010.
But besides being a talented professional baseball player, there is so much we don't know about Felix.
His fans have been curious to learn more about his family and personal life and something different from his professional life.
Likewise, many have also been curious to know who his wife is or whether he has any children. Well, today, in this article, we will disclose all the information to these queries.
So, read till the end to know more about Felix Hernandez.
But, firstly, let's start with some quick facts!
Quick Facts
Full Name
Félix Abraham Graham Hernandez Garcia
Birth Date
April 8, 1986
Age
37 Years Old
Birth Place
Valencia, Venezuela
Nickname
King Félix
Religion
Christian
Nationality
Venezuelan-American
Ethnicity
Mixed
Education
Unknown
Horoscope
Aries
Father's Name
Felix Hernandez, Sr.
Mother's Name
Mirian Hernandez
Siblings
Moises Alexander Hernandez
Height
6'2 inches (1.9m)
Weight
102kg (224 lbs)
Build
Athletic
Shoe Size
Not Available
Eye Color
Black
Hair Color
Black
Marital Status
Married
Spouse
Sandra Rodriguez
Children
Jeremy Hernandez
Mia Hernandez
Profession
Baseball player
Debut
2005
Affiliations
MLB
Salary
$26 million annually
Former Teams
Seattle Mariners
Net Worth
$90 million
Awards and Achievements
6× All-Star (2009, 2011–2015)
AL Cy Young Award (2010)
MLB wins leader (2009)
2× AL ERA leader (2010, 2014)
Social Media
Instagram, Twitter
Merch
Jersey, Bobblehead, Shirt, Rookie card with Hernandez's autograph, Signed Baseball
Last Update
June, 2023
Felix Hernandez Bio | Early Life, Education & Parents
Felix Hernandez is one of the most recognized and successful baseball players in the MLB.
The talented player was born in Valencia, Venezuela, as Félix Abraham Graham Hernández García to parents Felix Hernandez, Sr. and Mirian Hernandez.
As for his other family member, Felix has an older brother named Moises Alexander Hernandez. Felix was raised in a middle-class family determined to live a comfortable life by working hard in their family business.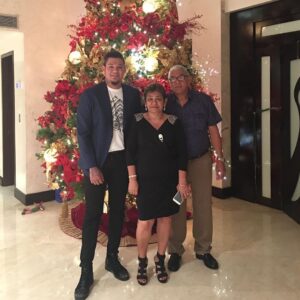 Additionally, Felix's father owned a trucking company, which used to be the Hernandez family's living source.
Sadly, not much information has been disclosed about Felix's childhood. However, it is safe to say that he showed an interest in baseball from a very young age.
The talented player used to participate in numerous tournaments and play in minor leagues from a young age. Likewise, by the time Hernandez was 14, he could already hurl a ball at a speed of 90 mph.
Moreover, Felix's outstanding skills and intensity can't go unnoticed for a long time, and in one random tournament, part-time Seattle Mariners scout, Luis Fuenmayor, noticed his impressive pitching abilities.
Seattle wanted to sign with Felix and add him to the team immediately. But Hernandez was still young to play at a professional level, and under MLB rules, the player should be at least 16 years old.
After graduating from high school and turning 16, Felix joined the team and signed his first professional contract with the Mariners in 2002.
By that time, many other teams also offered him, but Hernandez decided to play for the Mariners.
How tall is Felix Hernandez? Age and Height
Having been born in 1986 makes Felix's age 35 years currently. Likewise, the MLB baseball pitcher shares his birthday on April 8, making his birth sign Aries.
And from what we know, people of this sign are known for being energetic, enthusiastic, and talented.
Besides his personality, Felix also has impressive physical features. The MLB baseball pitcher stands at the height of 6 feet 2 inches (1.9 m) and weighs 102kg (224 lbs), which is considered proportionate to his size.
Sadly, his other body measurements haven't been disclosed. But, Judging by Felix's looks over the years, it is apparent that he puts in quite an effort to maintain his athletic build.
Likewise, he does intense core- and leg-centric workouts, which have helped him battle the fatigue and soreness that seem to come with age.
Also, his years of training and experience allow him to move freely in the field.
Apart from these, Felix's other notable body facts include his short black hair and a pair of shining black eyes. The MLB baseball pitcher is Christian by religion and belongs to mixed ethnicity.
Felix Hernandez | Baseball Career
Following his signing with Seattle Mariners in 2002, Felix began playing in minor leagues. He played incredibly in his first season and continuously showed improvements with each coming year.
For his stellar performances, he was named the Mariners' minor league pitcher of the year in 2004. Likewise, he was also listed as the No. 1 pitching prospect in baseball and No. 2 overall by Baseball America.
Later, Felix ended the season, receiving PCL Rookie of the Year and PCL Pitcher of the Year awards. After such incredible minor league performances, Hernandez was called up to the play in major leagues in 2005.
So, on August 4, 2005, he made his debut with the Mariners against Detroit Tigers. Not to mention that time, Felix was one of the youngest pitchers to appear in the major leagues since 1984.
Check out <<Tim Beckham Bio: MLB, Stats, Contract, Net Worth, Mariners & Dating>>
Although the youngest pitcher in the league, Felix didn't lack any talent and was the team's pillar. He remarkably helped Mariners to numerous victories against different clubs in several matches.
Notably, in his baseball career, the MLB pitcher has won six All-Star Baseball Game honors, the prestigious AL Cy Young Award (2010), MLB annual wins leaders (2009), and two times AL ERA leader, alongside several other mentions and honors.
Moreover, he has also set the record of being the first American League pitcher since 1971 to hit a grand slam. Interestingly, Felix is also the first Venezuelan with the most wins in the MLB.
After his incredible achievements and perfect games, the talented pitcher ended his baseball journey with Seattle Mariners in 2019.
Felix represented Atlanta Braves after signing a $1 million deal with the team on July 4, 2020.
Current Update
Felix signed a minor league contract with the Baltimore Orioles on February 3, 2021, as a free agent.
Career Stats
MLB statistics
(through the 2019 season)
Win-loss record
169–136
Earned run average
3.42
Strikeouts
2,524
King's Court
Back on May 28, 2011, a cheering group debuted under the name King's Court for Felix Hernandez. They founded it in Safeco Field which is also the foremost stadium promotion designed around a player.
By the end of the year, the cheering group had three sections. It had a total of about 1,500 fans in the stadium on the day Felix made his start.
How much is Felix Hernandez worth? Net worth and Income
Felix Hernandez has been active as a baseball player for fifteen years now. Since his MLB debut in 2005, Felix has played for significant clubs and has benefited from it.
He has had a very successful career as a baseball player.
Additionally, Felix is one of the highest-paid baseball players in the league. According to Forbes, the talented baseball player Felix was ranked as the #84 highest-paid athlete in the world in 2019.
Thanks to his outstanding skills, hard work, and dedication to the game that he has not just gained name and fame but has amassed a hefty amount of wealth. As of 2020, Hernandez's net worth is assumed to be around $90 million.
You might be interested in <<Kyle Hendricks: Stats, Contract, Wife, Jersey, Net Worth & MLB>>
Additionally, in 2010, Hernandez signed a five-year contract with the Seattle Mariners worth $78 million. But Mariners extended the agreement in 2013 to a seven-year deal worth $175 million, which went through 2019.
Under the deal's terms, Felix earned a total amount of
$27
million between salary and endorsements in the pact's final year.
After that deal, he signed a minor-league contract with the
Atlanta Braves
worth
$1 million
.
Apart from his salary and contract, Hernandez has benefited from long-standing endorsement deals with some major brands.
The MLB baseball pitcher is one of the top five largest endorsement deals in pro baseball history.
Moreover, Felix has endorsement deals with top companies like 2KSport, Kinesio, and Pepsi. Not to mention with Felix Pepsi's contract, he is reported to be made at least $1 million a year from the soda company.
House
Furthermore, Felix listed his beautiful Clyde Hill, WA, mansion worth $7.8 million before joining the Atlanta Braves.
His estate consisted of a luxurious six-bedroom, six-bathroom, 7,100-square-foot mansion with beautiful views of the Seattle skyline and Lake Washington.
Is Felix Hernandez married? Personal life and Wife
Felix is one of the most successful and recognized pitchers in the MLB, attracting a lot of attention to him. But besides his professional life, Felix's fans have also been curious to know about his personal life.
Well, the talented MLB pitcher is a married man as of now. Just like his successful baseball player, Felix is also successful when it comes to his love life.
Like a superb baseball player, he is also a superb husband and father to his children.
Moreover, Hernandez is happily married to his long-time girlfriend, now wife, Sandra Rodriguez. Sadly, not much is known about their relationship beginning, like how and when they met and started dating.
But estimations have been made that the couple are together since their teenage. As Felix has mentioned in one of his Instagram posts captioned:
Moreover, after dating for some years, Felix and Sandra tied the knot on March 14, 2008. Likewise, together they have also welcomed two beautiful children in their lives; a son named Jeremy Hernandez and a daughter named Mia Hernandez.
Check out <<Pat Venditte Bio: Early Life, Career, Net Worth, Wife & MLB>>
Felix and Sandra have been together for more than a decade now, and their bond is going stronger with each passing year.
Likewise, it also seems that Felix is a very family man and often spends his leisure time with his wife and children.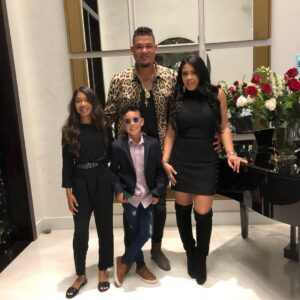 He frequently goes on outings with his family to different locations worldwide. For instance, if you look at Felix's Instagram, you can notice his posts are full of family traveling pictures.
Felix Hernandez |
Social Media Presence
Felix Hernandez is quite active on social media. Apart from the fame and fortunes he has collected, Felix has also successfully assembled thousands of followers on his social account.
Moreover, he is available on Instagram, with 309k followers on the site. Felix mostly shares pictures of himself on the baseball field with his teammates.
Likewise, he also shares photos with his lovely wife and adorable children.
Similarly, Hernandez is also on Twitter with over 286.1k followers. He usually makes posts and updates regarding baseball matches and news.
After joining the site back in December 2009, Felix has tweeted around 1,929 times since then.
Some FAQs:
What pitcher is known as the King?
Felix Hernandez, a professional baseball pitcher, is known as the King of the baseball world.
Who did Felix Hernandez sign with?
Back in 2020, Felix Hernandez signed a minor league deal with the American professional baseball team Atlanta Braves.
At present, Felix Hernandez plays for the Baltimore Orioles whom he initially signed with on February 3, 2021.
Did Felix Hernandez retire? Has he faced any injuries?
No, Felix Hernandez hasn't retired. He is currently playing for Atlanta Braves.
Back in 2018, Felix initially faced lower back stiffness and hence, ended in the injured list for ten days. Following it, he struggled with a shoulder injury on December 5, 2019, and stayed on the injured list for 60 days in total.
Is Felix Hernandez a Hall of Famer?
No, Hernandez is not part of the Hall of Fame yet.