Firas Zahabi brother, Aiemann Zahabi, is a Canadian Mixed Martial Artist who competes in the Ultimate Fighting Championship.
Firas Zahabi is widely known as a martial artist from Quebec, Canada. He owns a gym named Tristar Gym and is also a head coach.
At first, Firas used to run the gym for Conrad Pla, who owned the Tristar Gym in 2007. But, later, in 2008, after buying the gym, he became the new owner.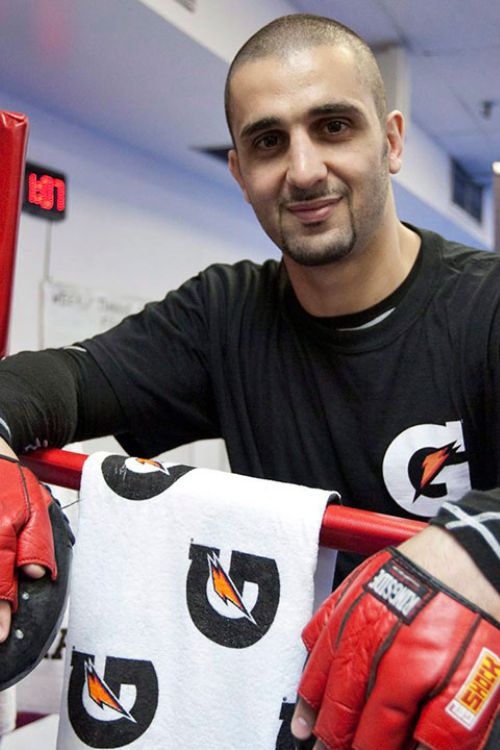 The gym owner dedicated himself to training numerous fighters, but his most notable achievement was coaching the renowned Mixed Martial Artist (MMA) Georges St-Pierre.
Prior to establishing the gym, he himself trained in Brazilian Jiu-Jitsu (BJJ) and Muay Thai at Tristar Gym in 2000.
Within a remarkably short span of six months, Zahabi accomplished the impressive feat of attaining a Blue Belt in BJJ. Concurrently, he also took on a part-time coaching role at the gym.
Firas Zahabi Brother: Aiemann Zahabi
Aiemann Zahabi is the younger brother of Firas. Younger Zahabi was born in Laval, Quebec, on November 19, 1987.
Firas's brother competes in the bantamweight division in the UFC.
In his highly anticipated debut, Zahabi showcased his skills at UFC Fight Night: Lewis vs. Browne, where he emerged victorious against Reginaldo Vieira.
However, his scheduled fight against Drako Rodriguez at UFC Fight Night 183 was disrupted when Zahabi tested positive for COVID-19, resulting in the bout's cancellation.
Fortunately, after recovering from the illness, Zahabi's fight against Rodriguez was rescheduled for February 20, 2021. In an impressive performance, Zahabi triumphed in the fight, earning both the victory and the coveted Performance of the Night Award.
Initially, Aiemann Zahabi, at the age of 18, started assisting his older brother Firas at the gym. When he turned 21, Aiemann expressed his desire to pursue MMA and decided to leave his university studies to focus entirely on the sport.
Setting a personal goal to reach the UFC by 30, Zahabi accomplished this feat at 29, solidifying his determination and commitment to his MMA journey.
Firas Zahabi Family
Firas Zahabi was born on February 5, 1980, in the city of Beirut, Lebanon. His parents are Ismat Zahabi and his mother, whose name is not specified.
The Zahabi family follows the Islamic faith as their religion. Firas grew up alongside his three brothers: Alex, Tarek, and Aiemann, according to various sources.
Aiemann, the youngest among the four brothers, started his martial arts journey with karate at the age of five.
Alex Zahabi holds a black belt in Brazilian Jiu-Jitsu and has an impressive educational background, including a Ph.D. in Microbiology and an MBA. Additionally, he teaches at Tristar Burlington (Ont) BJJ.
While there is limited information available about Tarek Zahabi, it appears that he also trained in MMA.
Wife And Kids
Firas Zahabi is married to his long-term girlfriend Melissa Ouellet Gendron, who celebrates her birthday on February 2.
The couple met at the university, and after some time of their dating, they decided to tie the knot. Moreover, the pair has three beautiful children: two sons and one daughter.
Firas Zahabi's two sons are Ayman Zahabi and Noah Zahabi, whom he is actively teaching martial arts.
On his Instagram, Firas shared a post saying, "The little one openly challenged me today, starting to think this may backfire one day," indicating that his children's enthusiasm for martial arts might lead to interesting situations in the future.
In addition to his sons, Zahabi's daughter is named Alissa Dean Zahabi, who adds to the beauty of his family.