Frank Jackson is a professional basketball player in the National Basketball Association (NBA) for the Detroit Pistons. The athlete was a member of the Duke Blue Devils basketball team.
Frank has established himself as one of the best basketball players in the league. His success can be traced back to his high school and college years, when he already had a name.
Despite coming off the bench in ACC play, the 6-foot-3 guard played significant minutes throughout the season.
Coach Mike Krzyzewski put Jackson in the starting lineup to finish the season, and the freshman guard helped the Blue Devils win the conference tournament, earning him a spot on the All-ACC Tournament Second Team.
In this article, we will discuss everything there's about Frank Jackson. But before getting into details, let us look at quick facts about him.
Quick Facts
Full Name
Franklin Willis Jackson
Known as
Frank Jackson
Nickname
Flash
Birth Date
May 4, 1998
Birth Place
Washington, D.C.
Residence
Not Available
Religion
Christianity
Nationality
American
Ethnicity
African American
Education
Lehi (Lehi, Utah), Lone Peak (Highland, Utah), and Duke (2016–2017)
Zodiac Sign
Taurus
Father's Name
Alvin B. Jackson Jr
Mother's Name
Juleen Jackson
Siblings
4
Age
25 years old
Height
6 feet 3 inches
Weight
205 lb (92 kg)
Eye Color
Brown
Hair Color
Black
Body type
Athletic
Profession
Basketball Player
Marital Status
Single
Girlfriend
Not Available
Children
None
Active since
2017– present
Teams

New Orleans Pelicans
Texas Legends
Detroit Pistons

Achievements

McDonald's All-American (2016)
McDonald's All-American Game Co-MVP (2016)
Utah Mr. Basketball (2016)

Endorsements
Not Available
Net Worth
$2 million
NBA Draft Pick
2017 / Round: 2 / Pick: 31st overall
Position
Point Guard and Shooting Guard
League
NBA
Merch
NBA Trading Card
Social Media
Instagram, Twitter
Last Update
November 2023
High School Career
Frank started his high school career at Lehi High School in Lehi, Utah, before transferring to Lone Peak High School in Highland, Utah.
Jackson averaged 17.9 points per game as a sophomore in 2014, helping his team win the Utah 5A state championship with 4-star future BYU recruit TJ Haws.
He was named to the Fourth Team Maxpreps All-American, Salt Lake Tribune All-State, and First Team All-USA Utah as a junior after averaging 26.9 points, 4.5 rebounds, and 2.0 steals per game.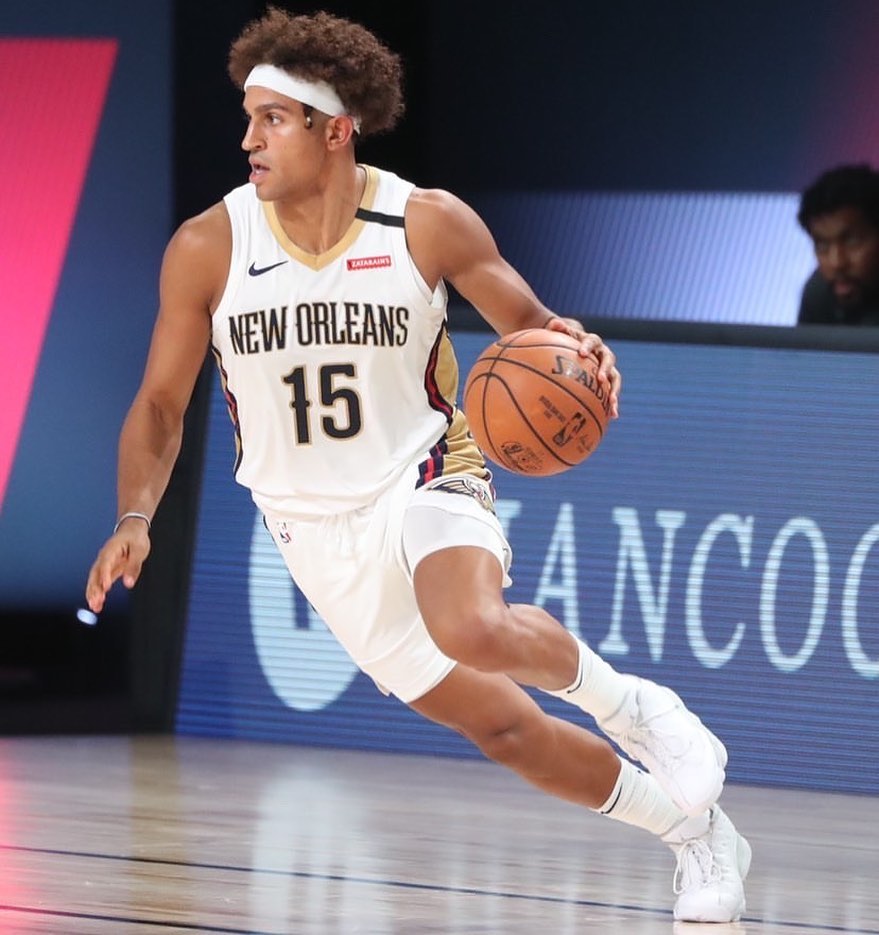 Jackson attended the NBPA Top 100 Camp in Virginia in the summer of 2015. Jackson scored 38 points in a 73–71 victory over Miller Grove on December 12.
At the 2016 HoopHall Classic on January 12, 2016, Jackson had 49 points and nine rebounds in a 94–92 overtime loss to Kobi Simmons and St. Francis School.
Jackson had 32 points and 11 rebounds in a 68–61 win over St. Joseph on February 5. He was named Utah Mr. Basketball and Salt Lake Tribune player of the year as a senior, averaging 28.1 points, 6.4 rebounds, and 3.0 assists per game.
Frank was a five-star recruit in the Class of 2016, with ESPN ranking him as the No. 10 overall recruit and Scout.com ranking him as the No. 12 recruit.
College Career
Jackson made his Duke debut on November 11, scoring 18 points and dishing out four assists in a 94–49 win over Marist at the 2016 Hall of Fame Tip-Off. He had 15 points and four assists in a 110-57 thrashing of Georgia Tech on January 4.
In a 75–70 victory against Florida State on February 28, Jackson set a season-high with 22 points while shooting 3-4 from beyond the arc.
In a 79–72 win over Clemson on March 8, Jackson scored 20 points on 7-10 shooting from the field. Jackson scored 15 points and grabbed five rebounds in a 93–83 win over rival North Carolina in the ACC Tournament semi-finals on March 10.
Jackson started 16 of Duke's 36 games, averaging 10.9 points, 2.5 rebounds, and 1.7 assists while shooting 40% from behind the arc and 54% from 2-point range.
On May 12, 2017, he declared that he was signing with an agent and would forego his remaining three collegiate seasons.
Frank Jackson: Age, Height & Weight
Frank Johnson was born in Washington, DC, on May 4, 1998. He is now 25 years old.
Frank has a well-kept body and appears to be quite athletic in terms of physical appearance. The basketball player maintains his physical fitness by eating well and going to the gym on a daily basis.
In addition, the American player is 6 feet 3 inches tall and weighs 93 kilograms.
He has dark brown hair and brown eyes. He is of African-American ancestry and holds American citizenship.
Frank was born under the astrological sign of Taurus. Sapiens born under the sign of Taurus strive to extract the essence of life. Whereas most people like to overcomplicate things, these men and women prefer to enjoy life in its purest form.
You might like to read about; Jahlil Okafor: Career, Awards & More>>
Professional Career
The Charlotte Hornets selected Jackson 31st overall on June 22, 2017, but he was quickly transferred to the NBA's New Orleans Pelicans for cash considerations. Jackson joined the Pelicans on July 11, 2017.
He had foot surgery after the draft and was ruled out until January, but he had a second surgery on his foot in January and was ruled out for the rest of the season.
Frank made his summer league debut on July 6, 2018, recording 13 points, six rebounds, one assist, and one steal. However, Jackson suffered a left ankle sprain early in the second half and was ruled out for the remainder of the tournament.
In only 19 minutes off the bench against the Memphis Grizzlies on January 7, 2019, Jackson set a career-high with 17 points and three three-pointers. That game ended in a 114–95 victory for the Pelicans.
In a 113–108 defeat to the San Antonio Spurs on February 2, 2019, Jackson surpassed his past career-high with 25 points on 10-20 shooting.
Frank signed a contract with the Oklahoma City Thunder on December 4, 2020. The Thunder released Jackson on December 21.
Jackson signed a two-way agreement with the Detroit Pistons on December 27. In August of 2021, Jackson agreed to a two-year contract extension with the Pistons.
Underrated Player
Frank's athletic testing figures at the 2017 NBA draft combine were eye-opening, with best scores in a vertical leap (42 inches) and shuttle run.
Jackson's 3-point shooting has brought it all together, allowing him to put his athleticism to good use as a rim penetrator and scorer.
However, while in New Orleans, Jackson observed J.J. Redick's off-ball movement and how he and Jrue Holiday were so accurate with their mechanics.
Last season with the Pistons, he used Wayne Ellington's 12 years in the NBA as a 3-point specialist to help him fine-tune his skills.
Jackson has evolved into a different player than many expected, but it's to his credit that he's observed, learned from experienced teammates, and figured out how to carve out a niche.
Don't miss out; Nerlens Noel: Injuries, Net Worth & NBA>>
Improvement In Games
After signing a two-way contract, Jackson appeared out of nowhere and developed into a reliable scoring threat for the Detroit Pistons.
For his capacity to come off the bench with "instant" offense, he's been compared to everyone from Vinnie Johnson to Jason Terry.
Jackson's 3-point shooting improved this season, finishing at 41%, which he hopes to improve as he develops into a more pure shooting guard.
He's a remarkable young man who was cut, came in as a two-way player, and has earned every minute of his playing time. On both ends of the floor, Frank does everything correctly. He performs admirably both defensively and offensively.
Jackson not only improved his three-point shooting, but he also improved his defense and demonstrated his ability to guard three several positions on the perimeter.
Frank Jackson: Fashion Sense
Jackson is one of the best-dressed players in a competitive league. He frequently enters the world's most fashionable sports association with confidence.
Fans of Jackson's style and his handles have cultivated a small but devoted following. Since he was a child, the athlete has been a certified jawnz fan.
He recalls binge-watching The Suite Life of Zack and Cody and locking himself away in his room for hours, putting together outfits based on the show.
He still finds the process of trying on clothes to see what works and what doesn't cathartic—indeed, crucial to his stylistic development.
Frank stands out as an exemplar of high-level restraint among a sea of skintight Amiri jeans and graphic-laden sweatshirts, the rare athlete whose style you should imitate.
He mostly shops online at SSENSE, a Montreal-based fashion mecca whose signature merchandising mix has made it a perennial favorite among all the world's most elite dressers, including this magazine's staff.
He's especially complimentary of Jerry Lorenzo, the Fear of God designer who was recently named the head of Adidas' basketball division and for whom he's previously modeled.
Frank Jackson: Early Life & Family
Jackson is the second-oldest of five children of former Utah state senator Al Jackson and Juleen Jackson.
Frank and his father, Alvin Jackson, have different memories of when Frank's athletic abilities seemed to put him on the verge of pursuing basketball as a career.
According to Alvin Jackson, it was more about the drive than athletic ability. Moreover, Alvin is a former Utah State Senator from the 14th district.
Governor Gary Herbert appointed him to fill a vacancy created by the resignation of John Valentine, who resigned to become the head of the Utah Tax Commission.
In July 2016, he resigned to take a job out of state and was replaced by Daniel Hemmert, another appointee.
People also like to read about; Zaza Pachulia: Early Life, Career & Family>>
Father As A Coach
Alvin, a former Embry-Riddle University baseball and basketball player, coached Frank for most of his childhood and recalled the many hours spent in the church gym and backyard, starting at 6 a.m.
Jackson's father, Al Jackson, recognized his son's remarkable abilities at a young age, but he, like Frank, had no idea how significant those abilities would become.
Alvin recalls noticing Frank's maturation as a young man and his rapid athletic development.
Frank and Alvin both credit Frank's mother with laying a spiritual foundation, which Frank openly and frequently mentions in interviews with the press.
Jackson was captivated by baseball, basketball, football, and golf until he was in ninth grade at Lehi High School.
However, Frank decided to focus on one sport after realizing that basketball was more exciting than the slower-paced game of baseball.
Frank Jackson: Girlfriend
When it comes to his personal life, the NBA player Frank Jackson is a complete mystery. While the point guard for the Detroit Pistons is still a hot topic in the basketball world, little is known about his personal life.
Fans have speculated that Frank is dating his prom date, Elly Pettro Brian, based on a few prom photos taken in 2016.
While there was never much talk about them dating, everything fell apart when Ellie married on November 12, 2018.
His Instagram and other social media accounts are devoid of any potential girlfriend information.
The only time he had ever mentioned a girlfriend was in 2016 when he tweeted about his "hotter than a hot girlfriend." Not surprisingly, the athlete's post was just a load of nonsense.
Frank Jackson: Net Worth
Frank Jackson has an estimated net worth of $2 million. His primary source of income comes from his professional career as a basketball player.
Moreover, as an athlete, Frank should be engaged in various endorsements and sponsorships projects that add a decent amount to his wealth.
The Detroit Pistons signed Frank Jackson to a two-year, $6,150,000 contract, with $6,150,000 guaranteed and a yearly average salary of $3,075,000.
Jackson will earn a base salary of $3,000,000 in 2021-22, with a $3,000,000 cap hit and a $3,000,000 dead cap value.
Social Media Presence
Frank Jackson is pretty active on various social media platforms. He often posts pictures related to his professional career and basketball photoshoots.
The basketball player utilizes his social media accounts to connect with his fans and followers who want to be involved in his day-to-day life.
You can follow him on his social media accounts to learn about his latest updates. Below is the link to his social media;
Instagram– 105k followers
Twitter– 21.1k followers
FAQs
Is Frank Jackson a restricted free agent?
Jackson became an unrestricted free agent after the Pelicans declined to extend him a qualifying offer in 2020.
Who recruited Frank Jackson?
Duke, Arizona, BYU, Arizona State, Maryland, Stanford, UCLA, and Utah were among the schools that recruited Jackson.
After receiving interest from other schools, he backed out of his freshman commitment to BYU. Jackson declared his commitment to Duke University on September 1, 2015.