Zaza Pachulia is a Georgian-born former basketball player who made a career playing in the NBA. Currently, he works as a basketball operations consultant for an NBA team Golden State Warriors.
His first given name was Zaur Pachulia which he legally changed to Zaza Pachulia. The second-round 42nd overall pick played for multiple NBA teams throughout his career like Orlando Magic, Atlanta Hawks, Milwaukee Bucks, and more.
The NBA player had his most memorable moments with the Golden State Warriors, helping the team win back-to-back championships.
Furthermore, he also captained his home country basketball team in different basketball tournaments.
The 6 feet 11 inches Center/Power forward became the first-ever Georgian player to win an NBA championship in 2017.
In addition, Zaza is also the founder of Zaza Pachulia Basketball Academy. The academy holds a mission of promoting basketball in Georgia.
Regardless of his long career and accolades, the infamous defensive play against Kawhi Leonard of the San Antonio Spurs in the Western Conference Finals of the 2016-2017 NBA season is what many people remember Zaza for.
Additionally, the incident even made the NBA introduce a new officiating rule called "The Zaza Rule," which we'll talk about later in the article.
Let's look at some of the quick facts about Zaza before diving deeper into his life.
Quick Facts
Full Name
Zaza Pachulia
Date of Birth
February 10, 1984
Place of Birth
Tbilisi, Georgian SSR, Soviet Union
Nicknames
Z, Balboa
Gender
Male
Nationality
Georgian, Turkish
Religion
Christian
Education

Northwestern University's Kellogg School of Management
Harvard Business School

Horoscope
Aquarius
Father's Name
David Pachulia
Mother's Name
Marina Pachulia
Siblings
N/A
Age
39 Years Old
Listed Height
6 feet 11 inches (2.11m)
Listed Weight
122 kgs (270 lb.)
Hair Color
Black
Eye Color
Black
Build
Muscular
Marital Status
Married
Wife
Tika Pachulia
Sons

Davit Pachulia
Saba Pachulia

Daughters

Miriam Pachulia
Nutsa Pachulia

Major Profession
Basketball Player, basketball executive
Position
Center / Power Forward
Current Status
Retired as a player, basketball operation consultant for the Golden State Warriors
Draft
2003, Second Round (42nd overall)
Net Worth
$13 million
Salary
$3.5 million as a basketball executive
Social Media
Instagram, Facebook, Twitter
Jersey Number
27
Merch
Bobblehead
Last Updated
2023 May
Early Life and Education
Pachulia was born in Georgia's capital city, Tbilisi, on the 10th of February, 1984. He is the son of David and Marina Pachulia. His first given name was Zaur Pachulia which he changed later in his life.
Zaza's tremendous growth physically introduced the game of basketball to him. His recorded height was 6 feet and 8 inches, even at the very early age of 13.
Because of his blessed height attribute, the Turkish basketball scouts had an eager eye for him. He went to play in Turkey for the team Ülkerspor, which he was a part of for 4 years.
Over these years, he was also a member of the Georgian junior basketball team and took part in numerous tournaments.
Talking about his education, he completed high school at the age of 16 and later went on to get a Bachelor's degree in Education from the Public US state academy.
<<<Read about: Donovan Mitchell: NBA, Charities & Salary>>>
Moreover, he also enrolled himself in business classes at various esteemed institutions in the United States, such as Northwestern University's Kellogg School of Management, Harvard Business School, and Emory University's Goizueta Business School.
With ESPN, the NBA star talks about his business plans and educational drive that he wishes to trail once his fierceness on the court gets over. He can also speak four different languages: English, Russian, Georgian, and Turkish.
Age, Height, and Weight
Z turned the age of 39 this past February. He still continues to take good care of his monstrous body with a proper workout and diet in place.
Moreover, even after retirement, working with a basketball team is definitely helping him stay in shape.
The nearly 7 feet giant weighs 122 kgs (270 lbs.) as per the recently recorded data.
Zaza Pachulia: Career
After his early career in Turkey, the Orlando Magic drafted the Eurasian in NBA 2003 draft. He was a second-round 42nd overall pick. He played with the team for only one season and was later traded to the Milwaukee Bucks.
In his second season, Zaza played 74 games with Milwaukee, averaging 6 points per game and 5 rebounds, which are average for NBA standards.
The 2005 NBA offseason had him travel to another destination in Atlanta Hawks, where he played for a whooping 8 seasons.
Further, he also had his first playoff experience with the hawks in 2008 but faced an early first-round exit against the Boston Celtics. Atlanta went to 4 straight playoffs with Zaza as their center in the years to come.
The Georgian and the Hawks parted ways in 2013. Again, he returned to play for the bucks for two more seasons before getting traded to the Dallas mavericks.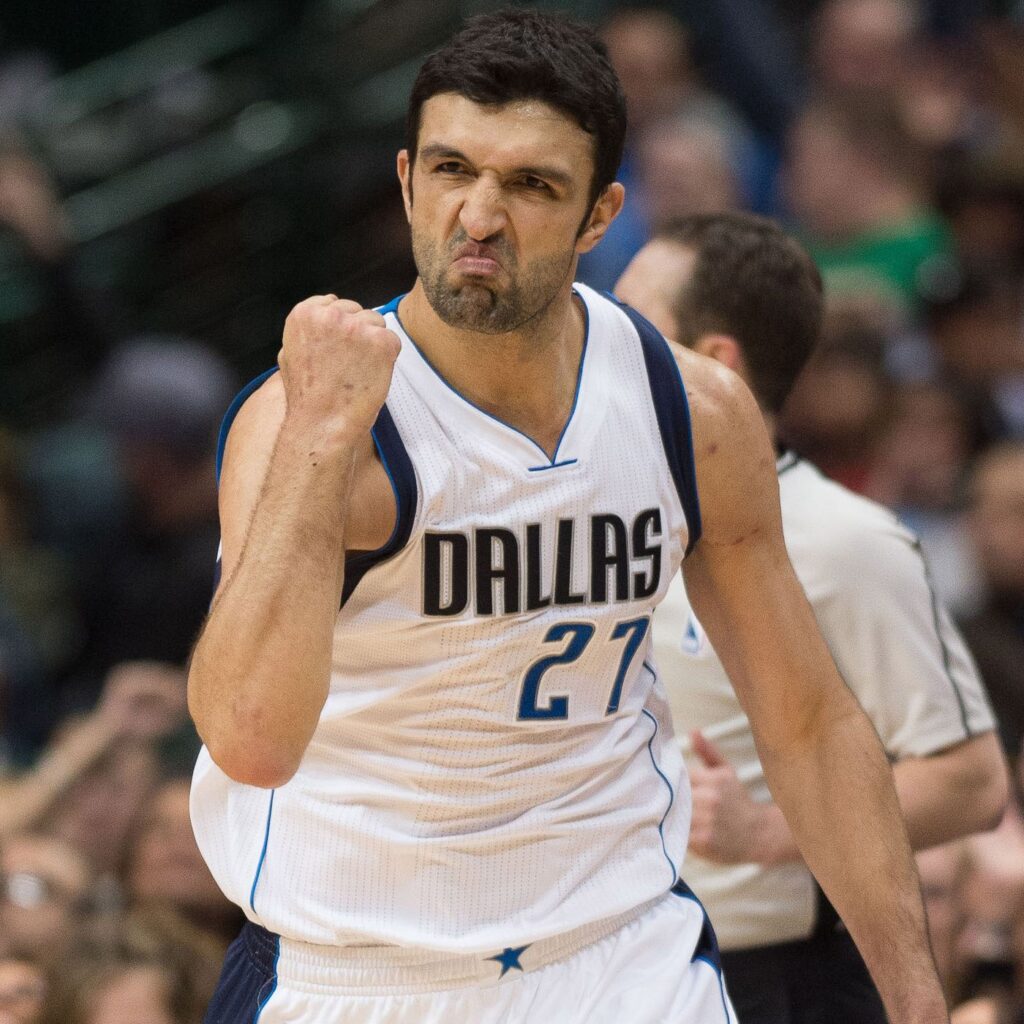 Interestingly, during a game in his short second tenure with the bucks, he grabbed 21 rebounds, scoring 22 points. Among those 22 rebounds, 18 were offensive boards, which is still the Bucks' franchise record. This happened on March 20th, 2015.
Fast forward to July 2016, the Golden State Warriors signed him for a one-year deal. He played and started in 70 games, with the warriors averaging around about 6 points and 6 rebounds.
Furthermore, the Warriors went on to win the Finals that season, making Zaza the first Georgian ever to achieve the feat.
To no surprise, the Balboa, as the legend Kevin Garnett dubbed him, resigned with the warriors for the next season as well. Warriors won back-to-back championships as they defeated Lebron James led Cleveland Cavaliers with a clean sweep.
Zaza signed with the Detroit pistons next season before retiring from basketball on August 29, 2019. He then started working as a basketball operations consultant for his championship team GSW.
The Villian: Controversies and Backlashes
Pachulia's life as a basketball player has been nothing short of highlights and lowlights. He has won championships, set records, and been involved in various chaotic moments throughout his career.
Apparently, the famous altercation with the NBA legend Kevin Garnett during a match between the Hawks and the Celtics made a reporter dub him as Balboa.
In the first game of the western conference finals, 2016-1017 NBA season, the matchup between the Golden State Warriors and the San Antonio Spurs, Zaza made a closeout play that ended the Spurs' star Kawhi Leonard's season.
Kawhi's foot landed on Zaza's foot after he attempted a Jump shot that caused a season-ending foot injury.
After that, the Spurs went on to lose the series and the Balboa became a big villain amongst the fans even though he continued to deny the fact that the play was intentional.
Moreover, after this incident, the NBA introduced an officiating rule called "the Zaza Rule" that allowed the referees to call for a flagrant foul if the defending player places their foot on the landing space of the offensive player after he goes for a jump.
Similarly, in the next season, another controversy rose as Pachulia fell on the then OKC star Russel Westbrook's Knee during a play. In addition, Russel claimed that the play was intentional, but the NBA did not take any action against Pachulia.
Net Worth, Salary, and Career Earnings
The center presumably has a net worth of $13 million. Evidently, his basketball career and several deals with different teams have provided him with generational wealth.
Similarly, his financial career includes various multimillion contracts, including a 4 year – $19 million contract with the Atlanta Hawks and 3-year $15.6 million contract with the Milwaukee Bucks.
<<<Also read the bio of Matt Carroll: NBA, Retirement & Net Worth>>
Additionally, his current job as a basketball operation consultant with the Warriors reportedly pays him $3.5 million annually.
Wife and Kids of Zaza
Zaza has a beautiful family with his wife, Tika Pachulia. Tika is also Georgian and was born on December 30, 1987.
These two met in 2007 when Pachulia saw Tika perform ballet and was instantly drawn to her beauty. She was a member of the Georgian National ballet at the time. They dated for a while and got married in 2008.
Further, the Pachulia couple has 4 beautiful kids (two sons and two daughters). David and Saba's sons are sometimes seen playing basketball, while the beautiful young daughters Miriam and Nutsa seem to have less interest in the sport.
Social Media
We can find Pachulia on every major social media and digital platform, including Instagram, Facebook, and Twitter.
Further, he is very active on social media and posts from time to time. He has 278k Instagram followers and his Facebook page has 198k followers. Zaza also owns a Twitter account with over 141K followers.
Apart from this, he has also listed his business on LinkedIn.
Frequently Asked Questions (FAQs)
Who is Zaza Pachulia's wife?
Zaza is married to Tika Pachulia. They have been married for 15 years and it's safe to say that the marriage is going stronger than ever. They have 4 kids together.
Why is Zaza Pachulia hated by the fans?
Unfortunately, the then GSW star injured NBA superstar Kawhi Leonard in the Western Conference Finals of the 2016-2017 NBA season.
This incident, including various other allegedly intentional dirty plays, has made Zaza one of the most hated NBA superstars in history.
Where does Zaza own a house in America?
Pachulia owns a 4-bedroom house in Atlanta, but it has been on the market for almost over a year.