"The Masterclass" Jrue Holiday is an American professional basketball player for the Milwaukee Bucks of the NBA. He's defensive-minded and is good on the offensive end too.
Jrue's moves are impressive, and he is one of the incredible three-point shooters during the regular season.
Since he was introduced in the NBA, Jrue Holiday has ensued to be among the great shooting guards. Jrue Holiday is one of the remarkable two-way guards in the NBA.
His strength, raid, and anticipation enable him to accomplish his games gracefully. He plays at his pace and uses courage to stave off getting pushed off the spot.
He has a great play on the point guard position and finishes on the court like a warrior with style, unlike anyone we have ever seen.
Read more about the career, family, net worth, and relationship of the tremendous basketball player Jrue Holiday in this article.
Before going further, look at these Quick Facts.
Quick Facts
Full Name
Jrue Randall Holiday
Birth Date
June 12, 1990
Birth Place
Los Angeles, California
Nick Name
Not Known
Religion
Christian
Nationality
American
Ethnicity
Mixed
Education

Campbell Hall School
University of California (UCLA)

Horoscope
Gemini
Father's Name
Shawn Holiday
Mother's Name
Toya Holiday
Siblings
Aaron Holiday, Justin Holiday, and Sister Lauren
Age

32

Height
6 feet 3 inches
Weight
93 Kilograms
Jersey no.
21, 11
Hair Color
Black
Eye Color
Black
Body Type
Athletic
Profession
NBA Player
Professional Career Teams

Philadelphia 76ers
New Orleans Pelicans
Milwaukee Bucks

Draft Year
2009 (Round: 1/Pick: 17th overall)
Drafted By
Philadelphia 76ers
Active Years in Basketball
2009-present
Sexual Orientation
Straight
Marital Status
Married
Wife
Lauren Cheney ( U.S. women's national soccer team player)
Kids
Two
Net Worth
$30 million
Position
Point Guard/ Shooting Guard
Social Media
Twitter, Facebook, Instagram
Merch
Rookie Card, The Inspiring Holiday of One of Basketball's All-Star Point Guards (Paperback)
Last Update

February, 2023
Jrue Holiday | Early Life & Family
Jrue Holiday is one of the four kids of former basketball professionals Shawn Holiday and Toya Holiday.
The brilliant basketball player Jure Holiday was born in Los Angeles on June 12, 1990. He holds American nationality and follows Christianity as his religion.
Holiday grew up in Los Angeles, California, and is blessed with three siblings, Justin, Aaron, and Lauren Holiday. It's a coincidence that his sister's name matches his wife's.
His parents, both of them are basketball players. They both played basketball at Arizona State. His mother, Toya, was named 1982 Pac-10 Player of the Year.
Likewise, his brothers are also NBA players. His oldest brother, Justin Holiday, is a professional basketball player for the Indiana Pacers, whereas Aaron Holiday is an experienced player for Washington Wizards.
He attended Campbell High School and UCLA College from 2008 to 2009. Previously, Jrue Holiday was interested in playing football and doing great in the same realm.
After he lost the football championship, he switched his preference to basketball. Later, he went undefeated in the basketball league. He acknowledged basketball as his actual profession.
Get to know Who are Holiday Brothers? Childhood, Career & Net Worth>>
Jrue Holiday | Basketball Career
High School Career
Jrue Holiday attended Campbell Hall School in Studio City, California. As a senior team member, he notched 25.9 points, 11.2 Rebounds, 6.9 assists, and 4.8 steals per game.
Therefore, in 2008, Jure Holiday was rated the No.1 point guard and No.2 overall prospect in the class by Rivals.com.
He was named a Parade first-team All-American and the 2008 Gatorade National Player of the Year.
Similarly, Holiday also played in the McDonald's All-American Game, averaging 14 points, five rebounds, three assists, and five steals.
College Career
In 2008-2009, Holiday played with Darren Collision (future NBA player) at UCLA.
He shot 45 percent from the ground, 30.7 % from the 3-point range, and 72.6 % from the line.
With his best performance, he earned Pac-10 All-Freshman team honors.
During his University season, he was declared for the NBA draft, forgoing his final three years of college eligibility.
Philadelphia 76ers
Jure Holiday was drafted in the 2009 NBA draft by the Philadelphia 76ers with the 17th overall pick.
He recorded a career triple-double with 11 points, ten rebounds, and 11 assists against the New Jersey Nets on November 5, 2010.
He was appointed as a reserve for the Eastern Conference All-Star team for the 2013 NBA All-Star Game.
The 22-year-old Jure Holiday became the youngest player in the franchise's history to be named an NBA All-Star Game.
New Orleans Pelicans
Jrue Holiday was traded to New Orleans Pelicans for Nerlens Noel in July 2013.
He reached the 5000 career points mark in January 2015.
He suffered injuries in more counts and had to rule out for most of the league's games.
Jrue Holiday made his debut for New Orleans Pelicans after missing the first 12 games while he was on leave to take care of his wife.
He scored 21 points on 8 of 14 in 23 minutes off the bench against Portland Trail Blazers.
Holiday re-signed with New Orleans Pelicans in July 2017.
In January, he became the first guard in NBA history with an average of 17 points, six rebounds, seven assists, and six blocks.
Holiday scored season-high 37 points, with nine rebounds and eight assists against Minnesota Timberwolves.
Milwaukee Bucks
Jrue Holiday was traded to Milwaukee Bucks in a four-team trade, including Oklahoma City Thunder and Denver Nuggets.
Holiday scored 15 points in 23 minutes of action and hit the victory with an 11-foot jump shot in a match against the Memphis Grizzlies in March 2021.
He averaged a team-high 1.63 steals per game in the NBA First Team All-Defense selection, the fifth-best in the league.
Moreover, he made multiple steals in around 32 games, the second-most highest score of any basketballer in the league over the season.
Holiday put up 27 points, nine rebounds, and nine assists, helping the Milwaukee Bucks to the final for the first time since 1974.
Holiday scored 27 points, 13 assists, and four rebounds in Game 5 of the NBA Finals against the Phoenix Suns.
Jrue Holiday recorded 12 points, 11 assists, and nine rebounds to help Milwaukee Bucks gain victory against the Phoenix Suns.
Therefore, with great contribution, the team secured the 2021 NBA title for the Milwaukee Bucks, and Holiday got his first Championship.
Holiday scored a career-high 40 points, five rebounds, five assists, and two steal against his former team, the New Orleans Pelicans.
Records & Achievements
NBA All-Star (2013)
NBA Champion (2021)
Pac-10 All-Freshman Team (2009)
NBA All-Defensive First Team for two consecutive years (2018, 2021)
NBA All-Defensive Second Team (2019)
Gatorade National Player of the Year (2008)
NBA Sportsmanship Award (2021)
NBA Teammate of the Year (2020)
First-team Parade All-American (2008)
McDonald's All-American (2008)
Third-team Parade All-American (2007)
California Mr. Basketball (2008)
Get to know the 12 Tallest Basketball Players in The World>>
Jrue Holiday | Net Worth
One of the professional basketball players, Jrue Holiday, has a net worth of $30 million.
He signed a contract extension worth $132 million for five years in 2017 with New Orleans Pelicans.
Similarly, he signed a four-year contract extension worth up to $160 million with the Bucks. His average salary will be around $33 million.
Moreover, he earns a good amount from sponsorship with Carnival Crop, SeatGeek, Panini, Smoothie King, etc.
According to Forbes, Holiday earned $500,000 yearly from his endorsement, mostly from his sneaker contract with Nike.
Shortly, his salary and endorsement made him one of the highest-paid athletes.
Jrue Holiday Charity Foundation
Both Jure and Lauren Holiday operate non-profit organizations with the objective of uplifting communities.
The organization aims to bring about a fair outcome for Black and Brown communities. They have continued to support the local Black community who'd been combating racial and social injustice.
Jure and Lauren Holiday are committed to flourishing communities by creating significant change when and where needed.
Please find out about their non-profit organization, JLH Social Impact Fund, taking the great initiative to make an optimistic change in the communities in more detail.
Age, Height & Weight
Born on June 12, 1990, Jrue Holiday is 32 years old.
He stands at the average height of 6 feet 3 inches (1.91 m) and weighs around 205 lb (93 kg).
He has an athletic physique with a magnificent brain to dominate the court.
Besides physical stats, his eye color is black, and his hair is black.
Jrue Holiday | Personal Life
The All-Star Point Guard married Lauren Holiday in July 2013.
Jrue and Lauren first met in college. They both played games for UCLA, and both of them are extensively competitive.
They started as friends, and then they believed their personalities just matched and got into a marriage.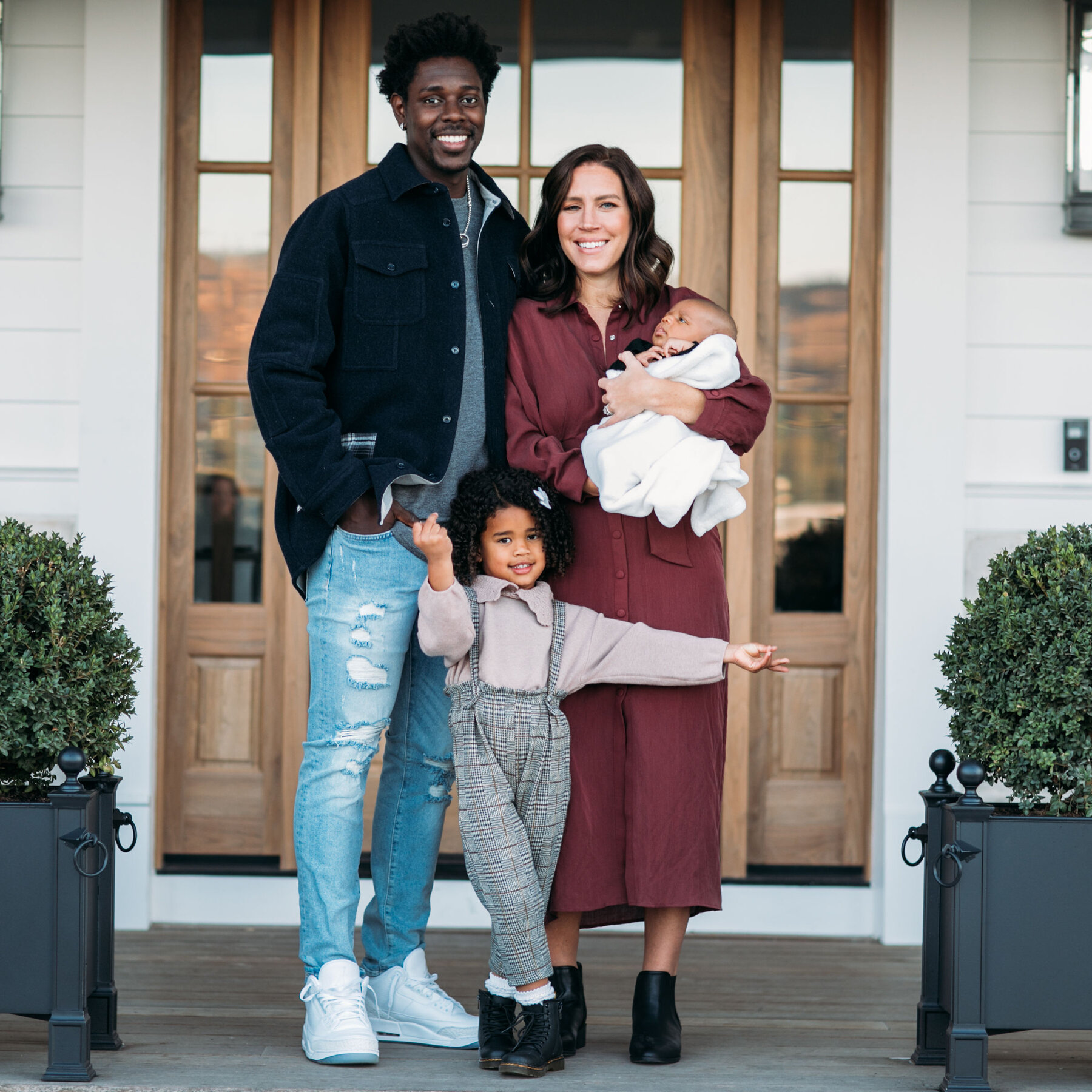 Lauren is a former professional football player for United States Women's National Football team.
Lauren Holiday is a two-time gold medals champion in the 2008 and 2012 Summer Olympics and won the 2015 Women's World Cup.
In September 2016, Lauren Holiday was diagnosed with a brain tumor during her pregnancy period of three months.
Jrue Holiday took a leave from his NBA career for his wife, Lauren Holiday's brain surgery. After his family felt secure, safe, and happy, he made his comeback to the NBA.
After the delivery of her first child, the tumor was successfully removed.
She gave birth to a beautiful baby girl named Tyler Holiday on September 20, 2016. She is an American child model.
They welcomed their second child, a baby boy named Hendricks, in late 2020.
Therefore, they made it through their highs and lows of life, and it can be reckoned as they share the most inspiring and strong relationship ever.
Social Media Presence
One of the popular professional basketball players, Jrue Holiday, is moderately active on social media. Therefore, the given numbers of followers are as of January 2022.
Frequently Asked Questions (FAQs)
How do you pronounce Jrue Holiday?
The professional basketball player Jure Holiday has a rare name pronounced Drew Holiday.
How good is Jrue Holiday?
Jrue Holiday is considered the most uncompromising defender among his teammates.