Freddie Freeman's brothers, Andrew and Phillip Freeman, support their brother behind the scenes. They remain away from the spotlight and plan to keep it that way.
Although he was born and raised in California, Freddie Freeman represents Canada on international stages. He does so to honor his late mother, Rosemary Freeman, a Canadian citizen.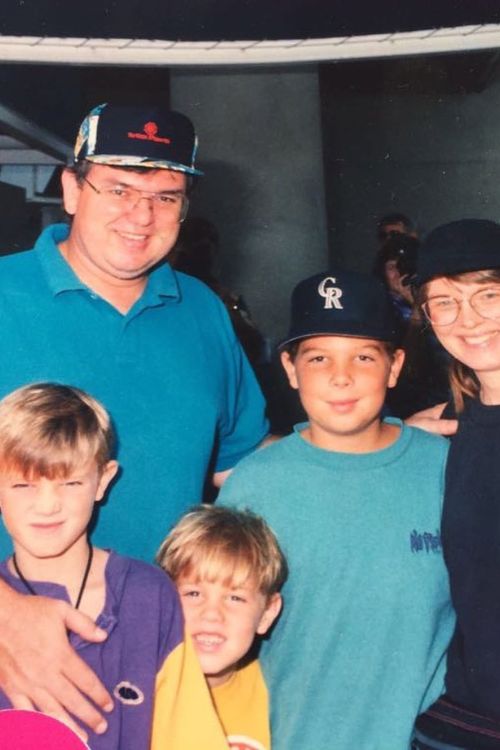 His father, Fredrick too, is a Canadian citizen born in Ontario. The driving force behind the Dodgers' star player success was to honor his late mother. Freddie only wants to make her proud, having lost her at age ten.
And so has he done in some great manner. A six-time All-Star, 2021 World Series Champion, and 2020 NL MVP are some of the achievements of the 33-year-old first baseman.
Last season after having signed with the Dodgers, Freeman has already made a great rapport with teammate Mookie Betts. The two World Champion players would want to win another ring by playing for the same team.
Freddie Freeman Brothers: Andrew, And Phillip Freeman
Freddie Freeman's brothers Andrew, and Phillip Freeman, remain away from the public limelight. The three brothers grew up in California and have taken separate career paths.
Unlike Freddie, Andrew Freeman is known for his real estate skills. Andrew, 37, is four years older than his superstar brother and has years of experience as a realtor.
Before becoming a realtor, Andrew also tried his hands at baseball, playing for El Modena in high school.
Andrew started his real estate journey with Union Bank's commercial section and switched to residential during the mid-2010s. He has worked with Keller Williams Realtor but hasn't updated his profile on the website, Realtor for a long time.
Freddie also has a Facebook page for his real estate business called Team-Freeman-Keller Williams Realty, which he hasn't updated since 2015.
On Twitter, Andrew can be seen sharing tweets in support of his brother. His last tweet was made before his brother took on the baseball field facing against Dodgers in the National League Championship Series.
Going through his Twitter and Instagram handles, it looks like Andrew is a father of two. He had previously shared a picture with his wife visiting a Jurassic Park-themed location.
Freddie Freeman's other older brother, Phillip Freeman, has kept himself away from the spotlight. He uses Instagram but has kept it in private mode.
Freddie Freeman Parents, Fredrick, And Rosemary Freeman
Freddie Freeman's parents, Fredrick and Rosemary, were born and raised in Canada. The couple later shifted to States, where they raised three sons.
The Dodgers star player, Freddie Freeman, was only ten when he lost his mother to cancer. Rosemary Freeman suffered from melanoma, a type of skin cancer, and lost her life in 2000.
Earlier this year, before appearing for Team Canada in WBC, Freeman stated he wanted to make his mother proud by representing her nation in the competition.
In recent years, Freddie has honored his mother in various ways. He wears a cross around his neck and has the initials RJF stitched inside his mitt.
In 2021, Freddie shared a series of pictures honoring his mother on the day she passed away 21 years ago.
His father, Fredrick Freeman, played an important role in helping him develop into a baseball player. The father of three left his hectic job as a certified public accountant to help his son in baseball practice.
In an interview with The Los Angeles Times, Freeman's high school coach, Steve Bernard, said that Fredrick dedicated his whole life to his sons.
Fredrick went on to remarry and currently calls Alma Prieto Freeman his wife. Alma shares a strong bond with Freddie, having attended several baseball games.