Gail Kim is happily married to her husband, Robert Irvine, a world-renowned celebrity chef.
The lovely couple met during his cooking show and have since been together. They claim to be a perfect fit for one another, which is evident through their long partnership.
Gail Kim is a retired Canadian professional wrestler who is currently working as a producer with Impact Wrestling.
During her tenure in Impact Wrestling, she achieved a remarkable feat by becoming the inaugural seven-time Knockouts Champion.
Notably, she had two stints in WWE, where she made history by winning the WWE Women's Championship in her very first match.
Kim initially began her wrestling career in the Canadian-American independent circuit before joining WWE in 2002.
Following her departure from WWE in 2004, she joined TNA in September 2005, where she served as the valet for the tag team America's Most Wanted.
After the dissolution of the group, Kim continued her career as a singles wrestler, ultimately becoming the first-ever TNA Knockouts Champion in October 2007.
In 2012, Pro Wrestling Illustrated honored Kim as the top female wrestler in the world, and in 2016, she became the first female inductee into the TNA Wrestling Hall of Fame.
Surprisingly, Gail is set to make her return to the wrestling ring at IMPACT 1000 on September 9, but the identity of her opponent remains unconfirmed.
Gail Kim Husband, Robert Irvine
Robert Paul Irvine is an acclaimed English chef and talk show host who has appeared on various Food Network programs.
He is widely known for his hit television show, "Restaurant: Impossible," where he offers struggling restaurant owners an opportunity to revive their businesses.
A portion of the proceeds generated from Robert's various endeavors goes towards supporting the Robert Irvine Foundation, established in 2014.
This foundation is dedicated to giving back to our brave servicemen, women, and first responders.
The funds raised are crucial in assisting veterans and first responders in various ways.
Robert has earned several civilian honors for his outstanding charitable efforts and dedicated service on multiple USO tours.
When he's not busy filming television shows or participating in overseas USO activities, you can find Robert Irvine on tour with "Robert Irvine LIVE."
This engaging event involves unpredictable interactive cooking challenges performed in front of enthusiastic live audiences in packed theaters.
Even with his busy life, he still has time for workouts and exercise.
In recognition of his active lifestyle and strong dedication to physical fitness, Irvine earned a spot on Men's Fitness magazine's prestigious list of the "Top 25 Fittest Men in America" in 2007.
A Busy Lifestyle
Despite being married for nine years, the couple doesn't get to spend much time together.
It is primarily due to Robert's demanding work schedule, which keeps him on the road for most of the time.
Nonetheless, Irvine and Kim managed to stay connected by using FaceTime whenever possible.
When they finally reunite at their home in Florida, they find solace in each other's company, often unwinding together on the couch.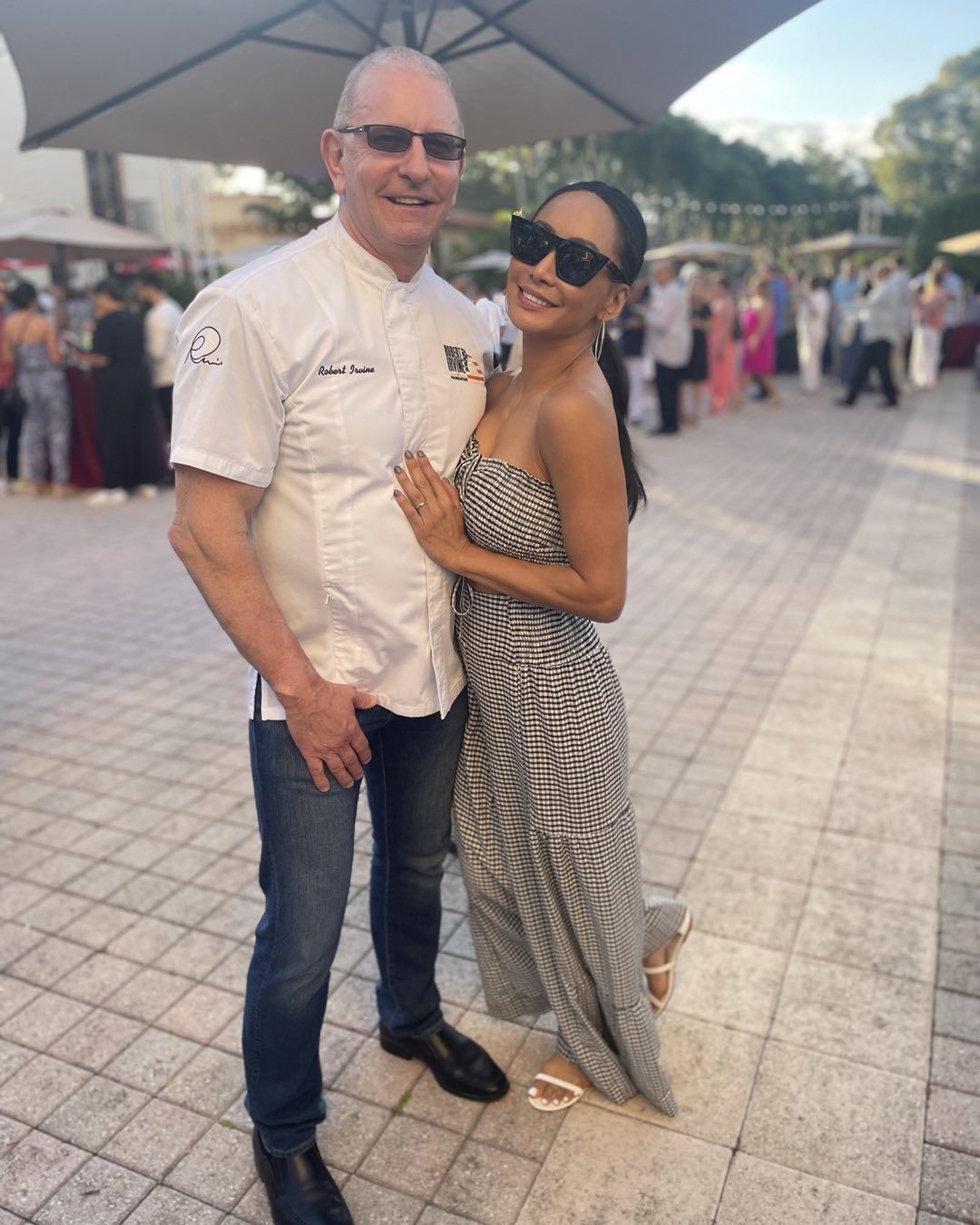 The chef attributes the success of their loving relationship to Kim.
Their paths first crossed when Kim made a guest appearance on one of Irvine's TV shows, "Dinner: Impossible."
Their relationship evolved from there, eventually leading to their marriage on May 10, 2012.