2023 is going to be very special for golf star Garrick Higgo because he is getting married to his fiancée Chandre Janeke this September. Read the article till the end to learn about Garrick Higgo wife-to-be.
South African professional golfer Garrick Higgo plays on the PGA, European, and Sunshine Tours.
During his amateur career, he won numerous titles, securing the top spot in the South African Golf Association Open Amateur Rankings.
The 24-year-old athlete turned pro in 2019 and got off with an impressive start. In his first Sunshine Tour season, Higgo secured two wins- at the Sun City Challenge and the Tour Championship.
In 2020, he secured his maiden European tour championship and added two more the following year.
Higgo had a noteworthy year in 2021, winning the PGA's Tour Palmetto Championship by one stroke. With the win, he received a PGA Tour membership through the end of the 2023 season.
Likewise, he even attained the highest ranking of #38 in 2021. As of the most recent world golf ranking, Garrick ranks at 182nd position.
Garrick Higgo Wife
Professional player Garrick Higgo is in a relationship with his wife-to-be, Chandre Janeke. The couple have been together since November 2017.
Garrick proposed to Chandre on December 10, 2021. The engaged couple is set to exchange their wedding vows on September 9th, 2023.
Chandre celebrates her birthday on March 18th every year. She is originally from Johannesburg, Gauteng, but currently resides in Stellenbosch. Just like Garrick, she holds South African nationality.
Moreover, she graduated with BA in Humanities from Stellenbosch University. Regarding her private life, there is hardly any information. Even her Instagram account is not public.
Based on Garrick's Instagram, it seems like the couple often travels together and has a great relationship.
Garrick Higgo Parents
Family man Garrick Higgo was born on May 12, 1999, to his parents, Susan and Michael Higgo. He grew up alongside his siblings, Calista and Michael. His older brother, Michael, is a business major, and his younger sister, Calista, is a fashion student.
His father, Michael, a rugby and cricket player, introduced him to golf. He began playing golf with his father at a young age and quickly became passionate about the game.
They played golf in Pecanwood, less than an hour from their home. Sadly, his father died in a car crash in 2008 when he was 9.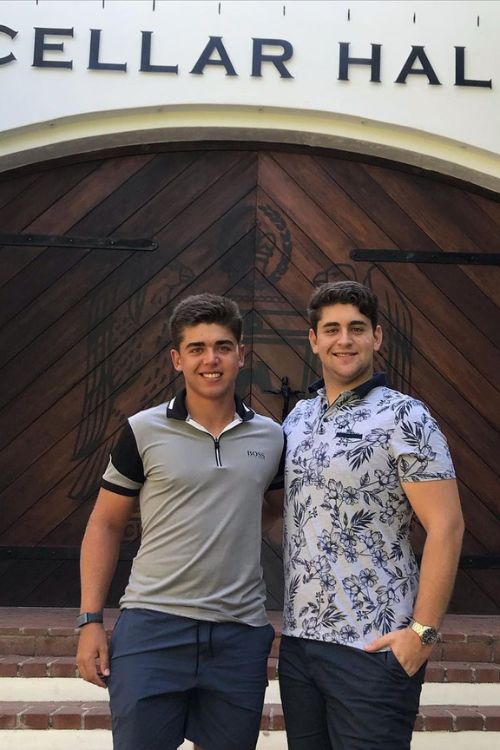 According to different sources, Higgo's mother is an engineer. After his father's death, his mother moved him and his siblings to Stellenbosch.
Since the beginning, his family has always supported his aspirations motivating him to achieve more in his career.
Most importantly, Higgo's mother has done a lot in raising the children. The supportive mom is active on Twitter, where she frequently tweets about Higgo's games.
Garrick Higgo Net Worth
PGA golfer Higgo has an estimated net worth of about $2- $3 million. He generates his income from his professional career.
The player competes in various championships and earns prize money, which adds to his wealth. In 2021, he won more than $1,300,000 as prize money after winning the PGA Tour title. He has a total career earnings of $3,303,527.
Besides his career earnings, Higgo also earns well from various lucrative endorsements and sponsorship deals. The golfer is still in his early career and is expected to earn more in the coming years.