Gary Harris, an American professional basketball player, plays for Orlando Magic in the NBA. The shooting guard inherited his basketball passion from his mother, a former WNBA player.
An alumnus of Michigan State, Harris was the 2014 NBA Draft pick of the Chicago Bulls & saw subsequent trade to Denver Nuggets. After playing with the Nuggets from 2014 to 2021, the NBA star signed with Orlando Magic.
From his two-year extension deal with the Magic, Gary is committed through the 2023-24 season.
Gary had a passion for football and basketball in his formative years, but when it came down to making a decision, he chose to pour his heart and soul into the sport of basketball.
On January 21, 2023, he was inducted into his alma mater's prestigious Hamilton County Basketball Hall of Fame due to his accomplishments on and off the court.
Keep reading to learn more about the NBA star Gary Harris & his family, along with insights into his net worth & business ventures!
Quick Facts
| | |
| --- | --- |
| Full Name | Gary Harris |
| Date of Birth | September 14, 1994 |
| Age | 29 years old |
| Birth Place | Fishers, Indiana |
| Nationality | American |
| Religion | Christianity |
| Zodiac Sign | Virgo |
| Chinese zodiac | Dog |
| Height | 6 feet 4 inches/ 1.93 m/ 193 cm |
| Weight | 95 kg/ 210 lbs |
| High School | Hamilton Southeastern |
| University | Michigan State University |
| Father's Name | Gary Harris Sr. |
| Mother's Name | Joy Holmes |
| Tattoos | Yes |
| Girlfriend | N/A |
| Children | One |
| Profession | Basketball player |
| League | NBA |
| Position | Shooting Guard |
| Current Team | Orlando Magic |
| Jersey Number | 14 |
| NBA Draft | Round: 1, Pick: 19th overall, 2014 (Selected by the Chicago Bulls) |
| Playing Career | 2014-present |
| Net Worth | $20 Million |
| Social Media | Instagram, Twitter |
| Merch | Signed Card |
| Last Update | March 2023 |
Gary Harris Family | Parents & Siblings
Born on September 14, 1994, Gary Harris hails from Fishers, Indiana. He is the eldest of three children to Joy Harris (nee Holmes) and Gary Harris Sr, who have been married since April 23, 1994.
The NBA power forward has two younger brothers: Cameron (b. March 31, 2001) and Trey Harris (b. December 17, 2004).
Growing up, Gary caught a basketball passion & the credit goes to his mother, Joy, a former WNBA player who played for Detroit Shock in 2000.
After basketball retirement, she was a college assistant coach at Cincinnati, Middle Tennessee State, and Indiana University-Purdue University Indianapolis. Now, she works as a real estate agent.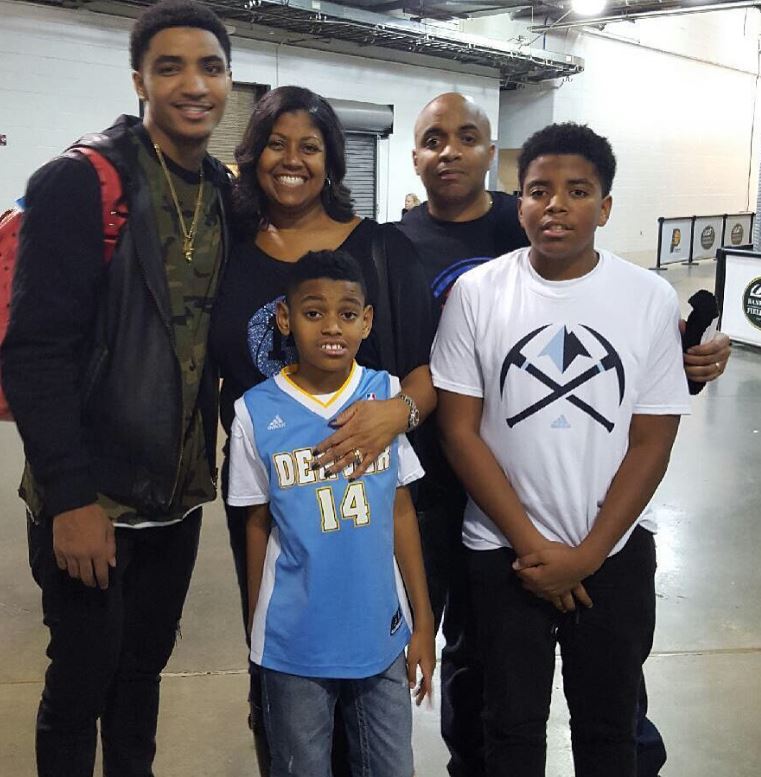 A standout of Mansfield Senior High School, Joy Harris (Gary's mom) averaged 20 points per game.
Then, at Purdue University (1988- 1991), she became Big Ten Conference Player of the Year in her senior year, averaging 14.7 points and 6.2 rebounds per game.
Likewise, Joy was also inducted into the Ohio Basketball Hall of Fame in 2016.
She trained her future NBA star son Gary to become a pro, and the mama agrees that she was tough on him initially and pushed him to do everything right.
Gary's father supported his wife's basketball journey and encouraged his son to follow his passions. However, he initially thought Gary was better suited for football.
How Old Is Gary Harris? Height & Body Measurements
Gary, born in 1994, is currently 29 year sold.
Talking about his physical features, the player stands 6 feet 4 inches (1.93 m) tall and weighs 95 kg (210 lbs). The player has brown eyes and braided black hair.
The player has many tattoos carved into his body. Harris displays his faith through a tattoo of praying hands and a crucifix on his left shoulder.
Likewise, his fun side is depicted through a tattoo of Huey and Riley Freeman from the popular cartoon series "The Boondocks" on his right ankle.
A Grad Of Michigan State University
Gary Harris attended Hamilton Southeastern High School in Fishers, Indiana, where he played basketball and football.
After that, he went on to play college basketball at Michigan State University. Gary was named the Big Ten Freshman of the Year in 2012-13.
Likewise, in 2013-14, he earned several accolades, including first-team All-Big Ten, and was named an honorable mention Associated Press All-American.
After his sophomore year, the Indiana-born declared for the NBA draft in 2014, forgoing his final two years of college.
Collegiate Highlights & Awards
2014 First-team All-Big Ten
2013 Second-team All-Big Ten
2014 Big Ten All-Defensive Team
2013 Big Ten Freshman of the Year
2013 Big Ten All-Freshman Team
2012 McDonald's All-American
2012 First-team Parade All-American
2012 Indiana Mr. Basketball
NBA Career & Injuries
In the 2014 NBA Draft, the Chicago Bulls selected him as their 19th overall pick (round-one) but traded him to the Denver Nuggets immediately.
Harris played for the Nuggets from 2014 to 2021, having played in the NBA playoffs twice but failed to win the NBA Championship Ring.
In the 2019 NBA Playoffs (2018-19 season), he led the Nuggets to the Conference Semifinals, where they lost to Blazers.
And later in the 2020 NBA Playoffs (2019-20 season), the team lost to LA Lakers in Conference Finals by 1-4 in the 5-game series. There, he scored 104 points with 28 rebounds & 16 steals while making 24 assists.
On March 25, 2021, the Nuggets traded Gary Harris to the Orlando Magic in exchange for Aaron Gordon and Gary Clark.
In the 2021-22 season, he played in 61 games for Orlando, scoring 679 points (11.1 points per game), & averaged 1.9 three-point field goals, 2.0 rebounds, 1.8 assists &1.0 steals per game.
The Magic offered him a two-year, $26 million contract extension on June 30, 2022. It would keep him throughout the 2023-24 season, wearing jersey number #14.
Injury History
The player has suffered several injuries throughout his career. He missed the first seven games during the 2014-15 season due to a back injury. In 2015, he suffered a concussion and was forced to miss six games.
On October 5, 2016, due to a partially torn right groin, Harris was ruled out for four to six weeks. Later that year, a foot injury kept him out of the court for 16 games.
The player missed 11 games in December 2018 due to a right hip injury. And early 2019, hamstring tightness and a right adductor strain forced him to miss five and seven games, respectively.
Despite these setbacks, Harris has continued to be a key player for the Denver Nuggets and, later, the Orlando Magic.
Gary Harris Net Worth | NBA Contracts & Earnings
The 2012 Indiana Mr. Basketball Gary Harris has an estimated net worth of $20 million as of March 2023.
The amount is justifiable, given that Harris, as a notable NBA player, made $93.647 million in earnings from nine NBA seasons (up to the 2022-23 season).
He was the 2015 NBA Draft pick of the Chicago Bulls before being traded to Denver Nuggets. With the Nuggets, he signed a two-year rookie contract worth $3.11 million on July 9, 2014.
View this post on Instagram
After that, the NBA player signed the following deals (all with the Nuggets):
Option contract for the 2016-17 season worth $1.66 million (on October 11, 2015)
Option contract for the 2017-18 season worth $2.55 million (on October 21, 2016)
A 4-year $84 million contract extension (signed on October 12, 2017)
Then, he was traded to Orlando Magic, where he inked a two-year contract worth $26 million on June 30, 2022. The deal offered him $13 million guaranteed and an average annual salary of $13 million.
His salary is $13 million each for the 2022-23 season & 2023-14 season.
Real Estate & Business Ventures
Gary has a keen eye for profitable investments. He has been growing his portfolio of real estate properties and land parcels in his home state of Indiana and beyond.
In late 2018, Harris bought a three-bedroom & three-bathroom condo in a 44-story building in downtown Denver for $4.5 million.
After his trade to Orlando Magic, the basketball star put his 4,903-square-foot residence on the market, asking for $5.25 million in August 2021. There are no updates on the sale of the property.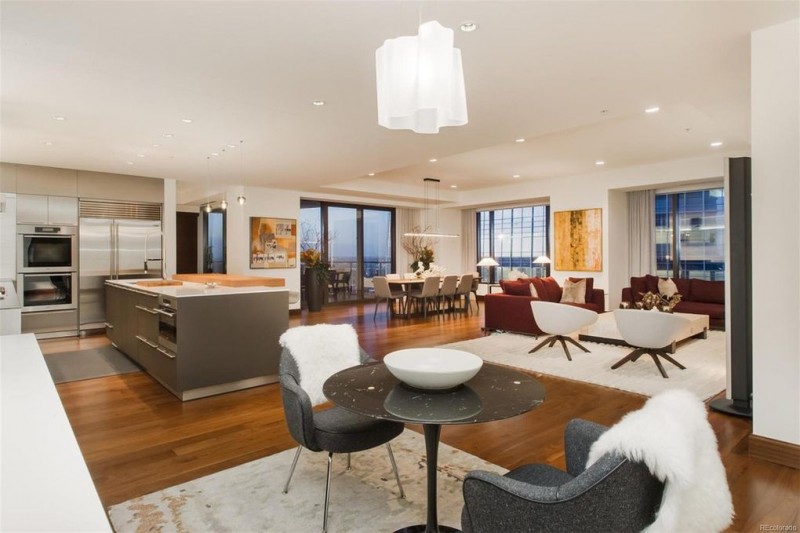 Aside from that, Harris is into investments in start-ups too.
In 2021, the NBA player joined in a $6 million Series A funding round for Ballogy Inc., an app for basketball players looking to track their progress and improve their skills.
But that's not all! The player has also invested in the Swiftarc Ventures Labs Fund, an early-stage vehicle sponsored by the rising VC firm Swiftarc Ventures.
The other heavy hitters in this fund include Travis Kelce from the Kansas City Chiefs, Tim Hardaway Jr. from the Dallas Mavericks, and Mason Plumlee from the Detroit Pistons.
Harris Has A Son | Is He Dating Or Married Now?
With the NBA fame, fans seeking insight into Gary's relationship comes with no surprise. But the basketball star likes to keep his love life under wraps.
Gary is father to a son named Hendrix, born on January 28, 2020, who is now 3 years old.
As per the Nuggets' coach Michael Malone, the player was off from his then-team briefly in the 2019-20 season for his son's birth.
Surfing through the shooting guard's Instagram (@thats_g_), with more than 155K followers (as of this writing), there are no mentions of his family, lover & son.
Though on his mother's IG posts (@jharris40), Gary Harris is seen with his beau & baby boy. Further detail on his baby-mama is not out.
It is not clear if the NBA player is married or dating her.
His father, Gary Sr., also mentions his grandson (Gary's son Hendrix) on his Instagram (@gtoddharris).
Interesting Facts
Harris was the overall 19th pick of the Chicago Bulls in the 2014 NBA Draft but was immediately traded to Denver Nuggets along with Jusuf Nurkić while acquiring Doug McDermott & Anthony Randolph.
On December 29, 2022, Gary Harris was suspended for one game by the NBA after his involvement in an altercation in a game against the Pistons on December 28. Moreover, he had to pay a fine of $89,655.
Throughout his NBA career (up to the 2022-23 season), Harris had paid a total of $109,655 in fines, mostly for technical fouls.
At high school, Gary was a two-sport athlete; he played football and basketball before pursuing a professional career with the latter.
Harris is active in various charitable works. He hosted a bowling event for children from local youth organizations in October 2019. At the event, the player surprised 15 children from the Boys & Girls Club with brand-new bikes to reward their athletic and academic success.
Frequently Asked Questions (FAQs)
What is the jersey number of Gary Harris?
Gary wears jersey number 14 with the Orlando Magic.
Who is Gary Harris's girlfriend?
The girlfriend of Gary Harris is not publicly known. Gary is private about his personal life and has not disclosed information about his relationship status.
How much does Gary Harris make?
The NBA player currently plays for Orlando Magic on a two-year extension signed on June 30, 2022. It earns him a salary of $13 million for both the 2022-23 & 2023-24 seasons.