Gerald Meerschaert is a professional mixed martial artist who fights in the Ultimate Fighting Championship. Moreover, he has fought in the light heavyweight, middleweight, and welterweight divisions.
However, currently, he is in the middleweight division. Also, he is famous by the name "GM3" or "The Machine." Meerschaert got this nickname during his MMA days.
Besides that, UFC ranks Gerald as the #45 middleweight champion in 2021. This fighter has fought against renowned MMA and UFC fighters.
Gerald's and Khamzat Chimaev's fight became the town talk when Khamzat knocked out Gerald in 17 seconds at UFC Fight Night, held in Las Vegas.
However, Gerald has always been optimistic about his and Khazmat's fight, and Gerald never defames Khazmat in front of any media. Indeed, Gerald handles this situation with grace.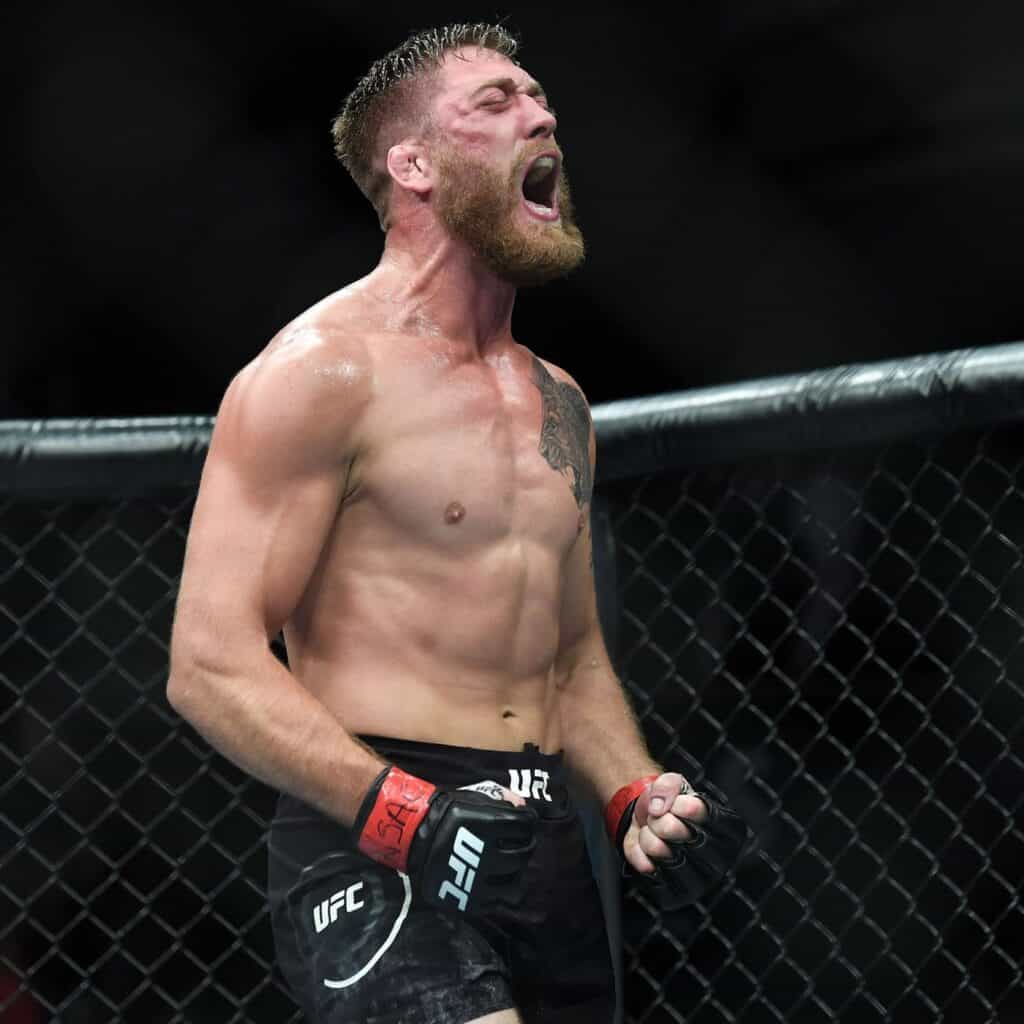 Before getting into details about Gerald's life and career, here are some quick facts about him.
Quick Facts
Name
Gerald Edward Meerschaert III
Birthplace
Racine, Wisconsin, United States
Birthdate
December 18, 1987
Age
33 years old
Nationality
American
Ethnicity
White
Religion
Unknown
Nickname
GM3, The Machine
Height
6'1″/1.85 m
Weight
84 kg/185 lb
Hair Color
Brown
Eye Color
Blue
Profession
Mixed Martial Artist
Affiliation
MMA, UFC
Rank
Black belt in Roufusport kickboxing
Brazillian Jiu-Jitsu black belt
Reach
77 inches
MMA debut
2007
UFC debut
2016
Sibling
Jacob Kornwolf
Father Name
Unknown

Mother Name
Unknown

Education
Walden III Middle and High School
Body Shape
Athletic

Horoscope

Sagittarius
Teacher

Duke Roufus
Wins
By knockout-6
By submission- 23
Decision- 2
MMA Record
31-14
Net Worth
$500,000
Fighters Salary
$43,000
Sexual Orientation
Straight
Marital Status
Unmarried

Girlfriend
Unknown
Children
No
Achievements
Ultimate Fighting Championship
Combat USA Championship
Resurrection Fighting Alliance

Social Media
Twitter, Instagram
UFC Merch
Gloves, Shorts, Action Figures
Last Update
2021
Gerald Meerschaert | Early Life, Family, and Education
Gerald Meerschaert was born in Racine, Wisconsin, United States. His parents were Americans. Although not much information is available regarding Gerald's parents.
But as per the sources claim, we came to understand that Gerald had an average childhood. Gerald's father was also his great role model, and as a child, Gerald was very close with his father.
Similarly, from a very early age, he was interested in Taekwondo. As a result, he joined the Taekwondo class when he was in grade five.
Meerschaert completed his primary education and high school education from Walden III Middle and High School.
However, Gerald never thought about being a professional fighter, even though he was interested in Taekwondo.
Furthermore, Gerald enrolled at the college after completing high school, where he chose music education to be a music teacher.
Additionally, never in the wildest dreams had he thought of being a fighter. However, when Gerald started seeing MMA and UFC on television, he started to get interested in that.
Nonetheless, he finally decided to pursue fighting and began training at 19. Some years later, he debuted as an MMA fighter.
Since then, Gerald has never looked back as he has found the passion that drives his life.
Gerald Meerschaert | Career
Early Career
With perseverance and will to make it as a professional fighter, Meerschaert entered the cut-throat world of MMA.
Gerald started his professional MMA career in 2007. Moreover, he had an amateur MMA record of 1-0.
At the beginning of his career, Gerald fought most of his fight at the Freestyle Combat Challenge. He won his first-ever match in MMA in 2007, two months after losing his first match with Jay Ellis.
Similarly, after his last fight in freestyle combat in 2008, Gerald decided to join the Madtown Throwdown promotion. Undoubtedly, Gerald won the match via a rare-neck choke.
However, even after so many years of joining MMA, Meerschaert didn't fight in a cage match until 2009. Unfortunately, he lost his first cage match via kneebar, which he fought against Kenny Robertson.
Throughout Gerald's early career, he was seen in a lot of cage matches. But the game that brought a change in his life was the one that happened in his hometown, Racine.
Finally, he won the cage match against Morrison Lamb via a guillotine choke.
After that, Gerald took a break from cage matches, following his loss with the Goodman. However, he returned one and a half years later and faced Eddie Larrea, and amazingly won the game.
Also, Gerald fought his first match of 2016 for the Light Heavyweight division against Sidney Wheeler. However, Gerald forced Sidney to tap out by threatening him with a kimura.
However, Gerald's last match in MMA was with Chase Waldon for Middleweight Championship. Undoubtedly, Gerald won the game via submission and earned an RFA middleweight title.
UFC Career
Undoubtedly, joining UFC is a dream of many fighters. Similarly, Gerald Meerschaert also joined UFC in 2016 after ending his ten-year-long career in MMA.
Not surprisingly, Gerald won his first-ever match in UFC in 2016, his debut match. For that performance, Gerald even received the Performance of the match award.
Since then, Gerald has been performing well in all of his fights. He has successfully made a name of his own.
Besides, many UFC lovers adore him, and he has even become people's favorite.
Similarly, in 2020 his opponent Ian Wan was tested positive for COVID-19 two days before their match. Though Anthony Ivy replaced Ian, he later found that the initial reports were false.
After testing again, Ian got the chance to face Gerald for the match. It ended up with Meerschaert's loss.
In August of 2020, Gerald had a match against Ed Herman for the light heavyweight title. Sadly, Gerald was tested positive for coronavirus on the day of the event.
Unfortunately, the MMA fighter had to pull out from the match, and UFC canceled the heavyweight title match.
Then the match was rescheduled for September 2020, but Gerald again withdrew due to some unknown reasons, and John Allan Arte replaced him.
However, the match that gave Gerald the maximum number of footage was with Khazmat Chimaev. Unfortunately, Gerald lost the game in just 17 seconds, which became the talk of the town.
As for his next fight, Gerald is expected to spar Bartosz Fabinski. It will be held at UFC Fight Night: Whittaker vs. Gastelum on April m17, 2021.
Highlights And Achievements
Out of a total of 45 matches, Gerald has won 31 games in MMA.
Gerald Meerschaert has won Performance of the Night 2 times.
One-time Middleweight Champion.
Former Wisconsin State Middleweight Champion.
Gerald's highest quarterly ranking: #29 Middleweight
Gerald Meerschaert | Age, Height, and Weight
Since the fighter was born on December 18, 1987, Meerschaert is 33 years old. As a professional athlete and MMA fighter, he takes care of his body quite well.
Furthermore, the American fighter is reasonably fit and has a toned and athletic physique.
Besides that, this UFC champ is 6 ft 1 inch tall and weighs around 84kg. Meerschaert has beautiful blue eyes and brown hair.
According to his birth chart horoscope, he is a Sagittarius. Undoubtedly, Gerald is a risk-taker; he never settles for less and is always trying new things.
Also, the American-born has worked hard to be in the position in which he is today. This result comes from his hard work, dedication, and passion for his work.
Undoubtedly, Gerald is an inspiration to a lot of youths. He is a perfect example of "Hard work pays off." From an ordinary person from an average family to a renowned fighter, the journey has been challenging.
Gerald Meerschaert | Personal Life
As of now, the UFC fighter has not been linked with anyone. Although rumors of him being in a relationship arise from time to time, he has not confirmed any of this news.
Hence, he is living his life to the fullest possible as of now. However, he has shared the news of him going to be a father on his Instagram handle.
Gerald is expecting a child; this proves that Gerald is in a relationship. However, the fighter has kept his relationship secret, and nobody knows who the mother of his upcoming kid is.
For now, Gerald is focusing on his career. He is working hard to be in the position he has dreamt of achieving for himself.
However, Gerald is a timid person, and he likes keeping his personal life private.
Gerald Meerschaert | Net Worth and Salary
Without a doubt, Gerald has earned most of his wealth through his career in the Ultimate Fighting Championship. As per sources, Gerald has a net worth of $500,000.
But some sources assume Gerald's salary to be $43,000.
Nonetheless, as sources claim, Gerald is currently living his best life.
Gerald Meerschaert | Social Media Presence
The MMA/ UFC fighter is quite active on social media platforms. Hence, he has an Instagram account with 20.2k followers and a Twitter account with 14.5k followers.
In all seriousness I genuinely hope he has a full and fast recovery 🙏 https://t.co/XRRxyuD6ox

— Gerald Meerschaert (@The_Real_GM3) February 17, 2021
Likewise, Gerald shares bits of his workout and training sessions with his social media fans.
The UFC fighter is shirtless of his Instagram photos, where he shows his fit body. Recently, he has shared the news of him going to be a father on his Instagram handle.
Common Queries:
Is Gerald Meerschaert going to be a father?
Yes, he has recently announced the news of him becoming a father through his Instagram handle.
Is Gerald Meerschaert in a relationship?
Yes, he is, but he has kept his love life private as he is a shy person.
What is Gerald Meerschaert MMA stat?
Gerald has been in 45 matches, out of which he has won 31 games.