Gerwyn Price is a professional darts player from Wales and a former rugby union and league player.
He is known as "The Iceman" and participates in Professional Darts Corporation (PDC) competitions.
He is the current world number one, the 2021 world champion, and the first Welshman to do so.
As a result of his victory, Gerwyn has surpassed Michael van Gerwen in the global standings and is now the new world number one.
In 2016, he cracked the top 32 on the PDC Order of Merit and won his first Pro Tour title shortly after.
The Iceman finished second in the UK Open in 2017, his first major event final, and played in the elite Premier League Darts competition three times, finishing 10th, 5th, and 5th, respectively, in 2018, 2019, and 2020.
Further, at the 2018 Grand Slam of Darts, Price won his first major title contentiously. Moreover, the Welsh player defended his championship in 2019 and won it again in 2021.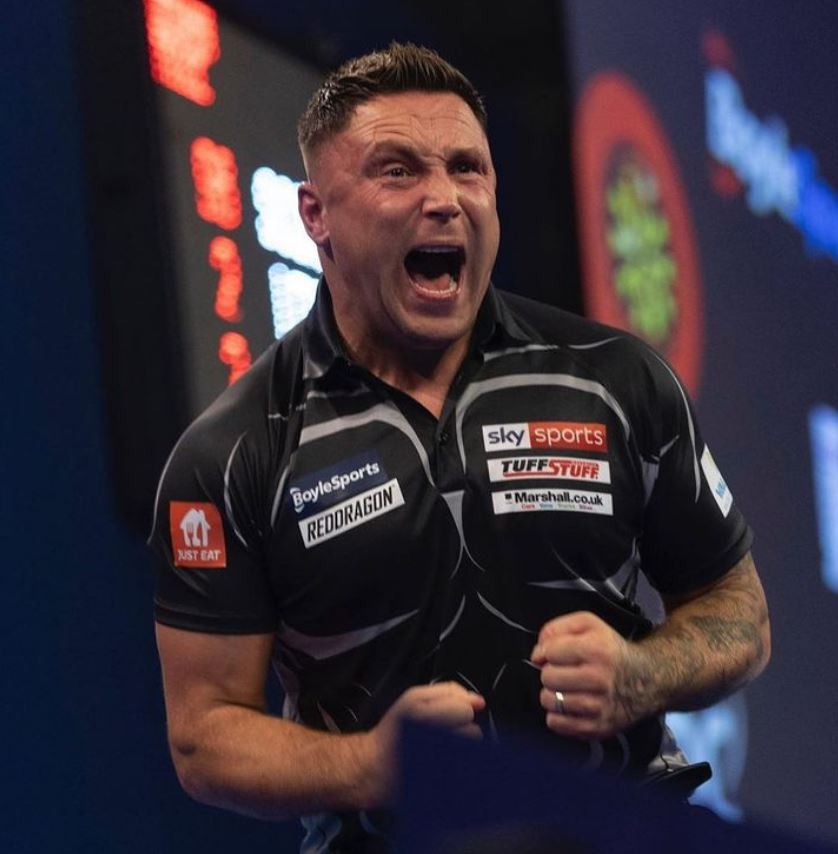 Today we are here with all the career highlights and controversies in the life of the Welsh World Champion.
Further, the article reveals information about the player's social media and net worth. So scroll down and read to find everything about Gerwyn Price
But, before that, look at some quick facts about the Welsh player.
Quick Facts
| | |
| --- | --- |
| Full Name | Gerwyn Price |
| Birth Date | March 7, 1985 |
| Birth Place | Cardiff, Wales |
| Nickname | The Iceman |
| Nationality | Welsh |
| Ethnicity | White |
| Hobbies | Rugby, Darts |
| Food Habit | Non-vegetarian |
| Education | Not Available |
| Zodiac Sign | Pisces |
| Father's Name | Not Available |
| Mother's Name | Not Available |
| Laterality | Right-handed |
| Age | 38 years old |
| Height | 5 feet 8 inches (178 cm) |
| Sexual Orientation | Straight |
| Weight | 214 lb (97 kg) |
| Eye Color | Black |
| Hair Color | Black |
| Profession | Professional Darts Player |
| Coach | Not Available |
| Marital Status | Married |
| Wife | Bethan Palmer Price |
| Children | Two daughters (Emily Price and Bethany Price) |
| Net Worth | $1.5 million |
| Social Media | Instagram, Twitter |
| Merch | RED DRAGON Gerwyn Price Blue Ice SE Darts Set |
| Last Update | May 2023 |
Gerwyn Price: Body Measurements
The darts player Gerwyn Price was born in the year 1985. He was born in the Ox year, according to the Chinese calendar. Talking Price's physique, he has an athletic build.
The player follows healthy nutrition and exercises daily. Moreover, the Welsh player weighs about 97 kg and stands 5 feet 8 inches.
Gerwyn wears shoes of size 8.5 (U.S.). Likewise, Price does not have any tattoos on his body.
Further, he has brown eyes and light brown hair. His nationality is Welsh, whereas his ethnicity is White.
Further, Price's zodiac is Pisces. With the Pisces sign, Sapiens is protective, loyal, and determined. They are also charming and romantic.
The Welsh player Gerwyn Price is no different.
Gerwyn Price: Career
Rugby
Before starting his career in darts, Gerwyn was a professional Rugby player. He was a hooker for Welsh Premier Division clubs Neath and Cross Keys.
Additionally, he also played for the South Wales Scorpions in rugby league. During the Pro12 competition, Price also had a brief time as injury cover for Glasgow Warriors' first-team players.
Cross Keys won the 2011–12 WRU Challenge Cup during Price's tenure with the club, with Price scoring a try in the final.
Gerwyn played rugby union for Neath and Cross Keys in the Welsh Premier Division and the Pro12 for Glasgow Warriors during his Rugby days.
Further, he also played in the rugby league for the South Wales Scorpions. However, Gerwyn retired from rugby in 2014 to devote his full-time attention to darts.
Also, read Gary Anderson's Bio: Career Highlights & Controversies>>
Starting with Darts
Gerwyn began his darts career with his hometown team, Markham Welfare. He then moved on to Aberbargoed in the Super League.
The Welsh player was successful in the second tournament after Welsh darts professional Barrie Bates recommended him to enter Qualifying School to join the Professional Darts Corporation (PDC) in January 2014.
On the day, he won six matches, culminating in a 5–3 win over Rowby-John Rodriguez to earn a two-year tour card.
Likewise, Price qualified for the 2014 UK Open. However, he lost in the second round to Aden Kirk 5–2.
Advancing his Darts Career
During the first half of 2014, Gerwyn reached the last 16 stages of two Players Championship tournaments, losing to Michael van Gerwen and Stephen Bunting, respectively.
Likewise, Gerwyn beat former world number one Colin Lloyd 6–2 in the European Darts Open in July, averaging 98.32.
Further, he also led Gary Anderson 2–0 in the second round. However, he lost 6–3. Likewise, the Welsh player defeated Lloyd, Kirk, James Wade, and Wayne Jones at the 13th Players Championship.
It was his first time reaching the quarter-finals. Gerwyn was defeated 6–5 by Adrian Lewis in the quarter-finals.
In mid-September, Price qualified for the European Darts Trophy in Leipzig. In the first round, he defeated Bernd Roith 6–3.
Moreover, he advanced to the second round to face Steve Beaton. He beat Beaton 6–3 and then Vincent van der Voort in the next game with a strong effort that featured the tournament's best finish of 167.
Gerwyn came close to qualifying for the 2014 World Grand Prix, needing a spot in the semi-finals, but was defeated 6–3 by Andy Hamilton in the quarter-finals.
Price's stellar start to his darting career continued as he advanced to the semi-finals of the 19th Players Championship, where he was defeated 6–3 by Ian White.
Gerwyn Price: Achievements
In 2015, the Welsh Player broke into the top 64 on the PDC Order of Merit for the first time.
Further, in 2016, he again broke into the top 32 on the PDC Order of Merit for the first time. Likewise, Gerwyn also went into the top 16 on the PDC Order of Merit for the first time in 2017.
Gerwen became the first Welshman to win a PDC televised major by winning the Grand Slam of Darts in 2017.
2018 was also a big year for Gerwyn as he broke into the top 8 on the PDC Order of Merit for the first time. Moreover, he ranked number 6.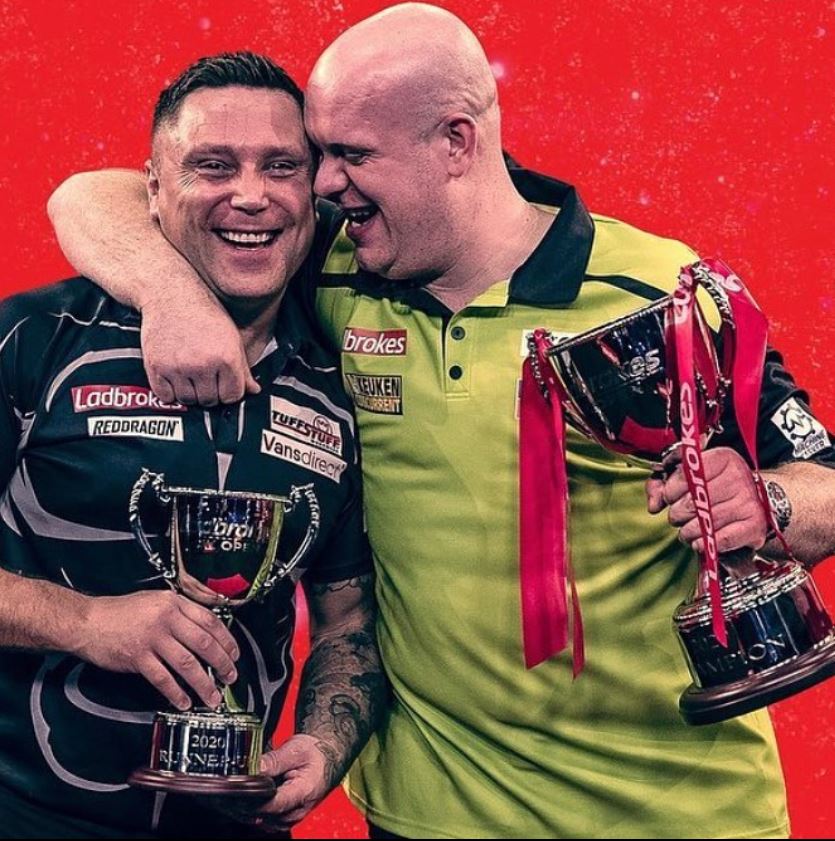 Further, Gerwyn reached the top 4 on the PDC Order of Merit for the first time in 2019. The victory made him the first Welsh player to do so as a World number 3.
In 2021, Gerwyn Price became the first Welshman to win the PDC World Darts Championship. He was the new World's number 1.
Further, in 2022, the Welsh player hit his first televised nine-dart finish at the 2022 PDC World Darts Championship in his quarter-final match against Michael Smith.
Gerwyn Price: Controversies
When it comes to controversies, Gerwyn Price is not new to it. The player has, time and again, been surrounded by various arguments.
Fine and Suspended Ban
According to reports, Gerwyn Price was fined £21,500 and handed a three-month ban for his behavior in the Grand Slam of Darts in 2019.
The Welsh player was fined £8,000 for his action against Whitlock, £12,000 for his effort against Garry Anderson, and £1,500 for his social media remarks.
He won his first PDC major in Wolverhampton. Still, his triumph was tarnished by events in the quarter-finals against Simon Whitlock and the final against Gary Anderson. He was deemed to have broken the Darts Regulation Authority's rules.
Gerwyn also admits to breaching the DRA Rules by uploading improper social media stuff, which he appears to have done.
Read about Adrian Lewis's Net Worth | Dart, Lifestyle & Earnings>>
The Apology
After the 2019 World Championship semi-final, the situation around Peter Wright and Gerwyn Price was tense.
Despite almost hitting his opponent with a dart and celebrating in his face after losing in the semi-final, Gerwyn Price chastised Peter Wright for adopting dirty tactics and labeled his actions "out of order."
The topic drew a lot of interest. However, Gerwyn Price eventually apologized for his actions toward Peter Wright on Twitter.
Gerwyn thought about the situation and regretted disappointing his friends and family. He also expressed regret for allowing Wright to get to him.
The Iceman said that he has been in this situation in games before but never in a World Championship semi-final.
Gerwyn agreed that he had overreacted to his opponent's actions after set one. Moreover, Price added that everyone makes mistakes and is still learning.
He apologized to everyone who believed he had done something wrong. Further, the Iceman also agreed that maybe he was a bit over the top while making the accusations.
The Deletion of the Tweet
After receiving outrage on social media, Gerwyn Price removed a provocative remark criticizing immigration. The tweet was made six years ago by Gerwyn in 2015.
Following the 2015 Paris terror attacks, Price went on Twitter and wrote that all immigrants be barred from entering the UK.
On November 13th, 2015, shooters and suicide bombers attacked a music theater, a large stadium, restaurants, and pubs virtually simultaneously, killing 130 people.
Gerwyn got some blowback for the tweet in the hours following its publication six years ago, with darts enthusiasts criticizing him for his political beliefs.
The darts player called those who disagreed with him dumb or blind as he replied to one of the social media users.
The tweet resurfaced on December 2021. Soon after, many individuals took to Twitter to denounce the comments.
Following that, the tweet was quickly removed.
Social Media
The World Champion, Gerwyn, is on Instagram and Twitter. He has thousands of followers altogether. However, the player cannot be found on Facebook.
Although the player does not have his official account on Facebook, Facebook groups such as 'Gerwyn Price Fanpage' and 'Support for Gerwyn Price' regularly post about the player.
On his Instagram and Twitter, Gerwyn usually shares information related to his personal and professional life.
If you guys want to know more about Gerwyn Price and his lifestyle, feel free to follow him on his following accounts:
Instagram: @gerwynpriceiceman180
Twitter: @Gezzyprice
Gerwyn has 112.8k followers on Twitter. His Twitter bio describes himself as a "Professional Dart Player at PDC, 2021 WORLD CHAMPION🏆 World number1 2018,2019,2021 GRANDSLAM CHAMPION 🏆 🏆 🏆"
Further, the Iceman has 180k followers on his Instagram. He follows athletes like Louis Rees-Zammit, Lily Woodham, Kris Boyd, Alison Lee, and Josie Green.
Moreover, he also follows personalities like Adele, Shane Williams, and Matilda Ramsay.
Gerwyn also has a website called gerwynpricedarts.co.uk. The website runs a store where you can purchase various Gerwyn Price merchandise.
You can shop for Iceman Cotton Tee, Sublimated Iceman hoodie, World Champ Montage, etc.
The Welsh player does not have a YouTube channel yet. However, his videos are posted on YouTube by various sports channels. As a result, they are pretty famous.
The channels that post his videos also include the official channel of the Professional Darts Corporation.
Additionally, the player is also on Snapchat as @gezzy2.
Gerwyn Price: Net Worth
Throughout his darts career, Price has won a lot of money.
Price won the Grand Slams of Darts in his first televised game in 2018. She was winning the Grand Slams of Darts aided his financial situation as well. After winning the title, he received £125,000 extra £110,000.
A year later, the Welsh dart player successfully defended his title. However, in 2020, the runner only made it to the World Championship semi-finals.
Additionally, Gerwyn received a payment of £100,000 for his work. In 2020, he won the competition and took home £500,000.
According to Darts Database, his career earnings are estimated to be approximately $1 million.
Gerwyn's purpose when he entered the darts world was to generate money for his family. Hence he had no interest in winning events.
On the other hand, his ambition has risen as he continues to add titles to his resume. He allegedly stated, "I just wanted to win enough money to remain on tour and provide for my family."
Gerwyn, on the other hand, was enthralled with the rush of winning games and triumphs.
Read Current World's No. 3 Pro Darts Player, Michael van Gerwen Boasts $6 Million Net worth >>
Frequently Asked Questions
Why is Gerwyn Price known as "Iceman"?
Price says he got his nickname from the Ice Ice Baby song by Vanilla Ice. When Gerwyn was younger, he did not have any handles.
However, one of his friends suggested the name "The Iceman Price," which has stuck with him since then. The 'Ice Ice Baby' is also Gerwyn's walk-on song.
Is Gerwyn Price married?
Yes, the World Champion Gerwyn Price is happily married to Bethan Palmer Price. They started dating each other when they were teenagers.
Further, the couple is also parents to two lovely daughters, Emily Price and Bethany Price. Gerwyn often shares pictures of his family on Instagram.