Golden Tate is a sports legend hailing from Hendersonville, Tennessee, who has left an indelible mark on both the gridiron and the baseball diamond.
Tate is primarily known as a former football wide receiver. He started off his career in college football stardom at Notre Dame and soared to an illustrious NFL career spanning multiple teams.
The player has played for the Seattle Seahawks, Detroit Lions, Philadelphia Eagles, and New York Giants.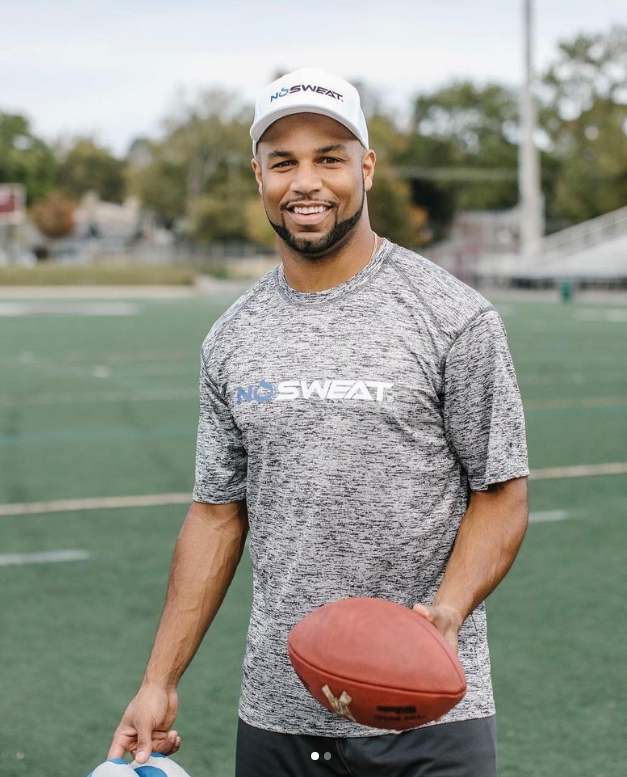 In 2022, Tate surprised the world by returning to his baseball roots. In a stunning move, Tate signed with the Port Angeles Lefties of the West Coast League in 2022, reigniting his passion for the sport after more than a decade.
Want to know more? Read the full article to know in depth about the player's family, career, net worth, and more!
Quick Facts
| | |
| --- | --- |
| Full Name | Golden Tate III |
| Date of Birth | August 2, 1988 |
| Birth Place | Hendersonville, Tennessee, USA |
| Religion | Christianity |
| Nationality | American |
| Zodiac Sign | Leo |
| Age | 25 years old |
| Height | 5 feet 10 inches (1.78 m) |
| Weight | 196 lb (89 kg) |
| Hair Color | Black |
| Eye Color | Brown |
| Build | Athletic |
| Father's Name | Golden Tate Jr. |
| Mother's Name | Yolanda Tate |
| Siblings | Wesley Tate, Breanna Tate and Deanna Tate |
| High School | Pope John Paul II High School |
| College | University of Notre Dame |
| Marital Status | Married |
| Wife | Elise Tate |
| Children | Londyn Tate, Golden IV Tate, and Isaiah Michael Tate |
| Profession | Former NFL player, Baseball player (Port Angeles Lefties) |
| Position | Wide Receiver |
| Current Team | Port Angeles Lefties (Baseball) |
| Years Played | 2010-2020 (NFL), 2022 (Baseball) |
| NFL Draft | 2010, Round 2, Pick 60 |
| Net Worth | $30 Million |
| Social Media | Instagram, Twitter |
| Last Update | September 2023 |
Early Life & Family
Golden Tate, the American athlete, was born on August 2, 1988, in Hendersonville, Tennessee, USA.
His parents are Yolanda Tate and Golden Tate Jr. His dad used to be a wide receiver at Tennessee State and played in the NFL starting in 1984.
After his parents got divorced, Golden Tate's mom, Yolanda, raised him and his three siblings as a single mother.
Golden Tate Jr. married another woman, Roz.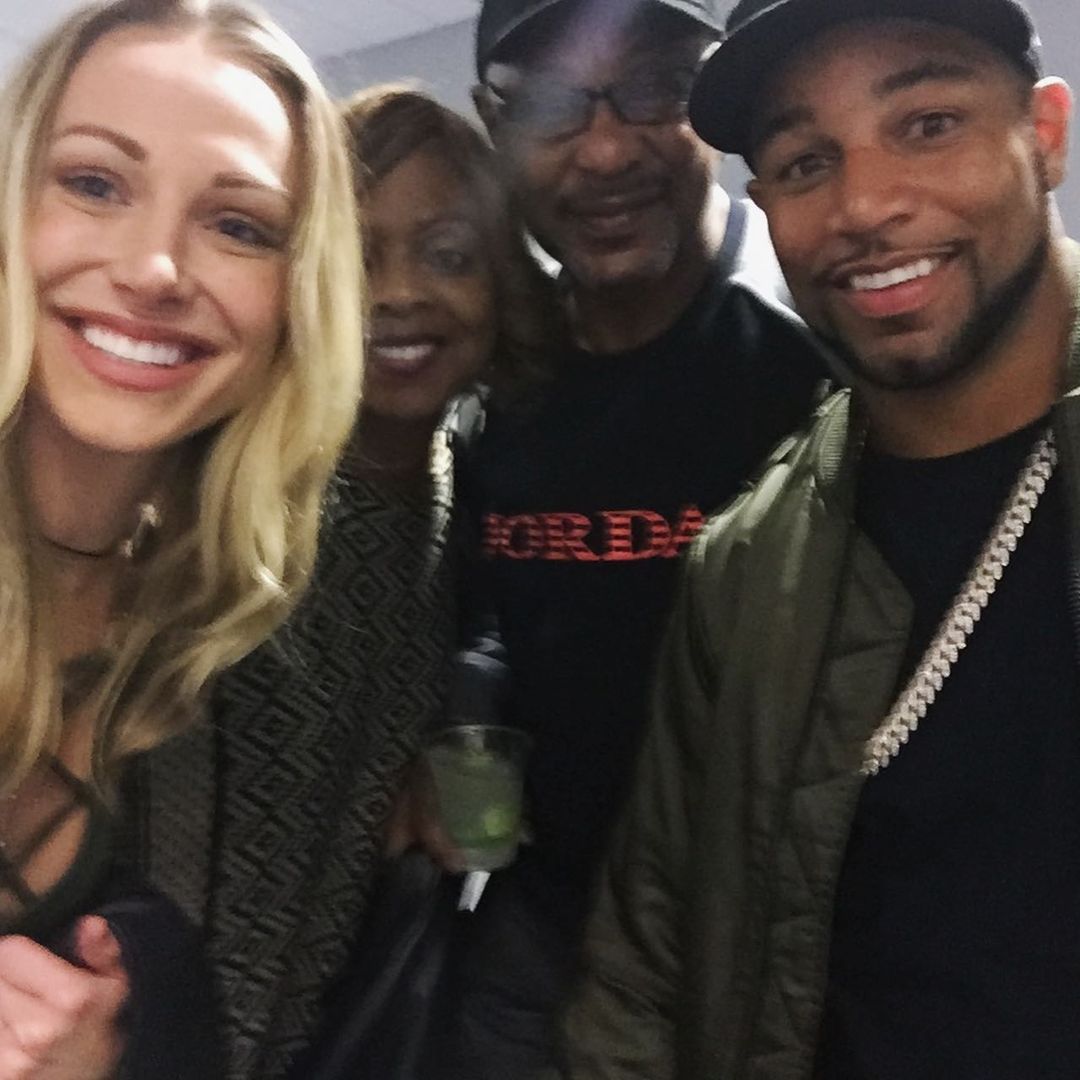 Tate has a younger brother named Wesley Tate, who played as a running back for Vanderbilt University.
Likewise, Tate also has twin sisters named Breanna Tate and Deanna Tate. Both of them are sprinters who attend the University of Mississippi. Breanna has two daughters with her ex-boyfriend, Jalen Ramsey.
Golden Tate and his siblings grew up together in Hendersonville, Tennessee.
Education
Golden Tate attended Pope John Paul II High School in Hendersonville, Tennessee. He was a talented athlete, playing football and baseball. He also participated in track & field.
In his senior year, the player had impressive stats, rushing for 1,413 yards and scoring 23 touchdowns. He also caught 28 passes for 510 yards and six touchdowns.
Golden Tate was recognized as an all-state athlete by the Tennessee Sports Writers Association and the Tennessee Football Coaches Association.
The player then went to the University of Notre Dame, where he played baseball and football. He received accolades as an All-American and won the Fred Biletnikoff Award for being the best receiver in the country.
Golden Tate set records for most receiving yards (1,496) and most catches (93) in a season at Notre Dame.
What Is Golden Tate's Age & Height?
The former NFL player was born in the year 1998. Hence, he is 25 years old. His zodiac sign is Leo.
Tate stands at a height of 5 ft 10 in / 178 cm and weighs 196 lb / 89 kg.
Professional Career
Golden Tate had a remarkable career in both football and baseball.
He was drafted by the Seattle Seahawks in the second round of the 2010 NFL Draft and played for them from 2010 to 2013.
During his time with the Seahawks, he helped the team win Super Bowl XLVIII in 2014. After that, he joined the Detroit Lions, where he played from 2014 to 2018. He also earned a Pro Bowl appearance in 2014.
Tate also had a brief stint with the Philadelphia Eagles in 2018 and played two seasons with the New York Giants from 2019 to 2020.
In 2021, he signed with the Tennessee Titans but did not participate in any games.
Golden Tate achieved impressive statistics throughout his NFL career, including 695 receptions, 8,278 receiving yards, an average of 11.9 yards per reception, and 46 receiving touchdowns.
Baseball Career
In an unexpected turn, Golden Tate returned to his baseball roots and signed with the Port Angeles Lefties of the West Coast League in June 2022.
This marked his return to the sport after not playing baseball since 2009. He made his baseball debut as a center fielder for the Lefties on June 14, 2022.
Fines & Suspensions
Golden Tate's illustrious career in football has been accompanied by a few blemishes in the form of fines and suspensions.
In 2012, Tate was fined $21,000 for a blindside block on Cowboys linebacker Sean Lee.
Additionally, in 2013, Tate was fined $7,875 for taunting during a game against the St. Louis Rams. He also received a $21,000 fine for a defenseless hit on Jaguars safety Dwight Lowery in the same year.
Likewise, in 2019, Tate faced a four-game suspension and a fine of $1,797,000 for violating the league's performance-enhancing drugs (PEDs) policy.
Golden Tate's Wife & Kids
Golden Tate's wife is Elise Tate, formerly Elise Pollard. The two of them met at a bar in 2009 and got married in 2017 in Cabo San Lucas, Mexico.
Elise was born on January 29, 1988, in San Diego, California. She graduated from the University of Washington and worked as a business development officer at Harvey Nash, a global recruiting firm.
She also wrote a book called "Sign Me Up for a Happy Home", which teaches baby sign language to parents and children.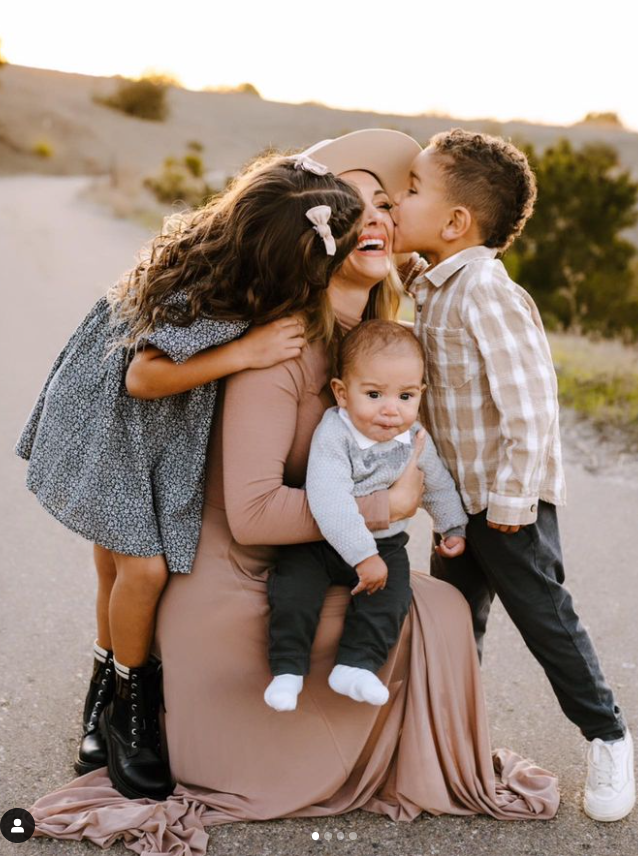 The couple have three children: a daughter and two sons. Londyn Tate, their baby girl and was born in 2018.
Likewise, Golden IV Tate was born in 2019, and their other son, Isaiah Michael Tate, was born in 2021.
Unknown Facts
The Arizona Diamondbacks drafted Golden Tate in the 42nd round of the 2007 MLB Draft but did not sign with them.
He caught the game-winning touchdown for the Philadelphia Eagles in their wild-card victory over the Chicago Bears in 2019.
His youngest son, Isaiah Michael is named after Golden's late brother-in-law, Michael Pollard, who died in a car accident in 2019.
Net Worth & Contract
Golden Tate's net worth is estimated to be $30 million. Throughout his 12-season career, Tate earned substantial money through his professional football endeavors.
His estimated career earnings, including salaries, signing bonuses, roster bonuses, workout bonuses, restructure bonuses, option bonuses, and incentives, totaled an impressive $56,421,672.
In 2019, he earned a significant amount of $14,358,823, thanks to a combination of a signing bonus ($10,000,000), roster bonuses ($2,823,529), and a workout bonus ($25,000).
In 2020, Tate's earnings reached $8,000,000, and in his final year, 2021, he earned $84,000
The player signed with the Port Angeles Lefties of the West Coast League (WCL) in June 2022 for the 2022 season. However, his salary details aren't known yet.
Frequently Asked Questions
What position does Golden Tate play?
Tate plays as a wide receiver in football and a center fielder in baseball.
What is his nickname?
Golden Tate's nickname is Showtime. He earned this nickname for his spectacular catches and played on the field. His Instagram handle is @showtimetate, and his Twitter handle is @ShowtimeTate. Further, his wife also uses the handle @mrsshowtimetate.