The 13th overall pick of the 2023 NBA Draft, Gradey Dick grew up with two brothers and one sister.
He must have been overwhelmed with love while growing up, as he is the youngest in the family.
All of the siblings attended the University of Kansas. It may surprise you, but none of Gradey's brothers or his sister are athletes right now.
His brother Brodey and Riley are both in the corporate sector, while his sister Kelsey is in the IT sector.
The Toronto Raptors drafted him in the first round behind Dereck Lively II (#12) and ahead of Jordan Hawkins (#14) in the 2023 NBA draft.
The young aspiring Gradey Dick was born in Wichita, Kansas, on November 20, 2003.
Gradey began high school at Wichita Collegiate School before transferring to Sunrise Christian Academy for his junior and senior years.
He then committed to the University of Kansas and averaged 14.1 points, 5.1 rebounds per game in his freshman year.
Besides basketball, Dick also loves cycling and constantly posts his adventures of biking over gorgeous routes.
Furthermore, he is a devout Christian who is grateful to God for all the blessings in his life.
Gradey Dick Brother Brodey & Riley
Gradey is the youngest sibling in the family, with two elder brothers, Brodey and Riley, and one elder sister Kelsey.
The elder brother Brodey works for Cargill in the Kansas City Metropolitan Area as a Specialty Soy Product Lead and Commodity Soybean Meal Merchant.
Brodey has been with Cargill since June 2018 and previously worked as a Teaching Assistant at the University of Kansas School of Business.
Brodey attended the University of Kansas School of Business from 2014 to 2018, where he completed Bachelor's degree in finance with a specialization in International Business.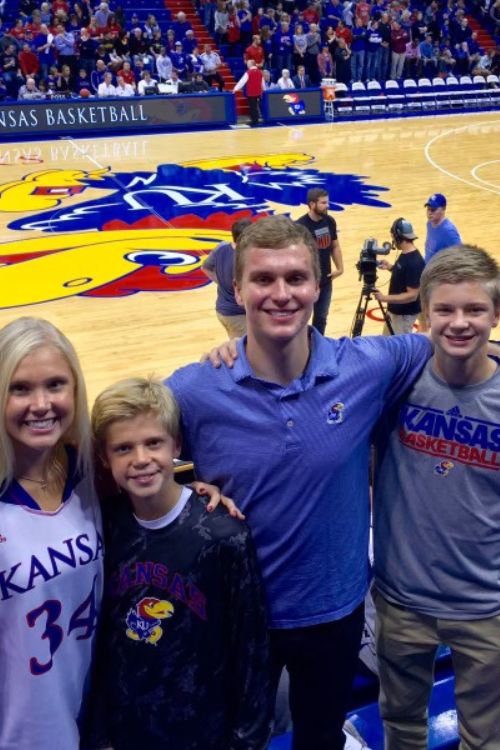 His other brother, Riley, currently works as a development analyst at TGC Group.
Before securing the job, He completed his three-month internship at TGC Group from June 2021 to August 2021.
Regarding his education details, he studied at Wichita Collegiate School and graduated from the University of Kansas School of Business in 2022.
He seems to have a good sense of humor as he writes, "Not related to Moby Dick" in his Instagram bio.
Sister: Kelsey Dick
His sister Kelsey Dick attended Andover High School and completed her Bachelor's degree in supply chain management from the University of Kansas in 2016.
She has been working at Google as a Solution Consultant in Greater New York City Area since April 2020.
Previously, Kelsey worked as Enterprise Application Consultant at IBM for nearly two years.
Gradey Dick Parents
His mother, Carmen Jaspers, and father, Bart Dick, were both also born and reared in Kansas.
They have greatly influenced Gradey's athletic life, as both of them were athletes in their own right.
But if we want to start comparing, then his mother could be said to have the more significant influence on his love of basketball.
Carmen herself was a basketball player at Iowa University and scored over 1000 points.
In addition to that, she was the 1989 Iowa State Female Athlete of the Year. Furthermore, she also played professionally in Japan.
Talking about Gradey's father, Bart was an athlete as well. He played football at Fort Hays State University.