Greg Newsome II is the son of parents Craig Newsome and mother Crystal Tabron-Newsome. He is the son of a former NFL star of the 90s.
Greg's mother had a major role to play in pushing him to finish his degree at Northwestern University before leaving for the NFL.
The former Wildcats graduated with a degree in communications after initially struggling to manage his career and education.
He stated that it was his promise to his mother that made him focus on academics as well.
Gregory Newsome II, the cornerback for the Cleveland Browns of the National Football League (NFL), was born on May 18, 2000.
He attended Glenbard North High School in Carol Stream, Illinois, and transferred to IMG Academy for his senior year.
The cornerback played at Northwestern University for three years, recording 71 tackles and one interception. Starting in 18 games, the former Wildcats led his team to two Big Ten title games.
In the 2021 NFL Draft, Newsome was selected in the first round with the 26th overall pick by the Cleveland Browns.
As a rookie, he started in all 12 games he appeared in, making 37 tackles and nine passes deflected.
In the following season, the cornerback appeared in 15 games, starting in all of them. He managed 0.5 sacks, 42 total tackles, and six passes defensed.
The 23-year-old is listed in the PFWA All-Rookie Team in 2021, while the USA Today included the player in the 2020 College Football All-America Team.
Meet Greg's Parents, Craig Newsome and Crystal Tabron-Newsome
Craig Newsome and Crystal Tabron-Newsome are the parents of Greg Newsome II. The couple also share another child, Zakiya, who is 18 months older than Greg.
Like his son, Craig was a football cornerback in the NFL in the '90s. He started his career at Eisenhower High School in California and moved to Arizona State University to continue his career at the collegiate level.
Furthermore, he celebrated a successful career from 1995 to 1998 with the Green Bay Packers, which saw him win the Super Bowl XXXI.
However, on September 19, 1999, the cornerback was traded to the San Francisco 49ers.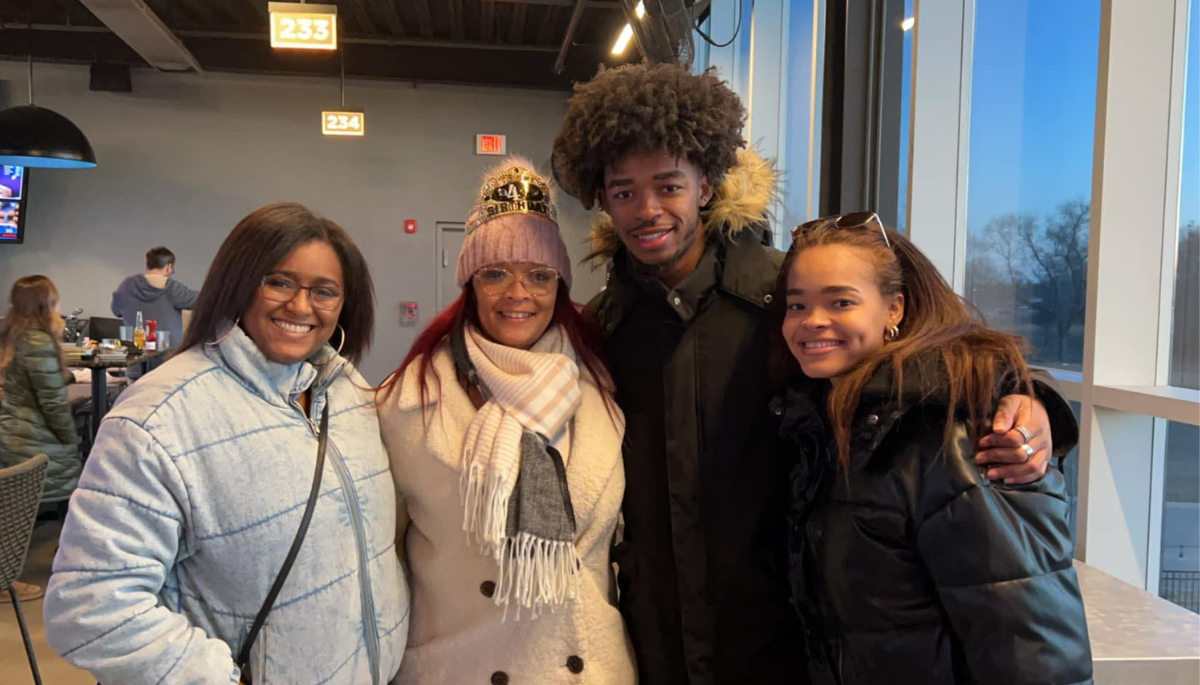 Meanwhile, Crystal is supportive of her children's careers. She is active on social media; however, it is unclear what she does for a living.
Her social media is filled with posts about her son and daughter. Zakiya is a former basketball player at North Park University in Chicago.
She is a proud parent who is ecstatic about her son's success.
However, there is not much information about the current relationship of the family with the father, Craig Newsome. There is no public record of the couple splitting or the children having a bad relationship with their father.
The former cornerback struggled with pills addiction since his career-ending injury in 1999. He reportedly lives in Holmen, Wisconsin, and coaches the Holmen High School Football team.
Additionally, the former athlete is missing from most of Crystal's posts on Facebook and X, which suggests that the former athlete is not very involved in their lives anymore.
Living Together With Sister
Besides having a supportive parent, the Browns star is blessed with an equally supportive sibling.
The elder sister was more than happy to move in with his baby brother when he asked her to move in with him.
To her surprise, the cornerback wanted her to live with him, helping him manage his life and to help him keep a little more grounded during the season.
Moreover, the Browns star admitted that Zakiya moving in has been tremendous for morale and dedication.
The 25-year-old cooks and takes care of his dogs and takes care of his everyday responsibilities.
He further claimed that, with his sister moving in, he can focus on his game and on improving himself, as she takes care of everything else.