The former Brazilian tennis player Gustavo Kuerten has a lovely wife named Mariana Soncini, and the pair shares two adorable kids.
Gustavo Kuerten was born on September 10, 1976 in Florianopolis, Brazil.
He started playing tennis when he was six years old. But life had different plans for him as a family tragedy soon fell upon him.
When Kuerten was eight years old, his father Aldo, a former amateur tennis player, passed away from a heart attack in 1985 while officiating a junior tennis match in Curitiba.
But that did not stop him from pursuing his goal. He went on to win the French Open singles three times (1997, 2000, 2001).
In addition, Gustavo also became the Tennis Masters Cup champion in 2000.
On December 4, 2000, he became the World No. 1 in the ATP rankings.
Unfortunately, injuries hindered his career after 2002, as he was unable to feature in many tournaments.
After two hip operations and several failed comebacks, he retired from top-level tennis in May 2008.
Gustavo Kuerten Wife Mariana Soncini & Kids
Gustavo and the beautiful Mariana Soncini have been married for over a decade. It seems like the couple's love is only growing stronger.
Reports have suggested that the couple started dating in 2008. Two years down the road, they decided to tie the knot on November 3, 2010.
This date holds great significance for the Kuerten family as it happened to be the birthdate of Gustavo's younger brother Guilherme Kuerten.
Guilherme passed away in 2007 after falling victim to respiratory failure.
The wedding was held in a private and intimate setting in Florianópolis, State of Santa Catarina, Brazil.
His mother, Alice Kuerten, and Gustavo's brother, Rafael, accompanied by his wife Letícia and Mariana's parents and sisters, were present on that particular day.
Furthermore, the newlyweds spent their honeymoon in Recife and later went to the Paul McCartney show in Porto Alegre.
Gustavo and Mariana have two beautiful children together. They welcomed their first child (daughter), Maria Augusta Kuerten, on February 7, 2012.
Then, just a year later, they were blessed with a son, Luis Felipe, on June 9, 2013.
Retirement Life: A Fun Affair Or Just Something Dull?
On May 25, 2008, Gustavo played his last professional singles match in front of 15,000 spectators at the Roland Garros.
He entered the court donning his "lucky" attire, the same blue and yellow outfit he wore in 1997 during his first French Open tournament.
After the game, the tournament's organizers and every fan in attendance thanked him for his career accomplishments.
The retirement life for the player is particularly about receiving respect for all his contributions to the sport.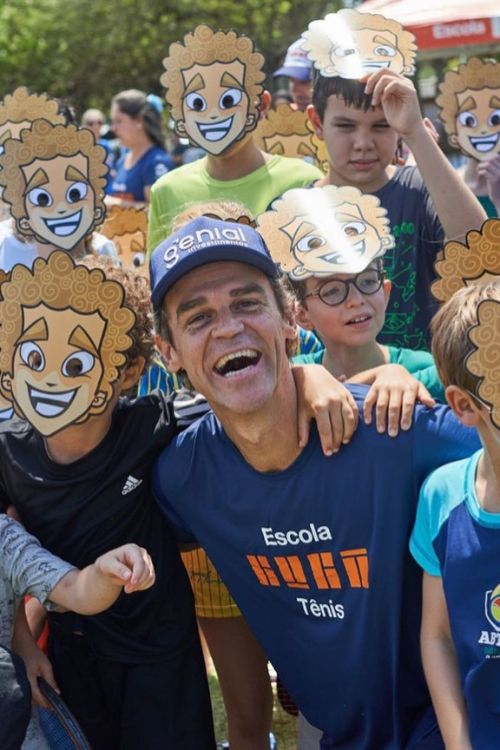 In 2009, he was accepted to a drama course at CEART, the Center of Arts of Santa Catarina State University (UDESC) in Florianópolis.
Well, the year 2010 holds a lot of weight in his life, that being the year of his marriage.
He was inducted into the International Tennis Hall of Fame 2012 for all his contributions to the sport.
Moreover, the Rio 2016 Olympics presented Gustavo with the honor of being the torch bearer which he happily accepted.
Nowadays, he mainly spends time with his family and in brand promotions.