One month ago, the trailer to the sequel of the 2017 famous DC installment 'Wonder Women' was launched. Gwendolyn Osborne is the new face to look forward to in the sequel 'Wonder Women 1984'.
Gwendolyn Osborne, who has started in the field of glamour as a Model, now has marked her strong position in the film industry.
In 2020 Osborne got herself the role of badass women from amazon in the sequel Wonder Women 1984. She describes that she was approached by the director, Patty Jenkins, to play her career's breakthrough role.
Besides her modeling and acting career, she has ventured into the beauty industries, launching women's different essentials especially face creams and masks.
Born to a Jamaican mother and British dad, Osborne has got an appealing mixed cross-cultural appearance. She is a goddess of beauty with a perfect sexy figure.
Let's get into the quick ride to Gwendolyn Osborne's bio, childhood, personal life, career, net worth, etc.
Quick Facts
| | |
| --- | --- |
| Full Name | Gwendolyn Osborne Smith |
| Birth Date | August 7, 1978 |
| Birth Place | Bath, Somerset, England |
| Nick Name | Unknown |
| Religion | Christianity |
| Nationality | British-American |
| Ethnicity | Mixed (Jamaican and British) |
| Education | New World School of Arts, Mami |
| Horoscope | Leo |
| Father's Name | Not available |
| Mother's Name | Not available |
| Siblings | Two (older) |
| Age | 44 Years Old |
| Height | 5 feet 7 inches (1.7 meters approx) |
| Weight | 61 kg |
| Shoe Size | Not Available |
| Hair Color | Brunette and blue |
| Eye Color | Brown |
| Build | Curvaceous figure |
| Marital Status | Divorced |
| Boyfriends | No |
| Spouse | Kenny Smith (2006- divorced 2018) |
| Profession | Model, Actress |
| Net Worth | 3 Million USD |
| Social Media | Twitter, Instagram |
| Children | Yes (3) two children with Kenny Smith and one from a previous relationship |
| Merch | The Encourager's Path |
| Last Update | December, 2022 |
Gwendolyn Osborne | Early life, Parents, Education, Horoscope
Her birthplace is the city of Bath in Somerset, England. Osborne was born to a Jamaican mother and British Father.
She says it has made her easy to blend with the people due to her mixed cross-cultural ethnicity. Gwen hasn't revealed much about her early life and education.
It will surprise you that Gwen, a supermodel, was a bit of a tomboy in her teenage and enjoyed outdoor sports and activities such as; skiing and hiking.
Horseback riding, biking, water sports, and so on. Who would have given a thought that a teenage tomboy would turn into the model in adulthood?
The journey from the United Kingdom to the United States of America
Gwen's family moved from her birthplace in England to Miami, America, at a very young age because she was interested in pursuing her art career.
Also, her love for arts grew ever since grade school. She later attended the New World School of Arts, located in Miami, Florida.
It wasn't easy for her to blend in the new place, but that diversity prepared her to survive in the most diverse film industry. Her parent's names are not made public, and she claims to be of British-American descent.
Once in an interview, she said, "She enjoys fresh fish and chips from South of England to British seaside with her grandparents. Her childhood was very notable and memorable."
Gwen gives credit to her older sister for motivating and inspiring her to go for the entertainment industry.
Gwen's older sister attended Italia Conti Academy of Theater of Arts, where she learned to sing and dance, and she was also a massive fan of the TV show fame.
Osborne says both siblings used to dress up then mimicry the Fame characters and dialogue.
Gwen's horoscope charts show that she was born under the Leo horoscope sign. Some of Leo's characteristics traits are confidence and ambition, which quite resembles her.
In her early forties, she has already been a successful model, an actress, and owner of a beauty Product Company.
You may be interested in Jimena Sanchez Bio: Career, Net Worth, Social Media.
Gwendolyn Osborne | Early Career
Before fame, her first on-screen appearance was in 1999's film 'Any Given Sunday' as a party girl.
In 2001, at the age of twenty-three, Gwen was already a single mother to Monique. In the given year, she planned to move to Los Angeles, California, from Miami, Florida.
Being a single mother is a challenging job to carry out, but Gwen has kept it consistent between her personal and professional life.
After moving to Los Angeles, she started her modeling career with LA Models and got an opportunity to be a part of different TV shows and movies.
In 2002, she was seen in the movie called snow Dogs, then eventually got a contract for a TV show in Ocean Ave.
Ocean Ave was a Swedish-American TV show that only aired in Sweden, where Megan Fox was her co-actor. Ocean Ave was a breakthrough opportunity for her.
She continued to get more TV shows and modeling offers after that. In 2003, Gwen appeared in a cameo for the primetime reality competition called Dog Eat Dog. She dazzled everyone with her pink bikini with six-inch heels.
Gwendolyn Osborne | Career in The Price is Right
In the 33rd season of the television game show The Price is Right, Gwen began to appear as a Baker's Beauty. She has auditioned for the previous season but couldn't make it.
Before that, Gwen worked in the soap opera called The Bold and the Beautiful from there, the staff of The Price is Right started noticing her.
This time she nailed her opportunity and joined ranks on 'The Price is Right as the newest model in 2005.
The price is Right gave her immense fame where she spent twelve years of her life. She announced on Twitter that she is leaving the 'The price is Right' family in 2017 October.
After that show, she was involved in other projects and ventures. Osborne was also seen in a handful of movies such as Jack and Jill, Wonder Women 1984.
Now, she is the COO of SEG (Smith Entertainment Group), a company co-own by her Ex-husband, Kenny smith.
Gwendolyn Osborne | Personal Life, Husband, Children
Joining the 'The Price is Right' show brought luck in her career and her love life. After one year of joining a show, she married the former NBA player and now TNT analysis Kenny Smith aka 'The Jet.'
They met at a charity event in 2004 and soon started dating. Kenny Smith is a famous Basketball player under the National Basketball Association, America.
He was given the nickname of 'The Jet' for his extraordinary moves in basketball. In the 1986 FIBA world championship, he was on the team to win a gold medal against the Soviet Union.
Gwendolyn Osborne and Kenny Smith | Divorce
Unfortunately, Kenny and Gwen's marriage didn't last long, and now they are divorced.
They ended their twelve years of marriage in 2018, and Gwen stated that it was done on mutual agreement there is no one to blame for it. Her fan was startled by the couple's sudden decision to separate.
Now, Gwen enjoys her single life. She says being a mother to five children is a difficult task, but she enjoys every bit of it and perfectly balances her career and personal life.
There is no rumor about her dating; right now, she pours all her energy into the SEG Company and her children.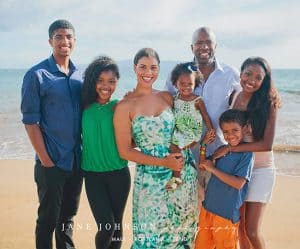 At present, she is a mother to five children (one daughter from Gwen's Ex-relationship, stepmom to two of Smith's children from his previous marriage, and they have two children together Malloy & London).
There is no information on the web regarding her previous love life and as well as about Monique's father.
However, Gwen hasn't also opened up about her previous relationship anywhere. There is still a big mystery about who and whereabouts of Monique's dad. Many reporters tried to dig out information, but she doesn't like it to disclose to the public.
Gwendolyn Osborne | Body Measurement
Scrolling through her social media shows she has a very well-maintained physique that everyone would die to have. She seems a yoga & meditation kind of person rather than a gym freak.
In her early forties, she weighs 61 kg standing five feet seven inches tall. Her abs show her dedication and effort she is making to stay fit and healthy.
Gwendolyn Osborne depicts body measurements size of 37-25-37 inches. To illustrate, her waist size is 25 inches while her chest and hip size are 37 inches.
Furthermore, she wears a bra size of 36C.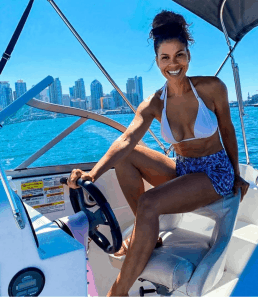 In her twenties, she stole the limelight with her pink bikini appearing in the prime time reality show, and honestly, she looks more bombshell in her forties.
Gwen is blessed with a light chocolate brown complexion, and her brunette brown hair color has added extra spices to her appeal. Also, she is very experimental about changing her hair color.
Gwendolyn Osborne Net worth
Her net worth is estimated to be approximately 3 million USD
She also gets $49 thousand per month on her divorce from her husband. She takes about $60 thousand to $320 thousand per her involvement in any movie and TV shows.
Gwen is also a co-owner of the Smith Entertainment Group (SEG). SEG has already developed a deal with ITV America and is working on producing the summer series such as Open Court & Ready for the League.
SEG is also in line with producing scripted drama and documentaries.
Gwendolyn Osborne's Social Media Presence
Her social media accounts are very engaging; it's so colorful and lively. She has over 38k plus followers on Instagram.
She regularly posts on her Instagram account, and some are very motivating posts about yoga and meditation. Besides, you can check out flaunting her bikini body.
Despite her active engagement in Instagram, she has less activeness over twitter, accounting for 12k followers. Likewise, she is not present on the Facebook page.
Gwendolyn Osborne | Unheard Facts Giveaway
She is a family person and usually spends her weekend with her kids.

She is an all-time foodie who has a weakness for French fries and fast foods. (Must be wondering how did she get those figure)

During Gwendolyn's career at The Price is Right, She was pregnant twice.

Her favorite musical inclination is Whitney Houston, Etta James, and Stevie Wonder.

Meryl Streep is her favorite actress.

Her best holiday destination is the Caribbean.
Gwendolyn Osborne | FAQs
What is Gwendolyn Osborne's dress size and shoe size?
Gwendolyn Osborne wears a dress size of 8 (US) while she wears a shoe or has a feet size of 9 (US).