Haley Jones boyfriend, Stephen Herron Jr., is a hot topic in the media, not just for his relationship with the WNBA star but also for his standout performance on the football field.
While the power couple keeps their relationship mostly private, fans and media outlets have been buzzing about the two young athletes.
Both excel in their respective sports at one of the country's top universities.
The year 2023 proved a transition to a new leap in their career for both lovers.
While Haley became the 2023 WNBA draft pick, her lover Herron Jr., an alumnus of Standford University, went to the University of Louisville for his senior year (2023-24).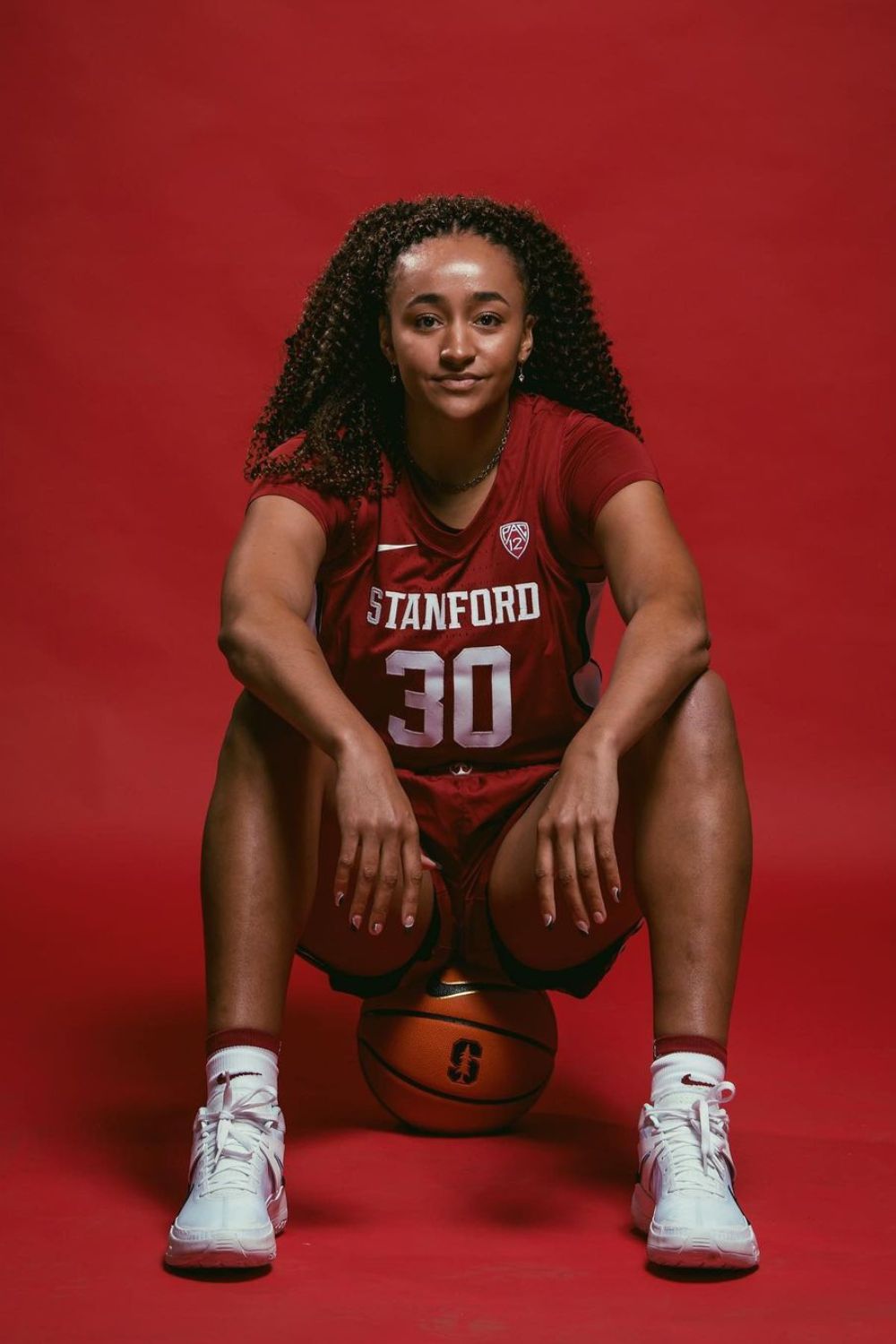 Currently, Haley Jones is signed with the WNBA team Atlanta Dream as their eighth-overall pick.
Before that, she played college basketball at Stanford University & even led the Standford Cardinals to the 2021 NCAA Women's Basketball Championship title, ending the drought since 1992.
And her expertise once again came into action in her rookie WNBA season with the Dream, Haley averaged 11 points and 5 rebounds per game.
The basketball blood lies in her family; her brother Cameron Jones played basketball at Pacific University.
Not to mention, fans are also on the board with expectations to see her boyfriend in the NFL draft in the coming days too.
So, it's gonna be a neck-to-neck competition of career achievements & at the same time, a display of a couple's adoration for them.
Meet Haley Jones Boyfriend, Stephen Herron Jr.
Stephen Herron is a young football player making a name for himself- from the Stanford Cardinal football team to the Louisville Cardinals.
On December 18, 2022, he transferred to the University of Louisville after four years (including a red-shirt year) at Stanford University.
While the wait for his games in the 2023-24 season remains, let's talk a bit about his previous performance.
Having redshirted his freshman year at Stanford, the defensive linebacker played actively as a sophomore in the 2020-21 season, recording 14 tackles.
His junior year (2021-22) & senior year (2022-23) saw him 19 & 37 tackles, respectively.
His love for football began early, and he quickly became a standout player in high school.
He was a four-star prospect by ESPN, Rivals, and 247Sports. He was also selected to play in the 2019 All-American Bowl.
In 2019, Herron committed to play college football at Stanford University, one of the country's top academic and athletic institutions.
His athleticism and skill on the field caught the attention of coaches and fans alike. Additionally, they praise him for his strong work ethic and dedication to the sport.
Relationship Of Haley Jones & Stephen Herron Jr.
The women's basketball standout Haley Jones and her collegiate football player boyfriend are making waves on and off the field.
While both of them are tight-lipped about their relationship details, fans already have an answer- at least as an assumption!
The duo went to Standford University in 2019, so it is alleged that they are dating ever since. In fact, they were seen commenting on each other's Instagram posts since 2019.
However, none of them have green-flagged the claims.
Haley Jones, popular for her exceptional basketball skills, represented Stanford in several matches. Stephen Herron Jr. is also a talented athlete who represented Stanford in college football.
So, their choice of an athlete as their partner comes as no surprise.
Despite the claims that they are college sweethearts, it was until 2022 that the couple revealed their relationship on social media.
Jones shared a picture of her boyfriend in an Instagram post of November 2022- a collage picture of them.
A month later, Herron Jr. took to Instagram in late December 2022 & shared a post that featured him hugging the WNBA player as she took the mirror selfie.
Furthermore, the couple has also shared snapshots of themselves attending various events and functions. Their post indicates that they enjoy spending time together and have a close relationship.
It's evident from their Instagram posts that Haley and Stephen are very happy with each other.
Are They Married?
In 2023, Haley and Stephen are not married, and it remains unclear whether they plan to marry.
They seem content with each other's company and continue supporting each other in their athletic careers. It will be interesting to see what the future holds for this talented and dynamic couple.
It's no surprise that the sports world is abuzz with news of their relationship.