Basketball was a game of shooting layups, jump shots, and dunks, with three-point being the only occasional thing. But as time passed, the three-point is starting to be more frequent, with many players shooting beyond the three-point line.
The pic below indicates 3point attempted each season from 1990-91 season to 2020-2021 season.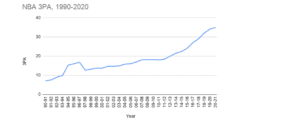 NBA players are getting better at shooting, but there are questions about whether this shift ruins how basketball used to be played.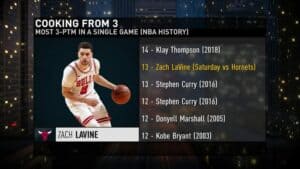 Revolution of three-point
Shooting threes in basketball used to be very rare and attempted only by a few players, and success was uncommon. So, the win on the game was entirely upon jump shots, layups, and dunks.
Before, the league was mainly dominated by big players like Michael Jordon, Magic Johnson, Shaquille O'Neal, Charles Berkeley, Kobe Bryant, Lebron James.
For almost four decades, there was a limit to 3-point attempts. No team attempted 40% of its shots from a three-point line.
With the entry of players like Ray Allen, Reggie Miller, Stephen Curry, Klay Thompson, James Harden, basketball started to change.
Slowly at first, then at surprising speed, the 3 pointers came to prominence. It happened in 2017 and again in 2018 with two teams above the 40% 3point attempts. This number slowly increased to five teams in 2019 and nine teams in 2020.
There are currently 15 teams with 3 point rates above 40%. Half of the league is now doing the same thing, which was not common in the league before.
The NBA record for a full game is 29. https://t.co/KysNcEztoQ

— NBA.com/Stats (@nbastats) March 14, 2021
Concerns due to three-pointer?
This revolution has however raised concerns about the teams mainly focusing on three-point which might make the game monotonous to watch or distort the scoring system.
Three-point shooting dictates the outcomes more than ever before, and there is not much that defenses can do to stop it.
ESPN's Kevin Arnovits spoke to several figures around the NBA, and there's a growing concern that the increase in the number of shooters in the league is reaching a critical mass. There are questions about whether to tighten the defense or to create new rules to benefit the defenders.
Adam silver on Mike Greenberg's show said we're constantly looking at improving the game.
We've moved the three-point line, we moved it in once, then we moved it back out, and we moved it to a slightly different place on the floor as the caliber of the shooting gets better.
Adam Silver said, "In my early days in the league, everyone complained there was too much dunking."
We had many great athletes in the league, but they weren't as skilled as the players now, and the three-point line, in particular, is something we'll continue to look at.
Professionals' take on the matter
ESPN's First Take discusses the concerns raised inside the NBA, suggests what to do to make the game interesting; Spike Lee joined Stephen A. Smith and Max Kellerman to discuss whether the NBA has a three-pointer problem.
Stephen A takes on the 3-point line problem, "It depends on the team. If you're looking at the new york knicks, yes, If you're looking at the golden state warriors, the Utah Jazz, and a couple of other teams, it depends. "
He added: shooting is part of the game and suggests moving the 3-point line back and making it a little bit harder.
Max Kellerman said, "here's the problem the most efficient way to play a sport is not necessarily the most pleasing. Is this product a little monotonous with the threes? Yes, it is."
When Steph curry was doing it, he was the only one, and now everyone is bombing threes. He suggests having certain areas, even in the mid-range, give three-point, so other shots are also worth extra points.
Spike lee suggests giving three-point for the skyhook move.
Is a three-pointer only a problem?
Even though more and more players are attempting to shoot threes, the percentage of three-point made has remained fairly constant. This shows that the players were always great at shooting threes, but the number of players shooting threes has increased.
The Clippers rank 1st in 3P% at 41.9%. Only 3 teams in NBA history have shot 41% from 3 for an entire season: the 2015-16 Warriors (41.6%), 2009-10 Suns (41.2%) and 1996-97 Hornets (42.8%).

7:30pm/et: [email protected]
10pm/et: [email protected]

TNT Tune-in Tidbits: https://t.co/ydgkpESqOA pic.twitter.com/tthNYeYkxM

— NBA.com/Stats (@nbastats) March 12, 2021
Whether a three-pointer is a problem or not really depends on the game being played. Rampant three-point shooting leads to a monotonous rhythm.
Monotonous rhythm may make the game boring to watch, with teams focusing mainly to win the game using a three-pointer.
Basketball analysts suggest some changes to better the game, and these suggestions are not meant to alter or punish players for becoming better shooters. But to make players require more skills than just being a good shooter.
Some people might see a three-pointer as a problem. But, because of the revolution of a three-pointer, the league has become more approachable as it gives a chance to the player who might not be big, huge like in the past.
It is making people and players realize that basketball is not only about dunking and jump shots. It also is about shooting and creating space to shoot and ball-handling, dribbling, and more.
The game is becoming more interesting and eye-catching, and it is always exciting to watch players making from deep.