Heather Hardy was 28, a young mother, recently divorced and having a crisis on sustaining her life.
But it was also during this time that she found solace in boxing. Little did she know, Hardy would be making a career out of it in the future.
"I was like, 'now I know what I'm going to do with my life, It gave me something to focus on." That is what Heather thinks about boxing.
However, no matter how easy and comfortable her life seems now, Hardy had difficulty adjusting to the cruel sport and walking out as a champion.
Today, we will be looking back at her life before she was deemed a champion and her personal life, such as her family, children, love life, and so much more.
Heather Hardy: Quick Facts
| | |
| --- | --- |
| Full Name | Heather Hardy |
| Birth Date | January 25, 1982 |
| Birth Place | Brooklyn, New York, US |
| Alias | The Heat |
| Religion | Unknown |
| Nationality | American |
| Ethnicity | Irish |
| Education | John Jay College of Criminal Justice |
| Horoscope | Aquarius |
| Father's Name | John Hardy |
| Mother's Name | Linda Hardy |
| Siblings | Two younger siblings |
| Age | 41 Years Old |
| Height | 5 feet 5 inches(165 cm) |
| Weight | 55 kgs(122 lbs) |
| Build | Athletic |
| Eye color | Dark Brown |
| Hair color | Blonde |
| Profession | Professional Boxer and MMA Fighter |
| Active years | 2010-present |
| Division | Flyweight, Super Bantamweight, Featherweight |
| Style | Boxing, Kickboxing |
| Marital Status | Divorced |
| Children | A daughter |
| Net Worth | $1 million |
| Social Media | Instagram, Twitter |
| Last Update | March, 2023 |
Who Is Heather Hardy?
Heather Hardy is an American mixed martial artist and professional boxer who held the WBO featherweight title from 2018 to 2019. At the moment, the Brooklyn native is living her life as a trainer too.
Where Is Heather Hardy From? Early Life and Education
Heather Hardy, who redeemed herself thanks to boxing, was born in Brooklyn, New York, the United States of America. She was born to her parents, John Hardy and Linda Hardy.
Similarly, Hardy was raised alongside her two younger sisters, Kaitlyn and Colin, by their caring parents. The sisters grew up in Gerritsen Beach, located in South Brooklyn.
So, in a sense, Hardy grew up surrounded by comfort and love. Likewise, Heather is an American and is of Irish descent.
As for her education, Heather completed her high school studies and later enrolled in the John Jay College of Criminal Justice in Manhattan.
Heather graduated at the age of 22, from where she majored in Forensic Psychology. Besides academics, she also excelled in sports and aspired to be the first female pitcher for the New York Yankees.
Age and Body Measurements: Height
When talking about Hardy, we cannot ignore her physique and toned figure. As we know by now, Hardy is a featherweight boxer who weighs around 55 kgs(122 lbs) only.
Likewise, Heather stands at 5 feet 5 inches(165 cm). Despite all, Heather has a well-toned and trained body thanks to her years of training as a boxer.
It has been a decade since she first started as a boxer, and still, to this date, Heather is fit to the bones.
Not to mention, Hardy is already in her late 30s. Born on January 25, 1982, she is 41 years old at the moment. Also, her sun sign happens to be Aquarius.
Heather Hardy's Early Career- Boxing
It is often during our lowest point that we find our way back up; if done right. Heather did not start as a bonafide athlete vying to make it big in the boxing world for those who don't know.
Heather's revelation came in 2010, right after her divorce from her husband of six years, who was also her high school sweetheart.
Hardy struggled to support her small family because she was divorced, was a single mother, and left without child support.
It was then her concerned sister who gave her a gift certificate for lessons at the guy. There she was introduced to kickboxing and then boxing, which changed her life forever.
Likewise, just after three weeks of learning "to lace up her gloves," Heather participated in a kickboxing competition. And within 11 months, Hardy made it as the top amateur boxer in the states.
If you are interested in buying MMA gloves, click here>>
However, her first fight and that time inside the ring still means a lot to her. It was her awakening from a shy girl to a strong woman who has control over everything.
"I'm shy by nature, so walking to the ring was like heading to the gas chamber. I'm probably exaggerating the crowd size, but it felt like I was in the Macy's parade."
Heather further explained the situation,
"When I got to my corner, a cousin told me to pretend a tiger was dropped in the ring and only one of us was getting out alive. I pummeled that girl so bad. And for the first time in my life, I felt like something was all mine. Ever since I've had a passion for beating up the world. I still fight that way."
With the same passion and dedication throughout her career, Heather ended up becoming the crowd favorite. Then, after all that, in 2016, Heather landed a televised gig on NBCSN against Shelly Vincent.
Paving Her Way From Boxing to MMA
After almost a decade of being a boxer, Heather slowly crept out of it and slid to mixed martial arts.
Since she had "won everything there was to win," as stated by Heather possibly, it did not take long for her to fall in love with MMA.
Furthermore, Hardy was supposed to make her professional MMA debut against Brieta Carpenter at Invicta FC 21.
Sadly, the match was canceled due to an injury Carpenter faced in the previous match.
Amidst all that, Heather finally made her debut on June 24, 2017, at Bellator 180 in a flyweight against Alice Yauger.
The match was held at the Madison Square Garden, where she took home the victory with a TKO in the third round.
Thrilling as it may be, there's no hiding that MMA is much harsher and physically demanding than boxing. Those who are familiar with the setup know what we are talking about.
But it was the same feeling that made her fall in love with the sport in the first place.
After her first win, Hardy addressed the press, smiling, even though she had a bruised cheek, a black eye, and blood-spattered on her white training bra.
"I'm so happy right now. I don't even care I have stitches in my face."
Moreover, in her second bout, she faced Kristina Williams, who landed a perfect kick. As some sources claim, Heather suffered a nose "explosion" and just bled.
Later Hardy recalled the fight and said the kick was so hard that she went temporarily blind. Not to mention, Heather was spitting chunks of bone out her mouth.
Though the very thought of it can give nightmares to others, Heather lives for that real thrill.
Hardy was set up on a match against Ana Julaton on February 16, 2018, at Bellator 194. She won the bout via unanimous decision.
Hardy came across a bout with Taylor Turner at Bellator 222 on June 14, 2019. She lost the battle via the first-round TKO.
As of 2021, she is no longer under contract with Bellator.
MMA record
| | |
| --- | --- |
| Total | 4 |
| Wins | 2 |
| By knockout | 1 |
| By decision | 1 |
| Losses | 2 |
| By knockout | 2 |
Is Heather Hardy Married? Personal Life, Dating, and Husband
When we digress from her professional career, Heather's personal life is the only topic left. And to point out, we are already aware that she is a divorcee.
If you are interested in buying boxing shorts, click here>>
Talking about her former husband, Hardy has not mentioned much except that he was her high school sweetheart. Likewise, the two lovebirds tied the knot quite early in 2004, right after their graduation.
Sadly, not his name or any additional details are known about this mystery, man. It might have to do with the fact that the two are no longer together. The couple separated in 2010 after spending six years together.
Also, from their marriage, Heather and her former husband share a daughter named Annie. Hardy mentioned how she struggled after the divorce, where her ex-husband provided no child support.
However, things are certainly different for Heather now. She is an independent and capable woman. But she has yet to settle down and live a life as a married woman.
Despite that, it has not stopped this gorgeous lady from dating. In her early MMA career, she dated a guy named Devon Cormack, and he is the only one public knows.
Net Worth and Income- How Much Does Heather Hardy Make?
Fans have wanted to know just how much does Heather makes from her boxing career. She has made a fortune from her successful boxing career. However, her net worth is assumed to be around $1 million.
Likewise, from her MMA debut fight alone in 2012, Hardy earned $100,000, where she earned $13,000 from ticket sales alone. Her fight was watched by 600,000 on TV while 30,000 attended the match.
Though the amount may seem significant, Hardy has spoken time and again about biases regarding payment.
In the game dominated by males, the paychecks differ hugely from male fighters to female fighters.
Addressing the issue, Heather explained how she went on with knowing this fully beforehand. And how her focus was on making an impact rather than making a fortune for herself.
"I was nearly 30, and while I knew the pay wasn't going to be equal, I thought that was going to be the second part of my job: not just to fight and win and beat up girls, but to fight and win and get recognition for women's boxing, get money for it, get on the big stage for it."
Furthermore, Heather has been persistent about raising her voice for women's boxing.
Heather Hardy: Sexism in Boxing, Pay Differences
Boxing Champion and Mixed Martial Artist Heather Hardy lash out at British sports promoter Eddie Hearn on social media after he spoke out on women's pay in boxing.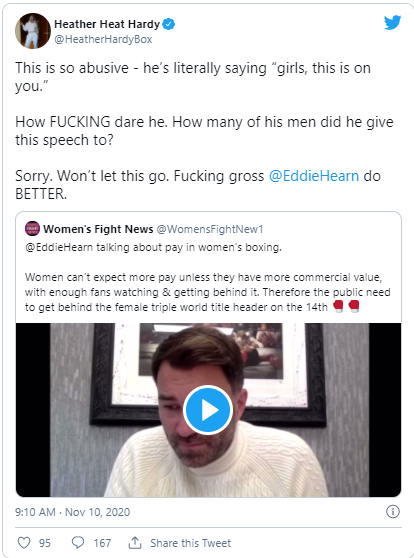 In an interview with iFL TV, Hearn brought up his opinions aligning with one of his boxers (Ramala Ali) in saying that "female fighters can't expect equal pay if the commercial value of the fight is not the same."
This statement by Hearn infuriated the female boxer, Hardy, at an instant, enforcing her to tweet on the matter, saying, " This is so abusive." She accused Hearn of placing the issue at the door of women boxers.
Moreover, Hardy finds it outraging and claims the activism of systematic sexism in boxing and feels women should no longer be grateful to the male promoters for opportunities.
It is pretty sure that her anger is not towards Hearn but towards the male chauvinism that keeps knocking out women from equality in the name of kindness or fairness. To be honest, there is nothing fair going on.
They (the men) act as if they have done some kind of favor to women out there, even if the females are standing there and making their name in terms of their talent and capacity.
Online Presence
Instagram– 169k Followers
Twitter– 32.2k Followers
Frequently Asked Question
Heather Hardy's latest fight?
As per online sources, she was offered to fight in the UK, but she refused to do so because the money wasn't there.