The Swedish-American pole vaulter Armand Duplantis comes from a family of athletes, with his parents and siblings all being involved in sports.
Armand is the current Olympic and World outdoor and indoor champion, as well as the current European and Diamond League champion.
He won a gold medal at the delayed 2020 Summer Olympics in Tokyo, clearing a height of 6.02 m (19 ft 9 in) on his first attempt.
Armand has also won gold medals at the 2021 European Indoor Championship and 2022 World Indoor Championship.
Notably, he has cleared six meters or higher 60 times, which is the most by any athlete in history as of February 2023.
Parents Of Armand Duplantis: Helena & Greg Duplantis
Armand Duplantis was born on November 10, 1999, to parents Helena and Greg Duplantis.
His father, Greg Duplantis (born on January 22, 1962), is of Finnish and Cajun ancestry. In addition, he is also a former pole vaulter.
He set a personal record of 5.80m (19 ft 1 1/2 inch) on July 1, 1993.
Regarding his educational background, Greg attended Lafayette High School and completed his college degree from Louisiana State University.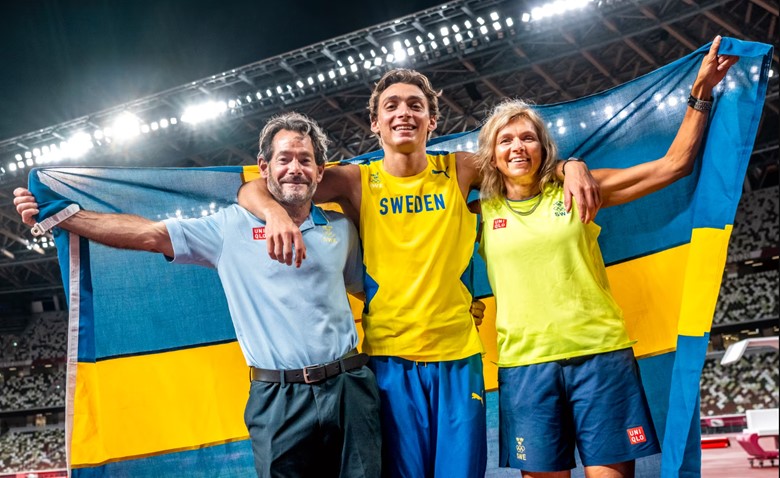 Greg is currently a voluntary assistant track and field coach for high schools and colleges.
Furthermore, he is a National Lead Coach and frequent lecturer at the National Pole Vault Summit.
In addition, Greg was inducted into the Louisiana High School Athletic Association Hall of Fame.
He met his wife Helena while both were competing on the LSU Track and Field Team and married in August 1987.
Armand's mother, Helena, moved to the USA from Sweden at the age of 20 to study at Louisiana State University and competed on LSU's volleyball teams and heptathlon.
Armand, who holds both American and Swedish citizenship, decided to compete internationally for his mother's home country.
Sister: Johanna Duplantis
The sister of Armand Duplantis, Johanna Duplantis, is following in the footsteps of her brother and father.
During her time with Lafayette High School, she won 16 event titles which included three LHSAA state championships in the pole vault.
Johanna became the third Duplantis sibling to win a state championship at the LHSAA State Indoor Meet.
In a thrilling contest against Heather Abadie of St. Michael, both vaulters cleared 11-11.75, and Johanna emerged victorious in a jump-off.
Alongside pole vaulting, she also played soccer for Lafayette High School.
Currently, Johanna is in her sophomore year and competing for Louisiana State University.
Brother: Andreas & Antoine Duplantis
Andreas Duplantis, the eldest sibling (born: May 2, 1993), was also a top vaulter at Louisiana State University from 2012-15.
He concluded his collegiate career as one of the top 10 pole vaulters in both the indoor and outdoor seasons in the school's history.
Andreas graduated from LUS with a degree in textile, apparel, and merchandise.
The other brother of Armand, Antoine Duplantis (born: September 9, 1996), played baseball at Lafayette High School & Louisiana State University.
On June 3, 2019, the New York Mets drafted him in the twelfth round, and he signed the contract with the team on July 9, 2019.
Antoine currently plays for the Staten Island FerryHawks in the Atlantic League.