Holiday brothers Triply are one of the most famous NBA families. It consists of Milwaukee Bucks point guard Jrue Holiday, small forward for the Indiana pacers Justin Holiday, and Indiana Pacers point guard Aaron Holiday.
The oldest, Justin, won a ring with the Warriors in 2015.
In 2021, the second-oldest Jrue Holiday, won it all with Bruce and won a gold medal with Team USA. Now, only that younger one is yet to receive any grand title.
Aaron Holiday is 24 years old, eight years younger than Justin, and seven years younger than Jrue.
Thus, he still has time to make his legacy in NBA. It is necessary because the rest of the family members has set the bar high.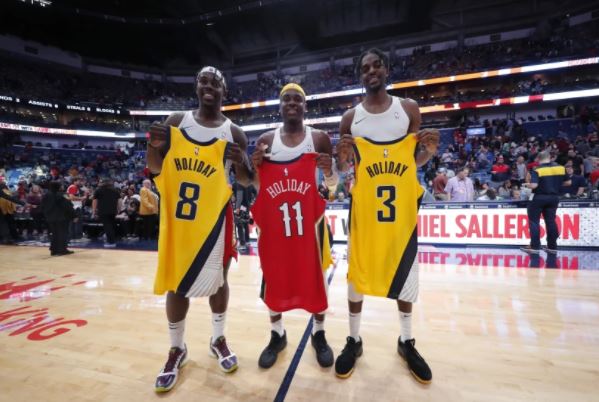 On December 28, 2019, the Holiday brothers played together for the first time, and it was a sight to see. Jrue was with the New Orleans Pelicans and played against the Pacers on his brother's team.
To talk about the Holiday brother's profile, the oldest, Justin is the former 6-6 Swingman from Washington University and is now in his eighth MBA season.
In his twelfth NBA season, Jrue, the most popular among three brothers, is a point guard from UCLA. While youngest, Aaron is another ex-UCLA guard and a third-year pro.
The name of the Holiday family in the sports industry has set a bar. To add more power to this family, Jrue's wife Lauren is a two-time Olympic gold medalist and a soccer WorldCup winner.
Before getting into details about the Holidays' brother Childhood, Career, and Net worth, here are some quick facts about them.
Holiday Brothers | Quick Facts
Name
Holiday Brothers (Justin, Jrue & Aaron)
Famous For
Basketball Players
League
NBA
Father's Name
Shawn Holiday
Mother's Name
Toya Holiday
Siblings
Laureen Holiday
Religion
Christian
Nationality
American
Ethnicity
Black
Holiday Brothers
–
Full Name
Jrue Randall Holiday
Nickname
Jholla The Jruth
Date of Birth
June 12, 1990
Age
32 years old
Birthplace
Chatsworth, California, United States
Zodiac Sign
Gemini
School
Campbell High School
College
UCLA (2008-2009)
Career History

Philadelphia 76ers ( 2009-2013)
New Orlean Pelicans (2013-2020)
Milwaukee Bucks (2020-Present)

Position
Point Guard, Shooting Guard
Height & Weight
6'3″ & 93 Kg
Marital Status
Married to Lauren Nicole in 2013
Kids
Two
Net Worth
$28 million
Social Media
Instagram, Twitter
Full Name
Justin Alaric Holiday
Date of Birth
April 5, 1989
Age
34 years old
Birthplace
Mission Hills, California, USA
High School
Campbell High School
University
University of Washington (2007-2011)
Playing Career
2011-Present
Position
Shooting Guard, Small Forward
Marital Status
Married to Shekinah Holiday (in 2013)
Kids
One
Height & Weight
198 cm & 82 kg
Networth
$1- $5 million
Social Media
Instagram, Twitter
Full Name
Aaron Shawn Holiday
Date of Birth
September 30, 1996
Age & Zodiac Sign
26 years & Virgo
Birthplace
Ruston, Louisiana
High School & College
Campbell High School & UCLA (2015-2018)
Career History

Indiana Pacers ( 2018-2021)
Washington Wizards (2021-Present)

Position
Point Guard
Marital status
Single
Net Worth
$1- $5 million
Social Media
Instagram
Merch
Indiana Pacers Items
Last Update
June, 2023
Holiday Brothers: Brotherly Triple
When three of the brothers are on the same floor, it looks like some backyard pick-up game.
It first happened in 2019 when the New Orleans Pelicans hosted the Indian Pacers, and all three brothers got a chance to play in the same game in Louisiana City.
This game made history in NBA history when a brother trio appeared together in a game.
Of course, there are many brothers, duos, or trios to play in the NBA against each other or alongside each other. But it is rare to see brothers at the same time make it to the NBA.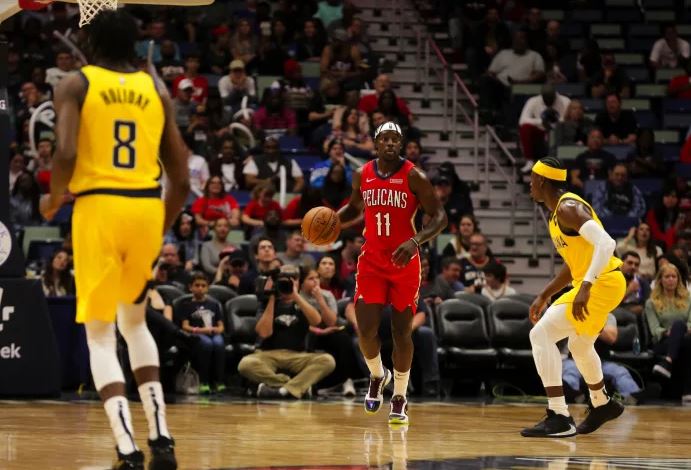 Jrue was a veteran starter for New Orleans Pelicans, while Justin was a reserve wing for the Indiana Pacers, and Aaron was a starting guard for Indiana Pacers.
Holiday Family Chart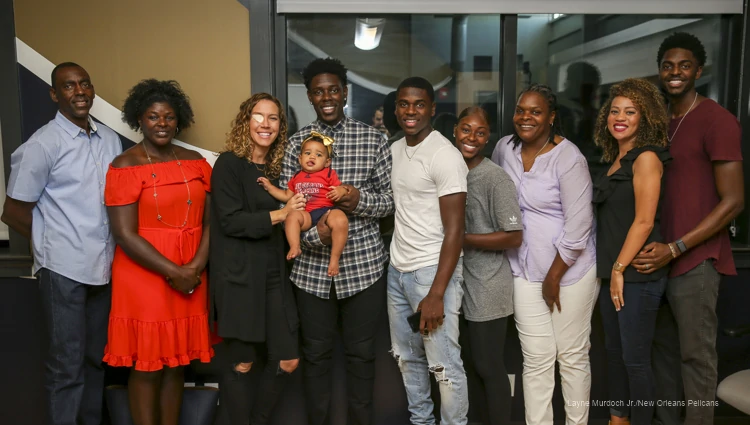 Family Members
Relation to player
Biography
Members
Jrue Holiday
NBA player
Jrue is a member of the Milwaukee Bucks. He has won an NBA championship.
Lauren Holiday
Jrue's wife
Lauren Holiday, who was Lauren Cheney before her marriage to Jrue, was a member of the USA national women's soccer team.
Tyler Holiday
Jrue's daughter
Tyler is Jrue's oldest child.
Hendrix Holiday
Jrue's son
Hendricks is Jrue's youngest child
Shawn Holiday
Jrue's father
Shawn played college basketball for the Arizona State Sun Devils men's basketball team.
Toya Holiday
Jrue's mother
Toya Holiday, who was Toya DeCree before her marriage to Shawn, played college basketball at Arizona State University.
Justin Holiday
Jrue's brother
Justin is Jrue's older brother and plays small forward for the Indiana Pacers.
Shekinah Holiday
Justin's wife
Shekinah Holiday, who was Shekinah Siegmund before her marriage to Justin, was a member of the Northwestern State women's cross-country team.
Lauren Holiday
Jrue's sister
Lauren is Jrue's younger sister and played basketball for the UCLA Bruins.
Aaron Holiday
Jrue's brother
Aaron is Jrue's younger brother and shooting guard for the Washington Wizards.
Three Brothers in the Same NBA Game
Similarly, in the 2019 game, Jrue, a Pelicans, had 20 points and seven assists, leading a 120-98 victory, and Aaron had a game-high 25 points. Unfortunately, Justin was unable to score.
However, all three brothers were on the court together at one point in the second half, making many headlines.
Since the 2019 game, the Holiday brothers have played three times. On February 8, 2020, the Holiday brothers played again together.
Jrue from the Pelicans piled up 31 points and led the team to a 124-117 victory against Indiana Pacers, where Justin and Aaron were subs. Similarly, Justin and Aaron scored 7 and 2 points, respectively.
Furthermore, on April 8, 2021, game against Indiana Pacers and Minnesota Timberwolves, Aaron and Justin made history by scoring 22 & 21 points, respectively. This led their team, the Pacers, to victory.
Holiday Brothers | Childhood and Parents
Holiday's family grew up in the Los Angeles, California, and all three brothers attended Campbell Hall High School located in North Hollywood.
Later Jrue and Aaron went to the University of California, Los Angeles, and played basketball, while Justin went to Washington University. Their only sister Lauren also attended UCLA and played for UCLA Bruins.
Parents
The Holiday brothers are born to parents Shawn Holiday and Toya Holiday. The brothers had no difficulty venturing into basketball because his parents were also basketball players who used to play basketball at Arizona State University.
In addition, their mother, Toya, received the 1982 Pac-10 player of the year award.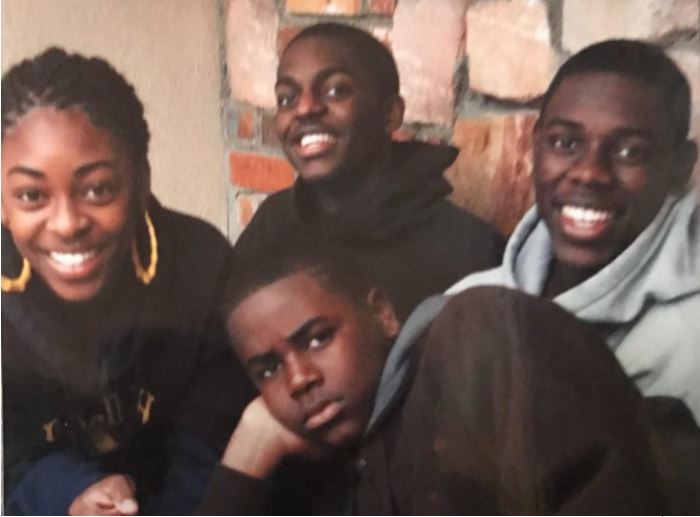 Though both parents were athletes, Shawn and Toya never forced their children into sports and never groomed them for an NBA career. That all came later. Also, Shaw and Toya wanted their sons to choose their career paths themselves.
In one interview, Holiday's brother's father, Shawn, mentioned that seeing them together on the same game court made him super proud.
While Holiday's brothers were growing up, Shawn and Toya never envisioned this future for their sons. It felt pretty amazing, like a script from any movie related to brothers to their parents.
But when their second-oldest son Justin went to the NBA, his other two brothers also followed in his footsteps.
So now, all three brothers are in NBA in an influential position and making history as the best brother trio in NBA games.
Jrue Holiday: Most Successful Holiday Brother
Jrue is the most recognizable brother among the three. He started his journey with the Philadelphia 76ers in 2009. In a brief period after the draft, he showed his potential and became an All-Star.
He was born on June 12, 1990, and attended Campbell High School, where he was top pointing guard high school player.
Jrue then received Gatorade National Player of the Year in 2008 and was named Parade Magazine's first Team-All American.
Short Description Of His Career
After that, Jrue Holiday attended UCLA and played basketball for one year. Later 76ers traded him with New Orleans Pelicans, and he became one of their most reliable point guards.
On July 21, 2021, Jrue won the NBA Championship and immediately joined the US men's team at the Olympics.
Not only did he win Championship, but he also won a gold medal in the same season. This makes him one of the best among five players who accomplished those two feats in the same period.
Until 2020 Jrue was with the Pacers, he was the most reliable option for Pacers off the bench.
In addition to that, he used to get twenty-five minutes per game, averaging eight points, an assist, and three rebounds in the process. But in November of 2020, he was traded to Milwaukee Bucks in a four-team trade.
Know all about this most successful holiday brother <<Jrue Holiday Bio: Career, Records & Net Worth>>
Update For 2023
Right now, In the mean course of this year till now, Jrue is playing with Milwaukee Bucks from 2020 to the present year.
Net Worth, Wife & Kids
Jrue is married to Lauren Nicole Holiday. Lauren Nicole is an American former soccer player who played in America's national women's football team from 2007-2015.
The two met at UCLA and had a hilarious first encounter. Lauren was a junior one year older than Jrue, while Jrue was a freshman.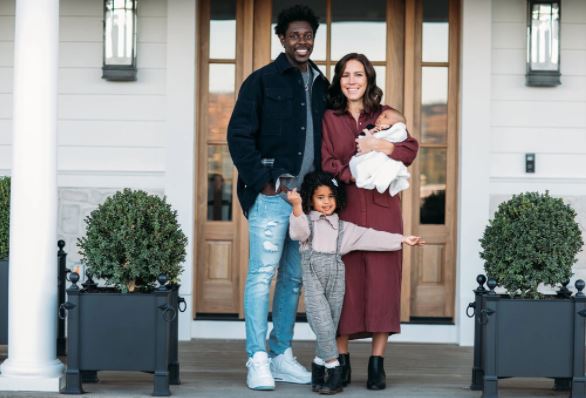 On July 7, 2013, they married in Malibu, California, and share a daughter Jrue Tyler Holiday (born in 2016), and a son Hendricks together (born in 2020).
Jrue's net worth is estimated to be $40 million. In 2019, he received $27.1 million in salary and had several deals with Sprint Corp, Smoothie King, Panini, and many others.
| DATE | INJURY (Jru Holiday) |
| --- | --- |
| 1/7/22 | Ankle |
| 10/25/21 | Left Ankle |
| 10/19/21 | Right Heel |
| 4/9/21 | Knee |
| 3/27/21 | Knee |
| 2/8/21 | Health and Safety Protocols |
| 1/14/21 | Ankle |
| 8/10/20 | Elbow |
| 1/25/20 | Left Knee Soreness |
| 1/21/20 | Elbow |
| 1/5/20 | Elbow |
| 10/26/19 | Knee |
| 3/7/19 | Abdominal Strain |
| 3/20/18 | Illness |
Justin Holiday: The Oldest One Of The Holiday Brothers
Justin also attended Campbell High School and later enrolled at the University of Washington. There he played for the Washington Huskies and was named co-captain in his senior years.
Unlike his older brother Jrue, Justin had to fight for a fixed spot in NBA and took more minor roles on the Philadelphia 76ers, Golden State Warriors, and Atlanta Hawks before he got traded to the Chicago Bulls.
Professional Career
He turned professional in 2011 by signing with Okapi Allstar of Belgium Basketball League and was selected to be a part of the 2010 Pac 10 All-Defensive Team in his junior season.
He won the Belgian Cup title with Okapi Allstar in 2012 and the Hungarian Cup title with Szolnoki Olajan in 2014.
During freshman in high school, Justin participated in 19 games for Washington Huskies. He debuted in NBA in 2013 with the Philadelphia 76ers.
Also, he joined the Golden State Warriors in 2014 and was a member of the Warrior's Championship Team in 2015.
California Kings (2022)
The holiday was dealt to the Sacramento Kings on February 8, 2022, along with Domantas Sabonis, Jeremy Lamb, and a 2023 second-round selection in exchange for Tyrese Haliburton, Buddy Hield, and Tristan Thompson.
Back To Atlanta (2022–present)
Holiday and Maurice Harkless were exchanged for Kevin Huerter by the Atlanta Hawks on July 6, 2022.
Wife, Child, And Net Worth
The 6 feet 6 inches tall Justin, who weighs around 82 kg, is married to Shekinah Holiday. Before marriage, she was Shekinah Siegmund and was a member of the Northwestern State Women's cross country team.
The duo got married in 2013 and welcomed their first baby girl on November 15, 2017.
Oldest Holiday brother Justin's net worth is estimated between $1- $5 million.
Aaron Holiday: The Youngest Among Holiday Brother
Aaron was born on September 30, 1996, and has been a professional basketball player playing for Indiana Pacers since his 2018 draft. But recently, he joined Washington Wizards.
Aaron started his career at his University, UCLA, and made an impressive reputation. Also, in high school, he was a four-star college prospect. Like the other two older brothers, Aaron also attended Campbell Hall High School.
Career Detail, Net Worth & Relationship
To talk about his achievements, he was named to the All-Pac-12 team in 2018. In addition, at UCLA, where he played for UCLA Bruins, he was ranked among the top player all around the nation. Also, he was selected by the Pacers in the very first round of the 2018 NBA Draft.
In 2021 youngest Holiday Brother became a new member of the Washington Wizards team via a draft-day trade. He wishes to join others in his family one day and get an honorable title for himself.
Moreover, Aaron has two older brothers who will always be there for him if he needs any help. Whenever he goes on the wrong track or down in a game, his older brothers are there to talk.
Aaron signed a four-year contract with the Pacers and has an average salary of $2,345,640 annually. In Washington Wizards, he has an annual salary of $3,980,551 and is named among the tenth best-paid player in Wizards.
Aaron stands 6 feet 1 inch tall and weighs around 84 kg. And regarding his relationship status, there is no information out there. But he is not married and has no children yet.
Know about this oldest holiday brother <<Aaron Holiday Bio: Career & Net Worth>>
2023 Update Of Aaron Holiday.
For the 2023 update, On February 10, 2022, I Traded to Phoenix suns – Cash and consideration and a trade exception. He was averaging 6.1 points and 1.9 assists per game for Washington while shooting a career-high 47% on his field goals. He averaged 6.8 points in 22 games for the Suns.
Atlanta Hawks (2023–Present)
On July 6, 2022, the Atlanta Hawks signed Holiday.
Interesting Facts About The Holiday Brothers
The Holiday family attended North Hollywood Campbell Hall High School and grew up in the Los Angeles area, according to the Los Angeles Times.
At UCLA, Jrue and Aaron were basketball teammates, including sister Lauren also played basketball there.
The Holiday family, better known as the Jrue Holiday, is currently one of the most athletic NBA families
Holiday brothers parents were basketball players too.
Frequently Asked Questions( FAQs)
What happened to Jrue Holiday's wife?
Jrue's Holiday wife, American soccer player Lauren had a terrible encounter with a brain tumor in 2017.
When his wife underwent surgery in 2019, Jrue took some time off to support his wife. The surgery was successful, and she is in good spirit now.
Does Justin Holiday have a Championship award?
Justin won his first Championship award by defeating Cleveland Cavaliers in the 2015 NBA finals in six games.
He was with Golden State Warriors during that time.
Is Aaron Holiday any good?
Aaron Holiday is a highly polished and well-rounded point guard. Similarly, he is an active and productive distributor who finds his teammates.
Another plus point of Aaron is that he is an excellent three-point shooter with remarkable consistency from the arc.