Howie Roseman, the Executive vice president of the Philadelphia Eagles, has been happily wed to his wife, Mindy Alyse Friedman, for 18 years.
They tied the knot in 2005 at Mindy's parents' residence during the evening, surrounded by their loved ones.
Now, the loving couple is blessed with four beautiful children, making their family complete.
Howard Roseman
was born on June 23, 1975, and he currently serves as the Executive Vice President and General Manager for the Philadelphia Eagles in the NFL.
Roseman hails from Brooklyn, New York City, but was raised in Marlboro Township, New Jersey, where he attended Marlboro High School.
His passion for football started at a young age, and he dreamed of becoming an NFL team's General Manager.
During his high school and university years at the University of Florida and Fordham University School of Law, he actively pursued opportunities in football by sending letters to every NFL team.
Roseman's persistence paid off when he connected with Mike Tannenbaum, the Pro Personnel Director of the New York Jets at the time, leading to an interview for a player personnel intern position in 1999.
Later, he got an internship with the Philadelphia Eagles in 2000, where he worked on salary cap issues.
Due to his dedication and hard work, Roseman quickly rose through the ranks. He began his journey in the team in 2000 and has since held various administrative and executive positions before taking on the role of general manager in 2010.
Howie Roseman Wife, Mindy Alyse Friedman
Mindy Alyse Friedman, a wife of Howie, was born on December 21, 1977, in Ohio, US.
Her parents, Susan M. Friedman and Jeffrey I. Friedman, are notable figures.
Her father, Jeffrey, is the chairman and president of Associated Estates Realty Corporation, a real estate investment trust in Richmond Heights, Ohio, and has been in the real estate sector for over 40 years.
Mindy completed her education at Western Reserve Academy in Hudson, Ohio, before attending New York University, where she pursued a degree in her field of interest.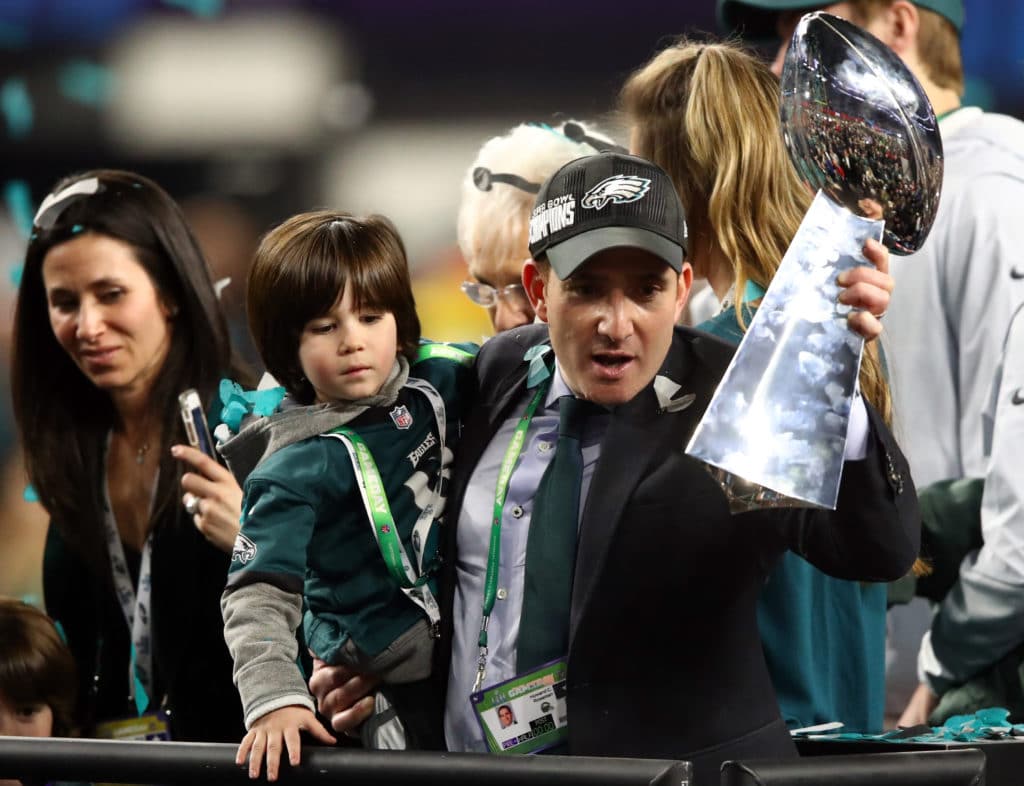 She previously held a senior position in an investment banking analyst program at Lehman Brothers in New York.
Mindy and Howie married on July 18, 2005, at her parental home. Their wedding ceremony was a grand affair, attended by many notable personalities.
Howie And Mindy Share Four Kids
Mindy and Howie are a couple who have four children. They have made a conscious decision to keep their children's identities and occupations private, and therefore, they do not share detailed information about them with the public.
However, they were spotted celebrating Super Bowl LII with their children in February 2018.
Mindy and Howie are devoted to their family, and they prioritize providing their children with a nurturing and supportive upbringing.
They currently reside in Philadelphia, Pennsylvania, with their four children, enjoying their family life and actively participating in community service activities.