The American track and field athlete Hunter Woodhall has an estimated net worth of $2-$5 million as of 2023. His primary career as a runner has contributed significantly to his wealth.
The Paralympian was born with a rare condition that resulted in the absence of lower leg bones.
Even still, Woodhall continued to play sports as he grew older despite having his legs amputated.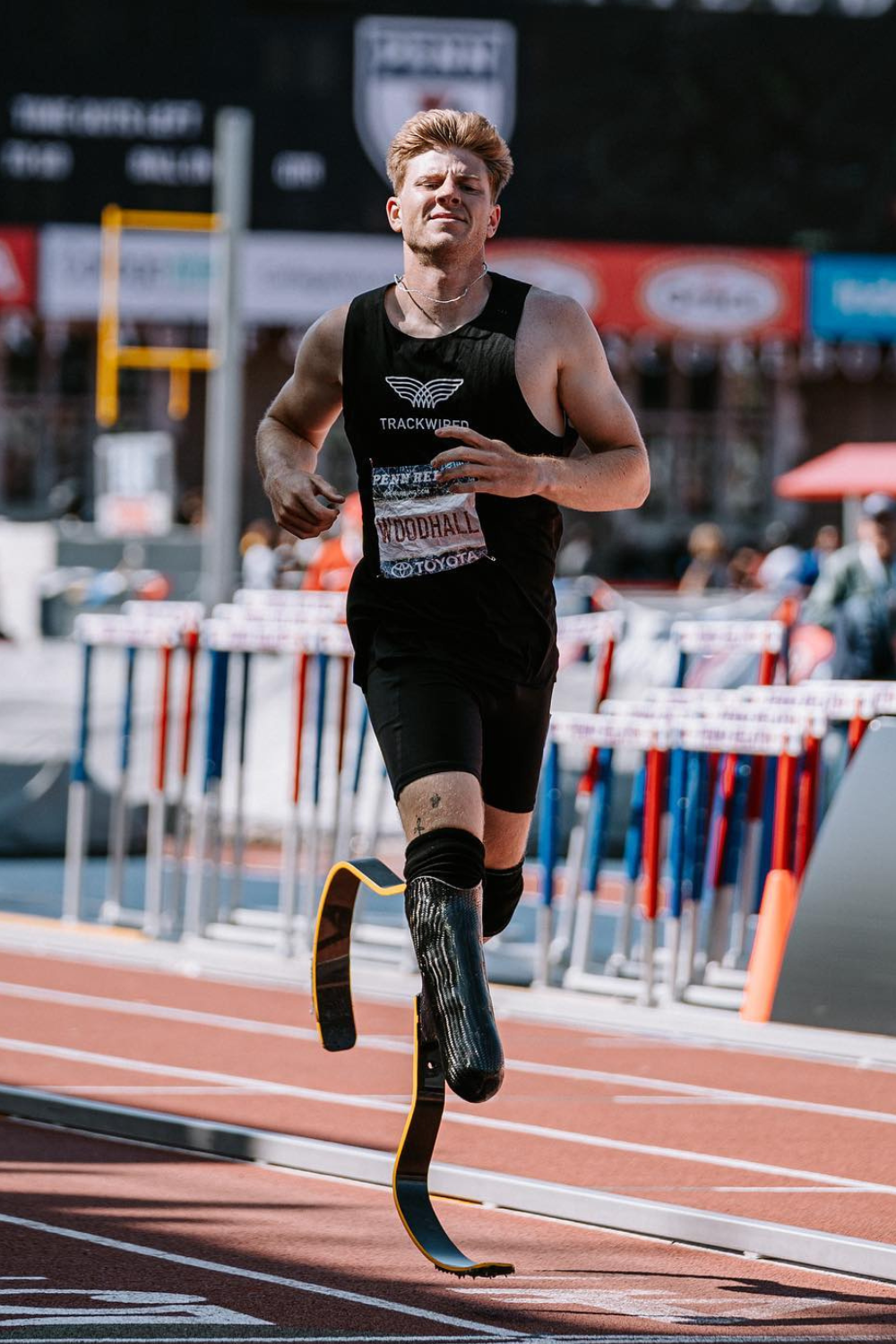 Hunter Woodhall made his international debut in 2015 with a silver and bronze medal at the 2015 IPC Athletics World Championship.
Later, the track and field athlete won bronze (400 meters T44) and silver (200 meters T44) at the 2016 Summer Paralympics.
Moreover, Hunter made a headline at the 2020 Summer Paralympics in Japan when he won a bronze medal in the Men's 400m T62.
The Georgia-born attended Syracuse High School while competing with the United States National Paralympic Team in international competitions.
Additionally, in his freshman year at the University of Arkansas, Woodhall competed in the SEC division alongside able-bodied runners.
Hunter Woodhall's Net Worth
Hunter Woodhall is a successful athlete who has earned millions through his hard work and dedication.
Earnings from contests, sponsorship agreements, appearance fees, and endorsements may be included to add up an approximate net worth of $3-$5 million.
Additionally, his involvement in Giant Hoodies as a co-founder may have increased his net worth.
He decided to leave the NCAA competition last year to co-found the clothing business 'Giant Hoodies.' The business made $4 million in sales in a record nine months.
Hunter Woodhall Story
Hunter Woodhall, a paralympic competitor for Team USA, has encountered several difficulties in his life.
Fibular hemimelia, a congenital birth condition, required the amputation of both of his legs when he was just 11 months old.
Despite his physical limitations, Hunter participated in sports, including skiing, soccer, T-ball, and other activities with his two older brothers.
He first became interested in track in junior high school, which became a new love.
A few close friends who were on the track team persuaded Hunter to give it a shot, and that choice changed the course of his life.
Woodhall overcame the predictions that he would never walk and pursued running. He made history by being the first double amputee to receive an NCAA Division I scholarship.
Life Outside Track
Together with his wife, Tara Davis, Woodhall creates content on a regular basis. The couple is also on the YouTube channel "Tara and Hunter" since 2017.
The athlete makes videos with Davis that discuss life, difficulties, and normalizing handicap. His main point is to show that, despite the odds, leading a regular life is possible.
"They tell me I was born to lose. But I made a good, good thing out of bad, bad news." Hunter recently took on Instagram to demonstrate his winning attitude.
Moreover, Woodhall is also on TikTok, where he describes himself as a "professional toe wiggler and track runner" and has amassed massive followers.
Additionally, Woodhall serves as an ambassador for Shriners Hospitals for Children and is involved with the Challenged Athletes Foundation, which provides opportunities and support to people with physical challenges.