Most other athlete wives gain their stardom by marrying their celebrity partners. However, Iman Shumpert's wife, aka Teyana Taylor, rose to prominence as a 16-year-old choreographer for Beyonce's hit single, "Ring the Alarm."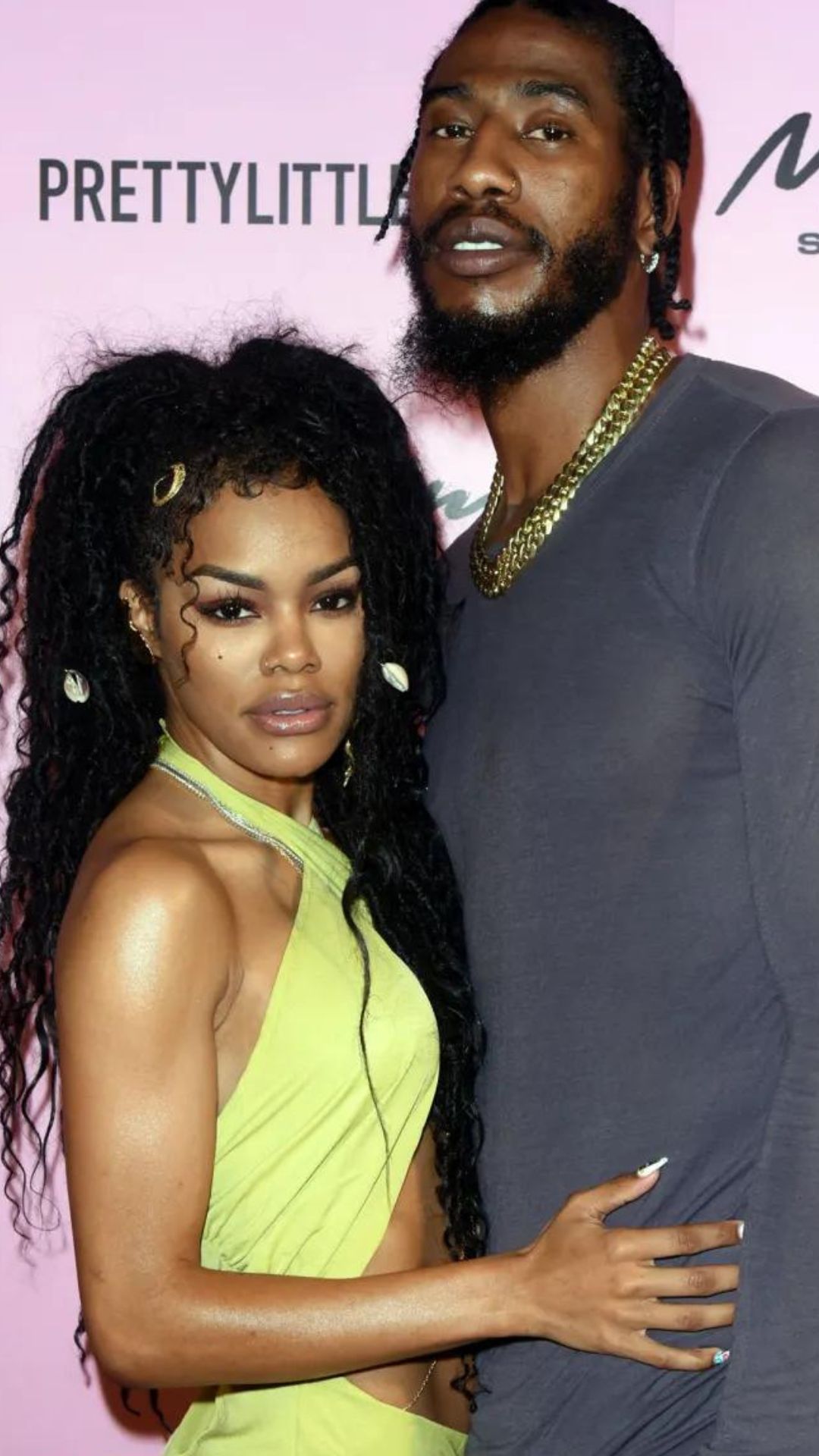 Since then, Teyana has been in the eye of the media for one reason or the other. However, Taylor's relationship with Iman is not her first high-profile love affair. In fact, she was previously with rappers Drake and Soulja Boy, among others.
So, let's take a look at Teyana's personal and private life, which is sure to capture your imagination. But first, have a quick look at some facts.
Quick Facts
| | |
| --- | --- |
| Full Name | Teyana Meshay Jacqueli Shumpert Taylor |
| Birth Date | December 10, 1990 |
| Birth Place | New York City, New York, U.S.A |
| Nick Name | Not available |
| Religion | Christian |
| Nationality | American |
| Ethnicity | African-American |
| Education | Not available |
| Horoscope | Saggitarius |
| Father's Name | Tito Smith |
| Mother's Name | Nikki Taylor |
| Siblings | Not available |
| Age | 32 years old |
| Height | 5 feet 5 inches (1.68 m) |
| Weight | Not available |
| Shoe Size | 7.5 the U.S |
| Hair Color | Brunette |
| Eye Color | Brown |
| Body Measurement | Not available |
| Build | Hour-Glass |
| Married | Yes |
| Girlfriend | No |
| Spouse | Iman Shumpert |
| Children | Iman Tayla Shumpert Jr. and Rue Rose Shumpert |
| Profession | Singer, Songwriter, Dancer, Choreographer, Model, Actress, Director |
| Years Active | 2005- Present |
| Salary | Not available |
| Net Worth | $5 Million |
| Social Media | Instagram |
| Shoes | Not available |
| Last Update | December 2023 |
Iman Shumpert Wife: Wiki Bio
Teyana Meshay Jacqueli Shumpert Taylor, aka Teyana Taylor, was born to her parents, Nikki Taylor and Tito Smith. Furthermore, she came into this world on December 10, 1990, in New York City, New York.
Taking a look at her parents' lives reveals that Nikki was a single mother who raised Teyana all on her own. It was because her biological father, Tito, spent years in jail.
And, if that wasn't enough, he had affairs with multiple women and had children with them as well. As of now, Teyana's mother works as her manager.
Moving on, Taylor showcased her talents from as early as nine years old. To explain, she took part in various talent competitions, performing like a born superstar.
Iman Shumpert Wife: Career
When it comes to Teyana's career, she is not just limited to one path. In other words, Taylor is a singer, songwriter, actress, dancer, director, and choreographer.
Yes, folks, this 32 years old brunette beauty is as talented as one can wish to be.
Taylor started her professional career at the age of 16 when she choreographed the music video for Beyonce's hit single, "Ring the Alarm.' Thereafter, she signed up for Star Trak Entertainment, owned by super hit music producer Pharell Williams.
During this period, Teyana made her debut national appearance on MTV's My Super Sweet 16. However, in 2012, she decided to leave Star Trek in favor of the GOOD Music label, owned by one of the most well-known rappers of this era, Kanye West.
That's not all because Taylor has also worked with superstars like Usher, Chris Brown, and Omarion as a songwriter.
Besides that, Teyana also stars in the VH1 reality TV show Teyana and Iman. And, if that wasn't enough, Iman's wife has also done many high-profile fashion shows.
Furthermore, Iman has also appeared in several of Teyana's music videos while he even put up his verse on the song.
Iman Shumpert Wife: Age, Body Measurements & Nationality
Talking about Taylor's age, she is calculate_years datestring="12/10/1990″] years old currently. Likewise, she was born on the 10th day of December, which makes her birth sign Sagittarius. Typically, Sagittarius tends to be honest, adventurous, optimistic, and philosophical, to name a few.
Moving onto her body measurements, Teyana has a 25-inch waist size and stands at 5 feet 5 inches. Furthermore, she has thick luscious black hair along with her dashing brown eyes. Also, her shoe size is 7.5 U.S.
Back in 2017, Teyana had taken Instagram by storm with her beautiful braided orange hair.
And, about her nationality, Iman's wife was born in New York City, located in its namesake New York. As a result, African-American beauty is a proud citizen of the U.S.
Iman Shumpert Wife: Net Worth & Salary
Teyana is one of the most talented female artists who can sing but dance, act, choreograph, direct, and model.
Added to that, she started working professionally at the age of 16. Thus, it should not surprise you that she has an eye-watering net worth of $5 million.
Other than that, Taylor also signed a deal to design and release two pairs of shoes with Adidas.
Likewise, according to the Adidas Global Director of Entertainment and Influence Marketing, Jonathan Wexler, Teyana is the record holder for the fastest-selling sneaker in the history of Adidas Originals.
Consequently, although we don't know the exact details of her contract, we believe that Taylor must have earned hundreds of thousands of dollars if not millions.
As of now, the calculate_years datestring="12/10/1990″] years old bombshell is focused on designing the second pair as per her contract.
Works
Films
Who Is Teyana Taylor's Husband? Iman Shumpert Wife & Kids
Although Taylor is hugely successful herself, no doubt being married to an NBA star like Shumpert helps garner publicity. The two lovebirds got married in 2016 after dating for a while.
Together, they have two kids, Iman Tayla Shumpert Jr. and Rue Rose Shumpert. Interestingly, Iman Tayla was born before the duo tied the knot on December 16, 2015. However, Iman is not Teyana's first crush.
As a matter of fact, Shumpert's wife had been involved in very high-profile relationships with A-list celebrities before meeting her baby father. For instance, back in 2008, Teyana was linked with another basketball player, Daniel Gibson.
Likewise, the duo dated for a year before breaking it off in 2009. Then, Taylor dated Canadian rapper Drake from May to June of 2009. Thereafter, she dated another rapper, Soulja Boy, until October of the same year.
However, it doesn't just end there because Iman's wife was involved in a serious relationship with another NBA star, Brandon Jennings. Moreover, the couple dated for years, during which they even got engaged.
But luckily for Iman, the two separated in 2014. Since then, Teyana has ended her merry-go-round and stayed put with her current beau, Shumpert. And judging by their social media posts, we think that this might be Taylor's last relationship.
Upcoming Reality Show
The duo, Nets free agent Iman, and his wife, Teyana, are set to appear in a reality television series this year. Also, the series is titled "We Got Love Iman & Teyana."
Additionally, the duo will be sharing the unfiltered behind-the-scenes of their life with music, fashion, business, and family.
Met Gala 2022
Teyana Taylor makes her entrance at the Metropolitan Museum of Art's "In America: An Anthology of Fashion" 2022 Met Gala on May 02, 2022, in New York City.
Farewell Tour: The Last Rose Motel
Teyana Taylor, an R&B singer, revealed details of her farewell tour, The Last Rose Petal 2, Farewell Tour.
The 18-city tour will be organized by Live Nation and Femme, beginning on Wednesday, August 3rd at the Hollywood Palladium in Los Angeles, California.
It will make stops in cities such as Las Vegas, Atlanta, Miami, and more before heading to Europe and wrapping up on Thursday, September 8th at the Bataclan in Paris, France.
Will Teyana Taylor Tour In 2022?
Yes, of course! The Teyana Taylor tour dates for 2022 are now available. The Teyana Taylor tour begins on Aug 3 at the Hollywood Palladium and includes stops in Atlanta, Charlotte, and Pittsburgh.
Social Media Presence
Instagram: 15.4 million followers
Common Questions
What is Iman Shumpert's jersey number?
Iman Shumpert features jersey number 10 for the Brooklyn Nets.
When was Iman Shumpert's last game?
Currently, the last game he played was on February 27, 2021. He was on the court for five minutes.
Kyle Korver Wife Bio: Juliet Richardson, Career, Net Worth, Marriage Wiki >>